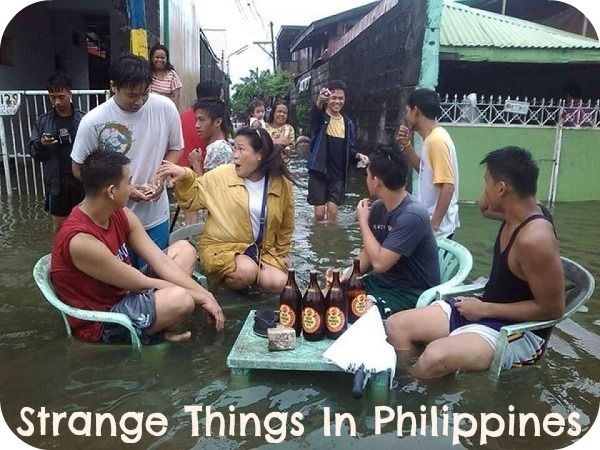 (Image source: Google)
Totally Extreme
People in the Philippines were known to be fun and creative for any situation we have. And it's no longer new for us holding new fun and artistic way of living. I'm sharing these strange things in Philippines according to the tourists/visitors. These were some of their unforgettable weird things they saw in our country.
(Image Source: Google)
Strange Activities in Philippines
1. Happiness behind bars
Being a prison in Cebu is synonymous to happiness. Strange right? Yeah, Philippines has the happiest prisons in the world. Byron Garcia came up to this idea that prisoners can also participate in charity events through dance and it turned out well. So they continued to choreograph the prisoners. Even their lives were brighten up through this program, they said that while they are dancing, they tend to forget why they were there in the first place. (Images below courtesy of penspansandpuns)
The Cebu Dancing Inmates
These are the Dancing Inmates from Cebu Provincial Detention and Rehabilitation Center (CPDRC). They are a group of prison inmates of CPDRC known as the Cebu Dancing Inmates, that exercise through dance as their daily routine and rehabilitation program for an hour and 2 hours every last Saturday of the month for the visitors/tourists to be able to watch them while performing and have the chance to take pictures of them.
In 2007, 1,500 CPDRC inmates imitated the zombies dance from Michael Jackson's "Thriller", idea of Byron Garcia, prison's chief and brother of Cebu Province Governor Gwendolyn Garcia. He uploaded videos in YouTube on April 2007 and the most popular is the rendition of Thriller and Dangerous performed by these men. And they have also public performances for their Important visitors like Cardinal Archbishop Ricardo Vidal, 20 of them also performed in public during the 48th Founder's Day celebration in front of Cebu Capitol where donations gained from their performance is totaled 1.6 million pesos (US$35,000). And the government included these 1500 inmates for mid-year bonus of 1000 pesos (US$22) each for their discipline and good behavior.
MJ's This is It
Their group became trending and been one of the most viewed videos in YouTube. Then Michael Jackson's long-time choreographer Travis Payne started to contact Gwendolyn Garcia, Cebu Province Governor when one of Jackson's fans sent them a link of their dance performance using his songs. MJ enjoyed watching the videos of these inmates so they arranged a surprise meeting with the disciplined and talented inmates.
On January 19, 2010, CPDRC performed "Thriller" with intro song "Bad" choreographed by Travis Payne, associated director of This is It, together with two more top dancers of MJ, Dres Reid and Deniel Celebre. They taught the inmates for 2 days only for two hours each day. They wore black "This Is It" t-shirt as a tribute. These Inmates has been a part of MJ's "This is It DVD" global launch by Sony Pictures Worldwide.
Payne and MJ's last scene together before he passed away was the footage of MJ's paractice on E. and medley of "They don't really care about us" and "Mind is the Magic".
Payne continued to finish This Is It DVD, highlighting the group of dancers that looks like a legion of army with synchronized moves. He was able to bring digital manipulation into a virtual reality successfully. From manipulating videos to real more than a thousand men doing it live amazed Payne so much.
Interesting Fact:
CPDRC were aspiring for having their own World-class Boxers which they called "Supermax Boxing Team" with 47 detainees aside from being popular as The Cebu Dancing Inmates.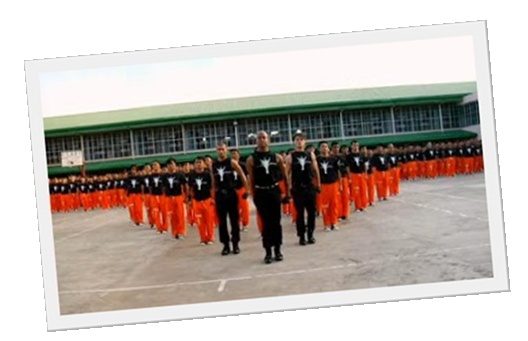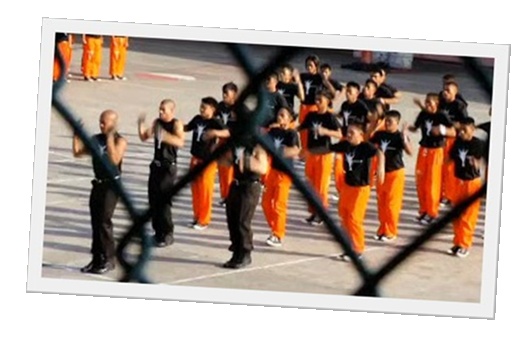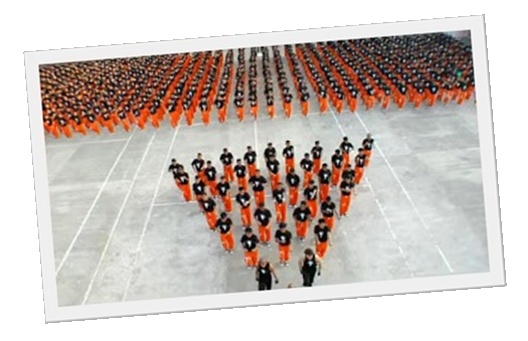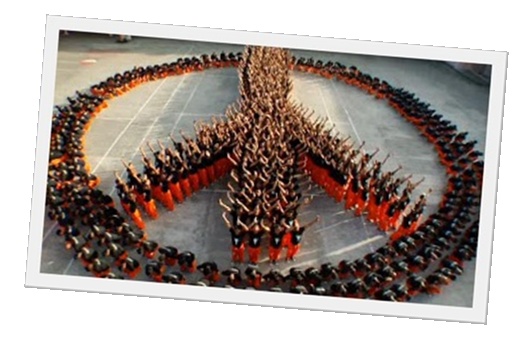 2. Twerk it Like Linemen

(Image Source: Google)
The Training
Looking at this picture below, these kind of training for linemen is just normal, building and climbing the posts. The 35 posts stands along the electric cooperative in Manolo Fortich in Bukidnon, Philippines. Check this out. What happens next is not the usual part of the training for others but for them it's really a part of their graduation rites.
(Image Source: GMA News Online)
Start Twerking Like Linemen
As you can see, they climbed on top of those posts with 40 ft high, stood still then started twerking, clapping and shaking their hips with the trending song "Twerk it Like Miley". They were the Batch of Jaguars, 35 men who made it to the top and doing this breathtaking performance on their graduation at Bukidnon Second Electric Cooperative (BUSECO).
Twerking to Fame
The Jaguars were not the only batch who performed during that day. They have also BUSECO's Batch 2006 (Batch Spiders) and Batch 2011(Batch Wildcats) who climbs the posts with ease and showed their groups' performance too like playing the guitar while hanged with harness and others impersonated the all-Filipino male singing group Hagibis. But before their graduation, Batch Jaguars posted their video while having their practice in facebook on September 2015 and it became viral. Many shared their video. This gimmik of BUSECO clicked and the Twerking Group got the netizens' attention and was featured in live magazine show like Kapuso Mo Jessica Soho and in other news channel.
General Manager of BUSECO, Deiter Hoff Arellano says:
"We're really doing this with intent to better serve our member consumer owners. But if we could share also the talents and skills of our linemen, [that] could also be an honor [if others can see] how BUSECO linemen are doing their [work] here."
Source: GMA News Online
3. Gagamboxing (Spider fight Boxing)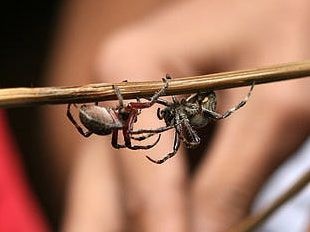 Another strange activity from Bukidnon is the Gagamboxing. Gagam from the word Gagamba which means Spider but this fight is boxing not on the ring, but in a thick bamboo stick just like the spiders. It is combined by two popular Filipino game: The Spider Fight and Boxing. Manny Paquiao might even fall from this.
This is a game for their Fiesta every January that can be found in a small town of Malitbog, Bukidnon. If you're a tourist/foreigner I'm sure you'll have a big crowd if you'll try to compete at extreme sports like this.
Interested to this game? I'll give you a short instruction how to play this. (WARNING: It will hurt your balls OUCH!)
GagamBoxing Rules:
Climb up and sit on the Bamboo stick.
Knock off your opponent from the bamboo by boxing.
Be careful and keep your balance during the fight.
Make sure you won't hit the ground first or else you'll lose the round.
And the first ever Foreigner who compete in this fight is Kyle "Kulas" Jennermen, a 26 years old Canadian boy trying to become a Filipino. Check his site for his adventures in different parts of Philippines. Click the image below for his site.
(Images below from Kulas)
Strange Foods in Philippines
There are many street foods here in Philippines, that probably seems like absurd at first but when you taste them you'll definitely like to eat them again. Our country is also populated with street vendors nowadays. Street food here, street foods there and street foods anywhere. They can be seen in front of schools, market, church, hospital or even in front of your houses. These were common and can be easily find anywhere in the Philippines which looks strange foods for the tourists/foreigners. Here are some of the street foods you should taste. Give it a try!
1. Eating Fertilized Duck egg embryo
(Images below from Google)
Balut! Balut Kayo diyan! / Balut! Penoy! / Penoy Balut!
Those were shouted by Balut vendors on the street.
When you hear this anywhere in the Philippines, it's the vendor selling Balut & chicharon with vinegar, quail eggs and peanuts. Balut is a delicacy in all places in the Philippines. It is a boiled egg with a fetus of a chicken or duck that is partially formed or in other words fertilized duck egg embryo. And it's also common in Southeast Asia countries like Vietnam, Laos and Cambodia.
This is more delicious when you eat them hot and with salt or vinegar. And now while I'm writing about this, I'm eating balut. You have to try this. Yummy! But I'm only eating the yellow and the hard white part of balut to be honest. I like the yellow and white part except the developing embryo >.<
How to eat Balut?
Just crack it slowly on top of the balut then you have to put small pinch of salt or vinegar before sipping the soup of Balut. Then you'll see different colors inside. There's yellow, white, brown, gray, blue(the eyes lol) and black. Unlike the usual eggs we're eating which has only two colors inside, yellow and white only. And eat all what's inside. Even those celebrities who visits Philippines were challenged to eat Balut. And they like it!
Watch this : how to eat Balut (One of the Strangest food in New York)
You have to watch these funny reactions of people in New York
2. Street foods in Philippines
Trying Filipino's cheap street foods is challenging, very fun and will save your budget. Filipino culture will not be complete without those street food vendors. We always go there and buy for our meryenda. Some street foods were sweet, some are sour. Here, I'll only show you the strange one. Yeah strange for the tourists.
To be more familiar with these street foods in the Philippines, here are some of them.
(Images Below from Google)
Taho
This is one of the street food made of soft Tofu with small sago and caramelized sugar. It is best to buy Taho in the morning. Kids here loves it too. And for you to know, Indonesian and Malaysian's term for this is Tauhue. When you taste this, it will surely make your day. There's also strawberry version of Taho in Baguio City. See images below.
One Day Old Chicks/ ODOCS
This is a dip fried one day old chicks also known as ODOCS. My brothers told me it tastes like chicken but it's a bit disgusting when you feel it cracked in your mouth I only taste it when I was still in college, that was the first and last. You just need to avoid thinking what you're eating lol.
Betamax
This is an exotic type of street food here. Betamax is Blood that was shaped just like a betamax tape so it was called Betamax. Having it grilled and dipping it in vinegar with onion is better for me than ODOCS. Even if it's like it has no taste at all for me.
Isaw
Isaw is intestines of pig or chicken. Although my mom always scold us before to avoid eating them, I still eat isaw with out my mom knowing it. She always tell that isaw may not be cleaned properly and we can get Hepa from eating those foods. I can't really resist It's so addicting, tasty and yummy. I can eat 20 sticks of Isaw in one sitting. It's my favorite. One of the best food on the street.
Kwek-Kwek
Oopps! These round oranges were not fruits guys. They are the small version of Tokneneng which we call Kwek-Kwek. Tokneneng has duck eggs while Kwek-kwek has quail eggs. They are dip fried with orange-battered covering the hard boiled eggs. it's one of my favorite street foods here. Specially with vinegar sauce.
Watch how others reacted on these street foods
Weird Transportation
(Images below from Google)
In our country, you'll see various modes of transportation to make it easier to go anywhere we want. There are jeepneys, tricycles, taxis but what I'm going to share here were the strange and unique transportation - Only in the Philippines!
1. Habal - habal
Habal-habal were known as the Motorcycle Taxis in other countries. These motorcycles has T-shaped crossbeams and often has extended seats. This is the common mode of transportation mostly on the mountainous area of the Philippines specially in Visayas. They referred it as SKYLABS, like the space station that was deployed by NASA in 1970s. But to Urban area this is illegal.
Kulas (Tourist) Enjoying the ride of Skylab
2. Philippines Rail Skate in Pandacan, Manila
This is another mode of transportation in Philippines where they skate their carts on the railways specially in Pandacan, Manila and in Naga City. The drivers or the operators of the rail carts push this to send their passengers to their destinations. It is more fast for the people who lives near the railway. The hardest part is when there's a train approaching, they need to get off the cart and take their carts out of the railway. This is also Illegal.
Simon of Hidden Cities Extreme (History Channel) tried this job. Find out if he survived it
3. Extreme Amphibious Submarine Jeepney - Only in the Philippines
Jeepney was originally called as G.P. which means General Purpose Car. According to a research, during World War II, It was the car used by Army planners and Americans as their command car. When they left the country after the war, Filipinos used it as their mode of transportation. You'll find these jeepney anywhere in the Philippines already.
What makes it extreme?
It's just funny how this jeepney crossed the wild river. They were so brave. I didn't thought that Jeepney can be submarines too nowadays lol. This super Jeepney crosses a river very fast at first then going deeper like it's impossible for it to cross. But we were surprised when they made it. This is ridiculous and dangerous but it's really a part of their daily living.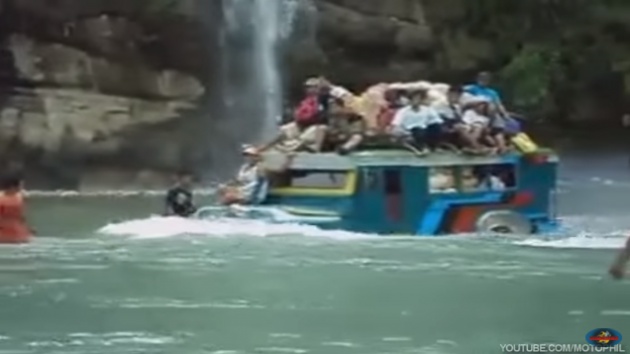 Miraculous/Strange/Weird Places
There were so many hidden places in the Philippines and it's worth the effort of the tourists going there. Some of them do this as their stress reliever, some just wanna have fun and some wants to seek some new places and many more. This time I'm going to share some of the hidden and beautiful places worth visiting for.
(Images below from Google)
1. Hinatuan Enchanted River
The beauty of Hinatuan Enchanted River is inviting us to dive in this crystal clear water. It is hidden in a jungle in Surigao del Sur, Philippines. It is a river that popped out on the ground with this clear and miraculous blue water. It is 50 ft deep enough to be considered as a river with a flawless saltwater river that flows into the ocean, Pacific. This attracts the visitors around the world and kept on visiting this miraculous place.
The clean water is really a natural wonder, whatever the explanation about it. Truth is, no one knows this salt water came from. But the theory involves an underground cave system that makes the water out and free of dirt that makes the water usually cloud like the other streams.
I hope someday, I can also visit this miraculous place.
How to Get there?
You can go there from Butuan City Domestic Airport, then take a van going directly to Hinatuan and bring you near the signboard going to Enchanted river and ride another motorcycle that goes through a dirt road then forest going to the river.
Another route is from Davao City, then take a van or bus to same way from Hinatuan signboard to the river.
2. Vulcan Point
In the Philippine archipelago, lies a highly active volcano that took thousands of lives from 1977's eruption and has been roiling since 1991 after the dormant period. It is the 2nd most active volcano, Taal Volcano, in the Philippines recorded with 33 eruptions. It is a part of Pacific's "Ring of Fire" known for it's active volcanoes and it's earthquakes.
But wait there's more!
What makes it strange?
Taal volcano is more than that guys because it has a strange geological features which attracted the tourists around the world. The Vulcan Point is an island, within a lake, that is with in another island, within a lake (Taal Lake) on an island, within the archipelago, within the ocean of Pacific.
3. Sunken Cemetery
This is a cemetery without gravestones for us to mark the places of lost Camiguin citizens and even no candles nor flowers. It has only one giant cross that stands above water as their guide where the place of sunken cemetery was. Some says that when you see the cross standing alone in the water, loneliness will hit you. It is a place of reflection and reverence. Tourists and visitors can stand on its base as long as it is above the water level and it is accessible by boat.
How did it Sunk?
In 1870s, there's a volcano near the place that began to erupt and caused the cemetery in the city sink below the sea level. This place of loss has a giant looming cross built in remembrance.
Have you already tried one from these? How does it feel? If you haven't tried these yet, you better visit Philippines and challenge yourself and have fun together with your love ones and friends!