Summer Obsession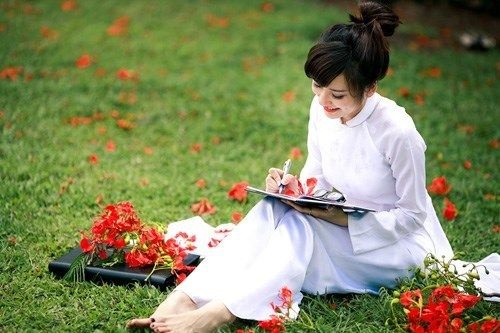 Tonight, the computer keyboard sits a little cup of showers hear, I wish I, you, and the girls are always warm my heart and the heart is always red. For the remaining months of the year day 20 always beautiful, calm, will have unsteady minutes but courage cherished and nurtured dreams of his youth.
***
April next, massive and noisy with early summer rains. So torrential rain pouring out anger on the indifferent, haughty March of kinky girl. No ambiguity, not lazy, not cold. Summer always noisy, hot as its name and its climate.
I do not know anymore. I confess that I like the winter, and also can not stand the heat of summer. But every year, every winter past next summer, I find myself wanting to change, and as there is nothing in me that has changed. I saw my body changing, my ugly skin less wrinkly, when I felt the blood vessels are in circulation, white and light hand rather than the red and purple from the cold. Also face tighter, brighter winter.
And I'm glad to see the showers. I like watching the rain falling bubbles inside the square yard, sitting under the eaves listen to the rain, listen to music and daydream ... I daydream about what is distant, when the youth was accidentally falling feelings, dreams forgotten to go through the youth thunderstorms, superficial.
Tonight, blue sky and white clouds ripple few thin, crescent moon equivocal west, why is crowded together grow. I found myself obsessed with the summer night so many years ago, when I was 18, 20.
At that time I kept abundance in a simple emotion with his life, that the future, I will step out of this life how small, to meet someone, I imagine passionate learning time research and work on his favorite subjects, living an independent life and just how rich ...
the summer obsession
So, so, I nurture my dreams with all the innocence and legs so.
Starry summer night sitting, I found my dream is to fly higher and approaches that place. A remote location, glistening know how. L once told me: "You're one solitude, feel free to make yourself vulnerable, herself happy by the little things, then I'll do it saddened her that the only thing". I do not deny that he is a very fragile girl, but also because my body was romantic rather than the solitary form. A right brained person, Math Literature better, do not like things loud, superficial, and just prefer to live by the simple things.
So I insisted that he was wrong to L. Because I'm not cold, I like what warm, like a step out of the old house, small, meet people, and people around the world I assume, reject, condemn the bad, spoke highly of the community.
What summer has urged me to want to carry the backpack, go somewhere, do something social nature of volunteering. There are times when I find funny because his childhood dream, wondering between being a journalist and a teacher. So big that I chose to study at a specialized irrelevant. Now sit back thinking, sure because I want to learn something completely different from what I know, I have.
And of course, now I will do a job not related to dream, your passion.
I do not think I should have remorse and regret his decision to chose. But there is little regret in his heart. I remember recently reading a status of a friend on my new Facebook feeds, lãng mood I follow friend's feelings. She said that she was sad because not dare to give up a job he did not like. Then I realized that I am old, and she also has old.
"You will only feel old when not brave enough to start over from the beginning because of the things I'm really passionate about." The first page of the book "Adult loneliness" she wrote like Italy Yen. Ask yourself: How many people have to wear your "old" go like that? Abandoning dreams, pure passion to cope with a complex world, to live and survive in a hurry so much without knowing what they need and want. We like each other athletes running a marathon race, tired but knew I could not go back.
Earth is round the corner hearts. Everyone wants to have a good job, a good life. But has anyone thought about what is good? If the level of computational and statistical learning, better living standards will be measured by the number and quality. But the essence of life is a cycle between school, work and play, between social relationships. It is a spiritual life based on materialism. People will only feel comfortable to not see my life as a pressure, a second high pressure and heat as the heat of mid-marathon this summer.
Sometimes I wonder what people considered themselves lucky or unlucky. When I have yet to find a good job, get a high salary, but I certainly have my own gently minutes, instead of working on a schedule waiting to eating, bathing and going to bed sleep. I support the notion that work is not merely the labor consumption but also enjoy such consumption. Rather than the chicken industry, day, go to work, then go to sleep dimensional stability but boring. Day by day into a robot work pay rules and emotional calluses.
Perhaps the work should be creative passion, and every one of us desire to develop it, as well as stick with it the more we discover the qualities and abilities of myself. But today there are so many young people complained about the pressures of work and life. They know their job is only to help them to support themselves, rather than unemployment, rather than ideas and beautiful little each day. But they continued the streak like that and pointless self-soothe themselves.
There have been many times I sat weighed, measured between the decisions and choices. Just found inside agitation and disorientation. Did I also like how the? Should accept a job you do not love, but stable, the label is not attached to the hike in adulthood, the label is not true unemployment for society's standards? Body when himself forgotten dreams and love of his own, but his will to live comfortably? I fear reprobation of men, but it is self-critical of their own, without the courage to pursue something that I'm really passionate about. The moment my head is so confused, sad to see how life because thinking romantic tangle between reality awfully broad.
Then I found the music, the pages and his friends. Books I read some books just are not too expensive of these young writers, write about their feelings about people and life around. Read the pages that I found myself in it, not sure I would find that advice. But the lyrics of the music I listen to, the little story I read, and the words are said to give me an honest look and multi-colored.
the summer obsession
I enjoy the sweet taste of summer evenings, driving slowly down the street, people go about looking at each other, then smiled when suddenly remembered that I had a simple love like that. When suddenly encounter rainfall, run porch buzzing on the street, stood watching raindrops running down each high-pressure lamps, emit yellow light. And I enjoy pulling out his phone to capture an image.
Anyone interested after working hard all week, weekends can travel or shopping, but these cash-strapped times, I only have enough money for petrol to drive 20 minutes to drink coffee with L, then stood center stage tea room singing a really fun, to see their young and also confident.
Sometimes it is Sunday afternoon, wandering the bookstore, buy a book in the first month salary, then write a few lines of his autograph. And if they will be traveling trips small, simple style goes View Forum. Not just the right to famous tourist spots, just be harmony with nature, closer to people's lives, helping them and invited them to eat a meal, to sleep a night. These trips would be less expensive but more experience ...
Summer has haunted me for the little things, not the beginning not the end like that.
Every time I hear this narrative, L to cup my head and said: "The romance of the demonstrators are you you?"
"After all, do not wear out that romance edible, so it gradually live like that. And touching forgotten how to read an excerpt or, forgotten how to cry while reading a classic love poems, forgot how to sit together without having to say anything "...
Tonight, the computer keyboard sits a little cup of showers hear, I wish I, you, and the girls are always warm my heart and the heart is always red. For the remaining months of the year day 20 always beautiful, calm, will have unsteady minutes but courage cherished and nurtured dreams of his youth.
Wish you always enough! "Enough" is not redundant is not lacking. It must be something very meaningful adjectives. For you:
"When they were young
Heart as window
Embracing know how the wind
Estimates can be removed far
It far
When they were young
A young casual - a little selfish
Just enough work to live
Someone to Love
And little weekend trip ... "