Not everyone have known that I had been married. Some of my high school schoolmates who aren't in my Facebook friends list didn't even know that I am already married. It was a year ago that my 7 years boyfriend and I had oath in front of the Boljoon town Mayor that we, James and I will be loving and standing by each other till death do us part. It was a really small event and only few of my close friends had known that we had tied the knot at that day.

As for the promise that I had stated on that day, I did mention that I will be supporting my husband with every decision he'll endeavor, I will be his rock and someone whom he can rely to. Because I had promised it, I am living that promise.

James, my husband is my college mate but I had met him before college, in a DOST (Department of Science and Technology) scholarship training. Although he had not noticed me, I had notice him and there were quite few instances where we had bumped into each other however he again didn't notice me. But as we reached college and we belong to the same class, we became part of the same circle of friends and eventually became couple when we reached our senior year.

We have been together since 2008, our relationship was not perfect but we both have been very apologetic to each other. We pretty much undergo the challenges as well like fights, misunderstandings, petty quarrels and most specially third party issues which almost ruined our relationship. But it looked like the most challenging part of our relationship was when I went abroad to work for 2 years. We had a long distance relationship for that long and we were able to surpass that so after that level, we finally had promised eternity together.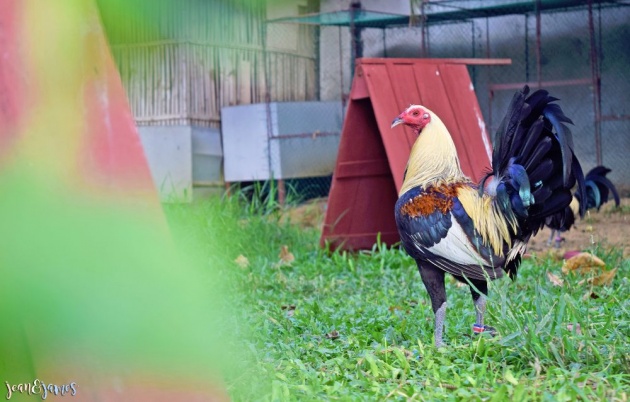 Whilst I was away during my two years of being an OFW (Overseas Filipino Worker), my husband or shall I say my ex-boyfriend had found a new hobby, well I should say he had reconnected with his childhood love for chickens, not the ones for meat or egg production and not for the chicks specially, but for fighting. With the influence of his younger brother, he found his way back to the Game fowl subject. But he is not in the fighting side of Game fowl, instead he is much interested in the BREEDING side of it.

Breeding of game fowl chickens is a broad subject and it is also very crucial in creating the fighting chickens one will be bringing in the fight day.
_____________________________________________
○ BRIEF HISTORY OF COCKFIGHTING ○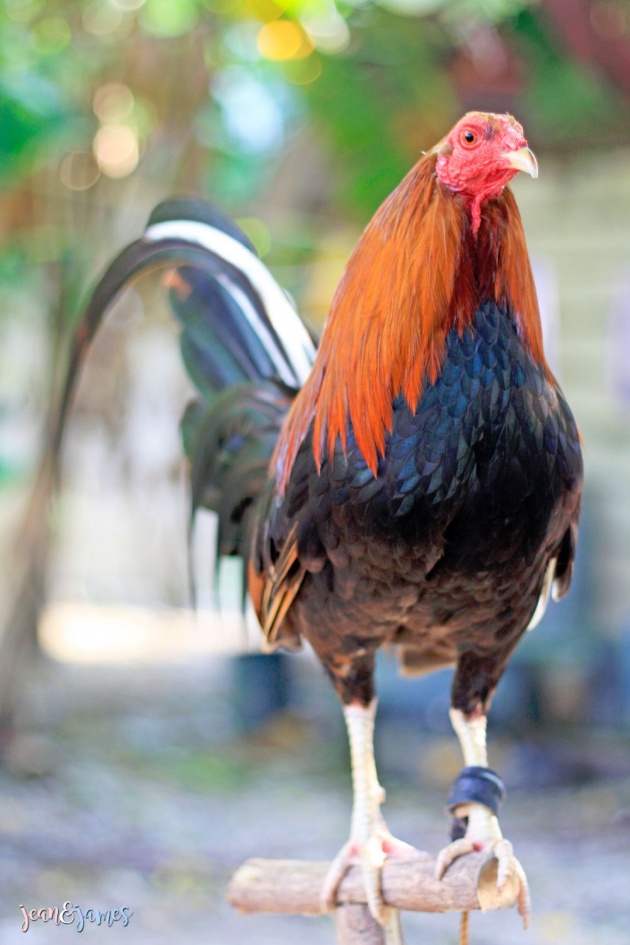 Before I could proceed, I believe most of the readers here are not familiar with cockfighting. Most of the countries worldwide have banned the said game specially that there are organizations also expressing disapproval of the said sport. Yes it is a sport and although it is banned in other countries, the history shows that cockfighting has been present even during before Christ times based on scrolls and other documents that has proved this.

Other countries like the United States which had banned this even still have breeders continuously breeding their chickens and will just travel the chickens to another state or country to fight. In fact, there are lots of foreign breeders who visits the Philippines and stays here because of the matter.

But in the Philippines, this sport I guess will never be taken out of the map of the country. Although the history books may say it was brought by the Spaniards when they had colonized us but it was proven that the Spaniards had seen the ancient Filipinos gather watching the fights between chickens when they arrived in our island. So that being said, it is pretty clear to say that this will perhaps forever stay with the Filipinos until the end.
_________________________________________________
○ COCKFIGHTING IS PROTECTED BY LAW ○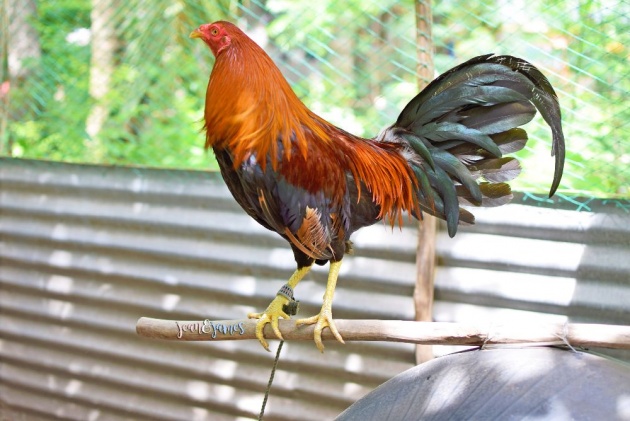 In addition to that, the subject is also protected by Law. The late President Ferdinand Marcos had signed the "Cockfighting Law of 1974" which states that :


"WHEREAS, cockfighting has been and still is a popular, traditional and customary form of recreation and entertainment among Filipinos during legal holidays, local fiestas, agricultural, commercial and industrial fairs, carnivals or expositions;

WHEREAS, by reason of the aforestated meaning and connotation of cockfighting in relation to Filipino customs and traditions, it should neither be exploited as an object of commercialism or business enterprise, nor made a tool of uncontrolled gambling, but more as a vehicle for the preservation and perpetuation of native Filipino heritage and thereby enhance our national identity."
So basically, this so called tradition of the country will stay within our land for as long as this law exists. And as far as I can remember, changing the law would take a long process before it can be taken down from the constitution.
So this just states that for as long as this is still present in the Philippines, cockfighting or gamefowl breeding will definitely stay in the hearts of certain Filipinos. Every sector, every town, province and even the entire country will always be conducting this so called cockfighting derby.
_______________________________________________
○ MY ADVENTURES WITH GAMEFOWL ○
I did mention at the start of this blog that I had promised my husband that I will be supportive with his decisions and most especially on the game fowl breeding subject. With this, I have to be most of the time present with most of his trips and other places or events concerning this.
As such, I am going to share to you the places that we have gone to and the seminars, events that I had also joined just because of his enthusiasm on the game fowl breeding matter.
GAMA Game Farm – CONSOLACION, CEBU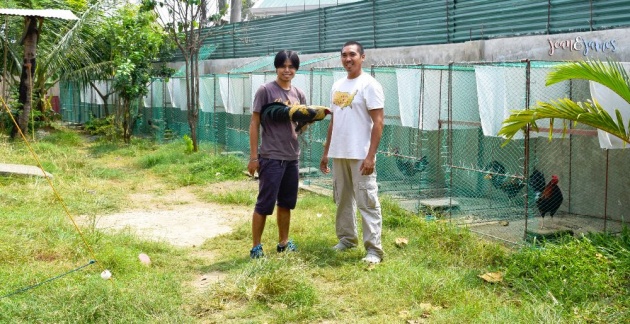 Hubby with Rigel and a newly acquired rooster
James always state that "good chickens create good friendships". He had been stressing that out since he is not purchasing any specific chicken from a source that he doesn't know. Through the months and years of interaction with different breeders, he had found friends in these certain people who had helped him and gave him ideas as well as knowledge in the said art.
GAMA Game Farm is owned and managed by Rigel Gama of whom my husband referred to as his first go-to person when he needs materials, brooder or hen for breeding. This guy had already been into this industry for years and so he had acquired good chickens already.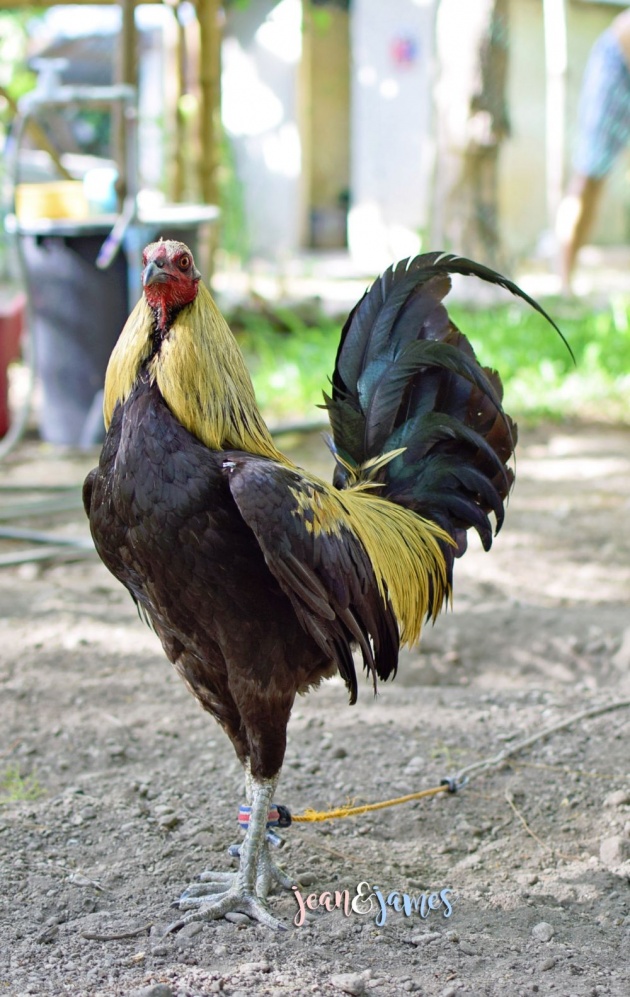 One of the Greys which we had purchased from Rigel.
With this, I had been also involved with the purchasing of these roosters. His farm is located in Consolacion City in Cebu. It is an hour ride from our place so I accompany my husband in each time he would be purchasing something from him.
ED TAN GAME FARM – SANTANDER, CEBU

The Ed Tan Game Farm Facebook Fanpage Cover Photo
Since James is also into Logo making and has been offering his services to other breeders at the same time, he met friends online through Facebook and got these guys to hire him as their logo designer. It was a great way for him to be able to acquire other bloodlines since they are paying him through chickens.
One of his clients was Captain Ed Tan of Ed Tan Game Farm whose farm is located in Santander, Cebu. It is a far area from the city but we found a way to get there when we went to Oslob. Santander is the next town to Oslob.
Captain Ed Tan has a huge farm area and it caters more than 500 Teepees for his stags and even those which he uses for Derbys and other fighting tournaments.
Aside from logo, my husband was also able to create a Facebook cover photo.
DINO MONTEMAR GAMEFARM - BANTAYAN ISLAND, CEBU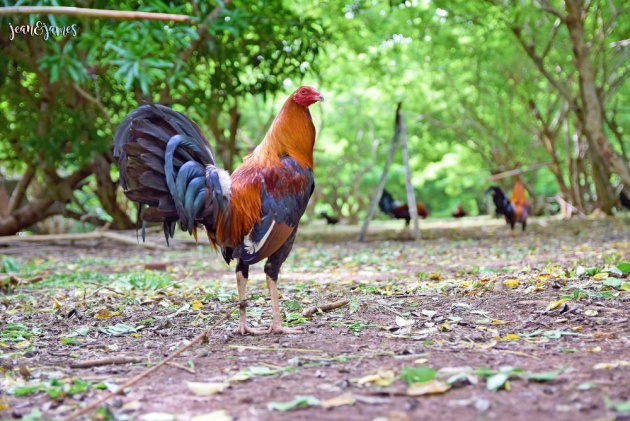 A Dino Montemar Rooster
Another fun experience was in Bantayan Island where we were tagged along by Rigel Gama to his friend's game farm which is located in Bantayan Island.
When we think of Bantayan Island, it makes me think of the beach however, my husband thinks differently because whenever he thinks of Bantayan, he can only think of the game farm owned by Dino Montemar.
Actually, Dino also has his own beach resort in Bantayan and so during the farm visit, a sumptuous lunch buffet was also served to the visitors. It was one of a kind experience aside from the effort in coming over due to the travel hours and the entire driving, everything was erased after reaching the said farm. Aside from that, we also get to enjoy a good glimpse of the Bantayan waters. By the way, if you are familiar with the Camp Sawi movie, their movie was filmed in Dino Montemar's beach resort.
We are both planning to go back soon so hopefully the weather's still great during that time.
MARLON ESCOLIN GAMEFARM - ROXAS CITY, AKLAN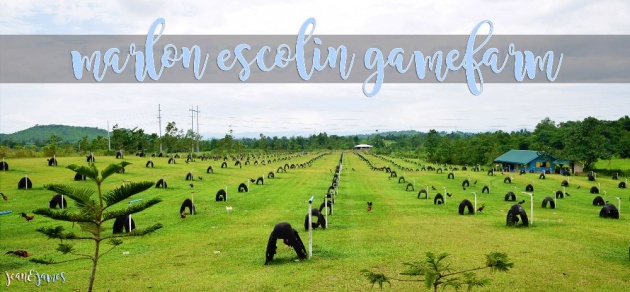 View of the Marlon Escolin Cord Area
Whilst there were many game farms which we had visited before, the biggest game farm which I was tagged along was with Marlon Escolin's Farm. This is a huge game farm located at Punta Cugon, Roxas City.
Unlike the other game farms which we had visited, this one here is very far from Cebu. So it has to be traveled via air and I again was tagged along together with my husband's friends. But before going there, my husband and I had the chance to pass by Boracay. That was only a side trip before we go for the farm visit on the next day in Roxas.
It was an overwhelming experience to finally see a huge farm which has been well known in the entire country and personally meeting the owner himself, Marlon Escolin. He speaks Bisaya and Ilonggo with a combination of Tagalog and he was welcoming as well.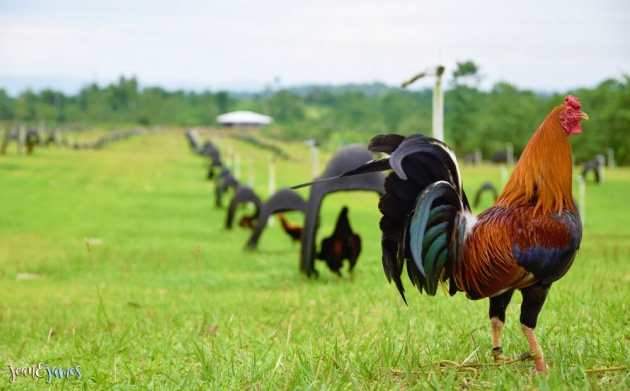 One of the fighting roosters at Marlon Escolin's.
He showed us his breeds; we also saw his breeding pens and other materials used for breeding. He produces more than thousands of chickens in one breeding season. These birds are being used for most of the time fights for derbys and he also cater them for selling. He has clients all over the country and had even sold chickens in major Expos all over the country.
I got astonished too when I saw the wide range of Teepees lined up in their farm. It was a wide one with a wide distance between each chicken.
At the end of our farm visit, our companions had the chance to buy his premium bloodlines which they will be using as well as a material in breeding as they are also aspiring to be known and to excel in the world of Game Fowl industry.
_______________________________________________
○ LAST NOTE ON GAMEFOWL BREEDING ○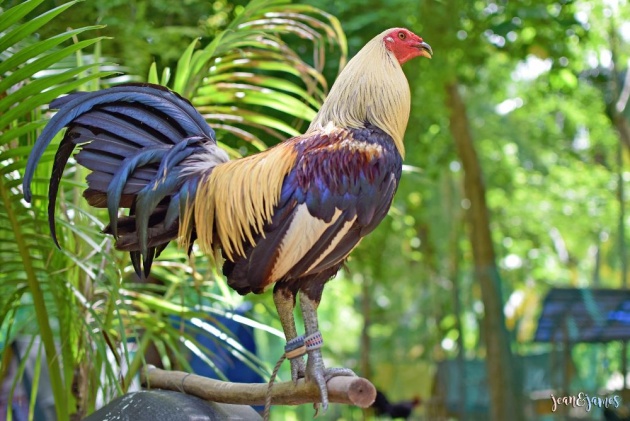 Although most of the time I get bored or tired, I can't help but join him. With all of these events, I had personally learned to also become interested in this line of business. At the same time, I am also gaining knowledge in the subject. In fact there are times when I came to see fights between roosters or even just by looking at specific roosters, I get to see which one looks better than the other and which chicken is giving a better fight than the other.
So that's it for today. I hope you had enjoyed as much as I did with all the trips that I was tagged along.
Copyright 2016. Jean Beltran-Figues
All rights reserved.