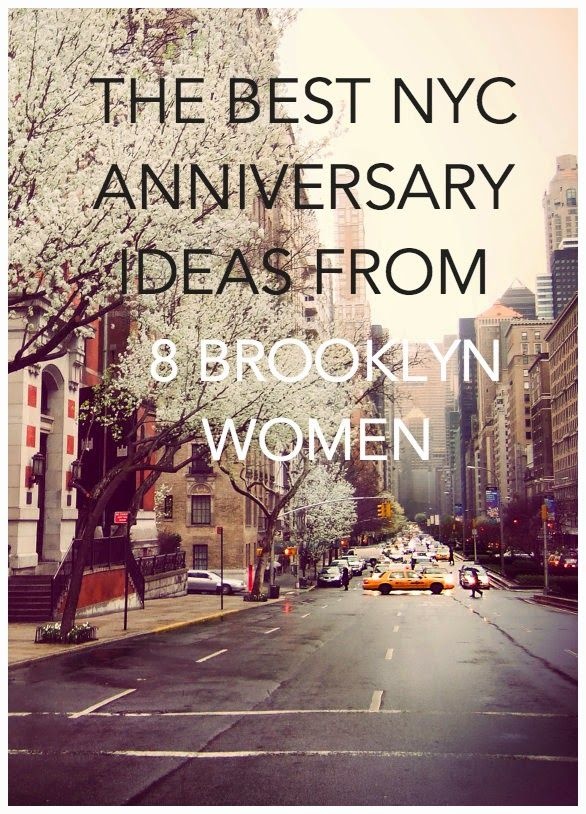 TODAY is our 4-year anniversary!! Though it feels as though we've been together forever.

We are so, so happy to celebrate together, especially when there is supposedly a killer Mexican food restaurant in Cuenca that we haven't tried yet (El Pedregal Azteca). Tonight we'll be dining on tacos and I am so excited I can hardly wait. And mostly, I have just loved, loved every time Danny has reminded me with a big smile that our anniversary has been coming up. He's been reminiscing about our love story all week. I never tire at how LOVING and giddy that guy is-especially towards me!!! Holy crap -it's the best thing ever. Danny is a big reason why I started this blog. I finally just had it so good that I felt like I had to do something to give back.

In honor of our anniversary today, I thought I'd share with you THE MOST AMAZING IDEAS for a memorable, magical anniversary in NYC.

These came straight from the mouths of my girlfriends in Brooklyn. Recently one of them needed anniversary ideas and you can see for yourself here that everyone came through for her big time. Please zap me back to New York. I want to do every single one of these!!!
(image by Lovinda)
THE BEST NYC ANNIVERSARY IDEAS:

1. "Romance=nighttime city views and waterside seating and you can get both of those at theLoeb Boathouse Restaurant in Central Park or The River Café by Brooklyn Bridge Park. The River Café is PRETTY cussing PRICEY but there's nothing I'd rather cash in my daughter's college fund for than a chocolate cake in the shape of the Brooklyn Bridge. The Loeb Boathouse is obviously beautiful and scenic and then you could take a boat out. (Boat rentals were $12 when we were there. The line was long but moved really fast.) Also there are TURTLES that swim right close to you so you can dip into the water and grab them. (Warning: you will instantly regret this because actually inner city turtles are disgusting)." -Suzie Cook

2. "A trapeze class at Hudson River Park (near Chelsea Piers). It sounds totally terrifying in a possibly romantic way? or a pee your pants way." -Mim Harwood

3. "It's not a knock-your-socks-off atmosphere, but the tasting menu at Battersby (on Smith St. in Carroll Gardens) was the best meal of my life. I love to do tasting menus for special occasions and that one was my favorite and a really good deal! (Although I heard they may have raised the price.) Also they recently opened their sister restaurant Dover at that cursed corner location on Court St. and 1st St. (where the Magic Fountain and then that nasty burger place used to be.) Haven't been yet but it's on my list." -Linsey Laidlaw

4. "LISTEN did you know you can get student rush tickets to Of Mice and Men with none other than the beloved (?) James Franco? They're only $35 and are sold when the box office opens. They open at 10:00 am so I bet you don't have to go super early." -Suzie Cook


5. "Last year for our
anniversary
we just went on a bike ride. We did the trail up to
Brooklyn Bridge Park
and then took the
ferry
across the river and continued up the west side highway and got sandwiches somewhere along the way. We just ate them outside. We parked and wandered the West Village for a while (almost bought a puppy at that pet shop there the mood was so drunk in love. Close call.) It was one of my most favorite dates ever."
-Linsey Laidlaw
6. "If it's a great dinner you're after, I can't recommend Bobby Flay's new
Gato
enough! The Mediterranean menu is knock down drag out delicious. If you can't book a reservation through open table, just call directly. They're still in their "soft open" stage, but it is SO good and the atmosphere is really stellar as well. A seat near the open kitchen would be fun."
-Kelsey Nixon
7. "Back when we were young and wild and free, we
kayaked on the Hudson River
. It's a one hour lesson and then you row up and down for a couple hours, dodging booze cruises all the while. It was really fun."
-Koseli Cummings
8. "Right now my favorite way to celebrate (when we have the time) is the quick day trip route. Anything in the Hudson Valley holds my heart, namely
Storm King
,
Dia:Beacon
, and any of the
Vanderbilt
or historic mansions.
Lyndenhurst
is probably only an hour away in Tarrytown (they are hosting a
Mother's Day piano and baritone concert
), or the
Gold Coast Mansions
along the north shore of Long Island are equidistant. Beautiful grounds for the kids to run around in, and then plenty of suburban dining for the picking (Cheesecake Factory!).
Poughkeepsie
has a walk/bikeway over the Hudson that has incredible views, and actually
West Point
is equally stunning and we have wanted to go to a
football game
there sometime."
-Angie Hansen
9. "Visit the
Aire Bathhouse
in Chinatown."
-Koseli Cummings
11. "I keep hearing that
Mohonk Mountain House
is really cool. It's the closest thing to staying in a castle in the Hudson Valley. They also have tons of outdoor activities."
-Mara
Kofoed
12. "I also LOVE
Nom Wah Tea Parlor
in Chinatown for Dim Sum. It's like a Chinese Diner stuck in the 50s on the coolest little windy street. It's been my birthday dinner of choice for the past couple of years."
-Kelsey Nixon
13. "If you are fans of sushi and have seen the Netflix documentary "
Jiro Dreams of Sushi
" you might interested in checking out
Sushi Nakazawa
. Jiro's apprentice left the master to come to NYC and open up a restaurant. I've heard AMAZING things. Feels like a very exclusive and special experience."
-Kelsey Nixon
14. "
Dia:Beacon Museum
. It's absolutely stunning. Sometimes they also have events there (concerts, dance performances, etc.). You can also walk through the nearby downtown of Beacon."
-Mara
Kofoed
15. "
The Modern
(the fine dining restaurant at the MoMa) is so nice.
Abby
and Brian often go there for their
anniversaries
and so for my wedding they gave Danny and I a dinner there. The food presentation is so beautiful. You could combine the dinner with the museum."
-Mara Kofoed
17. "In the city, favorites of mine are mostly consumed with Ramen and seafood these days. We rented bikes at
Hudson Cycles
in the west village once and biked down the river and then wandered the Village, and it was fantastic. In the summer the High Line does
mini astronomy classes
, not sure when they start. And I don't know if it's a class so much as a fun activity, but the Highline is always a great place for a date. How about
Mini Golf on Pier 25
? Cheap, but pretty fun."
-Angie Hansen

18. "A quaint dinner in the outdoor space at The Good Fork in Red Hook. Best dumplings, crab cakes. I love it there." -Koseli Cummings

19. "Try Spa Castle, the Korean day spa in Queens or a Russian dinner theater in Brighton Beach." -Elizabeth Bulfin

20. "I also think one of those cheesy river cruises would be kind of fun. Actually maybe not for a one-on-one date, unless you are really into staring into each other's eyes, but we should go with a big group sometime. And play a game on board. Mim, I had to unsubscribe from Groupon cause I kept buying the most random crap I never used, so you keep an eye out for a good river cruise for us all to go on. " -Linsey Laidlaw


21. "All I want for my next wedding
anniversary
is a pass into the
Soho House
to celebrity gawk. Kidding. But not really."
-Kelsey Nixon
22. "I don't like Times Square BUT Times Square at night after seeing the most amazing play with Phillip Seymour Hoffman RIP is kind of awesome. Everybody is so excited to be there, it's contagious."
-Koseli Cummings
23. "
Fallingwater
, the 1930s home designed by Frank Lloyd Wright, is a MUST at some point for all of you. Seriously. It's unbelievable."
-Mara Kofoed
24. "
Blue Hill at Stone Barns
is one of my favorite places. The interior itself is spectacular. There is no menu. They feed you a "farmer's feast" of courses based on what is in season and it all feels so fancy. The table service is out of this world - it's just so fun to watch all the staff buzzing on a busy evening (I went around Christmas time.) They have their own farms, hatcheries, raised meat. They also have activities at the farm during the day."
-Mara Kofoed
25. "I haven't visited yet, but I've heard that the
Donald M. Kendall Sculpture Gardens
at the PepsiCo headquarters (in Westchester County) are absolutely stunning and FREE. A very talented art director once told me we
had
to visit. It would be such a fun day trip."
-MaraKofoed
26. "
Sleep No More
in Chelsea, or an amazing play would always be a pick for me."
-Koseli Cummings
27. "We looove the food at
The Spotted Pig
in the west village. It's super quaint. You must get the garlic rosemary string fries and sheep's milk ricotta gnudi that they are famous for. It's right by the
High Line
so you could go for a stroll after dinner. Every Tuesday evening they do "
Stargazing on the High Line
" where you can gaze at the stars, planets, and moon through the high-powered telescopes of the Amateur Astronomers Association, and chat with the experts about the sights you see."
-Mara Kofoed
28. "Go to a hotel in Times Square. ;) It would be super romantic to take your newborn with you to a hotel with you and breastfeed and sleep train the night away." -Suzie Cook