I have only read about it on blogs and TV shows about this mystical Balete Tree sitting at a specific town in the also mystical island of fire.
Siquijor has been known to be an island full of things about folklores, witches and even potions. All my life, I have heard it to be an enchanted one that people in here knows nothing but magic.
Perhaps, this had marked fear to the others who are living outside of the island and I can't really tell who started it all and made this island known for magic. Well, these stories did not really scare me but had even urged me to come and visit this island.

My favorite part about Siquijor and the top thing to do here would be to pay a visit at the century old and known as Enchanted Balete Tree.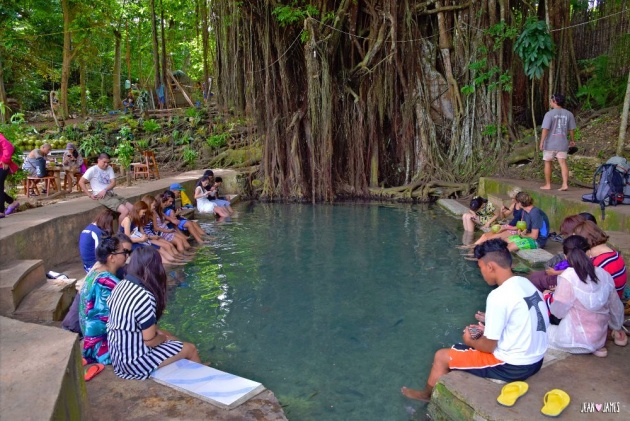 Tourists sitting at the tiled edges while both feet are dipped into the waters with the fish doctors!

It was our number go-to-destination while in the island as we had toured around the entire island of fire.
Sixteen minutes away from the Capilay Spring Park in San Juan, as per the trusty Google Map and we should be able to reach the enchanted tree but since the connection was not perfect, we were forced to stop at certain areas to ask some locals for its location. Gladly, just like the rest of other places that we had visited within the Philippines, the locals are accommodating and very helpful at the same time. They would advise us with smiles on their faces assuring us that we are on the right way and that the Enchanted Tree is super easy to locate. And indeed, it is just along the road.
It may sound boring and one might think it is not worth it, I would personally correct this mindset because this experience is something unique and mystique. Here are the reasons why and the activities which can be done there:
• STILL THE MOMENTS ON PHOTOGRAPHS •
"Take photographs or it never happened"
Due to the easy access to digital equipment which enables almost everyone to be our own photographers, we have all the freedom to take photos and capture each moment.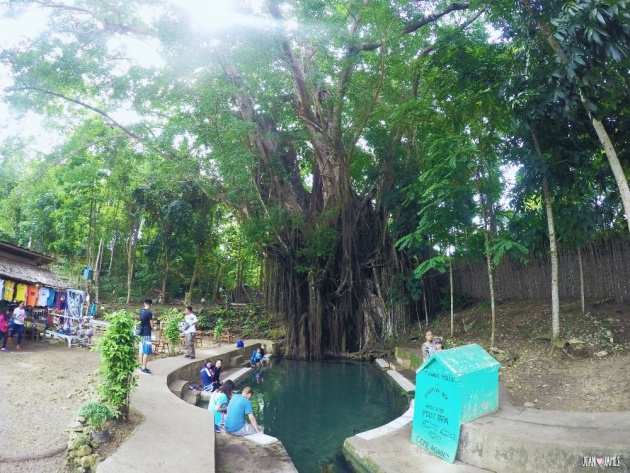 Photo captured by GoPro, too wide that it distorts the image.
Bloggers, instagramers, Facebook avid users and perhaps vloggers have been super "in" in this generation that almost everything that we do, we are always sharing it to the entire world through social media. This activity is also one of the top thing to do in tourist spots such as the Enchanted Balete Tree as well.
As for me and my husband since we are not fan of selfies that much, we would only be taking photographs of what we can see in the area. The huge enchanted tree is really fascinating. Its hanging branches are kind of mystical and it looks really alive. Basically, it is indeed alive since it is still bearing those leaves and still growing.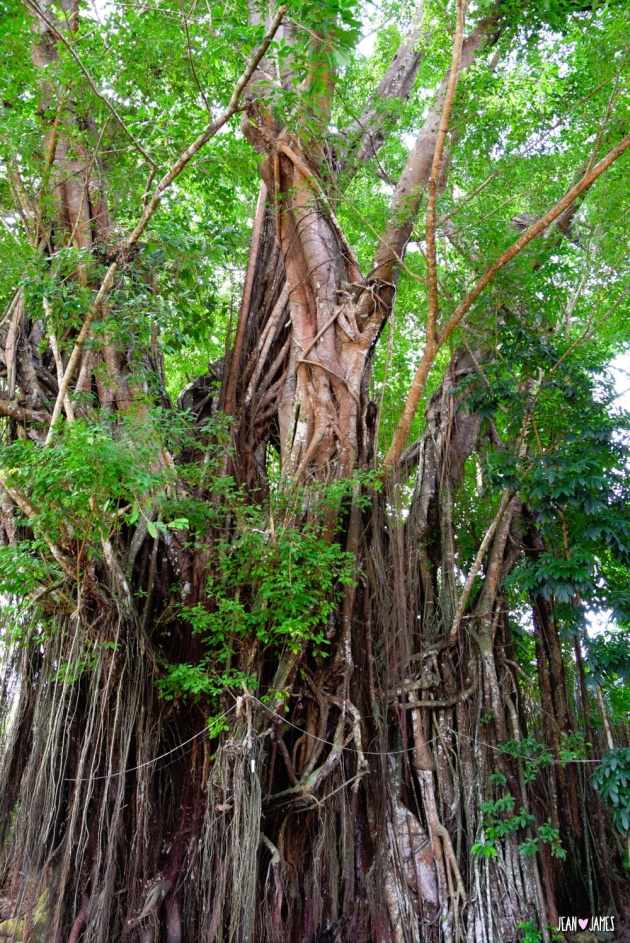 The mystical Balete Tree, look at those hanging roots and branches!
Everyone in the vicinity was on their mobile phones, taking photos and videos. Some also have their waterproof digital cameras which they had used to take videos of the fishes under water which I will be sharing later on.

• GET YOURSELF A FISH SPA •
"The unusual way of getting your tootsies pampered involves a tank full of fishes."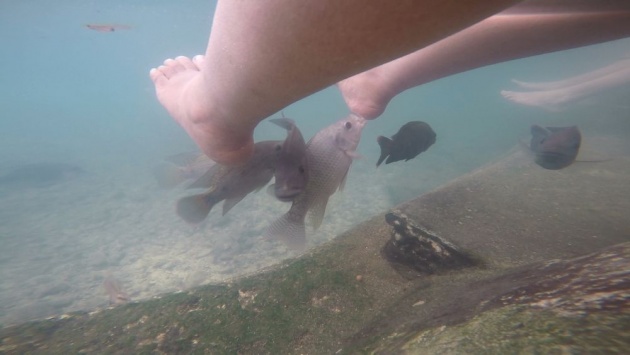 My feet as this huge fish tries to eat some dead skin cells. The water was super clear that I can see this fish coming over and opening its mouth.
While I was excited for the whole idea of being able to roam around the entire island of Siquijor, I didn't know that there's a much more exciting thing that had occurred to me while in the vicinity.
Reaching the area, we found specific people who were sitting in the sides of the river and they were giggling and laughing out, at that time I know I want to try it out myself.
Entrance fee is at five pesos each, there's also a parking fee of ten pesos for motorcycles.
I got myself into this wonderful and giggling experience of having small as well as big fishes kissing my feet and biting off those dead skin cells. At first, the small ones were coming near to my feet and that was really cool but then after some time, some big fishes where swimming their way towards my feet. I got a bit scared thinking they might be biting hard.
This video explains the scenario and although there isn't any pain at all when they started taking out those dead skin cells, I can literally feel their mouths kissing my skin and that gave me a different feeling! I had to pull my feet out off the water and the big fishes turn their ways to another set of feet at the opposite side.
I actually spent 30 minutes their, I was alone on my side then some Koreans joined me, they left and I was still there so that took awhile for me to really get enough of the Fish Spa.

• BUY SOME POTIONS •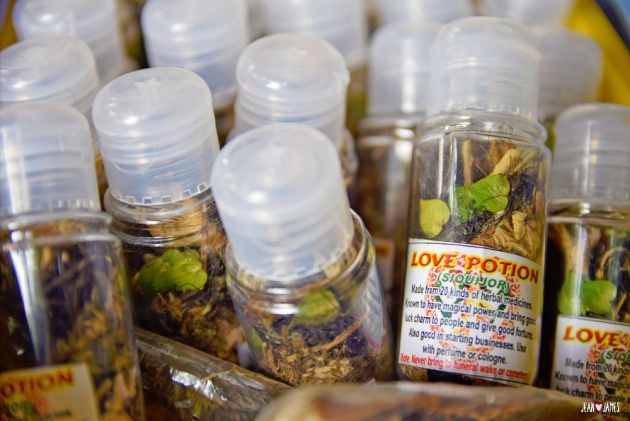 The Love Potion for sale.
Since Siquijor has been known for potions, "kulams" and whatever scary, I was already expecting to see these specific items which is being talked about in our province.
Let me share to you a real life story which was definitely intriguing and I don't know if I should believe in this or not but it is true.
When I was in secondary, our roads were being reconstructed for road widening. It was the entire Bohol high way which was planned for it. The workers who were doing the reconstruction were not all from Bohol, some were from Luzon and Mindanao. Then there were some who were from Siquijor too. One of them had actually been talked about because he had made a close romantic relationship with a young fine lady, beautiful, meztiza and that she has a pretty face. The construction worker on the other hand is a typical construction worker and you know how construction workers look.
So it was a mystery for everyone of us as to why this fine lady had agreed to have a relationship with that guy. As per their neighbors, this was because that guys used a love potion.
Well oh well I can't really forget about it and so the first thing that I tried to look for when I went out off that spring for the Fish Spa was the souvenir items and truly, I did find the love potion that I had been expecting to see.
As per the lady attending to it, the oldies are making these and that they had put special kinds of roots, leaves and etc. When one buys it, he or she should put their own perfume or essential oils in it and mix it with the inside items. This will then become your new perfume. If you like someone and you'd want him or her to be your girlfriend or boyfriend, let him or her smell your perfume everyday.
That sounded creepy for me, I did't buy it! Haha and in the first place, it cost a bit. Php 300 for a tiny little bottle.

• SOUVENIRS FOR YOUR FRIENDS •
AND FAMILIES

Since I didn't like the Love Potion, I looked for another items that I can bring home to my colleagues and friends back in Cebu.
The options I thought of buying were: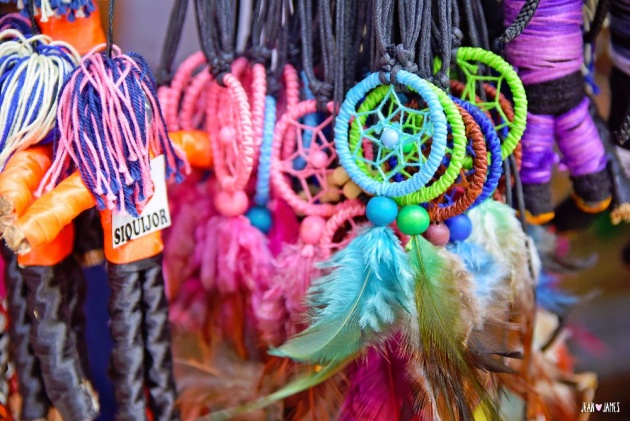 Dream Catchers
- these are really cute ones and I had made doodles of these stuffs so I really want to also buy this so I can have my own real dream catcher however, it was a bit pricey. I actually wonder why their items were pricey.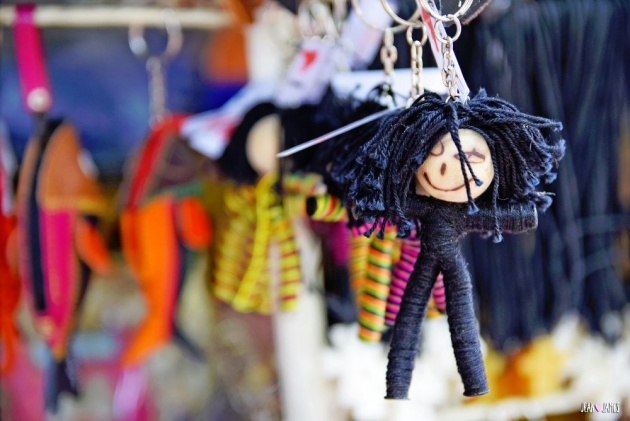 Voodoo Dolls
- oh these are cute little dolls used by the witches, as what they say but I don't really find them scary, instead they look fun and cute for me.
I ended up buying them because they are more affordable than the dream catchers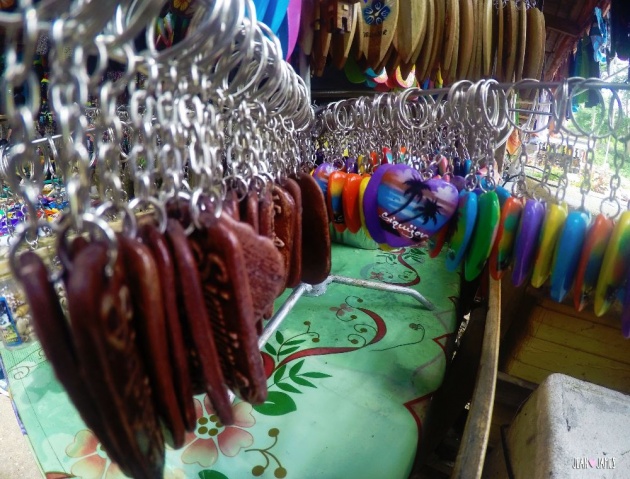 Siquijor Imprints Keychain
- Another item which I bought since the price is the same with the voodoo dolls and I would like to have a variety of souvenir.

• FOUND CHEAP VIRGIN COCONUT OIL •
Heard a Chinese woman shouting or yelling and I can't help but look on what was happening. I thought she was fighting with someone but later on I figured out she was trying to buy a whole box of Virgin Coconut Oil!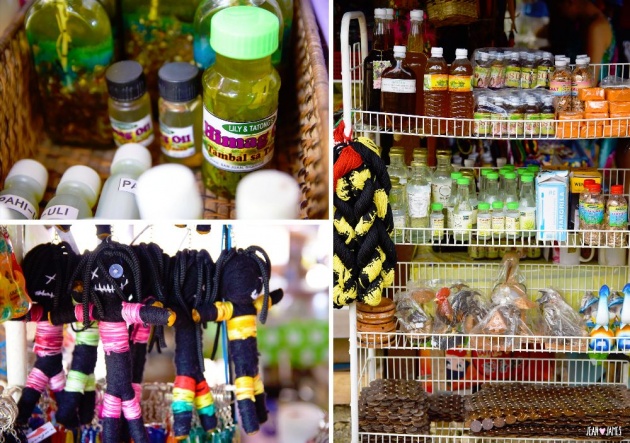 Oh my! I then thought, I should buy one too! I recall when visiting The Buzz Cafe in Robinsons Galleria, a small bottle of Virgin Coconut Oil costs around three hundred Pesos so when I learned they were only selling them at Php 250 for the big bottle, 250ml I guess, I immediately bought one.
There are really different uses of Virgin Coconut Oil and I bet these ones here are authentic ones.

• CHILL AND HAVE FRESH BUKO JUICE •
If you are not fond of checking out the souvenirs and other keepsakes from Siquijor and if you are not also a fan of Fish Spa, then there's still a spot for you in the area and that is the tables!
Yeah there were wooden tables available so one can sit and chill while waiting for your companions who were busy with either the fishes or the souvenirs. Most of those who were sitting at there were the husbands and the guys, you know what I mean right?
While waiting for their companions, Fresh Buko Juice can be bought from the local vendor too who has to use his own bolo to open the young coconut. After consuming the water, you can ask him to open it up and so you can eat the coconut meat inside. It's a refreshing thing to do since most are on their motorcycles and traveling makes one thirsty for sure just like us.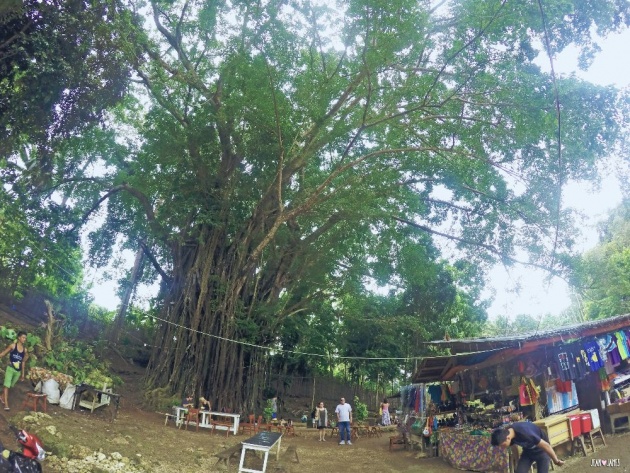 Those are the chairs I am referring to.

As the area is a bit bare, only a few things can be done in there but the main highlight of this is the Enchanted Balete Tree and I do wish there were more information about the Balete tree in the area rather than offering other kind of services. Perhaps some posters and information papers would be available too to inform the visitors and the tourists who comes here.
But I had fun and it was the most unforgettable experience I had in Siquijor, I am referring to the Fish Spa! If you would be visiting the island, don't forget to try it out, it's FREE!

Hope you had fun with today's blog. Enjoy your day guys!
Copyright 2016. Jean Beltran Figues All rights reserved.