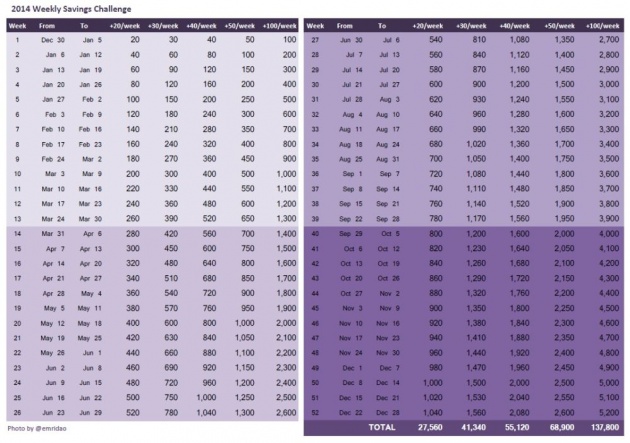 A new year again and though it is a time for resolutions and all, I have one thing in mind that I don't want to resolve though but I want to instead work on. It is not a problem that I have to resolve but so I need it so I have to work for it.
Because of social networking sites, I was able to bump into certain site which had offered or maybe suggested ways in order for the Filipinos to save.
I was able to save though for the past years but the savings isn't that good enough or isn't that big enough.
This formula by someone over the net had really inspired me and I feel like it is easy to follow. It's a weekly thingy so I believe we can definitely do stick to the rules.
The photo above or shall I say the table above would show us how to save with some minimum amount. As I was studying it while reading it, I realized, I should instead start from the biggest amount down to the smallest amount since we start the year usually with a huge amount of money due to the 13th month bonuses we have received.
Let's see if I can stick to it.
Help me God.
credits to the owner of the image