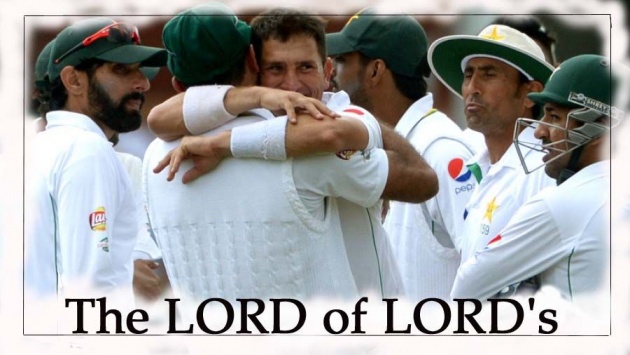 17th July 2016, The eyes of all nation was sticking towards the television set. And after all the day in the end a roar begins and all the faces were filled with smile and why not? Because Pakistan had beaten England in Lord's (home of cricket) after a long space of 20 years. Also Pakistan became the first Asian team who have most matches win record at Lord's.
The long schedule of Pakistan and England contains a test series of 4 matches. The first test match between Pakistan and England was started on Thursday 14th July. Pakistan was playing under the captaincy of Misbah ul Haq as well as England under Alstair Cook. The toss was won by Misbah ul Haq who decided to bat first. Pakistan scored 339/10 in 1st innings which included a well deserved century of Misbah ul Haq who was playing his 1st test match in England in his career. Also he managed to get his name appeared on Lord's honor's board. Along with Misbah, Chris Woakes the right hand fast bowler of England also made his name appeared on Lord's honors board as he took 6 wicket and maiden 5 wicket haul of his career against Pakistan.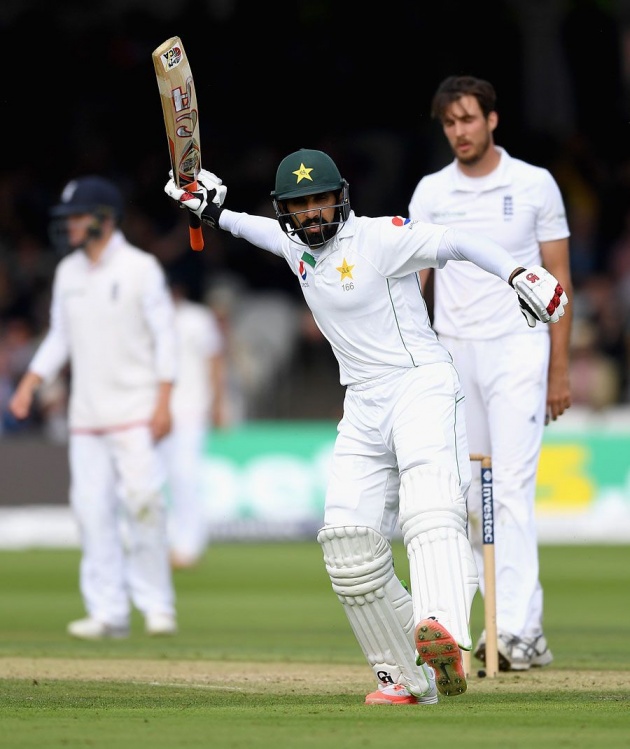 image source: Cricinfo.com
Misbah ul Haq celebrating after scoring his first century at Lord's.
Almost everyone who were covering the lord's test including spectators were focusing their eyes on Mohammad Amir who was making his comeback almost after 6 years facing the ban of sanctions of spot fixing proved on left hand fast bowler.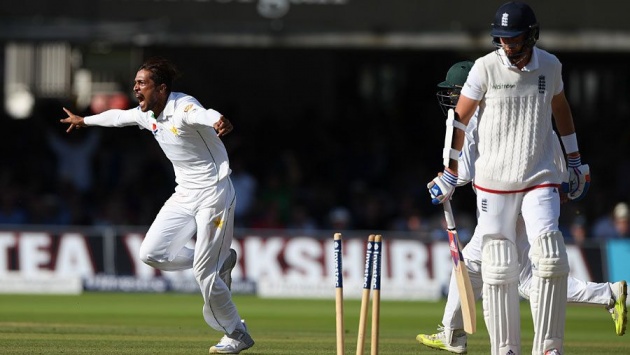 image source: Espncricinfo.com
Mohammad Amir celebrating his wicket after getting rid of Stuart Broad
English team looked in quite trouble from the start of their innings. But as England skipper Alstair Cook departs, the english batting looked uncomfortable and became totally went on back foot when Yasir Shah the right hand leggie took charge with the ball. The right hand leg spinner with his spin and straighter ones disturbed the whole batting line up which was resulted the name of Yasir Shah to be appeared on honour's board as well as 6 wicket haul in the end. The racked English batting line up only achieved to score 272/10 and left 69 runs trail.
Starting 2nd innings, Pakistan kept loosing early wickets and after top and middle order failure Asad Shafiq and Sarfaraz Ahmad made little contribution which provided little bit stability to Pakistan. The Green team again looked shaky against the star right hand fast bowler Chris Woakes who have became the source of anxiety for Pakistan. Pakistan ended up their batting with a score of 215. England star bowler Chris Woakes first time took the 10 wicket haul in his career and gets his name again appeared on honor's board.
Starting the day 4, England need 273 runs to win this match which became more crucial after the early breakthrough given by Rahat Ali. Just like 1st innings Yasir Shah played an important role and England failed to achieved the target of 273 runs and lost by 75 runs after being all out.
This is the first time in 20 years, that Pakistan beat England in Lord's (home of cricket) and yet another that any leg spinner have taken 5 wicket haul except Yasir Shah who was also termed as the Man of the Match for 1st test with his fiery spell of 10 wickets.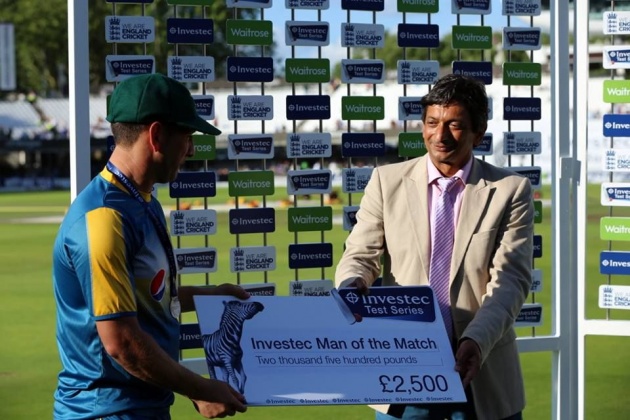 image source: espncricinfo.com
Yasir shah while taking his Man of the Match for his 10 wicket haul from winning side.
Speaking at post match ceremony winning side Captain Misbah ul Haq stated that: "We want to dedicate this series in honor of (Late) Mr. Abdul Sattar Edhi who died 10 days ago". He added that its a whole team performance and we are glad the way we perform. He also stated about the way he celebrated his century by saying it was a tribute to our Army officer who helped us in our training.
After a remarkable win, Team Pakistan celebrated their victory in a different manner by doing 5 push-ups each to tribute their Army officers who trained them before this tour.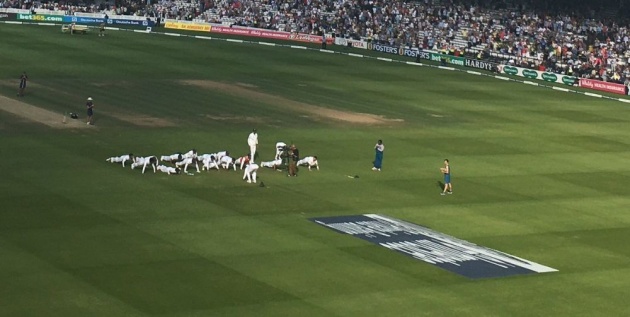 image source: espncricinfo.com
Pakistan team while doing push-ups after their historical win at Lord's(home of cricket).
While this celebration has become a source of debate everywhere. The England test Captain Alstair Cook termed this series "Unpleasant". While their One Day International Captain Eoin Morgan said that: He doesn't found anything wrong in that celebration. While some others claimed that was greatest celebration of all time at Lord's.
Along with this historic win Pakistan lead a super series with 4-0 and becomes the only Asian team who won the most number of matched at Lord's and without any doubt is suitable to call themselves "The Lord of Lord's".