This week I'm going to be posting a 4-part blog entry about the making of my award-winning short animated film, Ode to a Post-it Note. I hope this series of blog entries will help offer a bit of insight into the making of an animated film that combines stop motion, classical and pixilation animation. As well, offer an indepth look at working on a commissioned animated film and some of the technical challenges that I encountered.
The idea for the film originated after a phone conversation with Sherry Browne the marketing manager for the Post-it Brand at 3M Canada. Sherry was a fan of my animated short, Yellow Sticky Notes, and we always had an idea that someday we would work together on a project. While discussing the idea of making a film to celebrate the 30th Anniversary of the Post-it Note, she mentioned how much she admired Arthur Fry for inventing the Post-it Note. Being a creative person, I thought about how inventors are also artists and use creativity to create amazing inventions. Since my life would fall apart without Post-it Note 'to do' lists, I wanted to honor Arthur Fry's invention. So, I came up with the concept of Post-it Note going out to find the man who created him…his 'father'! With Father's Day a few months away when I thought of the idea, I thought it would be a really nice homage to all Fathers and celebrating the children of invention.
I was in charge of everything…from creating the concept, writing the story, storyboarding the film, directing, animating, producing, etc. When it boiled down to it, 3M Canada gave me an incredible amount of creative freedom (probably too much freedom) with this film so I could treat it as just that, me creating one of my short films. I doubt they would ever do that again! There wasn't really a brief, no agency getting in way, but rather a few brainstorming sessions over the phone between Sherry and myself. It was an amazing process. I think I just sent them a written treatment before I started to get to work on the film. Therefore, in no way did this ever feel like I was making a commercial. Also, since it was meant to be a viral video for YouTube, I wanted to capture a story that was heartwarming, charming, and funny…not a story that was just about the product. I knew for a film to go viral and have people spread it around to their friends, it would need to be a great story with appealing animation and a cute loveable main character (the Post-it Note) that the audience felt for and could sympathize with. It had to pull on the heartstrings, be entertaining, and inspire people with its story.
I knew I had successfully accomplished making the film feel like a film not a commercial when it became a huge film festival favorite and went to screen at some notable animation festivals like Anima Mundi in Brazil and winning some major awards including a 2011 Webby Award for Best Branded Entertainment and Best Animated Film Award at the Anchorage and Beloit International Film Festivals.
Watch Ode to a Post-it Note here on my WebTV at http://www.filmannex.com/webtv/meditatingbunny/movie/ode-to-a-post-it-note/32362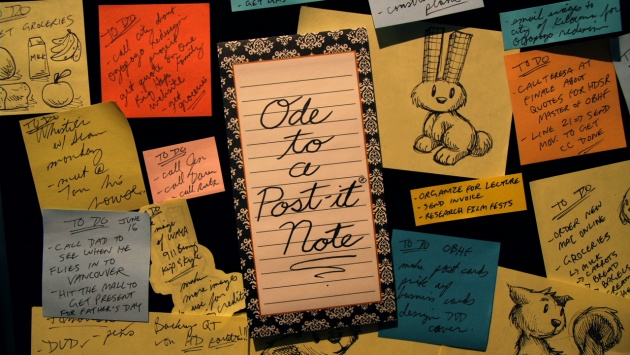 Opening title shot for the short stop motion animated film, Ode to a Post-it Note. Notice the cameo of the 911 Bunny from my previous short film, Yellow Sticky Notes, which you can watch here: http://www.filmannex.com/webtv/meditatingbunny/movie/yellow-sticky-notes/32303