THE WINNING CAPTAIN
Sarfraz is the last hope of restoring the Cricket and to support the failing Cricket in Pakistan.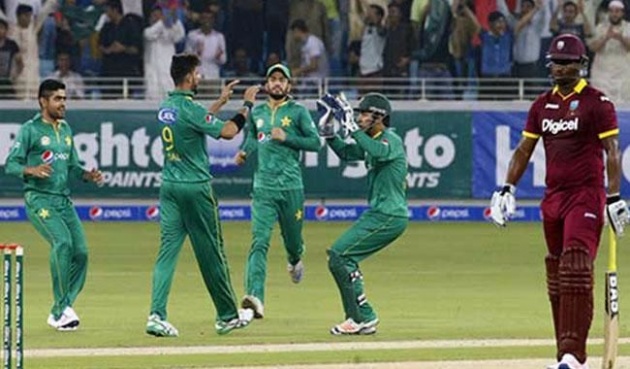 Sarfraz Ahmed was elated after his team's comprehensive nine-wicket win against world champions West Indies in their opening Twenty20 International in Dubai on Friday night.
"All credit goes to the boys, and the way they are working hard, and giving their 100 percent on the field, if you look at the Manchester match and this match, our effort is to motivate the boys and we have really been focusing on fielding, and the boys have responded well, and all our plans are working well, and we have been able to get good results because of that," Pakistan's captain said after the series opener.
Sarfraz was confident that Pakistan will go on to win the three-match series.
"We are very happy with this win, but we have to focus on the match tomorrow (on Saturday night) and win that match too and wrap up the series."
Sarfraz hailed Imad Wasim for his match-winning figures of 5-14.
"Imad is an attacking bowler, he was in great form in the CPL and he knows how to bowl in the Powerplay. Our target was to attack with him.
"We knew how the pitch will behave, it was skidding. A bit of grass on the pitch helped the spinners too. We made use of that advantage."
Earlier, Wasim's spin assault routed the West Indies for a low score of 115 in 19.5 overs which Pakistan surpassed in 14.2 overs to take a 1-0 lead in the three-match series.
Dwayne Bravo hit a gritty half-century to avoid a total disaster, adding a new world record Twenty20 stand of 66 runs for the ninth wicket with Jerome Taylor who made 21.
Pakistan had lost opener Sharjeel Khan for 22 in the fourth over but Babar Zaman (55 not out) and Khalid Latif (34 not out) ensured the target was chased down comfortably.
Babar hit two consecutive fours to bring up the victory, hitting two sixes and six boundaries overall in his 37-ball knock.
"I bowl wicket to wicket and this brought me wickets," said Wasim who was declared man of the match. "I try to give my hundred percent every time."
West Indian skipper Carlos Brathwaite blamed his batsmen.
"We didn't have a good start, so we need to change things quickly because there are back to back matches," said Brathwaite.
Earlier, Bravo scored a 54-ball 55 for his fourth half-century and lifted the world champions from a precarious 48-8 in 11.3 overs before being bowled off the penultimate ball.
Wasim made his career milestone in his four destructive overs — the third best figures for Pakistan in all Twenty20 cricket — after Sarfraz Ahmed won the toss and opted to bowl on a slow turner at Dubai stadium.
The victory gave Pakistan's new T20 captain Sarfraz Ahmed two in two after taking over in his team's nine wicket win over England at Manchester earlier this month.
Score Board
Pakistan won toss
West Indies
J Charles b Nawaz 7
E Lewis c Nawaz b Imad 1
†A D S Fletcher b Imad 2
M N Samuels lbw b Imad 4
D J Bravo c Akmal b Sohail 55
N Pooran c Sarfraz b Hasan 5
K A Pollard b Imad 9
*C R Brathwaite c Khalid b Imad 0
S P Narine run out 1
J E Taylor b Sohail 21
S Badree not out 1
Extras (lb 2, w 5, nb 2) 9
Total (all out; 19.5 overs) 115
Fall: 1-3, 2-11, 3-15, 4-17, 5-22, 6-47, 7-47, 8-48, 9-114, 10-115
Bowling: Imad 4-0-14-5; Sohail 3.5-0-26-2 (2w); Nawaz (3) 4-0-16-1; Hasan 3-0-32-1 (1nb, 1w); Shoaib 1-0-5-0 (1w); Wahab 4-1-20-0 (1nb, 1w)
Pakistan
Sharjeel Khan b Badree 22
Khalid Latif not out 34
Babar Azam not out 55
Extras (lb 1, w 3, nb 1) 5
Total (1 wicket; 14.2 overs) 116
Did not bat: Shoaib Malik, Umar Akmal, *†Sarfraz Ahmed, M Nawaz (3), Imad Wasim, Wahab Riaz, Sohail Tanvir, Hasan Ali
Fall: 1-28
Bowling: Badree 4-0-27-1 (1w); Taylor 1-0-8-0; Narine 3-0-21-0; Bravo 2-0-16-0 (1w); Brathwaite 2.2-0-29-0 (1nb); Pollard 2-0-14-0 (1w)
Result: Pakistan won by 9 wickets
Series: Pakistan lead the 3-match series by 1-0
T20I debut: N Pooran (West Indies)
Man of the Match: Imad Wasim (Pakistan)
Umpires: Ahsan Raza (Pakistan) and Shozab Raza (Pakistan). TV umpire: Ahmed Shahab (Pakistan). Match referee: A J Pycroft (Zimbabwe).