(Photo Credits: Official Disneyland Resort Logo via disneyland.disney.go.com)
A Disneyland Guide should be on top of anyone's mind who is planning or wanting to have an awesome vacation at Disneyland. This attraction is usually dubbed as the "Happiest Place on Earth". For readers who are wondering why, the answer is actually quite simple – it is because, that phrase is the official tagline of the company.
But of course, if the company would use and boast such tagline to associate itself, they should be able to back it up. Luckily for Disneyland, it appears that they are doing an excellent job since millions of people have been visiting the company's theme parks every year.
Disneyland Visitors Chart in Millions

(Photo Credits: Aerotheque via Wikipedia.org)
A Disneyland Vacation Guide
Before moving on, please be informed that this post is all about giving out tips and suggestions when visiting Disneyland. The tips and suggestions provided here is based on personal experience upon my latest trip and vacation to Disneyland Resort (this is the one which is located in Anaheim California).
However, even though the ideas presented here are stemmed from recent events at a particular Disneyland park, the tips and suggestions offered here may still be applicable to other Disney amusement parks. Thinking about it, while writing this blog, the tips that will be provided here would also be doable in Disney World (Florida), Disney Hong Kong, and Disney Japan. Please be informed that I have been to mentioned Disney attractions so I know exactly what I'm talking about.
List of Disneyland Parks
While on the topic of Disneyland Parks, listed below are the names and locations of all Disneyland parks: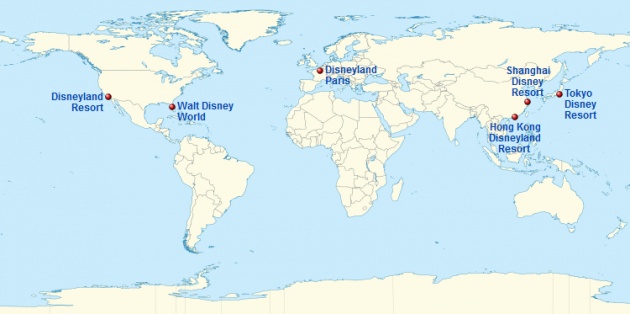 (Photo Credits: Tubs via Wikipedia.org)
Disneyland Park – (Part of Disneyland Resort in California)
Disney California Adventure – (Part of Disneyland Resort in California)
Walt Disney World – Florida
Tokyo Disneyland – Tokyo Japan
Euro Disney Resort – (Disneyland Paris in France)
Hong Kong Disneyland – Hong Kong
Shanghai Disneyland Resort – Shanghai China
Why is this blog important?
As mentioned, millions of people have been annually visiting Disneyland parks – both locals and foreign tourists . If you (or your family or any person that you know) have plans to spend their vacation there, it would be a good idea to be prepared. Failure to do so may lead to unfortunate events that might eventually end up in a ruined vacation – and we all know that a ruined vacation is a real drag (especially if there are kids involved).
A Brief History of Disneyland
Anyway, now that we are done with the introduction and what to expect on this blog, let us first look at the history of Disneyland. Doing so will help us better understand why Disneyland is very popular – what is there about these parks that it is able to attract millions of attendees each year.
The history of Disneyland is actually quite interesting. Some say that the Disneyland Park revolutionize on how amusement parks work. Basically, amusement parks started out as trolley parks wherein such are used to advertise or boost visibility of another. Back in the day, although trolley parks offered rides and the likes, there is no central core. This is apparently what Walt Disney realize as he looks at his daughters enjoying the carousel – he somehow wanted to have a place where the entire family can enjoy and not just focus on individual happiness.
Walter Elias Disney

(Photo Credits: Publicity photo of Walt Disney from the Boy Scouts of America via Wikipedia.org)
Besides Walt Disney's vision of putting up a family inclined / oriented park, he has also been receiving numerous fan mails regarding meeting Mickey Mouse and wanting to ride his LA backyard train (the Carolwood Pacific). Of course, many readers probably knew that Walt Disney is the cartoonist that brought Mickey Mouse to the world. However, these same readers may not be aware that the Carolwood Pacific Railroad is not a cartoon but an actual live steam railroad built by Walt Disney at the backyard of his Los Angeles home.
The original layout of Walt Disney's backyard railrod

(Photo Credits: Janke via Wikipedia.org)
With his original idea of a whole family fun park combined with what fans want, Walt came up with a park whose center is to tell a story. With such a concept, it would surely be embraced by family and fans alike. Needless to say, this formula which was created more than fifty years ago, still holds true today. Anyone looking for proof simply need to look at the chart of the Disneyland's annual visitors (provided in the early portions of this blog) as it is in the vicinity of millions.
As stated by Mr. Walt Disney last 1955:
To all who come to this happy place: Welcome. Disneyland is your land. Here age relives fond memories of the past, and here youth may savor the challenge and promise of the future. Disneyland is dedicated to the ideals, the dreams, and the hard facts that have created America, with the hope that it will be a source of joy and inspiration to all the world.
Disneyland has it figured out – how about you?
For obvious reasons, the management of Disneyland has figured out the ultimate formula to attract millions of visitors – but how about you, do you already have the perfect plan for a Disneyland Vacation?
If you are planning to have a vacation in Disneyland, are you sure that you will enjoy it. Remember, Disneyland park is flocked by millions of people all year round – and year in and year out. So, just how sure are you that you will have fun since you will be rubbing and spending your time with millions of other people that you don't know.
The answer is quite simple really – and that is a well planned and prepared vacation. This is what this Disneyland guide is all about. Be sure to digest in each tip provided as it might increase your chances of having a wonderful time at the park. Otherwise, visiting and vacationing unprepared may lead to disastrous outcome.
Vacation Guide and Tips for a Disneyland Trip
1. Buy tickets that suit your trip at the soonest
Buying tickets as early as possible to get it at a cheaper price is already common practice. This tip also holds true for Disneyland park tickets. However, there is one important thing to consider - there are different kinds of Disneyland tickets available.
Screenshot of email confirmation regarding purchased tickets online

(Photo Credits: jikZ via bitLanders.com)
For those who are not aware, there are five type of Disneyland tickets. The five types are listed below:
• 1-Day ticket
• 2-Day ticket
• 3-Day ticket
• 4-Day ticket
• 5-Day ticket
As the ticket name implies, the tickets are basically straightforward. But a good tip to remember is that the longer duration tickets (particularly those 3 days and above) holds special features.
For instance, 3 days or more tickets can be bundled with the so-called magic morning. With magic morning, Disneyland visitors have the opportunity earlier than the standard opening time of the park. This give magic morning availers the chance to get to their desired ride or attraction first.
Although a multi-day ticket will appear to offer the best options, one must still strongly consider their length of stay against the type of ticket that he or she has to purchase. Just to reiterate, do the ticket selection as early as possible because price usually varies as the date of use approaches.
The photo below is our entrance ticket. Please be informed that when you purchased your tickets online, an email will be sent to you containing important information of what you bought. Be sure not disclose sensitive information such as the bar code, your name, and any other personal data to anybody.
Additionally, ensure to bring the Disney eTickets with you when you go to your Disneyland Vacation because the eTickets will be scanned at the entrance and will be replaced by physical tickets as shown below:
Front view of Disneyland ticket

(Photo Credits: MINE: photo of my entrance ticket via bitLanders.com)
Back view of Disneyland ticket

(Photo Credits: MINE: photo of my entrance ticket via bitLanders.com)
2. Take advantage of the SoCal City Pass
Sample card of a SoCal City Pass

(Photo Credits: SoCal City Pass Card via expedia.ca)
Next tip is about the SoCal City Pass (the shortened term for Southern California City Pass). Any visitor who has plans to visit other sites aside from Disneyland would extremely benefit with offer. Basically, SoCal CIty Pass offers the following (as of this posting):
• A three day visit of Disneyland (complete with Park Hopper and Magic Morning)
• A single day access to Legoland (a totally separate theme park)
• A one day visit to SeaWorld Adventure Park
If you would purchase tickets for the above sites individually, you will notice that availing SoCal City Pass is cheaper for the same package.
3. Make a Things To Do List
This may sound simple and obvious – but it is extremely important. I tell you, especially if your Disneyland Vacation is constrained by time, it is of utmost importance that you make a guide – a list of the attractions that you really wanted to see.
Make sure that you jot down the things that you wanted to do that will eventually become fond memories worth remembering till the ages.
4. Visit the Disneyland website for a good idea of the park
In relation to number 3, you cannot make an intricate plan without Disneyland's park guide or map. Unfortunately, this piece of paper is usually only available at the park entrance or at the hotel – leaving little time for you to make an awesome plan.
Luckily, the official Disneyland website already lists their attractions, restaurants, programs, etc... Make sure to visit the website to give you a clearer view of what rides will appeal to you and to give you an idea of the live performance schedule.
By the way, Disney Resort Map (Guide), don't forget to also get a copy of the Disney Resort's program schedule. The brochure is not that thick and is the schedule of events for both parks of the resort are usually already included.
Below is a short video of what the Disney Resort program schedule looks like. However, please be advise that the schedule is for the indicated dates. The design, schedule, and program itself may have been changed as of this posting.
(VIdeo Credits: jikZ via bitLanders.com)
5. Weekdays Tandem with Fast Pass
Many people will suggest going on a weekday. We did go on a weekday (and its not even summer vacation) but the average wait time for an attraction is more than 30 minutes. Because of this, a great tip would be to utilize the Fast Pass. But first, please don't confuse Fast Pass with the SoCal City Pass
Just like any other virtual queuing or ride reservation system, Fast Pass gives visitors an specified time of return so that they can enjoy other attractions. Popular rides usually have Fast Pass so that visitors don't have to wait long in line.
Photo of the Fast Pass tickets that I availed during my Disney Vacation

(Photo Credits: jikZ via bitLanders.com)
6. Sunscreen or Sunblock
Be sure to buy and apply sunscreen or sunblock. It would be difficult to follow the Disneyland guide under the scorching heat of the sun without protection from its rays. Needless to say, a major portion of the park is not covered – one will definitely walk under the sun.
At this point, some readers may just shrug off this particular tip. But please be informed that putting protection for your screen against the scorching sun rays is very important and there is a proper way to do it! For instance, where are the right spots to apply sunblock? Is it ok to put sun screen around the eyes? etc...
Below is a simple video tutorial on how to properly apply sunscreen. Remember, but the right one and apply it correctly:
(Video Credits: Uandyourskin via YouTube.com)
7. There are plenty of restaurants
Don't worry about getting hungry - but be wary of how much you are willing to spend. There are plenty of eateries to choose from inside the park. However, a good tip will be to bring enough cash to buy foods. Additionally, make sure to stay hydrated, remember item six – there's plenty of sun.
That's just about it for Disneyland Trip Guide. Plan an awesome Disneyland trip that will lead to an excellent vacation.
Naturally, some of the tips provided here can also be applied to other travel destinations besides Disneyland. If you love traveling then be sure to check out the Querlo Travel chat below. Querlo is the Chatbot with a Heart – and the Travel survey chat below might appeal to you.