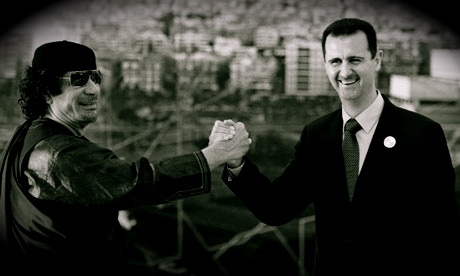 Crimes Against Humanity in Syria are broadly evident but to be actionable the investigation needs form to prompt prosecution and of course the venue. UN Human Rights Council had already several months earlier mandated an investigation into Syria. (The form would be presumably similar to that undertaken by the "Bassiouni Commission on Libya – See Film Report:
diplomaticallyincorrect.org/films/movie/libya-inquiry-commission/26328
). The Assad regime has not cooperated, and with allies in the Council, it had tried to derail. The Office of the High Commissioner for Human Rights has been active on the matter as well. It has tried to facilitate as well as prompt further investigations regarding Syria. Read High Commissioner Navi Pillay's presentation to the UN General Assembly only 10 days earlier.
diplomaticallyincorrect.org/films/blog_post/un-human-rights-chief-leads-syria-confrontation/45519
The missing link is where such crimes could be prosecuted. Here are a few perspectives: --- The International Criminal Court (ICC) is most logical venue. However, Syria is not a member and the UN Security Council would need to refer. (Unfortunately besides Russia and China even non-ICC members as India and US may be reluctant to refer). Also Read - "Syria UN Resolution-ICC Investigation" -
diplomaticallyincorrect.org/films/blog_post/syria-un-resolution-icc-investigation/45478
. --- Such grave violations of international humanitarian law can be prosecuted in any national court (Spain, Belgium, perhaps US etc) that recognize accepted principle of universal jurisdiction/application. --- Most states recognize murder of and other crimes against their own citizens as falling under jurisdiction of their domestic laws. (Killing of Marie Colvin could prompt prosecution). --- Syria's own courts could prosecute, of course assuming now or in a free Syria such political will existed. In view of events in Syria, it is imperative that ICC undertake a review of how it can pursue/participate in investigations prior to referral. One of the possible/probable benefits of the ICC could be greater deterrence, if the ICC could be more proactive in Syria and future situations. Without the will/means to intervene in Syria today, perhaps the greatest deterrence could be prosecution in future. This could also encourage posting of human rights/aid workers as monitors and deterrents themselves to such regime onslaught as we see in Homs and broader Syria today. By Ambassador Muhamed Sacirbey – Follow @MuhamedSacirbey Facebook = Become a Fan at "Diplomatically Incorrect" Twitter – Follow us at DiplomaticallyX War Crimes Justice Channel -
diplomaticallyincorrect.org/c/war-crimes-justice