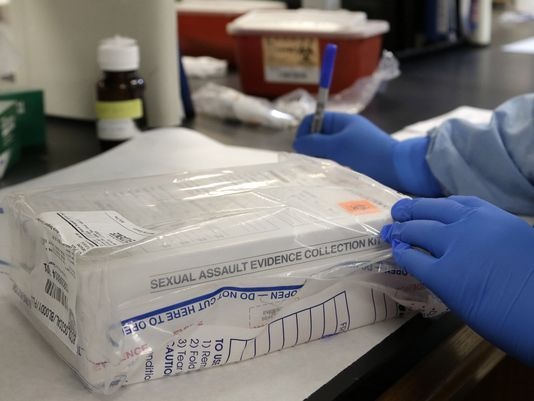 A sexual assault evidence kit is logged in a biology lab in Houston on April 2, 2015.(Photo: Pat Sullivan, AP)
Vice President Joe Biden, Attorney GeneralLoretta Lynch and Manhattan District AttorneyCyrus Vance plan to gather in New York City next week to address the nation's backlog of untested sexual assault kits, according to public advisories issued Friday.
An announcement regarding the sexual assault kit backlog is scheduled to take place Thursday at the Office of the Chief Medical Examiner, according to a news advisory from Vance's office on Friday. Next week's event comes after Vance's November 2014 announcement that his office would award up to $35 million to address the nation's accumulation of untested sexual assault kits.
Biden, who has been a vocal advocate for testing sexual assault evidence kits, is scheduled to be in New York on Thursday to discuss issues surrounding the nation's untested rape kits, the White House said in a separate advisory Friday. At an event in Maryland earlier this year, Biden announced $41 million in funding to help eliminate the backlog of untested evidence.
Sexual assault kits, also known as rape kits, contain forensic evidence collected from survivors of sex crimes through a painstaking process that can lead to valuable DNA evidence through crime lab testing.
Although testing sexual assault kits has proven to be effective in helping identify perpetrators through DNA matching in some sexual assault cases, tens of thousands of sexual assault kits remain untested in law enforcement evidence rooms across the country.
At least 70,000 rape test kits collected by more than 1,000 law enforcement agencies have not been sent to crime labs for testing, a USA TODAY Media Network investigation published in July found. While some law enforcement agencies test every sexual assault kit booked into evidence, others test as few as two in 10 due to inconsistent laws and policies between jurisdictions, and the lack of national protocols for handling the evidence.
Across the nation's 18,000 law enforcement agencies, the count of untested kits likely reaches into the hundreds of thousands. Testing costs approximately $1,000 per kit.
In a letter last month citing the USA TODAY Media Network report, Sen. Ron Johnson, R-Wisc., wrote to the U.S. Department of Justice demanding information and documentation about the department's efforts to reduce the nation's sexual assault kit backlog.
New York was among the first major cities in the nation to eliminate its backlog of sexual assault kits. In the late 1990s, about 16,000 previously untested kits stored by New York police were gradually cleared. The testing yielded scores of DNA matches and reopened investigations.