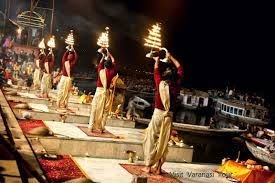 Varanasi it's one of the oldest city in the world. The old name of Varanasi is Benares or Banaras. This holy city is located on bank of river Ganga. Varanasi is also called as the religious capital of India.
Varanasi has always been very popular around world. Varanasi has such an spiritual ambience so that people around the world come here for their mental peace. According to Hindu saints it's a place where a" Soul gets merge with almighty". People who are in search of the presence of Almighty in the air of Varanasi. Varanasi is a heaven for those are fond of culture, art and history and want to make them feel lost in it.
The possible connotation of Varanasi is a place giving heavenly experience. The works on the walls of temples are so beautiful, minute and delicate that no one can ignore that impeccable form of art.
Music and poetry lovers find this place a hub of talent because Varanasi has given so many great singers and poets to India. Varanasi has old pure classical music style due to which true classical music lovers feel smitten with this holy city.
The beauty of Varanasi shows its true colour during Sandhya arti (evening prayer). During evening prayers the ambience is so spiritual with the sound of bells and chanting of mantras. Ghats (wharfs) are so brighten during Sandhya arti (evening prayer) with diyas. This time is best for all Hindu devotees.
The other speciality of Varanasi is its Banarasi silk saree it's a particular banarasi work done on silk saree that improves the beauty of a simple silk cloth. Varanasi is the leading exporter of silk sarees around the world. So do visit Varanasi if you want to feel the spirituality.