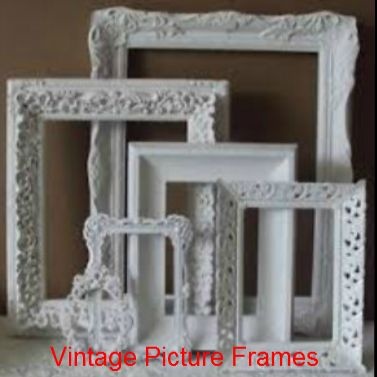 Some people love vintage picture frames, and if you're one of them, you should start shopping around and decorate your home with treasured photos or artworks. How will you know if a picture frame is classic, antique, or vintage?

Vintage style picture frames can vary in terms of texture, color, condition, and quality. You can also find ones that are folk, rustic, ornate, rectangle, round, or square. Since the personal taste of every individual varies greatly, the picture frames that your friend likes may not have the same effect to you. Hence, the picture frames that seem loud, attractive, or old to you might look ugly in the eyes of another person.

Finding cheap vintage picture frames is very easy. You can check out yard sales, flea markets, and stores that sell second-hand products. If you check out online, you can also find sellers of vintage items. It is common for vintage picture frames to have cracks, scratches, and other imperfections. However, you shouldn't be discouraged by these imperfections because quick fixes are available, and you can also ask for discounts.

Since there are many sizes, styles, and shapes of vintage picture frames, picking the ones you want can be daunting. Your own personal style and taste are important factors, along with your budget. Another thing is that the frame should also be the right size for the photo or artwork that you want to display.

Oftentimes, vintage is used synonymously with antique. However, there is a distinction between these two terms. Antiques have some sort of 'history' element. Some of the antique picture frames can date back to the early 19th century or earlier. Some examples are picture frames of silver leaf, veneer gold, wood, Victorian, etc. Basically, the vintage varieties can date back around thirty years ago. This means that the picture frame doesn't have to be a decade-old to be considered as vintage.

Uses of Vintage Picture Frames

Why should you invest on white vintage picture frames and other styles of frames? Here are some of the things that you could do with picture frames:

* Great for gifting a special person in your life.

* Preserving precious photos.

* Displaying memorable trinkets and other things that make a great display.

* Displaying artworks.

As you can see, picture frames are not just for pictures or photos, but it can also be used for other things.

Vintage Picture Frames

When choosing picture frames, certain factors must be considered. The different uses of large vintage picture frames and small ones were already mentioned above. Are you going to give it as a gift, or will you be incorporating the frames in your interior decoration? This is a very important factor. For instance, if you are gifting the picture frame, you must consider the other person's preference or personal taste. By doing so, you can be sure that your gift will be highly appreciated.

Just in case you are going to use the picture frame for interior décor, you have to consider the existing wall color and design of the room. The picture frame's color must be in contrast with the color of the wall. You should also consider the size of the frame (e.g. small frames are for smaller rooms/wall, or you can combine small and large picture frames on a large span of wall like the hallway.

Shopping for vintage white picture frames will cost you more in comparison to regular picture frames. However, the investment is worth the money because you will be able to change the overall look of the room. Set up a budget, know your requirements, and start shopping around. The best deals are usually found online, so do your homework to save money on your purchases.

Vintage Picture Frames or Antique

No one can dictate what you should purchase. When you are choosing between vintage and antique picture frames, you should always consider your own style and taste. Though antique frames are precious and costly, it may not always fit into your requirements. Vintage is a great option because you can personalize it with ease, and you can also upgrade the overall look of the frame to suit your needs. It is also cheaper, and there are many choices in the market. On the other hand, antique pieces are hard to find and are fragile. If you have kids at home, vintage is the better option.

Picture frames will always be part of the interior decoration of every room. Offices and homes showcase different picture frames. You too can create your own artwork pieces and post photographs of those precious moments with loved ones. Instead of keeping the memorable photos in albums, you can share it with others.

Make the right choice and look forward to a more comforting and warm atmosphere at home or in the office. It is never too late to invest on the best vintage picture frames, so hurry and shop now!
Source: my blog, http://www.whitepictureframes.net/