¡Aquí estoy para presentar mi primer taller de Eiénesis para niños!
Here I am to present my first Eiénesis workshop for kids!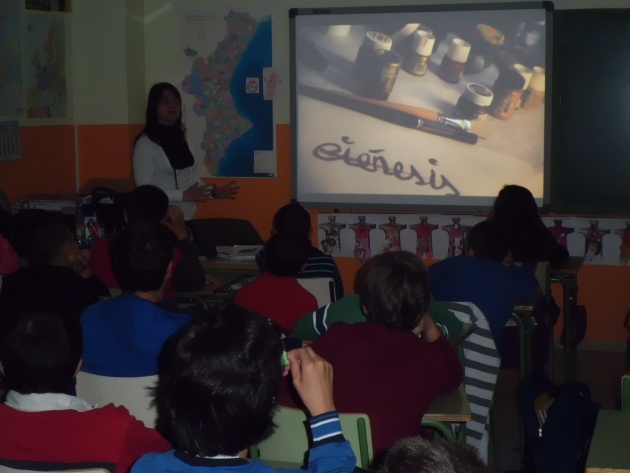 Gracias a una de las profesoras del colegio Miguel de Cervantes de Xirivella (un pueblo cerca de Valencia), tuve la oportunidad de hablar con no menos de 170 niños con edades comprendidas entre los 10 y los 12 años para intercambiar opiniones sobre el arte, la inspiración, la moda, el cine y la música. Sí, fue un intercambio, ya que lo primero que les comenté es que no iba a dedicarme a estar dando una clase de las que llaman magistrales, sino que me interesaba escuchar sus opiniones para intentar llevarles a perspectivas y temas que quizá no tratan en su día a día.
La reacción fue increíble, todos participaron muchísimo y me preguntaron cientos de cosas...
Thanks to one of the teachers of Miguel de Cervantes´school (at Xirivella, a town next to Valencia) I had the chance to talk to not less than 170 kids with ages between 10 and 12 in order to exchange opinions about art, inspiration, fashion, cinema and music. Yes, it was an exchange, the first thing I told them was that I was not supposed to teach them anything like in a regular lesson, so I wanted to listen to their opinions and just try to make them think about topics which maybe aren´t on their day by day.
The reaction was incredible, they were so participative and asked me tons of questions...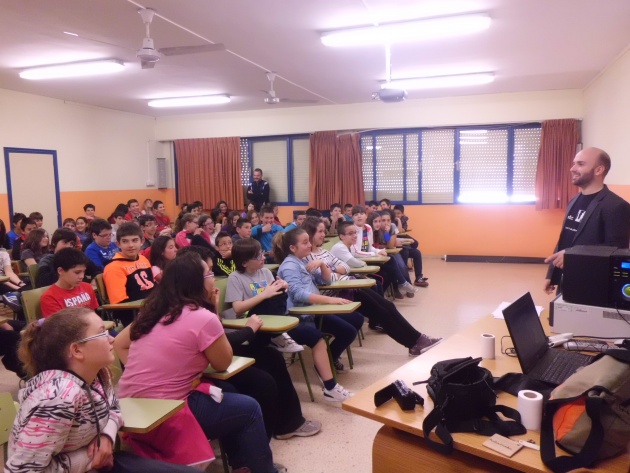 Pero vayamos hacia atrás un par de días en el tiempo: la profesora que me invitó había preparado algunas actividades para que los niños entendieran el cortometraje Eiénesis - In search of light y se pudieran preparar para la charla conmigo.
Algunas de estas actividades fueron, por ejemplo, dibujar con los ojos cerrados lo que les inspiraba la música del film sin haberlo visto todavía, así como un taller de fotografía donde aprendieron qué era un primer plano, plano angular, etc; términos que luego emplearían en nuestra conversación.
But let´s go back some days before: the teacher who invited me had prepared them some activities in order to understand the film, Eiénesis - In search of light and be prepared for the talk with me.
They did some very interesting activities, such as the teacher played Eiénesis´music before they watched the video so they just draw, with the eyes closed, what the melodies made them feel. Also, there was a photography workshop that taught them what a close up, a wide shot, etc. was, so they could apply those terms in the conversation that we shared.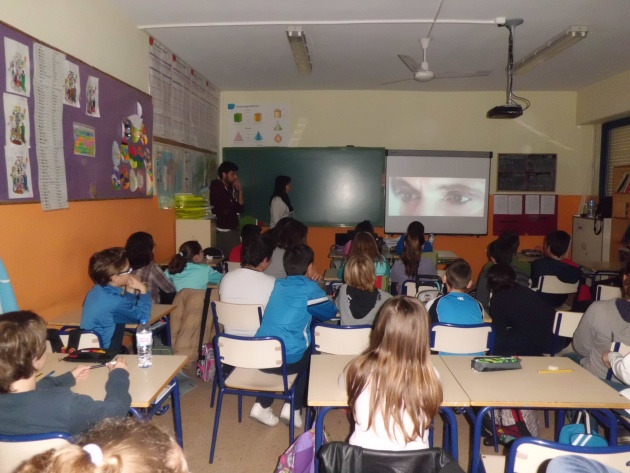 Después de los talleres vieron el corto, que puede verse aquí de forma completa y gratuita:
After that, they watched the film, which is available full and free here:
Y llegó el gran día... yo estaba un poco nervioso, los niños son bastante impredecibles y podrían haber reaccionado de formas muy diversas, pero sucedió el milagro, eso a lo que nosotros llamamos interés. ¡Disfrutaron el taller! En mi opinión, este les hizo expresarse, aunque el primer contacto fue difícil, son tímidos... Eso sí, en cuanto se rompió el hielo tuvimos una charla muy agradable sobre un gran número de temas.
¡Hasta analizamos brevemente "El nacimiento de Venus", de Boticelli!
So, the big day arrived, I was a little bit nervous, because kids are quite unpredictable and they could have reacted in so many ways but the "miracle" happened, and that´s what we call interest. They enjoyed the workshop! In my opinion, the workshop made express themselves, although the first contact was a little bit hard, they were shy... But little by little the ice was broken and we started to have a really nice talk about a lot of topics.
We even analized in a very brief way Botticelli´s "Birth of Venus"!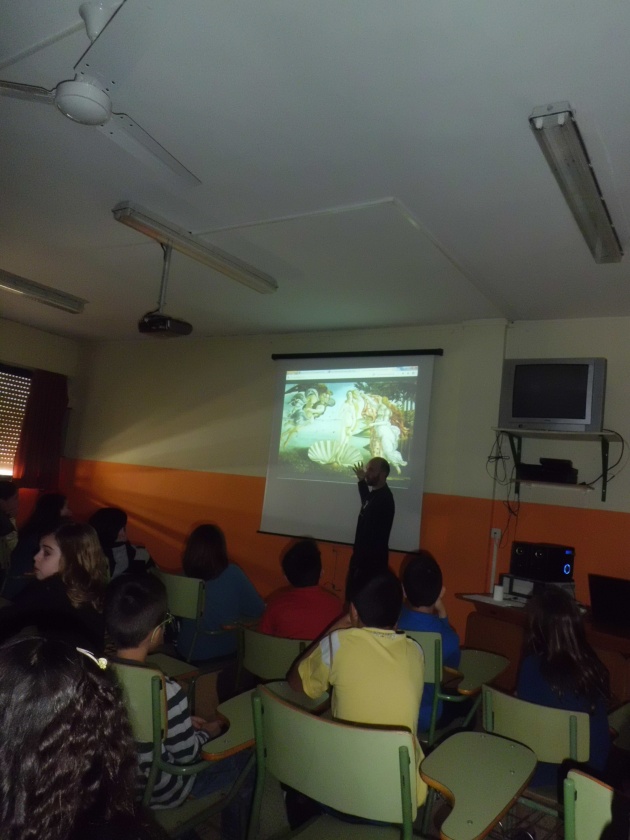 Por supuesto, no me pretendí erigir como un profesor cualificado (tampoco lo pretendí), así que no les hice llegar a "conclusiones verdades" o "conocimientos", decidí intentar abrirles o enseñarles más puertas, hacerles buscar por otros caminos de la vida que a lo mejor no se habían parado a conocer, de forma que pensaron y vieron que la vida no es limitada ni lineal: hay muchísimas maneras de pensar, de vivir, de valorar el arte, de expresarse...
Of course, I´m not a qualified teacher, but never intended to be one, so I didn´t get them to any "true conclusions" or "knowledges", my choice was to try to open and show more gates to them, to search and seek through another aspects of life that maybe they already noticed but never went deep into them, to try to make them think and see that life is not limited or linear: there are so many ways of thinking, of living, of appreciating art, of expressing themselves...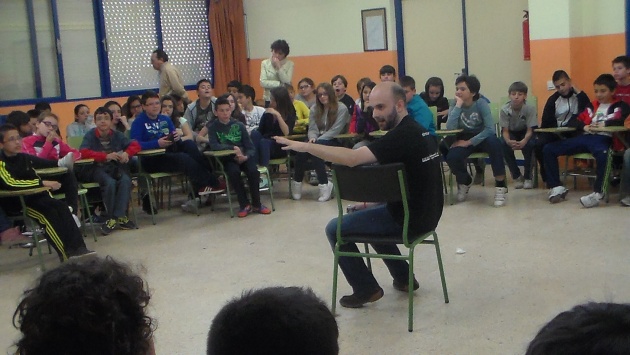 De todas formas, tampoco me quise poner demasiado filosófico, así que preparé un pequeño juego. A modo de orquesta, los hice trabajar en equipo para recrear determinados sonidos que luego aparecerán en mi último cortometraje, "Sinnside". Obviamente lo disfrutaron, no todos los días puedes ponerte a gritar en medio de una clase...
On the other hand I didn´t want to get too "philosophical" so I prepared a little game, which was making them work in team in order to reach some sort of sounds for putting them in one of the scenes of my last short film, "Sinnside". They enjoyed it as well, my guess is that screaming and yelling during a lesson is something that a kid might enjoy while his school period...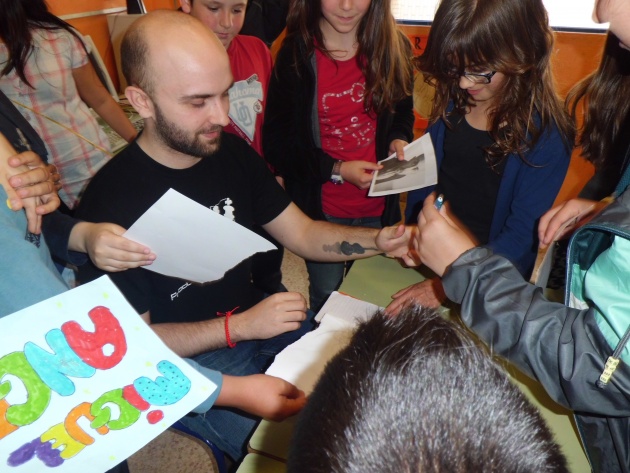 Tras el taller tuve que firmarles muchos autógrafos y fotos... me habían googleado y conocían otros de mis trabajos (muchos me preguntaron por Llagas) y me dieron muchísimos regalos que habían creado ellos. La verdad es que no recuerdo tener tanto arte de pequeño como ellos.
Mi conclusión es que creo que este taller sirve para acercar a los niños de una manera diferente y motivadora la creatividad y algunos sentimientos frente a la vida, así que espero poder presentar este taller en otras escuelas.
Disfruté mucho esta experiencia y desde aquí le doy las gracias a Raquel, a la institución y director de la escuela y, por supuesto, a los niños.
Of course, after the workshop I had to sign so many papers and pictures for them... They had googled me so they were asking me about so many projects (some of them were very interested in Llagas ) and gave me so many handmade presents... I don´t remember myself being so good at art when I was a kid!
My conclusion to this experience is that I think it can be a different and motivating way to approach kids to their creativity and feelings towards some aspects of life, so I hope I can present this workshop to other schools.
I enjoyed this experience so much and I´m very thankful to Raquel, to the school and, last but not least, to the kids.
¡Gracias a todos!
Thanks to everybody!