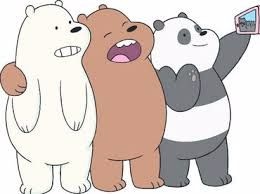 Is a series of American animated television created by Daniel Chong for Cartoon Network, it is a comedy starring three bears brothers, Pardo, Panda and Polar, trying to integrate very strange ways in the society of humans: either looking for food, trying to make friends or to become famous thanks to Internet.
The series was created by Daniel Chong, a cartoonist who previously worked as a storyboard artist for Pixar and Illumination Entertainment. It is based on the webcomic The Three Bears Bare, which also has identified characters. The comic was published from 2010 to 2011.5 The series is produced by Cartoon Network Studios.

• Brown: a grizzly bear and group leader, loves fun, inviting Panda and Polar (his brothers) to various pranks. Pardo is very sociable, he wants to meet new people and try to befriend anyone crosses him.

• Panda: is a giant panda. It is the most loving and technology expert. is a romantic. It has less confidence than the rest of his brothers. Panda is vegetarian, has a severe allergy to peanuts and easily embarrassed.

• Polar: a polar bear, and bear short, causing comic moments. He refers to himself in the third person, is a chef, besides being salsa dancer and practicing martial arts. Polar is the quietest of the group, always maintaining a calm demeanor even in the most bizarre and embarrassing situations.