Web TVs Channels Details Developed by BitLanders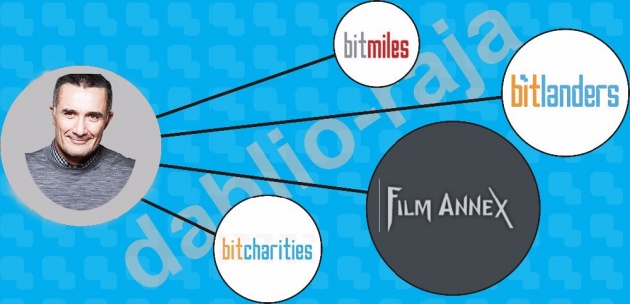 Who is Francesco Rulli ?
1-      Businessman
2-      Judo Instructor of New York Athletic Club
3-      Founder and President Of
(a)    Film Annex       (b) Bitlanders     (c) BitCharites    (d) BitMiles
4-      Fashion Business Partner to JOHN MALKOVICH
5-      Managing Partner at Citadel of New York
6-       Advisory Board Member Global Medical Relief Fund
INTRODUCING FILM ANNEX
Francesco Rulli founded Film Annex, which is a Web TV Network that permit filmmakers to create an online film distribution as a free Web TV to present their work under specific domain names, in 2006. A Film Annex financing platform for writers to monetize their content.  Filmmakers to fund their projects and promote their works with a shared advertising model.

INTRODUCING BITLANDERS

Bitlanders is that digital Platform where users Earn for their content and social media Posts. Bitlanders is an online earning site. Which provide Crypto Currency Bitcoin as a Reward. Bitlanders is the most popular site now a days for the earning point of view and the management has been successful in attracting the users from all over the world.
INTRODUCING BITCHARITES

bitCharities is to connect all non-profits organizations with their donors and supporters. The aim of bitCharities is to educate users about their social responsibilities to help others. We are living in the digital world now, new source of donation is on the couch the so-called donations of bitcoins.

INTRODUCING BITMILES
BitMiles is associate degree innovation that boosts the return of brand on the investment by compensating their users, increasing their interest in the campaign and let their user's reward move to the cause task. It is a platform to
unite brands or partnerships, users and causes. It is also available on the mobile App.
Film Annex Web TV Network Money Making Platform
Film Annex is an Online free web televisions for content providers and monetizes the content on these Web TVs through advertising . Every Web TV comes with a syndication-friendly player that can be embedded on third-party websites. Signing up on the platform is free of cost. Every registered member gets a Web TV channel that they can use to showcase content created by them. This content is then publicized by using their social media tools. They get paid for blogs and videos based on the number of views that their content generates. It is a simple transparent way to make money online with internet. Film Annex pays 50% of the advertising revenues generated on a Web TV to the content provider and offers more revenue opportunities upon the syndication of the player. Film Annex provides all the facilities to host and upload your content free of cost. It really is a wonderful way to showcase your talent whether you are a filmmaker or a writer. And, it is a great way to make money online with internet by having a channel on Film Annex and by putting out quality content. With the revenues generated on their Web TVs, filmmakers can finance their future projects. Every Web TV announces the content provider's next project to receive audience involvement and support.