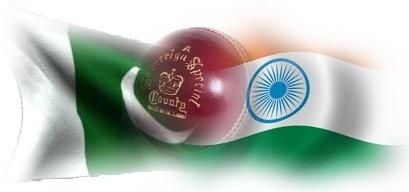 For the players it's a game with lots of net practice, mental makeover, strategy and implementation with the rival opponent in the back of their mind. For the people of both the countries, it's a dual fight with lots of tension, predictions, betting and the pride to win.
The games appear like two brothers fighting it out for the superior spot. Every player of each team is so familiar with the strengths and weakness that it becomes tough for any player to take a stride. Moreover the pitches are similar most part of the sub continent. Any side of the LOC they play its home turf with an advantage.
Most of the matches are nail biting finish with no team letting go and giving an inch to the other them to dominate. India and Pakistan are always the best cricketing nation of the sub-continent. Celebrated and distinguished cricketers like Imran Khan, Wasim Akram, Javeed Miandad, Zaheer Abbas, Sunil Gavaskar, Sachin Tendulkar, Saurav Ganguly, Kapil Dev,Vijay Hazare.........the list goes on to name a few, contributed immensely to their respective teams.
The fighting spirit gets automatically immunized when they participate with each other. But back in the dressing room they are best buddies and exchange ideas and information across lines with a common language and thinking framework.
The outcome of the game does matter as a sporting nation, but the sportsman spirit gets the ultimate boost.