Love is the most beautiful thing to have,

hardest thing to earn and most painful thing to lose.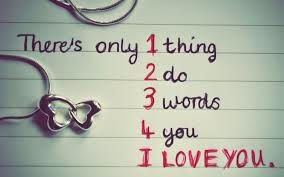 When you smile a lot, expects pain.
When you laugh a loud, expects pain.
And when you love, expects pain.
In this world, there should be balance of all the aspects. There is no thing that all is laughter, all is smiles and all is love. When there is no pain, no trials and no storms, life is so boring. And we admit that having such pain, we, ourselves, become more stronger than we expect and can conquer everything because LOVE CAN CONQUER ALL.
The last time I got in love with someone is just like a hell. A hell that it is just a one-sided love and leaving a big responsibility in life because of my stupidity --- maybe it all about LOVE. One big mistake of loving him but not a big mistake of having baby from him because I know my baby is a great blessing to me and I am living with her, my little princess. I am afraid to fall in love again second time around because once I will let love to me, I know I am opening doors for pains again and now, here it is... the pain that I am afraid of but I know I should face it and I know this time I am not alone because falling a second time around is worth it because of someone, because of everyone, because of him and his family who really cares and afraid to God and trust in Him.
I know we are having a big storm in our relationship. Start of not having communication --- no text, no call starting yesterday evening until maybe 6 months, a year or two. But I know we can survive and our love will stay even we are far from each and we can't talk everyday. I know I am totally falling in love because I can't even imagine myself that able to say to him that "KAHIT WALANG PERA BSTA KASAMA KITA, BSTA AKIN KA LANG, OK NA AKO DUN", at ung MAY TIWALA AKO SAYO, PERO SA KANILA (FAMILY OF HIS EX AND HIS EX) WALANG WALA AKONG TIWALA SA KANILA AT NATATAKOT AKONG MAY MANGYARING MASAMA SAU O MAGING SA PAMILYA MO DAHIL SA PAGPIKOT SAU.
I am afraid, too much afraid and I can't even control my tears to fall. I am hoping it will already end with peace. I know everything has an end but not our love for each other. I am willing to wait. I am willing to sacrifice and I hope you also do.
See you soon. I love you more.. AKO PUSO MO..
<3 <3 <3
LOVE IS PAIN...
PAIN IS LOVE...