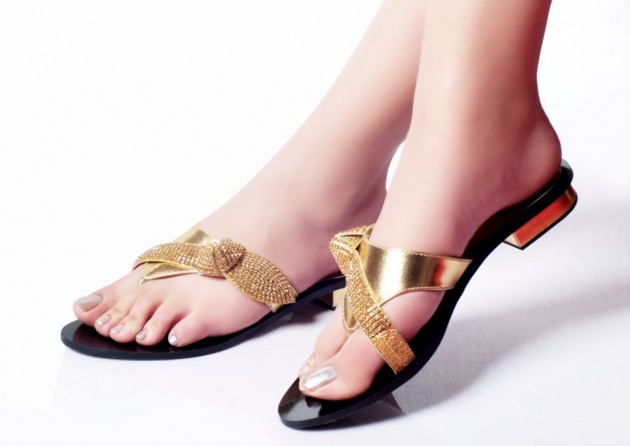 In year 2005, Stylo Shoes was considered to be a big brand in Islamabad. It still is a big brand with 1m fan base on Facebook alone, but unlike the old times now it has strong competitors in the market. We universities' girls would crave for the colorful designs. In my hostel, whoever was getting engaged or getting married would consider it a must, going to Stylo to buy shoes. I am very fond of wearing high heels and I couldn't seem to find any high heels that could be worn in university or while hanging out. All heels were extremely fancy and could be worn only at weddings. Whenever hostellites bought colorful flat shoes from there, I would wish for them making similar designs in high heels.
On my one trip to Stylo Shoes, I saw closed toes shoes there having elegant light colors with few golden shiny color lines on them. After trying various shoes, I reached the point where I was deciding between two pair of shoes. I liked both pairs, but had planned to buy only one. It was the afternoon time, and there were not many buyers in the shop. I told my friend, that I like the light blue shoe and will buy it and later asked the guy, the price for both pairs. The price for one pair was approximately PKR. 700/- and for the light blue pair PKR. 1600/-. In my head I was thinking, if expensive pair's worth is actually twice as much as the pair having marginal price. My friend suggested me to buy the shoe with low price and as I looked towards her, I realized all the sales staff of the shop is standing in a circle around the table I was sitting at, and were passing smiles to each other and looking at me. In that, second I realized why my friend was suggesting me to buy the pair with the low price. Because all the sales staff in the shop was thinking, that the silly girl forgot to ask the price before selecting shoes, have selected a pair and now don't know what to do. I am a very selective shopper. I keep roaming around the market for hours and buy one or two things at the end and almost 80% of the times I don't know the exact price. I just have an idea about the price range for that product. I just buy what I like. I felt awkward there and did not know how to ask sales staff to stop staring at me. In order to get out of that unsettling state, I just paid PKR. 1600/- (Don't remember the exact price but I guess it was in the range of 1600-1800) for shoes and came out. Later on, couple of times I wore that shoe, and every time in my head would come up the image of all sales staff staring at me with taunting smiles on their faces. After wearing it couple of times, I decided to give shoes to the women who used to work at place at that time.
A couple of years later I was in my hometown. My mom and I went out shopping and she took me to Stylo Shoes. I had no intention to buy any shoes from there and was trying to kill time by looking here and there. By this time, I had developed my brand loyalty to Charles n Keith and Unzee in Lahore. I do not know why I made the mistake of asking salesperson, that when sale is expected in their shop. The guy gave me a harsh look and said, Madam this is Stylo Shoes. Our shoes styles are so famous and in demand, that we are always short of the stock no matter how much brand production is increased. There is not going to be any sale on these shoes, so you buy them at their original price. I was horrified at his tone and harsh words and came out of the shop. A week after this incident, I saw big billboards on streets announcing up to 70% sale on their shoes.