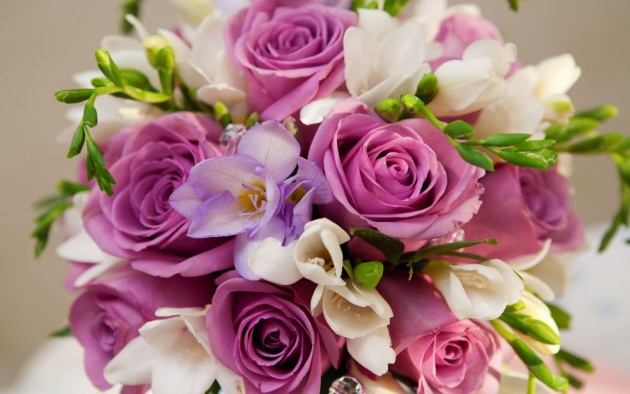 Pink flowers represent sweetness. They are gentle and sweet flowers, that make you smile instantly.
Pink represents the universal color of love. A sweet color, which has a very feminine touch and that is why it is often associated with femininity. The color is also used, worldwide, as the pink ribbon is the symbol of the Fight Against Breast Cancer. It stands for other feelings like calmness, joy, happiness. When darker, the color is vibrant and psychedelic, when lighter it is warm and gentle.
Pink Flower Meaning
Pink flowers represent love, beauty, strength. They are romantic and stand for grace, gentility and happiness, youth, innocence and joy. They are graceful flowers, sweet and chic. Pink flowers have that poetic romance that you encounter in the writings of late poets. Marvelous and delightful, pink flowers stand for care and love. A perfect way to say "Thank You", ideal to say you care.
Pink Flowers in Arrangements
Pink flowers in arrangements are delightful. Not too much, nor too less, they are just right for any kind of arrangement. Used for weddings, sweet-sixteen's, funeral arrangements, birthdays, Mother's Day. Sweet and innocent, pink flowers are the best!
So, if you want to mix them up in gorgeous arrangements and still have them stand out, here are a few tips on how to do that:
Go with white for a natural mixture of sweet candy and sugar toss. Pink flowers and white ones go heavenly together, especially when you mix white and pink roses or white and pink tulips.
Purple can be another choice. A very happy arrangement will come to life, but remember to use pale pink with dark purple or lavender with hot pink, just to bring out a little contrast. A nice tonal combination can be obtained by mixing deep purple with light pink carnations.
It may also be mixed with orange - a dazzling effect, very eye popping. Fashionable, too and very hip. The best flowers for this combination are by far the orange and pink gerberas.
For a more serious arrangement, mix these flowers with greenery. This combination can be both joyful and serious, depending on the occasion. For a delightful arrangement or bouquet, mix hot pink calla lilies with bright green small gerbera daisies.
Now if you really want to shock, mix bright pink with yellow flowers! You certainly shall be mesmerized!
Blue can also be a choice, but be careful: choose only light blue flowers, just like with purple, as if you mix hot pink with dark blue, you may form a little flower fiasco. For a natural, yet delightful arrangement, mix blue with pink hydrangeas. They have a very rich bloom and they are both instantly available in your garden, just by changing the soil in which you grow either of them.
Pink Flowers for Weddings
These flowers are an excellent choice for wedding decorations. They are pure and sweet, delicate and tender, just like a bride should be. A pink hand-tied bouquet may be the best - you can use pink roses, pink calla lilies, pink lilies, pink carnations, pink tulips, pink orchids, pink carnations or pink gerbera daisies. No matter what kind of flower you choose, as long as it is pink it will look spectacular, very elegant and stylish.
So, if you decide to have a pink flower wedding, here is some advice for you:
Do not hesitate to choose hot pink for your arrangements! You can tone them down with some cream or white flowers, and the effect will be fantastic! Think about using American Beauty pink roses or bright pink orchids.
If you decide to have a pink and white bouquet, make it pink with white on the side and for the bridesmaids, make the bouquets white with pink on the side!
Pink tulips are a wonderful choice for your wedding arrangements. They are freshly looking and they have a royal background, you cannot go wrong with tulips!
Pink roses are a classical choice - tender, romantic, they will surely brighten your tables and look great in boutonnieres and corsages!
Surely, there can be no tropical wedding without tropical or exotic flowers. If your color theme is pink, pink hibiscus and pink orchids will be the perfect choice, both for your centerpieces and bouquets.