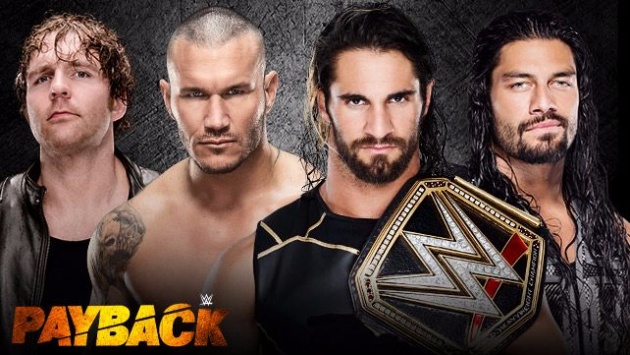 If WWE World Heavyweight Champion Seth Rollins thought he had it rough defending against two challengers at WWE Payback, the path to title retention on May 17 just got a lot more complicated with the insertion of an opponent who's nothing short of a third madman.
At WWE Payback, the self-proclaimed "Future of WWE" will defend his title against not only arch-rivals Randy Orton and Roman Reigns, but also bitter enemy Dean Ambrose in a Fatal 4-Way Match, with Kane's job as Director of Operations at stake!
The four-Superstar showdown was the result of matchmaking by WWE Director of Operations Kane that spanned two weeks. On the April 27 edition of Raw, Kane allowed the WWE Universe to decide Rollins' opposition via a WWE App vote, and the WWE Universe overwhelmingly favored a Triple Threat scenario for Rollins against Orton and Reigns.
Seven days later, Kane had another surprise ready for his Authority stablemate Rollins, with whom the onetime Big Red Machine has had a hot-and-cold relationship. Ahead of a non-title defense against The Lunatic Fringe, Kane deemed that if Ambrose won, he would be added to the main event of WWE Payback.
Rollins nearly escaped the showdown with a count-out victory after powerbombing Ambrose into the barricade, but he snuck back into the ring at the referee's count of nine. With Ambrose seemingly mounting a comeback, J&J Security rushed to the scene. When Rollins attempted to use the distraction to his advantage, though, Ambrose quickly countered and rolled-up the champion to earn a spot in the Payback WWE World Heavyweight Championship Match. The next week, to get the warring Rollins and Kane on the same page, WWE COO Triple H introduced a final wrinkle to the title match: If Rollins fails to leave Payback as WWE World Heavyweight Champion, Kane will be fired.
With the table now set for four, Rollins must consider how he will handle the challenge of three world-class Superstars, all of whom have reason to despise The Authority's golden boy.
The Viper came within a hair of dethroning Rollins for the WWE World Heavyweight Title at Extreme Rules; will his 13th WWE World Heavyweight Title reign begin on May 17?
If not Orton, could Reigns — the Superman Punch–packing gladiator who once considered Seth Rollins his brother, and who also almost tasted championship gold when he fought Brock Lesnar at WrestleMania 31 — Spear his way to victory and his first WWE World Heavyweight Title?
Not to be forgotten, meanwhile, is the newest and most crazed addition to the championship match, Ambrose. Like The Big Dog, The Lunatic Fringe undoubtedly harbors ill will toward Rollins for decimating the once-mighty Shield and "buying in" to The Authority's way of life. Will the unpredictable and unorthodox brawler capture sports-entertainment's most illustrious prize in this free-for-all?
Or is it even possible that the CrossFit-conditioned, underhanded-if-strategic Rollins escapes the aptly named WWE Payback with the WWE World Heavyweight Championship around his waist? Despite the predicament he's put Rollins in, Kane insists he has a plan and that Rollins will still be the titleholder when the dust clears. Will Kane live up to his words? His very livelihood depends on it.
Find out at WWE Payback, Sunday, May 17, at 8 ET/5 PT on the award-winning WWE Network!