This blog post is a continuation of my last blog post, Yellow Sticky Notes – Part 3: Going Viral…
After the launch of Yellow Sticky Notes on YouTube in 2008, I was being scouted by various advertising agencies to provide my unique hand rendered animation for broadcast commercials, corporate viral videos, and music videos. Major recording artists were contacting me to make animated music videos for them. I couldn't believe it. Although, unfortunately I had to pass on a lot of those jobs in the beginning because I was in knee deep in the middle of production on my first feature length documentary, One Big Hapa Family. I just didn't have time to take on any commercial work with the long hours I was spending each day editing, animating the film, and supervising post production.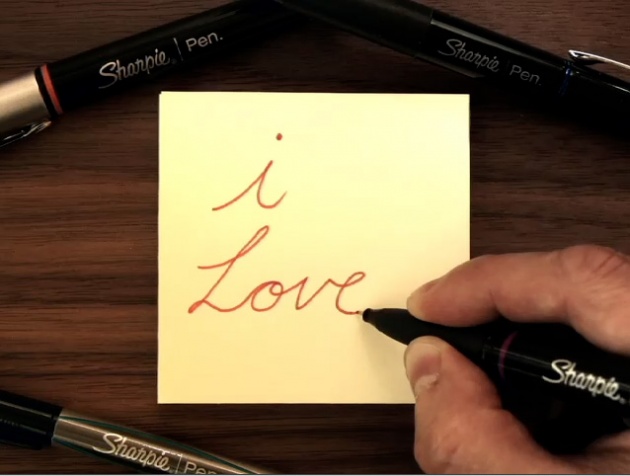 Although, once I finished the documentary in 2010 (2 years after the YouTube launch), I was pretty broke so I jumped right into the commercial animation world. Luckily there were clients that were still interested in my animation services, so I immediately took on a gig animating a commercial for Sharpie and even worked on a viral video for 3M Canada called Ode to a Post-it Note about a little Post-it Note on a journey to find his inventor. That film went on to win a 2011 Webby Award for Best Branded Entertainment. Read more about the making of Ode to a Post-it Note via my four part blog post. As well, I will write more about my commercial work and working with clients in future blog posts so please subscribe for updates.
Although one of the coolest aspects of the rise of the interweb and putting work online, is the ability to monetize off your work. To be part of YouTube's Screening Room and collect my license fee, I had to become a YouTube partner in order to receive the payment. This was a pretty new program at YouTube so I was skeptical of what it was all about. At first I had no idea what a YouTube partner was but it meant that I could now monetize from ad revenue generated by the views the video received…and since Yellow Sticky Notes was receiving hundreds of thousands of views since its launch, this did eventually start to add up. I had only ever made money from my short films from broadcast license fees or DVD sales so the internet was a whole new world for monetization. Now, it wasn't a ton of money I was getting from YouTube ad revenue, maybe a a check for a couple hundred bucks every three months but it was nice to get a bit of extra cash to help with the production costs on new films. Although these days, with DIY media content on the rise and everybody having a video camera attached to your phone, YouTube is becoming extremely over saturated with millions of new videos a day and my views on YouTube have dropped considerably. Thus, I haven't seen a check from them in over a year.
After realizing the internet is the new frontier for online monetization, I knew there had to be a new platform to monetize off the collection of films I've made over the last 12 years. Luckily I was introduced to Film Annex by my filmmaker friend, Jonathan Ng, and as I'm just finding out, Film Annex has definitely been an excellent new platform for me to monetize my films through their WebTV's.
Film Annex is for filmmakers by filmmakers. I really love this philosophy because there is a value placed on content. Unlike YouTube, at Film Annex there are no stupid dog or cat videos shot on a crappy cell phone. Instead at Film Annex, there are film festival winning films and videos that filmmakers have put pride and passion into making. As a filmmaker, in this day and age, the internet is fast becoming our greatest tool for monetization and exposure. Filmmaker supportive sites like Film Annex are making this easy for filmmakers to achieve.
It's only been a little over a month and a half since I've been with Film Annex but I'm super excited to see how my films and videos will generate revenue from their ad share program by splitting 50% of ad revenue with the filmmaker. It has definitely been exciting to see the results published each day with their visible piggy bank, which is a great incentive for me to continue to self promote my work through my social networks and keep up with blog posts about my filmmaking. What's even more exciting is knowing I can funnel the royalties made by my WebTV into creating even more new animated and documentary films! Thus, content creates more content!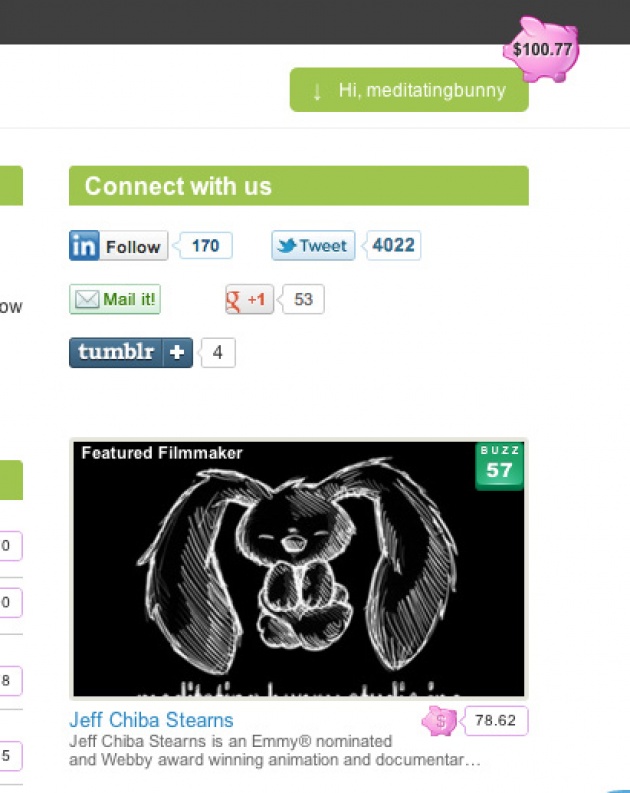 Going viral has been the best experience of my animation career and has helped build an amazing fan base for my work that can be enjoyed by people of all ages around the world. Today, Yellow Sticky Notes is close to reaching 2 million views on YouTube and I'm really excited about the new attention the film is receiving on Film Annex. Plus, because of the film's success, a brand new follow up sticky note film, Yellow Sticky Notes | Canadian Anijam, has just been completed and is now ready in time for the 2013 festival circuit.
Self-promotion is one of the most important aspects to filmmaking. Something a lot of filmmakers unfortunately aren't good at. You have to remember that as an independent filmmaker, you are creating a brand with your work. You have to promote and market your films so people will see them. So even though your film is online, it's still important to connect personally with audiences and fans…thus we can't forget that film festivals are still a great way to see your film on the big screen and connect with fans. Even after the Yellow Sticky Notes' successful viral launch, I continued to submit it to more film festivals….and the coolest part was a lot of film festivals were inviting the film without me having to apply. Although, now that Yellow Sticky Notes was getting into a lot of film festivals, I needed some unique and remarkable branding and promotion to make the film stand out from the crowd. So enter my relationship with 3M…
This is Part 4 of a now 5 part series into the making of and self-distribution of Yellow Sticky Notes. Please subscribe to my blog and WebTV for updates on the next posting coming very soon!
To watch Yellow Sticky Notes here on Film Annex...here's the link, please share it with your friends and family! http://www.filmannex.com/webtv/meditatingbunny/movie/yellow-sticky-notes/32303