"The Population Explosion - The Concern of All Nations"
"Children listening to a talk at a mobile health unit at Lorma, San Fernando la Union. The World Health Organization (WHO) has participated in the development of several health projects in the Philippines through its regional office in Manila. 1972.
01 January 1972. San Fernando la Union, Philippines"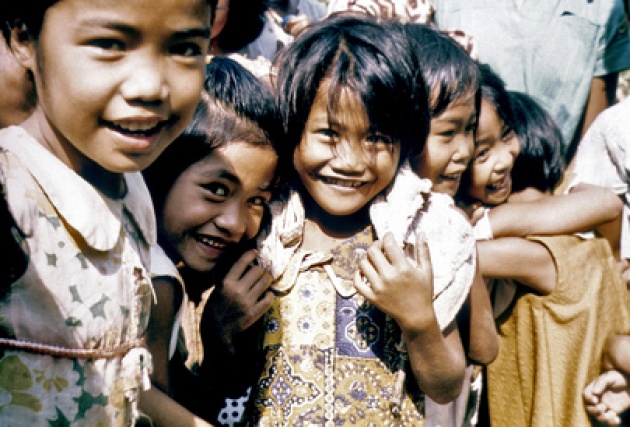 Population Doubles but ...
Above is text as well as UN Photo dated 1972. From that year the globe's population has approximately doubled. The consequences for the globe's citizens one can argue have been mixed from 1972- 2012. Much of the debate today regarding population, contraceptives and global health appears very similar to that from 40 years earlier. Ironically, the Philippines is involved now in contentious population control/contraceptive debate. However, it is the Earth that has borne the brunt of the "population explosion" – the term climate change had not even gained currency in diplomatic and/or popular culture discourse 4 decades earlier.
Below is World Population Estimate from US Bureau of Statistics (which differs slightly from UN estimate).
| | | | |
| --- | --- | --- | --- |
| Year | Population | Average annual growth rate (%) | Average annual population change |
| 1950 | 2,555,982,611 | 1.47 | 37,768,237 |
| 1951 | 2,593,750,848 | 1.61 | 42,042,862 |
| 1952 | 2,635,793,710 | 1.70 | 45,320,983 |
| 1953 | 2,681,114,693 | 1.77 | 47,842,880 |
| 1954 | 2,728,957,573 | 1.86 | 51,339,043 |
| | | | |
| 1955 | 2,780,296,616 | 1.88 | 52,854,158 |
| 1956 | 2,833,150,774 | 1.95 | 55,718,773 |
| 1957 | 2,888,869,547 | 1.93 | 56,393,986 |
| 1958 | 2,945,263,533 | 1.76 | 52,218,932 |
| 1959 | 2,997,482,465 | 1.39 | 41,951,479 |
| | | | |
| 1960 | 3,039,433,944 | 1.33 | 40,629,803 |
| 1961 | 3,080,063,747 | 1.80 | 56,018,983 |
| 1962 | 3,136,082,730 | 2.19 | 69,405,494 |
| 1963 | 3,205,488,224 | 2.19 | 71,002,977 |
| 1964 | 3,276,491,201 | 2.08 | 68,918,678 |
| | | | |
| 1965 | 3,345,409,879 | 2.07 | 70,135,995 |
| 1966 | 3,415,545,874 | 2.02 | 69,649,013 |
| 1967 | 3,485,194,887 | 2.04 | 71,751,266 |
| 1968 | 3,556,946,153 | 2.07 | 74,532,014 |
| 1969 | 3,631,478,167 | 2.05 | 75,123,281 |
| | | | |
| 1970 | 3,706,601,448 | 2.07 | 77,395,382 |
| 1971 | 3,783,996,830 | 2.01 | 76,793,114 |
| 1972 | 3,860,789,944 | 1.96 | 76,389,273 |
| 1973 | 3,937,179,217 | 1.91 | 75,725,073 |
| 1974 | 4,012,904,290 | 1.81 | 73,483,375 |
| | | | |
| 1975 | 4,086,387,665 | 1.75 | 72,049,425 |
| 1976 | 4,158,437,090 | 1.72 | 72,331,131 |
| 1977 | 4,230,768,221 | 1.69 | 72,268,962 |
| 1978 | 4,303,037,183 | 1.73 | 75,188,498 |
| 1979 | 4,378,225,681 | 1.71 | 75,638,139 |
| | | | |
| 1980 | 4,453,863,820 | 1.69 | 76,035,404 |
| 1981 | 4,529,899,224 | 1.75 | 80,163,373 |
| 1982 | 4,610,062,597 | 1.73 | 80,244,759 |
| 1983 | 4,690,307,356 | 1.68 | 79,323,181 |
| 1984 | 4,769,630,537 | 1.68 | 80,594,461 |
| | | | |
| 1985 | 4,850,224,998 | 1.68 | 82,355,074 |
| 1986 | 4,932,580,072 | 1.72 | 85,713,224 |
| 1987 | 5,018,293,296 | 1.71 | 86,343,509 |
| 1988 | 5,104,636,805 | 1.67 | 86,061,173 |
| 1989 | 5,190,697,978 | 1.66 | 87,027,432 |
| | | | |
| 1990 | 5,277,725,410 | 1.56 | 82,903,255 |
| 1991 | 5,360,628,665 | 1.54 | 83,112,161 |
| 1992 | 5,443,740,826 | 1.50 | 82,013,172 |
| 1993 | 5,525,753,998 | 1.45 | 80,584,690 |
| 1994 | 5,606,338,688 | 1.43 | 80,672,638 |
| | | | |
| 1995 | 5,687,011,326 | 1.39 | 79,424,294 |
| 1996 | 5,766,435,620 | 1.39 | 80,435,809 |
| 1997 | 5,846,871,429 | 1.34 | 78,899,442 |
| 1998 | 5,925,770,871 | 1.31 | 78,001,123 |
| 1999 | 6,003,771,994 | 1.28 | 77,230,943 |
| | | | |
| 2000 | 6,081,002,937 | 1.25 | 76,753,814 |
| 2001 | 6,157,756,751 | 1.24 | 76,520,745 |
| 2002 | 6,234,277,496 | 1.22 | 76,271,568 |
| 2003 | 6,310,549,064 | 1.20 | 75,993,822 |
| 2004 | 6,386,542,886 | 1.18 | 75,638,540 |
| | | | |
| 2005 | 6,462,181,426 | 1.16 | 75,478,997 |
| 2006 | 6,537,660,423 | 1.15 | 75,561,947 |
| 2007 | 6,613,222,370 | 1.14 | 75,666,070 |
| 2008 | 6,688,888,440 | 1.13 | 75,761,868 |
| 2009 | 6,764,650,308 | 1.11 | 75,772,948 |
| | | | |
| 2010 | 6,840,423,256 | 1.10 | 75,755,042 |
| 2011 | 6,916,178,298 | 1.09 | 75,622,621 |
| 2012 | 6,991,800,919 | 1.07 | 75,164,045 |
| 2013 | 7,066,964,964 | 1.05 | 74,468,973 |
| 2014 | 7,141,433,937 | 1.03 | 73,604,414 |
| | | | |
| 2015 | 7,215,038,351 | 1.00 | 72,747,545 |
| 2016 | 7,287,785,896 | 0.98 | 71,952,940 |
| 2017 | 7,359,738,836 | 0.96 | 71,088,531 |
| 2018 | 7,430,827,367 | 0.94 | 70,179,131 |
| 2019 | 7,501,006,498 | 0.92 | 69,208,946 |
| | | | |
| 2020 | 7,570,215,444 | 0.90 | 68,403,637 |
| 2021 | 7,638,619,081 | 0.88 | 67,761,184 |
| 2022 | 7,706,380,265 | 0.87 | 67,032,267 |
| 2023 | 7,773,412,532 | 0.85 | 66,280,271 |
| 2024 | 7,839,692,803 | 0.83 | 65,515,814 |
| | | | |
| 2025 | 7,905,208,617 | 0.82 | 64,887,452 |
| 2026 | 7,970,096,069 | 0.80 | 64,391,358 |
| 2027 | 8,034,487,427 | 0.79 | 63,850,629 |
| 2028 | 8,098,338,056 | 0.78 | 63,326,564 |
| 2029 | 8,161,664,620 | 0.77 | 62,837,502 |
| | | | |
| 2030 | 8,224,502,122 | 0.76 | 62,407,650 |
| 2031 | 8,286,909,772 | 0.75 | 61,984,643 |
| 2032 | 8,348,894,415 | 0.73 | 61,437,162 |
| 2033 | 8,410,331,577 | 0.72 | 60,846,930 |
| 2034 | 8,471,178,507 | 0.71 | 60,249,755 |
| | | | |
| 2035 | 8,531,428,262 | 0.70 | 59,603,503 |
| 2036 | 8,591,031,765 | 0.68 | 58,850,482 |
| 2037 | 8,649,882,247 | 0.67 | 57,857,590 |
| 2038 | 8,707,739,837 | 0.65 | 56,748,673 |
| 2039 | 8,764,488,510 | 0.63 | 55,671,500 |
| | | | |
| 2040 | 8,820,160,010 | 0.62 | 54,564,430 |
| 2041 | 8,874,724,440 | 0.60 | 53,400,952 |
| 2042 | 8,928,125,392 | 0.58 | 52,118,097 |
| 2043 | 8,980,243,489 | 0.56 | 50,792,416 |
| 2044 | 9,031,035,905 | 0.55 | 49,544,606 |
| | | | |
| 2045 | 9,080,580,511 | 0.53 | 48,328,264 |
| 2046 | 9,128,908,775 | 0.51 | 47,094,361 |
| 2047 | 9,176,003,136 | 0.50 | 45,729,012 |
| 2048 | 9,221,732,148 | 0.48 | 44,309,707 |
| 2049 | 9,266,041,855 | 0.46 | 43,009,684 |
| | | | |
| 2050 | 9,309,051,539 | | |
Ambassador Muhamed Sacirbey - FOLLOW mo @MuhamedSacirbey

Facebook-Become a Fan at "Diplomatically Incorrect"







Twitter – Follow us @DiplomaticallyX







See more at our Popular Video Blogs & Current News Event Articles – Ecology-Diplomat Channel