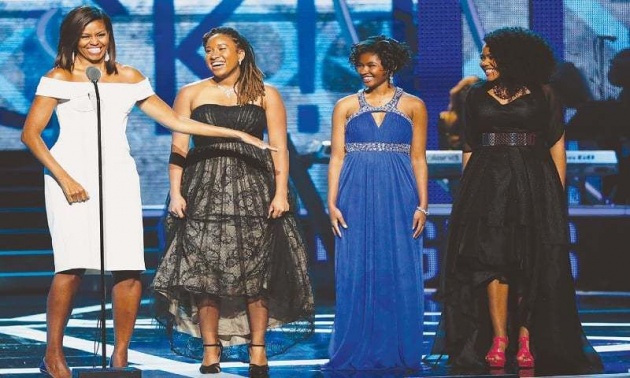 New Jersey: US First Lady Michelle Obama speaks standing on stage with Making A Difference award winners (from left) Kaya Thomas, Chental-Song Bembry and Gabrielle Jordan during a recording of the Black Girls Rock awards ceremony on Saturday.—AP
NEWARK: Michelle Obama celebrated the beauty, power and tenacity of black women while spreading her own message of education for girls at Black Girls Rock!, an annual event honoring trailblasing women of colour from all walks of life.
"No matter who you are, no matter where you come from, you are beautiful," Obama Michelle told the crowd, which included many young black girls. "I am so proud of you. My husband, your president, is so proud of you," she added.
"We have so much hope and dreams for you." Obama was not among the honourees at Saturday night's festivities, held at the New Jersey Performing Arts Centre. That distinction went to actress Jada Pinkett Smith, singer Erykah Badu, actress Cicely Tyson, Selma director Ava DuVernay, educator Nadia Lopez and Dr Helene D. Gayle, president and CEO of CARE USA, a humanitarian organisation.
However, Obama was the most celebrated participant. Wearing a form-fitting white dress, she jammed to performances from the likes of Badu, Fantasia, Sheila E!, Estelle and others and applauded the honourees.
But Obama got among the night's loudest ovations as she came on stage and declared "Black girls rock!" — the slogan and name of the organisation founded by Beverly Bond, which is designed to uplift young black girls, a group that often has difficulty finding positive and reaffirming images of themselves in the world.
Obama acknowledged as much in her speech to celebrate three young honourees. "I know there are voices that you are not good enough", she said.