Hello everyone,
Since we are breathing in 2017, I decided to write about the amazing things that were invented in the last year 2016. I love to write about weird things that wonder people. I wrote about a town of Japan in my previous blog and you all must have liked it. If you haven't already read that blog so here's the link ===> Village of scarecrows would you like to go? you may check. let's move towards the new amazing topic now!
Every year new devices and inventions are launched. The purpose of each of these inventions is to facilitate our life.

So I selected some these kinds of weird and amazing technologies that revolutionized in 2016.

I wish to keep amazing you guys that is why I always tried to bring something different that you probably never heard about!
A drone that carries passengers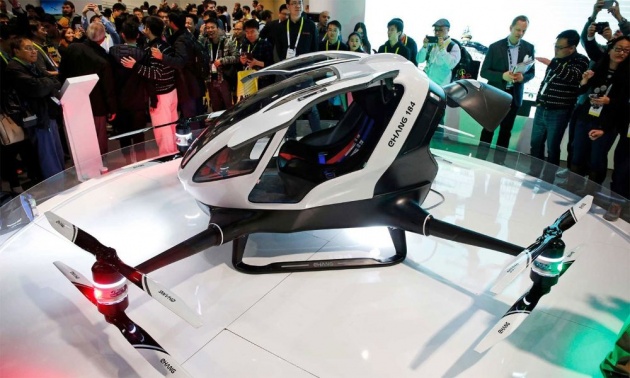 Photo Credit: google.com
The first Drone will be soon flying in the sky with its passenger. Yes, a drone named EHANG 184, is designed to carry a passenger, in which a person can enjoy the flight of 23 minutes.
A sample of EHANG 184 was introduced in Consumer Electronics Show in January 2016 while the drone was allowed for trial flights in Nevada. EHANG 184 can fly carrying a passenger till 23 minutes with the speed of 62 miles per hour. During flying, it uses google maps to determine the destination.
There is such sensors have been installed that saves the drone from the obstacles in its path. However, the person during flying, can not handle the drone because it flies automatically.
Whenever EHANG 184 is offered for sale, its cost will be two or three lac dollars. So are you ready bitsers to buy it and gift me? haha!
The smart fridge of Samsung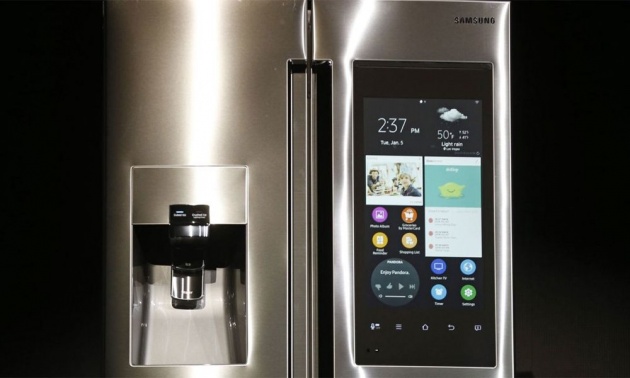 Photo Credit: google.com
A fridge was introduced by Samsung in January 2016. through which you may shop at home. A 21.5 inches screen is installed in this household fridge through which we can also enjoy Digital Shopping. It is not over here, we can also post online pictures through this fridge.
Through the app (available in the fridge), we can shop for food supplies and everything from Super Markets while sitting at our home and the order will be delivered immediately. Still, are you looking for more facilities? So here it is. A camera is fitted in the fridge that will let you know the thing that is out of stock and is needed to order from the store. The camera will be connected with your mobile as well. Through this camera, you may watch from outside the home whether there is something available for you to eat or not.
Chinese Electric Car
Video Credit: youtube .com
Faraday Future is a mysterious deemed Chinese electric car company that introduced its concept car in 2016. The car you are watching in this picture is a 1000 horsepower named FF Zero. We can connect its steering with our smartphone as well as there is a dashboard (connected to the internet) in FF Zero. You will also spot a headrest that has a port baked into the back that pumps air and water into the crash helmet of the driver. The design of this car has maddened people around the world.
Mercedes car that can change its shape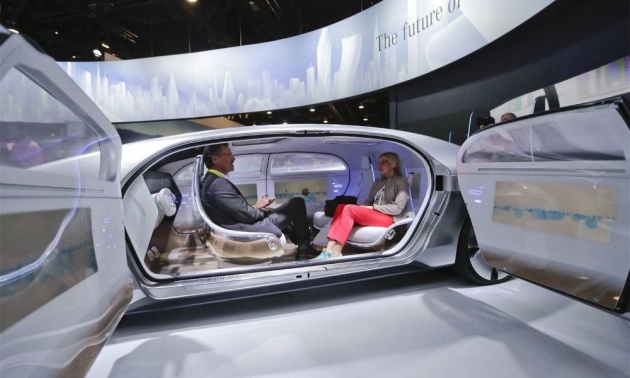 Photo Credit: AP
Have you ever seen a car that changes its shape during driving? Obviously no! but you might have seen in some movies like Transformers. It is the first car that changes its shape while catching up speed so as the car can be driven more efficiently.
Mercedes-Benz introduced its car named 'Concept Intelligent Aerodynamic Automobile' during the exhibition of CES Technology. The company has increased its interface and the facilities have given in the car which were never seen before.
Mercedes kept the ability in this car to help in showing 3D Rendering in real-time. There is also an artificial intelligence computer named Nevada Drive.
So which one would you like to have Faraday Future or Mercedes?
LG rollable television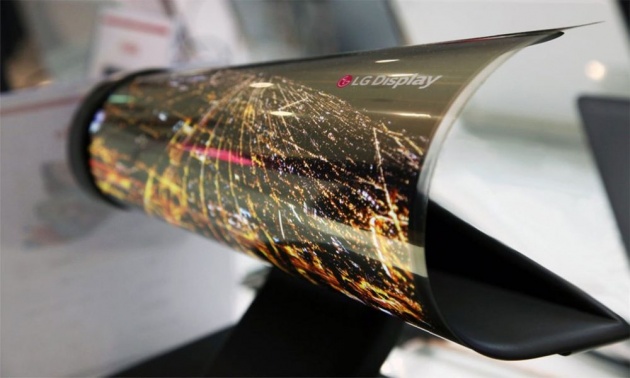 Photo Credit: google.com
Would you like to buy a TV screen that can be rolled like a newspaper and can be taken anywhere with you? If your answer is yes, then LG's Rollable OLED Screen is waiting for you. In 2016, LG presented such a unique 18-inches screen samples.
It was placed inside a glass. But the features has been shown on a simple screen which has surprised its watchers. The display is as thin as a paper and a touch to OLED brings good senses. According to the footage, its screen display dissolution is 810 x 1200 that is not so much but rolling it like a newspaper and taking it to anywhere makes the OLED special.
The future Bus of China
Photo Credit: www.news,cn
How would you feel if you are driving a car and a gigantic thing passes over your car? A robot would probably come in your mind but you it will be a bus in reality. Let me introduce this Amazing invention. In May 2016, China unveiled a Bus that can pass over the vehicles on the road. The purpose of this invention was to use the roads for ordinary vehicles as well as to avoid traffic jams and reduce pollution.
These electrical transit elevated Buses run on a track and thus it helps the driver to pass the vehicles easily on the road. Almost twelve hundred passengers can travel in each bus and the impressive system of the bus provides the fastest and cheapest public transport option. Although, the buses have not begun its journey yet some designs and protective measures are in the working process but at least it will be seen on the streets of China soon. In my opinion, it will help to solve public transportation problems in the long-term basis.
Shoes that tie themselves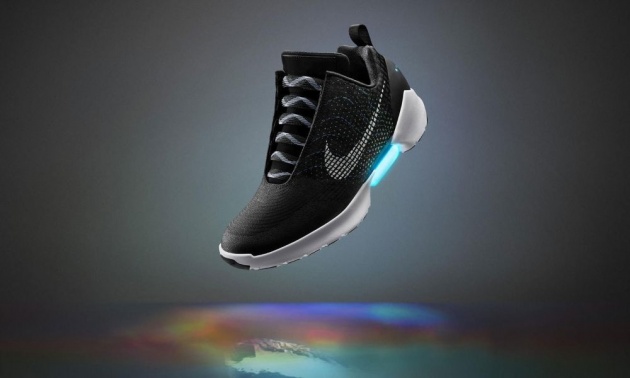 Photo Credit: google.com
After 'Back to the future' everyone was dreaming about that shoes and then Nike went ahead and made a pair of the self-tying sneakers in 2016. When the button near the thumb of your foot is pressed then HyperAdapt system automatically turns tight and loose the shoelaces. These shoes are very beneficial for the people suffering from any physical disability as the company claims.
Fields of games that could be fit anywhere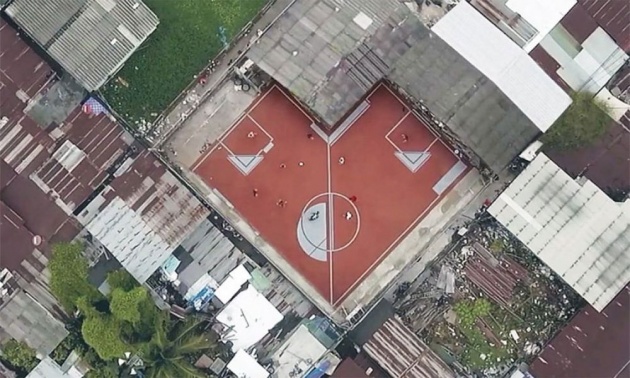 Photo Credit: AP Thailand
The capital of Thailand, Bangkok is the most densely populated area where is no place to build new parks. That results in the lack of playing opportunities for children. That's why a real estate company AP Thailand identified the places from Aerial Photography. Some empty sites were seen in the Aerial Photography which were replaced with Playgrounds by filling them with concrete, paint, and other materials where the traditional limitation does not exist. So far, there have been two Playgrounds built and the third one is in working process.
Selfie drone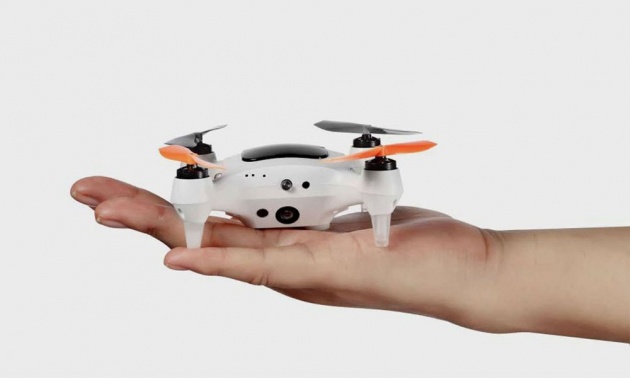 Photo Credit: google.com
There are thousands of people around the world who posts their selfies and videos daily on Social Media if you are one of them and a selfie-addicted too. So this part of my blog is especially for you! You might have heard about Drones but ONAGOfly is quite different from other drones that have the ability to auto-follow its owner and can record HD Videos while Selfies can also be taken without bothering your hands to hold your smartphone.
Smart ring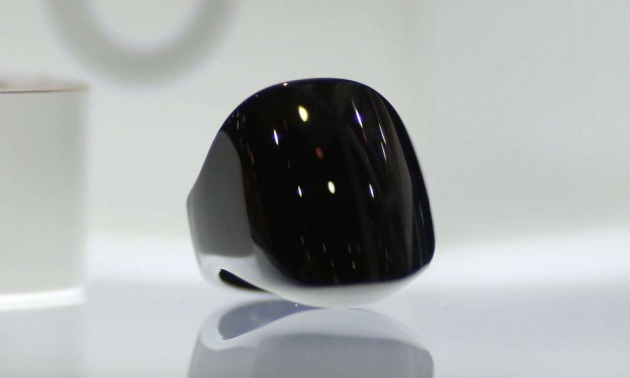 Photo Credit: google.com
It sounds like a space gadget. Isn't it? but ŌURA is a Smart Ring and it was launched to track sleep. This small, stylish ring works far better than Fitness bands and Watches which are easily accessible in markets nowadays. ŌURA keeps an eye on your activities throughout the day. It tells how was the overall quality of your sleep and also gives tips for better sleep and suggests what you should be doing. It also measures body temperature, movement, activity and more.
Xiaomi's concept smartphone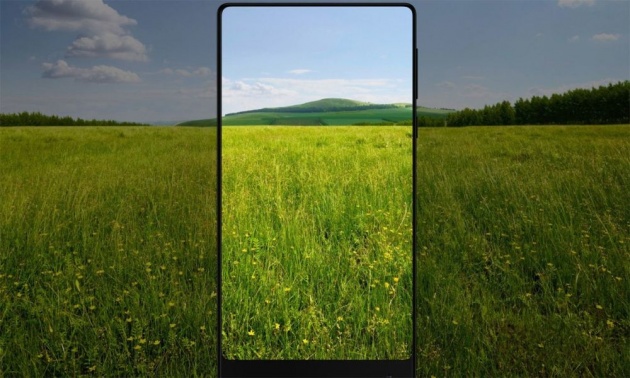 Photo Credit: Xiaomi

Xiaomi's flagship smartphone mi mix is an edgeless smartphone. It's 6.4 inches screen is stunning and it's ceramics body has been polished black while it will be sold in another model decorated with 18 karat gold.

The Chinese company worked on every aspect of the screen to give it a unique design and special attention has been given on speaker holes, sensor, and on front facing camera.
The company spent several years to look for alternative speakers and then chose piezoelectric speakers as part of the phone whereas, the front camera with ultrasonic sensor moved to the lower right corner of the phone. The noteworthy features of this concept smartphone are Snapdragon 821 chip, 2.35 GHz, and 4400 MAH battery.
These 11 technologies attracted me to write a blog on them. I hope you enjoyed getting aware of last year's technologies. These inventions have shown us an early glimpse of the future and I want to see more of this type of technologies.
Deep-Shelter