Video credits: Ali Rowan via youtube.com
Anyone here is self-entitled as Bibliophile? Raise your two hands because the annual largest Bookfair is here once again!! Yes, I'm talking about the Manila International Book Fair!! This year is their overwhelming 39th year! And surprisingly this year is my 3rd time participating to such an event.
MIBF has the largest, most varied, and hot off the press collection – from big bookstore chains, indie bookshops, local publishing outfits, academic and religious publications. Aside from the latest selection of reads, fair-goers will also have access to exclusive items, bestsellers, limited edition prints, collector items, stationery and school supplies, and more. MIBF also recognizes the significance of alternative teaching and learning methods which is why the fair not only features books, but also digital publications, multimedia, teaching aids, and more. Activities such as book signings, book launches, meet-and-greets, and other book-related activities highlight the fair.

-Source: manilabookfair.com
Manila International Book Fair is an annual fair where local and international publishing companies gather as one, for the love of books! Usually, this event is held every 2nd or 3rd week of September. A couple of years ago, the fair was held in SMX Convention Center in Pasay City and usually run for 4-5 days. Isn't great? Having a couple of days to look around and find yourself a good read. Aside from gathering the publishing companies, there are also school supplies brands who participate, Art brands are also present. Enticing enough? Wait there's more! From a large and numerous selection of books, of course to hype things up, everyone showcased their products in a lesser price. Meaning SALE EVERYWHERE!!!! Yes, you heard me right. Feeling satisfied already? Well, there's more!! Some publishing companies come up with live demos, book signing and meet and greet. Who would know? Maybe this is your chance to meet your favorite local Authors right? Ahhhhh, we'll see. Stay tuned.
So I, together with my brother, cousin and my mom went to the fair for fun. Well, the original plan was to window shopping in SM Mall of Asia, but I and my brother have a different thing in mind, and that is to go to MIBF. Without hesitation, we went to the fair with all excitement in our eyes.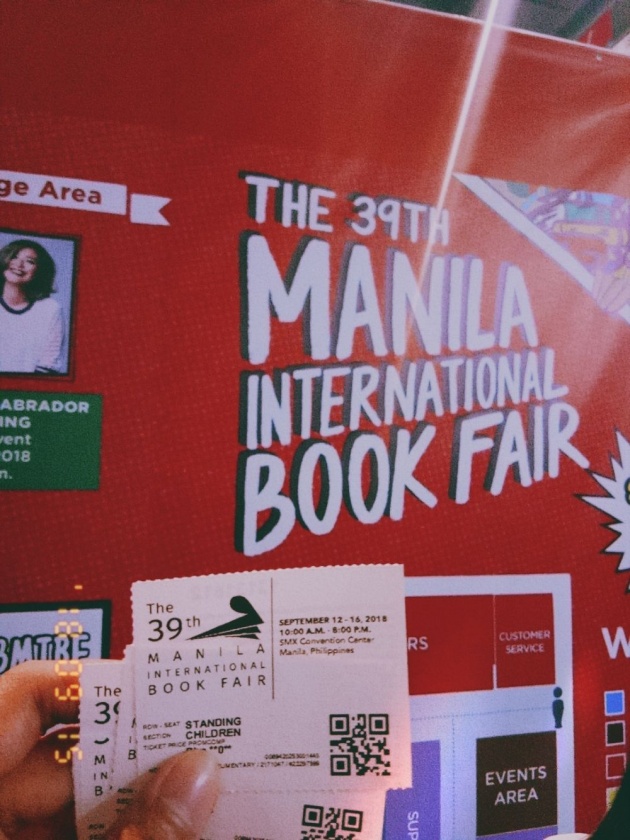 Photo credits: Yannn via bitlanders.com
As we arrived at the place, we can already see the crowd and Man!! It's 4 pm at that time but still, there's a whole bunch of people in the fair, well maybe because it's Saturday and 2 days left before the fair ends. And as we enter the convention, we line up and bought our tickets.
Ticket prices are:
Adult- Php 35.00
Student- Php 20.00 (But you have to show your ID first)
But if you've been attending the said fair on the past years, you know that some bookstores post tickets online and you just have to print it then you can use it as passes in the fair.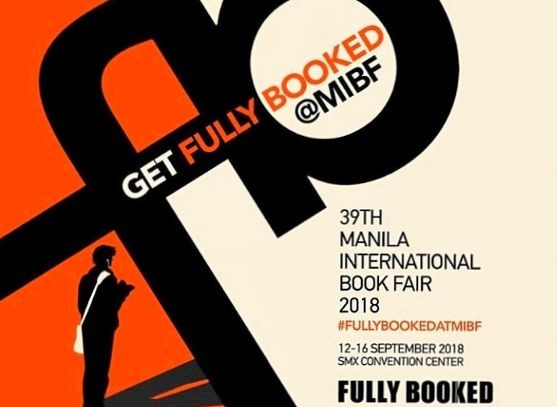 Photo credits: @_fullybooked via instagram.com
In our case, since it's an ambush set-up we weren't able to print our tickets so we just bought one on site.
Okay! Huddle up! Let the search begin!!! But before that, I told my mom, cousin and brother that we should split up because there is no way I can enjoy looking around with me in mind worrying for them. So I told them to just message or chat me if they are done looking for books.
• NATIONAL BOOK STORE •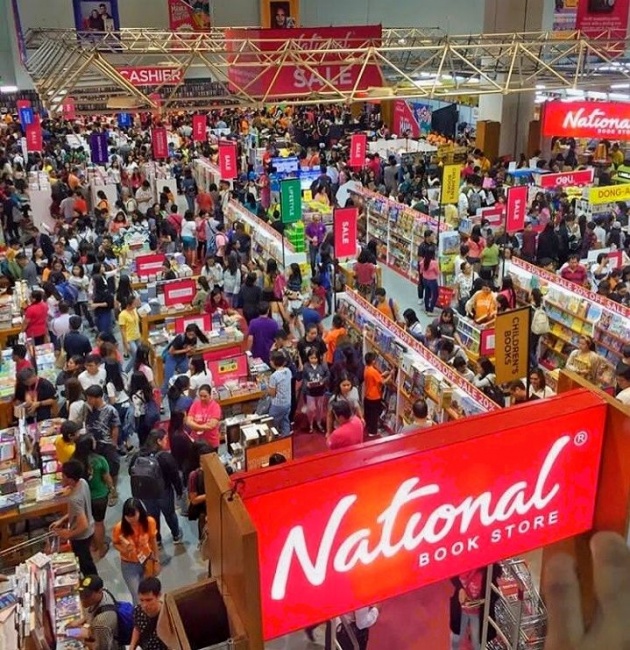 Photo credits: @nationalbookstore via www.instagram.com
I guess every Filipino are very familiar with National Book Store it's like the largest bookstore in the country. And with that, I decided to look around there first. And as expected, there are tons of people in the area. I enter the booth and the first thing I noticed on my right side is the Live Demo. It's always been NBS who host Zigph's live demos every year. As I took a glimpse, hmm it seems like I knew him. He seems familiar and it feels like I've seen him somewhere already. So as I take a step closer to see who's the featured artist for that time, I jumped into my feet to see that it's Sir Harvey Tolibao!!!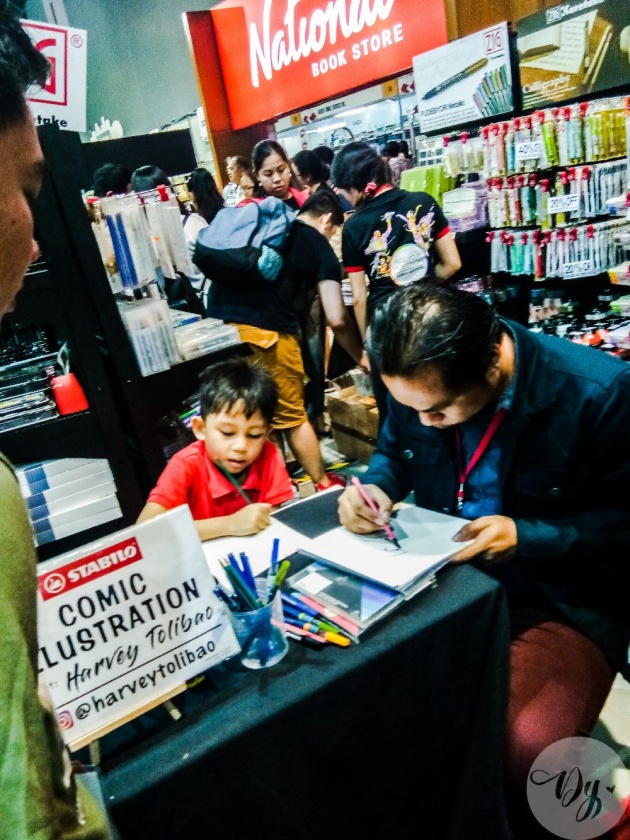 Photo credits: yannn via bitlanders.com
AAAAHHHHHH!!! It's Sir Harvey! The moment I saw him, it feels like my inner Artist is excited to ask some questions, ask some tips and have a little chitchat. Unlike any zigph's artist whom I know for almost 4 years, Sir Harvey is a newly Introduced Artist of Zig. I remember that I saw him last year on Zig Philippines' Calligraphy Fair 4. Since then, I begin to look up to him as an artist. Most of his works are inspired by superheroes such as Marvel Comics and DC superheroes. No, I am not fond of those things and I don't do sketches (not yet) but what makes me look up to him is his passion and attitude towards his craft. Every detail of his piece are surely well placed and pay attention to.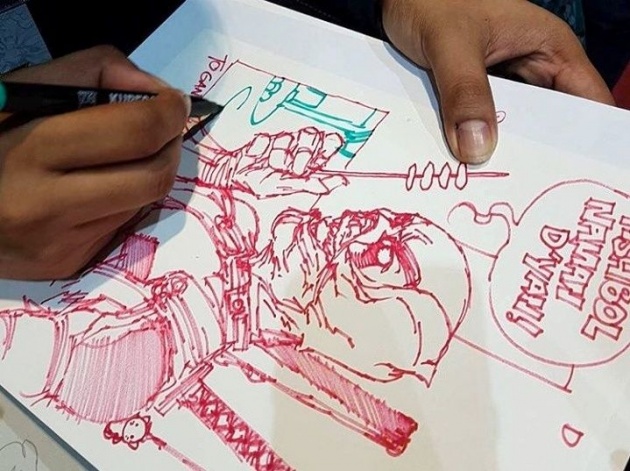 Photo credits: zigphilippines via instagram.com
His journey inspired me a lot, it seems like his story is a Rags-into-Riches type of journey. I know, we've heard a lot of this stories but for me he is different. He is indeed an Artist with a heart, not afraid to share his struggle and frustrations because he knew that those struggles became part of his testimony. What an Artist indeed!
Want to see more of his works? You can check out his Instagram at @harveytolibao to see more of his masterpiece.
After I composed myself, I decided to walk away and look around, If only I have more time I would like to stay but ugh I only have a few hours to look around. As I went to Zig Ph's booth, my eyes caught a precious gem and I rush into it. AAAAAHHHHH it's Cocoiro Letter pen!!!! And it's at 40% off!!!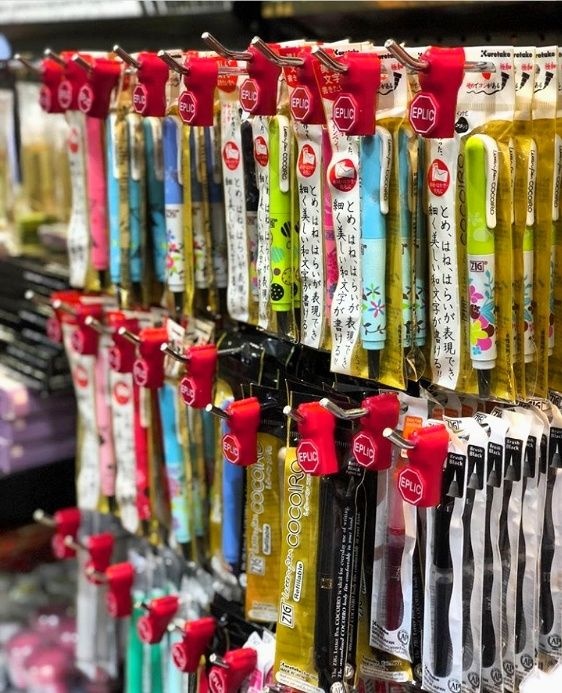 Photo credits: @zigphilippines via instagram.com
I've always wanted to have a cocoiro pen but I wasn't able to have one because it's sorta expensive for a small pen like that. The original price of it is Php 245.00, imagine a lettering pen worth $5. So for 3 years, I resist not buying one until that day. Ah, good thing I didn't purchase one before. So that day I just bought a cocoiro letter pen for Php 147.00. ALMOST HALF THE PRIZE MY HEART IS SO HAPPY!!! Hooray!!! So I did get a pink one and continue to look around. Then I bumped into a booth that has a notebook stand. I saw the letters BDJ and from that moment I know that it's Belle De Jour. I've been familiar with the brand itself because they are the usual sponsor every time there's an event in our Department during our college years. I saw a dotted pad and, BAM! I was enticed to buy one. (Not to mention that I'm a sucker for dotted pad/notebook, so I was really triggered to buy one). Plus they have a special promo, 2 dotted pad in a prize of one. Oh, I've been fooled by their Marketing strategy. I should have known. HAHAHA. But nevertheless, I am still happy to have 2 dotted pad. The bonus prize is if you purchase a pad, you'll have 2 washi tape for free!!! Hooray!!!
So I headed to the cashier to pay for my stuff and go back to the booth of Belle De Jour to claim my free washi tapes (you have to show the receipt that you bought the pad to get the tapes). After I claimed my washi tape, I noticed the booth on the right side. Here we go!
• ANVIL PUBLISHING •
Besides the National Bookstore booth is the Anvil Publishing. This is perfect if you are looking for quality historical books!!! But of course, the one that I am looking for is the book of "Behind the scenes of the Movie: Heneral Luna" and the most talked about film last month the book of "Behind the scenes about the Movie: Goyo: Ang Batang Heneral".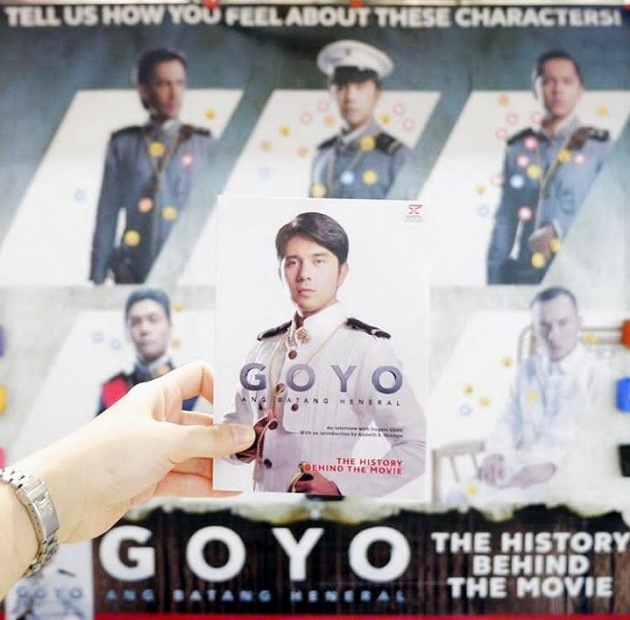 Photo credits: @anvilpublishing via instagram.com
Then I finally found it!!! But, I was so hesitant to buy it at first. Hmmm, you'll know soon why. There are also books by the great Nick Joaquin, that gave me a hard time to decide whether I will buy it or not. But unfortunately, I decided to walk away without buying it. Huhu. I finally decided to look further and my eyes bawled when I saw the sign Php 100.00 all books!
• CHRISTIAN STRENGTHENING CHURCH PUBLISHING •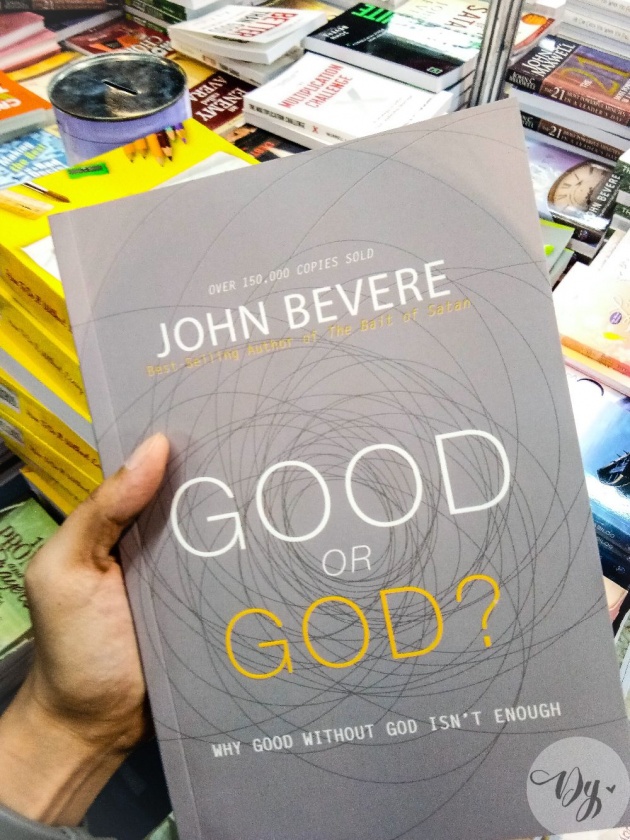 Photo credits: yannn via bitlanders.com
I rushed into the booth when I saw the signage of Php 100.00 every book and I know that it will be a leadership-Christian type of books. AAAAAAAAHHHH I WANNA SCREAM!!! There are so many people in the booth but I don't mind them at all. I got too excited because there is this certain Christian book I'm looking for. But sadly, I wasn't able to find it on the said booth. But on the positive note, I was able to buy a book from John Bevere entitled "Good or God". I've heard so many great reviews about the said book and I was glad that I was able to buy it.
While I was looking around for some titled books, there is someone who's promoting a sketchbook for only Php 100.00 and I heard it's the last piece. So I rushed into the announcer and get the last sketchbook. AAAAAAAAAHHHHH my heart is so happy!!
As I go to the cashier to pay for my book and sketchbook, I saw my mom and brother from afar deciding what to buy. So I told them that I'll get going and look for other stuff.
A few minutes later, I got a call from my mom that they are done shopping for books. We decided to meet at the entrance, but unfortunately, my brother is still taking his time looking for more books. So we decided to look on the 2nd floor as we wait for him. There are still booths upstairs, can you believe how big SMX is? So as we went upstairs we visit some booths and there I remember that there's a Pop comic con in one hall. So with all enthusiasm, I dragged them to the said hall and look for some merch!
• POP COMIC CON •
So an Anime Enthusiast like will surely get excited to know that there is such event tied up with Manila International book fair. Not only I'm a weebo, but also I am an aspiring Animator so my excitement rises when I saw beautiful works of some artist. I saw Sir Harvey having a live demo about his piece at the stage. I will never get tired listening to his humble beginnings because it gives me hope and reminded me not to give up on my dreams.
So as I look around, I also saw some anime merch but not as many as I saw in a convention. Then I saw a booth selling a Refrigerator Magnet.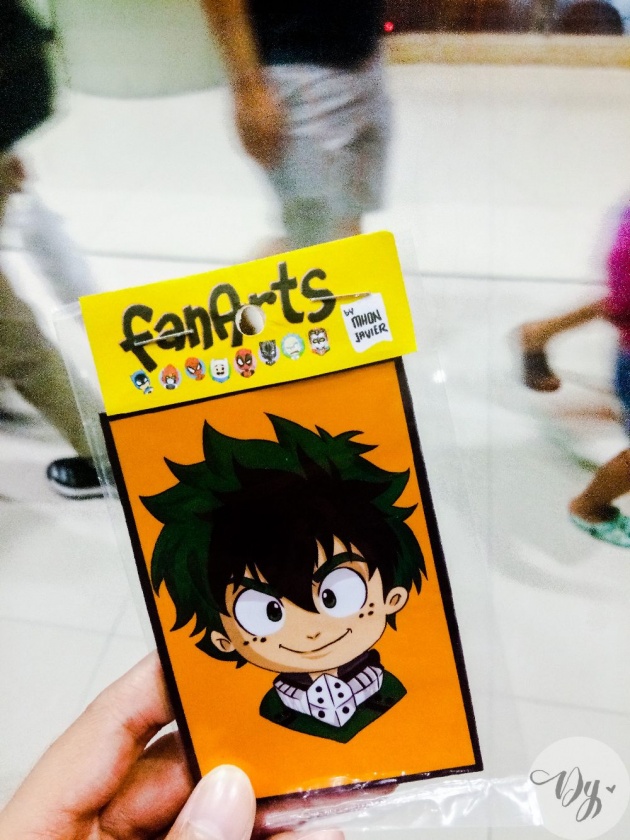 Photo credits: Yannn via bitlanders.com
Actually, the first one I saw and caught my attention is an All might ref magnet. But at the end of the day, I still choose Deku. Ahhh, I really had a hard time choosing which one to buy. The seller even suggested "Just get it both" he said it with laughter. But as much as I wanted to have both, I still need to budget my finances so I just took the Deku Ref Magnet.
After a few minutes of walking around, we finally decided to find our brother to get home. And when we finally meet him, we just ate our dinner and go home.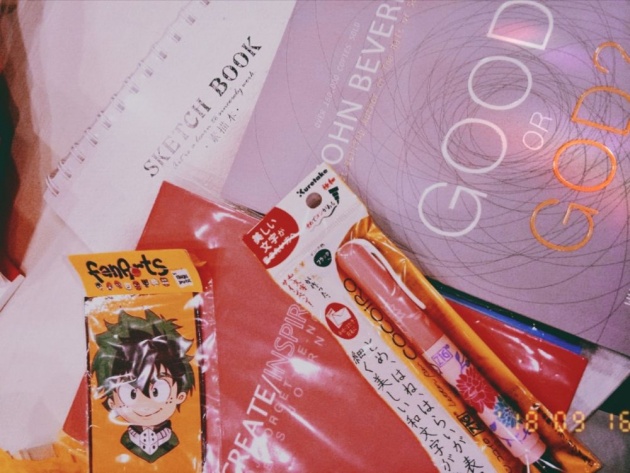 Photo credits: Yannn via bitlanders.com
So here you go! Here's my book Haul for this year's Manila International Book Fair. You know when we said, Book Fair it is not just solely books but they also have crafting and Art Materials. And that's what I love the most in this event.
I wasn't able to buy too many books but I'm very grateful to attend this year's Manila International book fair.
Video credits: ABS CBN News via youtube.com
Here's a highlight of the said event. Tune in to my next blog for my 2nd-day experience in Manila International Book fair. And I'm telling you that there's more to this book fair. Especially to my co-filipino people who loves history movies. *wink*
For the mean time, here's a querlo chat for you.
Thank you for reading! You can also check out my other blogs here: