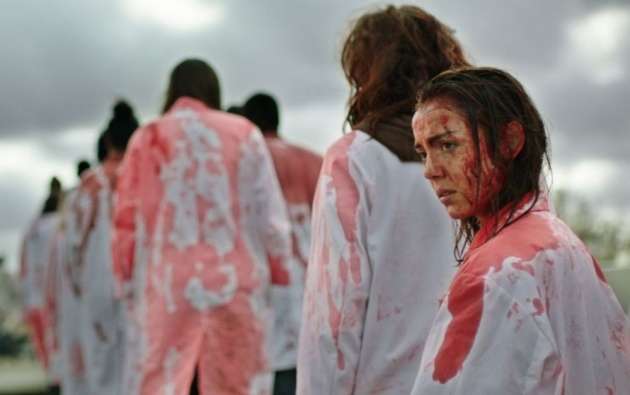 You are driving down a quiet country road at 30, maybe 40 miles an hour. All of a sudden, a young woman runs out from behind a tree. You swerve and crash the car. But your problems don't end there.
This is the opening of 'Raw', the uber-confident debut cinema feature of writer-director Julia Ducournau that puts new blood – quite literally – into the horror genre. Ducournau's other credits include the ninety-minute TV movie 'Mange' (Eat) and a short film 'Junior'. By her own admission, Ducournau makes films about transformations – young women seen as unthreatening assume a confidence and strength that is terrifying.
'Raw' is about cannibalism, in which a young first year veterinary school student, Justine (Garance Marillier) discovers a hitherto suppressed taste for flesh, after eating meat for the first time and then being exposed to the human variety.
Her nightmare begins from the moment she is dropped off by her parents. Justine's possessions are turned out of her dorm. First year students are blooded, subjected to humiliating treatment by the older students. If you are a parent thinking of sending your child to a French university, you might want to reconsider after watching this film.
The adults in the faculty aren't that interested. Incidentally, the supporting cast is augmented by Belgian film directors: Bouli Lanners as a truck driver and Marion Vernoux as a nurse.
Justine lives in the shadow of her older sister Alexia (Ella Rumpf) who is something of a rebel. She doesn't answer her parents' calls and assumes a gothic demeanour. Justine is torn between a relationship with a boy, Adrien (Rabah Naït Oufella) and following the aloof example of her sister. Justine's relationship with Alexia takes a 'no going back' turn when a Brazilian 'wax off' goes nastily wrong.
The film is least successful when it explains Justine's flesh craving in a late movie twist. It works best – and puts you through the wringer – when Justine gives way to her addiction without understanding why it feels so natural, struggling all the while to maintain normal relationships with her fellow students.
The setting is cleverly contrived. Where else could you walk around with clothes spattered with blood than in a veterinary college, the purpose of which is to inure you to the sight of blood – and worst – for the purpose of developing a steady, medical hand?
The 'Mexican stand-off' in which the two sisters have their teeth dug into each other's forearms has to count as one of the most arresting images in modern cinema. 'Raw' (or 'Grave' to call the film by its French title) is an outstanding horror-slash-coming of age film, with two terrific central performances from Marillier and Rumpf. When it was screened at the Toronto International Film Festival, there were reports of fainting. The audience watching it with me at the London Film Festival were made of stronger stuff – they voted for Brexit, after all. But it is definitely not one for the squeamish.
Clip:
Reviewed at Vue, West End Cinema, Screen 7, Tuesday 11 October 2016, 12:00 midday screening (London Film Festival)