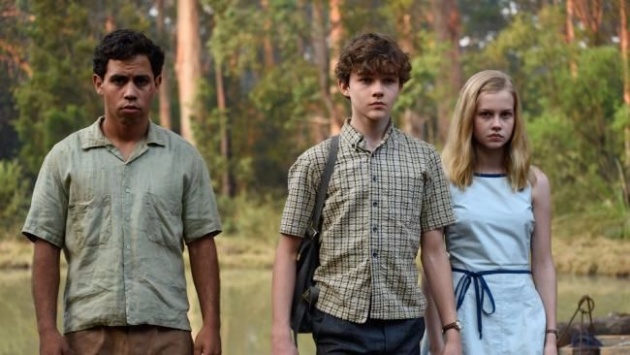 Pictured: Jasper (Aaron L. McGrath), Charlie (Levi Miller) and Eliza (Angourie Rice) in the murder mystery, Jasper Jones. Photo courtesy of Maddog
There is nothing in Jasper Jones, a murder mystery with a fourteen year old 'outsider' protagonist, Charlie Bucktin (Levi Miller) that suggests that it is directed by a woman, in this case Rachel Perkins (Bran Nue Dae, Radiance). Based on an acclaimed novel by Australian author Craig Silvey, adapted by the author in collaboration with screenwriter Shaun Grant (Berlin Syndrome, Snowtown) it is a coming-of-age film of sorts about prejudice and brutality in Corrigan, a small town in Western Australia in 1969. It is no Twin Peaks or To Kill A Mockingbird for that matter – the book has been compared to the latter, which makes me go all Suzanne Vega ('Harper, Harper, Harper/Lee, Lee, Lee/Why do they always/Compare you to me/To me?') Yes, it does. It has some tense moments and the obligatory casting of Hugo Weaving as a bearded 'weirdo' who may have murder in his blood, but it has plenty of light moments including a feel-good set piece involving cricket, which is practically a 'gimme' in my book - it's a short book. It also has Toni Collette as the kind of mother who loves her son to bits but makes him dig a hole.
Race rather than gender connects Perkins, born of the Arrernte and Kalkadoon Nations, to the material. The titular Jasper Jones (Aaron L. McGrath) is a mixed-race part Aboriginal boy who comes knocking at Charlie's window late at night to ask for his help. I say window, but these are more removable slats that young Charlie can crawl through. Not great for home insurance, but it is 1969. Jasper leads Charlie to the swinging, limp body of young Laura Wishart, hanging from a tree with a rope around her neck. Jasper is convinced he will be blamed for her death and convinces Charlie to help him dispose of the body – they tie a rock to Laura's corpse and sink it in the lake. Laura becomes a missing person and a curfew is imposed after hours.
Quite why Charlie is an outsider isn't explained, other than he reads Mark Twain in bed. His father, Wes (Dan Wyllie) is a writer who secludes himself in his study. Charlie is an only child whose only friend is Jeffrey Lu (Kevin Long), an Asian boy who perseveres at cricket even though the team doesn't want to pick him. At the very start of the film, Charlie and Jeffrey discuss superheroes, Jeffrey complaining that Spiderman would be useless in the bush as he has nothing to swing from; the film segues into a 'Batman Verses Superman' debate which I thought was settled in 2016 – the film sucked. Mum (Collette) has a restless energy, at one point inviting Charlie to swing dance with her. It's a small town – they haven't heard of Jimi Hendrix. The spectre of Vietnam looms. One of the local families has lost a son in the war and takes it out on Jeffrey's parents.
Researching murder – he leafs through a copy of Truman Capote's 'In Cold Blood' (published 1966) – Charlie flees from Laura's younger sister, Eliza (Angourie Rice, last seen as Ryan Gosling's street-smart daughter in The Nice Guys). Laura has borrowed a copy of Capote's 'Breakfast at Tiffany's' and gives it to Charlie for safekeeping, together with a note that he doesn't think to look at.
Jasper returns to Charlie's house to take him to the residence of Mad Jack Lionel (Weaving) who Jasper is convinced is responsible. Who else would have carved the word 'sorry' on a tree? Charlie sees the same word etched onto the side of a truck outside Jack's house. During a surveillance sortie, Charlie loses his bag with Eliza's library book in it and then gets caught outside, using Eliza as an excuse for his disappearance.
There is a dry wit that runs from the film. After Charlie has dug his hole, his father asks if he can cook his dinner. 'Haven't I suffered enough already?' asks Charlie. The cricket game comes as light relief. Jeffrey has to score sixty runs to in the match for Corrigan, nine wickets down. Can he do it? The set piece wouldn't disgrace the climax of a sports movie (come on, Disney). But there are revelations to come involving Mad Jack, Laura and the police chief.
The original novel was set in 1965 – it was updated to make the Vietnam War references more meaningful, as well as to include 'In Cold Blood'. Charlie is 13 in the book, 14 in the movie. This difference makes the relationship between Charlie and Eliza more believable – he is ever so slightly more mature.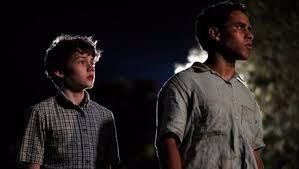 Photo: Charlie (Levi Miller) and Jasper (Aaron McGrath) on stakeout duty in 'Jasper Jones'. Still courtesy of Maddog
Perkins comes into her own with two sequences. One in which Jasper and Charlie confront Mad Jack; as Charlie walks down a corridor in Jack's house with Jack behind him, the scene is pregnant with menace. The second has Charlie and Eliza present their evidence to the only woman capable of taking action. In a silent scene, the woman tears a note into little squares and puts it in a tea cup. The stillness of Charlie and Eliza contributes to the scene's power. It is a reminder that they are just children, with little ability to affect results.
Charlie comes to the realization that what makes a hero super is courage. The real superhero in the movie is Toni Collette who brings Charlie's mother's foibles to life. She behaves erratically, at one point buying a new car – the scene comes from nowhere - but Collette always makes her recognisably human.
Jasper Jones is Perkins' first film in eight years, illustrating the difficulties of women directors maintaining a career in cinema. Whilst not having a distinctive style – she is no Jane Campion – her work is assured and impressive. The faults of the film lie with the source material and a failure to make Jasper the centre of the drama. He pops up at opportune moments rather than really powers the story. We are never convinced why Jasper tells his story to Charlie, other than that Charlie doesn't play sports. By the end of the film, Charlie's life changes but he is better equipped to deal with it. As for Jasper…
Reviewed at Oz Film Festival, London, opening night, Friday 30 June 2017, Regent Street Cinema, 20:15 screening