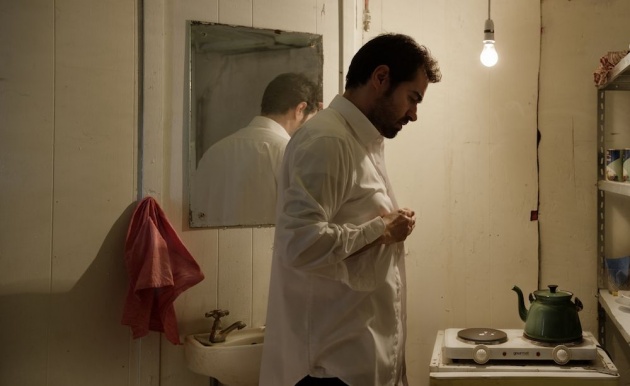 Pictured: Gholam (Shahab Hosseini) deals with the tricky middle button in the British-Iranian film 'Gholam', co-written and directed by Mitra Tabrizian. Still courtesy of Aimimage Productions
For some, film directing isn't a career, rather a diversion. It's an opportunity to go beyond one's usual field, to explore the potential of the medium. The risk is negligible: if it goes wrong, you can always return to the day job without shame or ignominy; indeed, you can blame the producer.
Born in Tehran in 1956 and based in London, Mitra Tabrizian is an established photographer who has exhibited around the world – her CV lists shows in London, New York, Vancouver, Milan, Antwerp, Berlin, Queensland and Graz, amongst other cities. She has also directed three short films: The Predator (2004), The Journey of No Return (1993) and The Third Woman (1991). Gholam is her first feature. Set in London in 2011, as uprisings collectively dubbed the Arab Spring take place across the Middle East, it is inspired by a photograph Tabrizian made of an Iranian taxi driver in the capital. Working with co-writer Cyrus Massoudi, Tabrizian remakes or rather riffs on Martin Scorsese's 1976 seminal classic, Taxi Driver. A big ask, you say - yet Tabrizian aces it.
This is not to describe Gholam as a slick movie. It is slow, contemplative, sometimes displaying 'camera on a tripod' filmmaking. But it is made with craft and purpose. Its technique is applied well. We see London out of focus as a cab travels down single lane streets. It explores the lives of people who don't normally make it to our cinema screen or television, doing so with intelligence, compassion and no answers.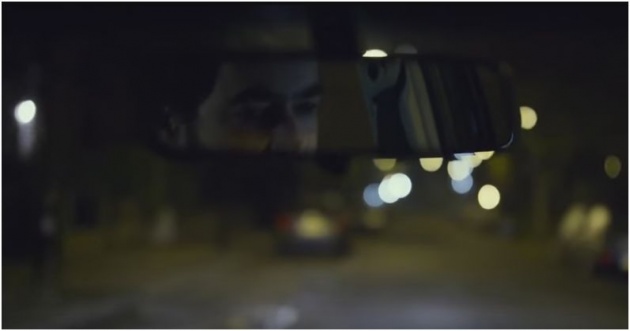 Pictured: London out of focus in 'Gholam', a British-Iranian film co-written and directed by Mitra Tabrizian. Still courtesy of Aimimage Productions
To understand what Gholam is reacting to, you might need a quick primer on Taxi Driver. It was written by Calvinist film critic turned screenwriter Paul Schrader during his drugs and porno phase – I'm not sure he ever quite left it, at least not in movies like The Canyons and Dog Eat Dog. Schrader's alter-ego is Travis Bickle, an embodiment of Schrader's 'problem' - alienation. At the start of the film, we see him apply for the job of a cabbie. He will work 'anytime, anywhere'. His new boss – spoiler alert, he gets the job – asks him if he is breaking his chops. 'You break my chops, you take it on the arches.' That's street slang for you mess me around, you are out of work. Once in the cab, you do your job, no matter what you see or hear.
So Travis, essayed with social awkwardness by Robert de Niro, wearing Schrader's own clothing, goes to work. He is seeking a cure for insomnia. He writes in his diary. He has no contact with his family. He goes to watch pornographic movies in the only place open after hours. He falls for Betsy (Cybill Shepherd), who is working on a political campaign.
I won't summarise the entire film, but Travis' idea of a first date – after coffee and pie – doesn't go well. Betsy dumps him. As Travis phones her to salvage something of the evening, the camera discreetly moves away. You want to watch Travis' pathos? Of course not - here's a corridor.
Travis instead obsesses over a teenage prostitute, Iris (Jodie Foster) who he sees in the street one night. Travis wants her to quit, but Iris, even though she has her doubts about her pimp, Sport (a long haired Harvey Keitel resembling Tommy Wiseau) can't bring herself to go home. Travis decides that the politician is the problem. When his assassination attempt goes awry, he attempts to save Iris and becomes an unexpected hero.
Taxi Driver has a particularly memorable score from Bernard Herrmann – he died in 1975, a few days before the film's release. Herrmann has scored some of Alfred Hitchcock's best films – Rear Window, Vertigo and Psycho – as well as Brian de Palma's Obsession, also written by Schrader. Drum rolls, wind instruments and a saxophone suggesting noir romanticism dominate the soundtrack. It is the aural equivalent of a slowly-approaching thunderstorm, with a hint of something really menacing. It is a genre score that along with the expressive camerawork gives the film a heightened quality. The first time I heard it was a true William T Ferrell (WTF) moment.
Tabrizian strips out the extraneous elements – the soundtrack, the voiceover and expressive camera movement. A scene of extreme violence takes place out of our view, though an earlier scene shows us what a character is capable of: 'The fare is fifteen.' 'F- off!' Our man gets out of the cab and collects the shortfall. The first scene has Gholam (Shahab Hosseini, best known for playing the male lead in Ashgar Farhadi's The Salesman) take a suited man almost to his front door. Gholam won't take him all the way. Why not? Gholam does not say. The passenger gets out and throws the fare at him. Gholam drives the cab forward and then sits quietly, discovered by two yellow jacketed security guards. The next day we see him leaving a police station.
What is his problem? Tabrizian doesn't explain. We discover Gholam has two jobs – he also works in a garage, though his blue overall suit, with its zip pockets always wide open hasn't seen any oil. Tabrizian must have hoped to return the uniform afterwards to get a refund. Gholam's employer has money problems and not many customers. At one point he turns a suspicious fellow away: 'I'm too busy.'
Gholam has meals at his uncle's cafe. Whenever he pays for his lunch, his aunt says, 'be our guest'. A note is pushed back and forth between Gholam and the woman before she accepts it. There is a humorous payoff to this – the film's only laugh – but I won't spoil it. He doesn't speak with her, only to his rapping, skateboarding younger cousin, Arash (Armin Karima), who perform his latest ditty for him (it ends with the line 'die for my country'). Introducing Arash, the camera moves awkwardly. You sense that Tabrizian only had a limited use of the cafe during the day – the film is entirely shot on location - and didn't have the time to get the shot right. The jerkiness throws us slightly but suggests something of the 'barge right past you' life of London. It is so rare to see a film with such an obvious technical glitch that it is weirdly refreshing.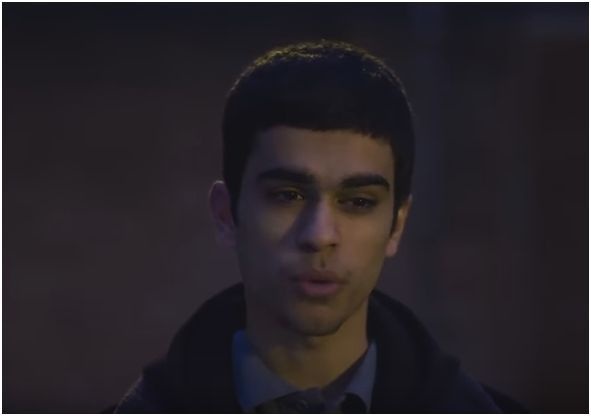 Pictured: 'It's a rap.' Arash (Armin Karima) in 'Gholam', a British-Iranian film co-written and directed by Mitra Tabrizian. Still courtesy of Aimimage Productions
There are other recurring locations – Gholam's basement flat, where he lies on his bed to receive a phone call from his mother, who wants him to work for his uncle (Gholam won't do so) and come home. Gholam visits a corner shop, where he is offered something to help him sleep. Gholam just takes red top, fully pasteurised milk. He hands in his keys at the cab office and collects his meagre wages, criticised for having his radio switched off. He goes to the laundry and buys his powder there – he's not great at economising, but then Tabrizian doesn't have the budget to show products with logos.
Periodically, we see Gholam in his cab. His passengers mostly ignore him, save for one woman of Middle Eastern descent (I suspect played by Tabrizian herself, in a deliberate homage to Scorsese's own backseat cameo in Taxi Driver) who asks him to turn the music up.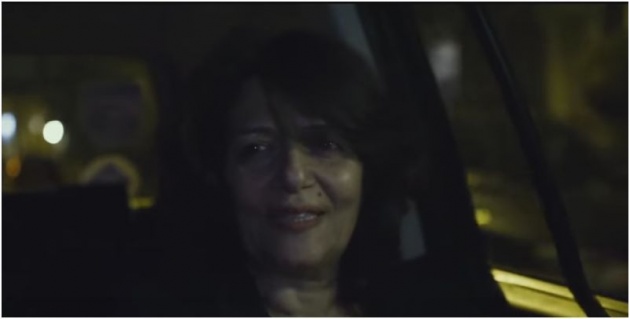 Pictured: A friendly passenger (Mitra Tabrizian herself?) who asks her driver to turn the music up in 'Gholam', a British-Iranian film. Still courtesy of Aimimage Productions
The Arab Spring is underway and yet Gholam is stuck in London. Appearing in his eye line one day – just as Iris appeared in front of Travis Bickle's cab whilst crossing the street – is Mrs Green (Corinne Skinner-Carter), an elderly Afro-Caribbean woman who Gholam helps to the pavement. He offers her a lift but Mrs Green is happy to walk. Gholam knows her – we discover why only later. Her grandson was killed by a group of white boys who drink in a local pub. Gholam visits the pub to pretend to use the lavatory and later has an orange juice there – the lads follow him in their car, but he ducks into a corner shop. When he sees Mrs Green again, he gives her a lift down the road and refuses a five pound note. He calls on her twice, once speaking to a neighbour (Tracie Bennett) and then visiting her a second time with grapes. He also sees her in his local laundrette, carefully folding shirts. When he doesn't see her on a second visit, he is concerned.
There are men interested in Gholam who know something about his younger days – he fought as a fearless thirteen year-old in the Iran-Iraq war in the 1980s. There is an anecdote about an Iraqi prisoner of war. Gholam did something pretty bad to leave the country. The men want him to do something – but Gholam refuses. He does however go to their house.
Gholam isn't shown to practice religion, although he murmurs a prayer at one point. He rejects western food, throwing away a sandwich in one scene and a slice of pizza in another. He hangs out at a Persian food stall, where he drinks mint tea. During one visit, he is offered food, but then rejects it.
The film builds to a sequence in which Gholam forces an issue – and then, like Travis Bickle, becomes the subject of a newspaper article, read in clumsy expository style by Mrs Green's neighbour. Gholam is wounded and is a wanted man.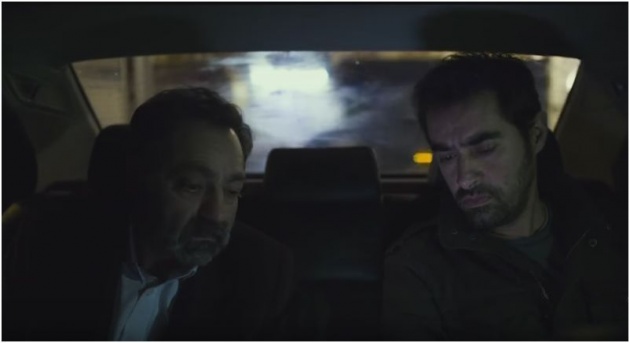 Pictured: Clearly not watching 'Iran's Craziest Home Videos', Gholam (Shahab Hosseini, right) in 'Gholam', a British-Iranian film co-written and directed by Mitra Tabrizian. Still courtesy of Aimimage Productions
The climax is sudden, but a riposte to the romanticised ending of Taxi Driver. Are vigilantes really celebrated? Like Taxi Driver, the film has two plot strands. Just as Scorsese shows a street drummer perform the 'syncopated style of Chick Webb', so Tabrizian shows young Arash rehearse before his debut gig. Tabrizian poses questions: what do we mean by our people? How can we communicate empathy and hold those who are unpunished to account? She doesn't provide answers but lingers instead on sacrifice. Futile or important – you decide.
Reviewed at Soho Screening Rooms, Thursday 25 January 2018, 18:30 - press screening
Trailer courtesy of Seattle International Film Festival