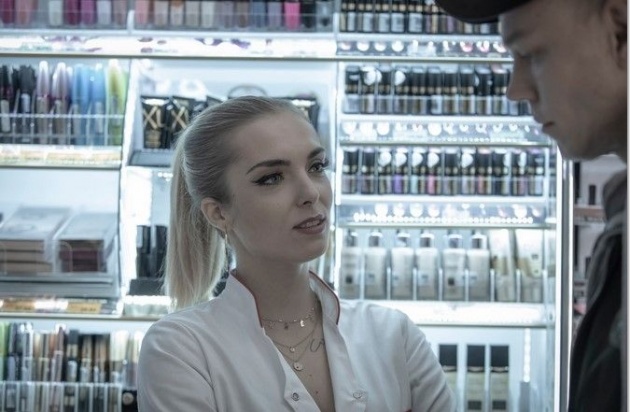 Pictured: Aneta (Magdalena Kolesnik) asks Kamil (Jacek Beler) about skin types in a scene from 'Other People' ('Inni Ludzie'), adapted by director Aleksandra Terpińska in collaboration with Dorota Masłowska from Masłowska's 2018 novel. Still courtesy of Film Polski / Warner Bros Pictures (Poland)
Contemporary Polish films aren't much fun. Other countries inspire frothy romantic comedies in which income is not an issue. Not Poland. Other countries show off iconic architecture as a backdrop. Not Poland. The first image that comes to mind when I think of Poland is the Gdansk shipyards. I think of Lech Walesa and the Solidarity movement. When I watch contemporary Polish films, I see depressed women of all income brackets struggling with bad relationships under a grey sky. They might enjoy sex, but they aren't in control of their destiny. They will inevitably be punished for their transgression. It is as if the filmmaker is wagging a finger to warn the audience, 'Don't do this'. Polish films will feature 'bad boys', young male protagonists with anti-social attitudes who express their loathing of homosexuality and contempt for women. In some films, loathing and contempt extends to other cultures. These are our principal viewpoint characters, thugs nursing a wound or two, striking out and exploiting others.
My assessment is based on films I have reviewed in this series: Satan Said Dance, Zabawa Zabawa, Twarz (Mug) and 365 Days. With the exception of the latter, these aren't box office or streaming winners. They appear to offer social critiques but instead invite the audience to enjoy elements of anti-social behaviour. No one wants to leave the cinema feeling depressed so instead the viewer watches these movies with a profound sympathy for the bad boys (or girls) and a delight when they punish others.
Other People (Inni Ludzie) is just such a miserable drama. It is a rap musical, Poland's answer to the British films Ill Manors and Blue Story. It is modelled on films that feature Asian and Black protagonists. Polish films, by contrast, are not ethnically diverse; they claim white victimhood. This is an assertion also made by conspiracy theorists in the US and other countries claiming that a 'great [ethnic] replacement' is taking place. There is no evidence of such a replacement in spite of what you might read in a chatroom.
Stylized from the outset, Other People is based on Dorota Masłowska's 2018 novel, described on the website culture.pl as a 'polyphonic hybrid of poetry and written prose'. The film, with music by Marek Aureliusz Teodoruk, billed professionally as Auer, and co-written by Masłowska and the film's director, Aleksandra Terpińska, begins with its protagonist, thirty-two-year-old, partially tattooed Kamil (Jacek Beler) in a fever dream. He tosses his blankets over a Lego ™ spaceship heading towards the Earth. Kamil imagines himself as the pilot. Kamil doesn't imagine the adventures he might have on his own with his Lego ™ joystick. He is in miserable Poland (production information indicates Warsaw) doing miserable Polish stuff.
Kamil lives with his mother (Beata Kawka) and his younger sister (Zuzanna Bernat). 'Got anything to eat?' he asks the former, who sleeps on the sofa, a symptom of late nights or a two-bedroom apartment. A spartan fridge answers the question. Kamil doesn't like the smell of perfume, so he pours it over his sister's homework. She complains vociferously. Leaving the apartment, he passes by a plant pot where he has secreted his stash of weed. Jump cut - intake of puff. Kamil has an appointment and a 15,000 zloty (£2,680 – did I read that correctly?) mobile phone bill. Clearly the deregulation of Poland's telephony market does nothing for the consumer. Naturally, he enters a tram through the rear door. No buying a ticket for him. Looking on is Jezus (Sebastian Fabijanski), who initially is shown watching him through a video monitor. For a brief moment, I wondered if the film was going to turn into the Polish version of Der Himmel über Berlin (Wings of Desire) but that's a hard 'nein'. Jezus is the film's equivalent of a Greek chorus, only he's Polish and looks like he hasn't washed his hair for a month. Do you need showers in the afterlife? Jezus is here to rap and to be Kamil's reflection in a mirror. He's not much of a saviour, rather a savourer, a sampler in Kamil's life of diminishing returns.
Kamil makes what little income he has from the plant pot. He enters a pharmacy for some petty larceny. The bored girl behind the counter fixes him a stare. She is Aneta (Magdalena Kolesnik). Their flirtation enlivens her day. Fast forward to a relationship in which Kamil naturally lets her down, living the cliché (which ought not to be true), 'treat 'em mean, keep 'em keen'.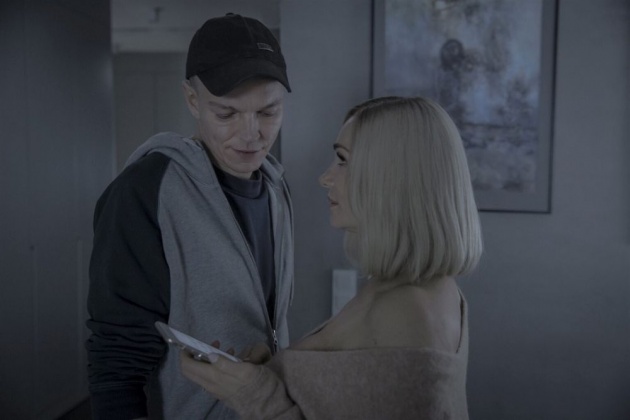 Pictured: Wannabe rapper Kamil (Jacek Beler) and bored housewife Iwona (Sonia Bohosiewicz) in a scene from the Polish film 'Inni Ludzie' ('Other People') an adaptation of Dorota Masłowska's novel by director Aleksandra Terpińska. Still courtesy of Film Polski / Warner Bros Pictures (Poland)
Aneta isn't the only woman he compulsively underwhelms. Meet Iwona (Sonia Bohosiewicz), a wealthy bored housewife and mother whose husband, Maciej (Marek Kalita) has a teenage daughter, Lena (Milena Walenta) with an eating disorder from a previous relationship. Iwona has Kamil on call to fulfil a vague desire for human contact, telling him before he pleases her not to wear his socks. She is a walking cliché that the filmmakers consider ripe for ridicule. Lena claims that her father spent too much on Iwona's breast implants. At one point – the film doesn't conflate misery with social realism – Iwona rips out an organ (or perhaps silicone) from her chest, dices it up and eats it. At least she can cook. Iwona and Maciej has a young son who plays violent videogames and demands pasta to eat. 'Without sauce!' he insists, several decibels higher than necessary.
Jezus raps: 'Grey faces. People don't dream. Winter sales is the one thing they're interested in.' Terpińska and Masłowska shuffle misery more or less constantly throughout the film's running time. There is a thread: Kamil dreams of being a recording artist. He was supposed to meet a guy but somehow didn't make it. He inflates himself linguistically on a bus to an old acquaintance he meets in the rear. However, the passengers who join in with the musical soundtrack aren't impressed.
Iwona doesn't sing but imagines herself found out by the teacher and parents at a Parent-Teacher meeting, where they all stare at her accusingly. She loaned Kamil the money to reactivate his mobile phone and now he's back in circulation - no need to upset his young sister.
There are numerous sex scenes, but no male nudity – Poland is a Catholic country. There are moments when Terpińska and Masłowska subvert their characters, firstly when the homophobic Kamil gets high on drugs and homoerotically bumps chests with a male friend – what larks. Secondly, when Aneta is revealed to be a fat-shamer and suffers the anger of her flatmate, Justa (Dominika Gwit) after an Instagram make-over, in which Aneta writes 'fat' [in English] on one of Justa's cheeks and 'pig' on the other. I confess that Justa striking back provided the only moment of relief, but then I remembered that these are cartoon stereotypes and that there is no connection to real justice.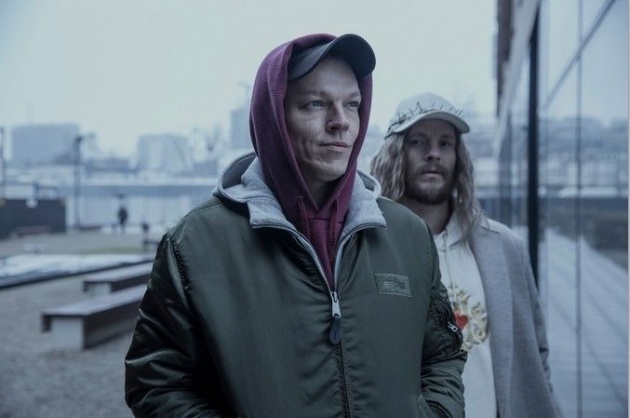 Pictured: 'Chasing a dream / No need for sun cream. / Some point, I'll run out of steam.' Kamil (Jacek Beler) wanders the streets of Warsaw unaware of Jezus (Sebastian Fabijanski) in his midst in a scene from 'Inni Ludzie' ('Other People') a Polish drama with rap interludes directed by Aleksandra Terpińska. Still courtesy of Film Polski / Warner Bros Pictures (Poland)
Drama, such as it is, comes from the police raiding Kamil's apartment, looking for his stash. Like real life, Kamil missed it. He attempts to make money by taking four Christmas trees that have been donated to poor families and selling them on at 30 zloty each. Late in the film, he wrecks his family's Christmas tree after contemplating a rocket-shaped decoration, shortly after rapping the question, 'why do bad people do bad things?' It was his mother's fault, he decides. As a child, his sister received the present of a Lego ™ spaceship, which he assembled. He was delighted. His mother took it away from him and tried to sell it to neighbours. 'It has been opened,' one complains. This, according to Kamil's self-justifying narrative, turned him bad.
In the film, legitimate satire turns into product placement. Maciej trades in his gluten-free lunchboxes for Pizza Hut ™ pizza, which he snacks on greedily. The transients who are the beneficiaries of his leftovers ask passers-by for sugar-free and healthy snacks. Maciej offers to take his young daughter for a meal. 'Are you joking?' she replies. The purpose of their interaction is to get a selfie which Maciej uses as cover to meet Klaudia Bochon (Marta Ojrzyńska), his mistress. Klaudia lives her life on social media; Iwona likes her posts. She also smashes the back of her own car after leaving the Parent-Teachers meeting having imagined censure, before going on a spending spree.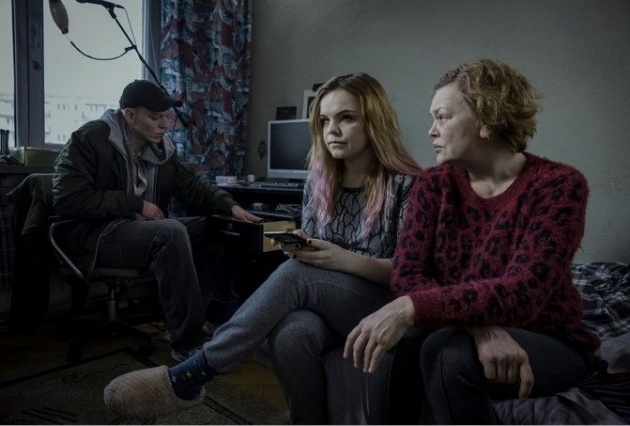 Pictured: 'Chillin' with my fam? / I don't give a damn.' Would-be rapper Kamil (Jacek Beler) with his sister (Zuzanna Bernat) and mother (Beata Kawka) in a scene from the Polish film 'Inni Ludzie' ('Other People'), directed by Aleksandra Terpińska. Still courtesy of Film Polski / Warner Bros Pictures (Poland)
The one moderately happy character is Iwona's buxom motherly Ukrainian cleaner. Ukrainians are criticised for providing cheap labour, doing the jobs that Poles won't do. 'Do you miss your family?' Iwona asks her sadistically. The cleaner answers truthfully.
When Kamil calls at the perfume counter, he finds that Aneta has phoned in sick. There is a body outside the apartment block where she lives. Revenue inspectors board a tram on which Kamil is travelling for free. He avoids a fine. Characters' lives are as miserable at the end of the film as they are at the beginning. Kamil may have had sex and been able to make calls on his mobile but remains no closer to being a rapper, lacking beats or, more accurately, talent.
Reviewed at Cineworld Wood Green, Screen Four, North London, Tuesday 26 April 2022, 20:00 screening