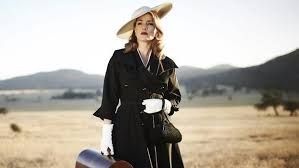 The Dressmaker is Australian director Jocelyn Moorhouse's first film since 1997's A Thousand Acres, an ill-fated and long forgotten adaptation of Jane Smiley's novel starring Michelle Pfeiffer, Jessica Lange and Jennifer Jason Leigh, itself a reworking of William Shakespeare's King Lear. In the interim, Moorhouse left directing to her husband P.J. Hogan, best known for Muriel's Wedding and more recently a live-action version of Peter Pan (2003). Like her husband, Moorhouse had a difficult time in Hollywood. He returned to Australia to make 2012's Mental; Moorhouse has followed suit.
Nominally, The Dressmaker, adapted from Rosalie Lim's novel, is an Australian western, with sewing machines instead of guns. It is set in the small Australian town of Dungawat in 1951, which sees the unexpected homecoming of Myrtle 'Tilly' Dunnage (Kate Winslet), who as a young girl was sent away after being accused of killing a classmate. Tilly wants to find out the truth about her crime, but first has to reacquaint herself with her mother, 'mad' Molly (a movie-stealing Judy Davis, complete with greyed out front tooth) who appears not to recognise her and is sadly missing her possum. Tilly shows off her wares, high fashion dresses in the Parisian catwalk style. They seem incongruous in the Australian outback - a visual joke that I never got tired of. She trades dresses for information and uses her stylist skills and some marijuana-infused brownies to earn good will, whilst at the same time facing down the cause of her exile. She also catches the eye of a local farmer (Liam Hemsworth) who is the town's star football player.
The cast list offers a who's who of 1980s and 1990s Australian cinema and includes actors such as Julia Blake, Barry Otto and Genevieve Picot. The small town setting offers a microcosm of Australian talent, the ones who never went away – with the exception of Davis, who had a moderately successful Hollywood career. The Dressmaker is also Winslet's second film 'Down Under' after Jane Campion's Holy Smoke. At one point, the film threatens a trademark Winslet nude scene, but no – the full-figured actress is seen in a strapless black dress.
About halfway through, Tilly's successful showcasing of her dressmaking is threatened by the appearance of another stylist, Una, who has been hired to make a wedding dress. She has a poor sense of fashion. Tilly is aided by the local policeman (Hugo Weaving), a cross-dresser in the tradition of The Adventures of Priscilla, Queen of the Desert and her mother, who gradually recovers her senses. But Tilly can't escape the feeling that she's cursed.
The Dressmaker is not just a feminist black comedy, with more blood than its (UK) '12A' rating suggests ('moderate violence' – pah). It has something to say about Australia's repositioning from a former British colony – the townsfolk use pounds, shillings and pence – to an Asia Pacific power. It references Shakespeare (Macbeth) but also South Pacific and The Mikado. The European influenced Tilly has a destructive impulse – a need to see the small town rebuilt from scratch – but Pacific culture offers a means of reinvention.
There is a point about 85 minutes in where the mystery is resolved and there is the possibility of a happy ending. The narrative daringly pushes on as Tilly faces her curse. The last part of the film has a high body count. This makes for a much more radical text than we expect. The last line refers to disposal of trash – it is clinical but also scathing. There is real venom rather than the reconstitution of a new status quo.
The humour makes the dark content easier to take, with Davis' Molly taking particular delight in being carried by Hemsworth's character and stealing his whiskey flask – she is a real live-wire during a screening of Sunset Boulevard, mocking William Holden's 'attraction' to Gloria Swanson. The casting of an English actress as the cultured outsider works really well, though playing the detective figure, Winslet doesn't have to display a huge range of emotions, often deferring in scenes to Davis rather than giving as good as she gets. That said, while Davis starred in My Brilliant Career, Winslet undoubtedly has had one.
The early reviews of The Dressmaker didn't really get the film. It was interpreted as too quirky, with a surfeit of incident in the final third. But it feels like a satisfying whole. It has the swift, harsh sea change of emotion that you see in the best Australian films, like Muriel's Wedding. The pay-off seems right. It is also a pleasure to see a film so thoroughly inhabited. The townspeople seemed to have lives, something that is not always evident in movies. The film suggests a variant of the British TV series Midsomer Murders that all but destroys the format by the end.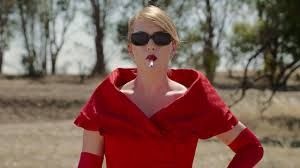 Reviewed at Cineworld, Fulham Road, South Kensington, London, Saturday 21 November 2015, 20:30 screening.