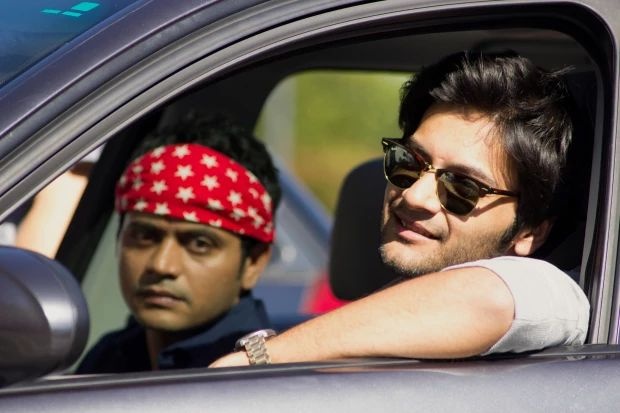 For Here or To Go, an entertaining look at the travails of an Indian tech worker, Vivek Pandit (Ali Fazal) wishing to change employers in the United States, is the result of a close collaboration between writer-producer Rishi Bhilawadikar and director Rucha Humnabadkar, making her first feature. In terms of perspective, it is very male. How many Indian women get visas to work in California's Silicon Valley? Type that question into google and you get asked something about Silicon implants. The wives of Indian men on H-1B visas are not allowed to work, even though they have degrees. You could infer that Humnabadkar doesn't identify with a typical spouse of a tech worker. Why should she? She directs movies, although she has a past career as a lead interaction designer, which is techie for creating interactive products that acknowledge the emotion that they generate in the user. Apparently you must cultivate positive emotions and minimise negative ones. For Here or To Go generated plenty of positive emotion in 2015, playing to full houses and winning a Jury Prize at the Seattle South Asian Film Festival.
So what is an H-1B visa? It is used by tech companies to employ guest workers with specialist skills. The number brought in each year is capped at 65,000. But do these H1B visa holders try to settle in the US as Vivek does? According to a 2013 article in 'Mother Jones', they 'learn the job and rotate back the home country' taking the job with them. (Rotate? Isn't it more of a pivot?) The H-1B visa is used to undercut the wages of a similarly skilled American-born worker, so they may not be addressing a skill shortage at all. It can't be nice to know that you are only there as cheap labour. What must it be like when you go into a coffee shop? No wonder the characters in this film prefer chai tea.
For Here or To Go was filmed in San Francisco in 2013. Bhilawadikar and Humnabadkar raised funds - $7,322 USD from 85 backers, to be precise – through a moderately successful IndieGoGo campaign (poster below). Private financing also contributed to the budget. The film was screened at the 2015 Mumbai Film Festival with Bhilawadikar's mother joining in promotional duties. (Thanks, Amma!) The makers are desperately trying to get a distribution deal.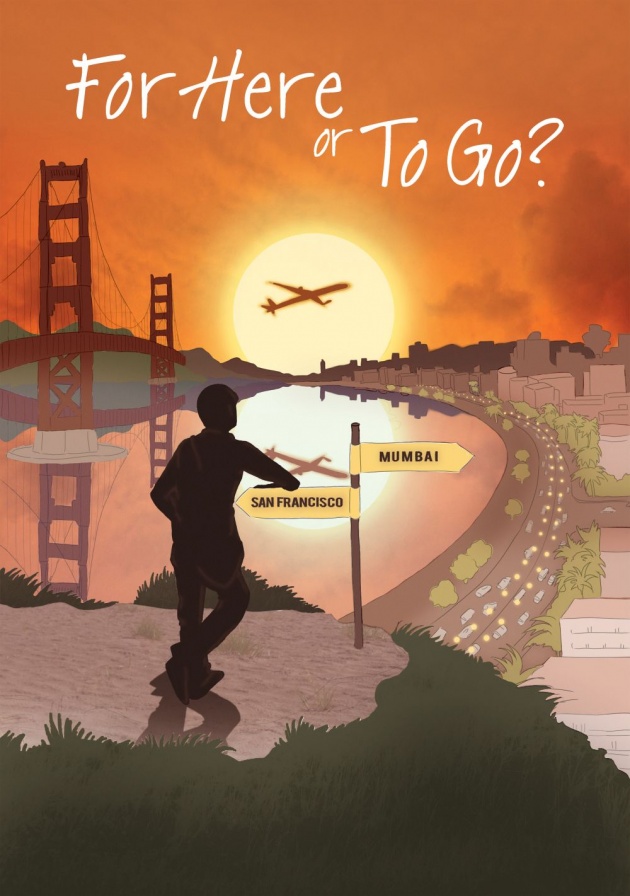 Vivek has less than a year to run on his visa. He is bored in his current job and wishes to join another company. But to be re-hired by another company in the US, he has to go back home. He doesn't want this. His flat mate returns to India leaving behind a new tenant, who is a bit of a slob. He then invites another guy. Vivek catches the eye of Shveta (Melanie Chandra) who at one point joins in him in a Bollywood style dance number. Most of the acting by the white cast is wooden. They represent intractable authority. Only the Indian characters are given any colour. That is kind of the point.
Stylistically, the film oscillates between banter and solemn scenes in which Vivek is given Bad News. There is a subplot involving Shveta's father (Rajit Kapur) who is in dispute with his brother and thinks that young Indians should go back home and help re-build the country. The film is set in 2009, when Bhilawadikar started the script. Vivek ends up being grilled by the FBI and being put on a watch list, which is its own kind of inhibitor. He is also revealed to be South Indian, which for some reason the audience I saw it with (at the Nehru Centre in London) thought was hilarious.
So Indians on specialist visas unable to get a Green Card are described as 'bonded workers'. The film invites sympathy for Vivek – he does quite well in the dance number. We learn something about a Sikh community based way out of San Francisco and ultimately that while the American Dream might be powerful, the Indian Reality is better.
There is one note of genuine darkness, when the film shows how an Indian shop keeper was targeted after 9/11 – a sober corrective to the japery of the rest of the movie. Vivek struggles to get some form of support – a company to back him. I won't spoil the ending, but the fairy tale is pulled short – but it's still happy, don't worry.
You don't get a sense of what kind of filmmaker Humnabadkar is. Competent? Obviously. In control of her material? Yes. Capable of eliciting good performances from the English-speaking Indian cast? Yes. Partial to fast-motion footage showing life in the city? Well... She previously made a short in 2012, Arranged Marriage, which just from the title sounds like it has more bite to it. Interesting the short film, according to IMDB, also features characters called Shveta and Vivek, as the former tries to sabotage her date with the latter. Did I say that in For Here or To Go, Vivek only knows young women called Shveta – a young woman she Skypes with, a woman her mother encourages him to meet and the girl that he falls for. You get a lot of business in Indian movies, if not subtlety.
The British audience, not particularly young, embraced the movie, but Tongues of Fire, the London Asian Film Festival hasn't won over a particular younger audience. So the film needs to be tested among its own demographic, urban professionals. Time for another UK screening...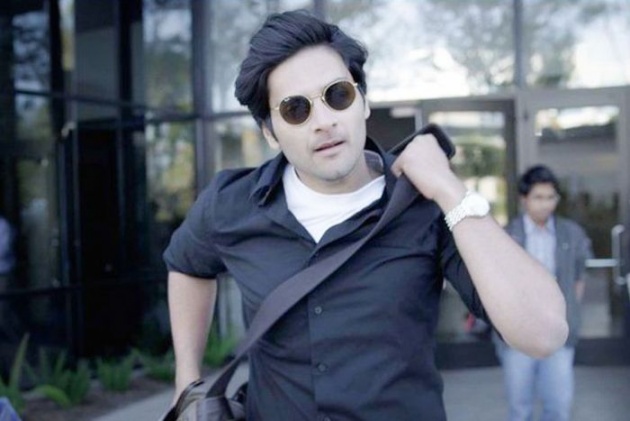 Reviewed at the Nehru Centre, London, Monday 7 March 2016, 18:30, London Asian Film Festival screening