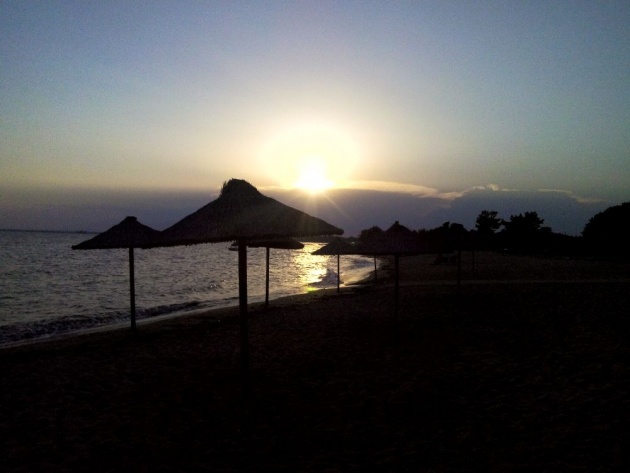 You might have heard of Halkidiki – a marvelous peninsula in the northern part of Greece with lovely nature. This site is an appealing destination for many Bulgarians because of its nearness (around 400 km). But still, the location is sufficiently far to be uncommon. The peninsula is divided into three parts. The eastern part is closed for women since it hosts the monks monasteries of Mount Athos. But I have male friends who visited Athos before, and they referred to it as a great place and good for tourists.
You can check the exact location of Halkidiki on the map I am sharing with you below.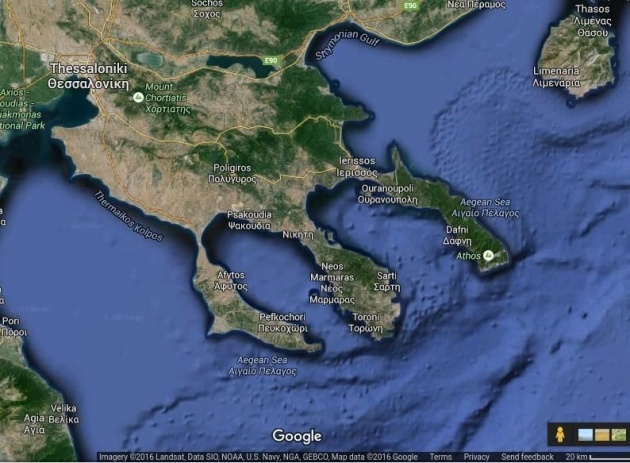 Source: maps.google.com
I went to the peninsula at the end of last summer as a part of my plan to visit the closest countries next to mine. And partially because I thought I deserve a nice vacation after working hard for a long time. I traveled with a very close friend of mine. So, we packed our luggage and arrived at our travel destination, named Kalives Poligirou in the late afternoon. This is a small village between the westernmost (Kassandra) and the middle "sleeve" (Sithonia) of the peninsula. Our host welcomed us with a wide smile on her face and made us comfortable right away. As I mentioned, I was there with a friend of mine and we stayed at an apartment house just 50 meters from the beach. I could see the beach from the large terrace of the flat!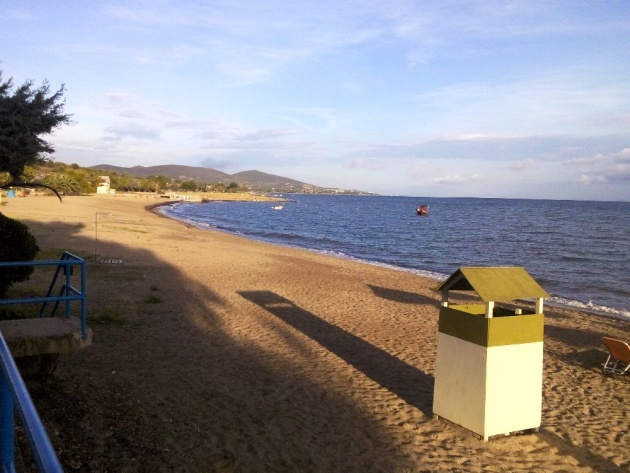 The beach at Kalives Poligirou
Long beaches, palm trees, warm climate – these are just parts of the overall relaxed atmosphere. The silence of the countryside caught me unprepared as I was expecting a crowded location. But then I realized the tourists' season was over and the weather was not so warm anymore. Soon I got acclimatized and even started to love it there. Of course, we were lucky enough to have sunny days too, so we spent those afternoons sunbathing at the beach. More specifically, the beaches, because we visited more than one, at every place we went.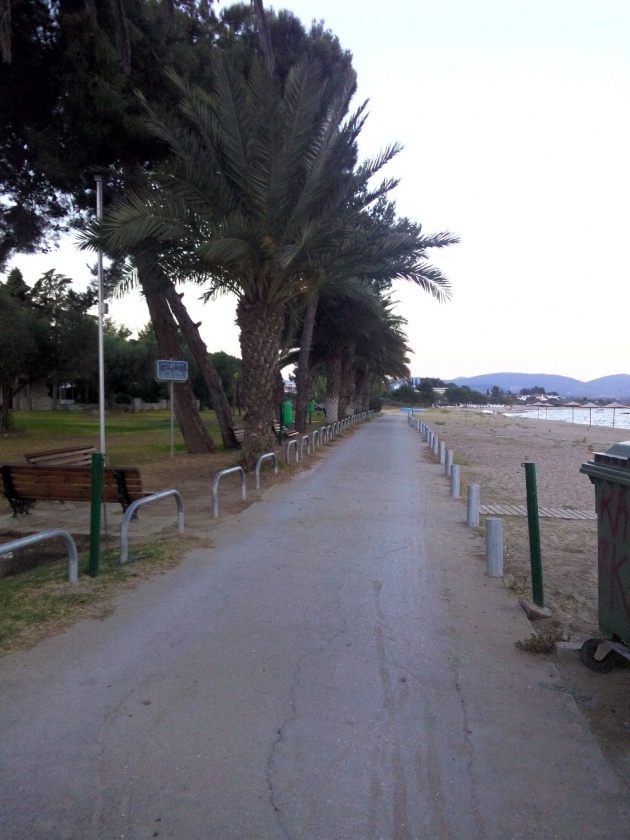 Beach alley with palm trees in Kalives

The thing that struck me and left me completely out of words was the amazing flora and plants I have never seen. Ok, I might have seen pictures but not in reality. For Greeks, this might be normal, but it amazed me they have oranges, tangerines, mango and even bananas at their gardens. Olive gardens were everywhere across the site; Greeks grow them in their backyards. We stumbled across a whole olive grove during one of our walks. And surprisingly for me, no fence was surrounding that garden; we just walked into the wood and nobody stopped us. The climate in Greece is suitable and welcoming for producing olive oil and olives. In my country olives can be found only at specific places – by the seaside and in the warmer parts of Bulgaria.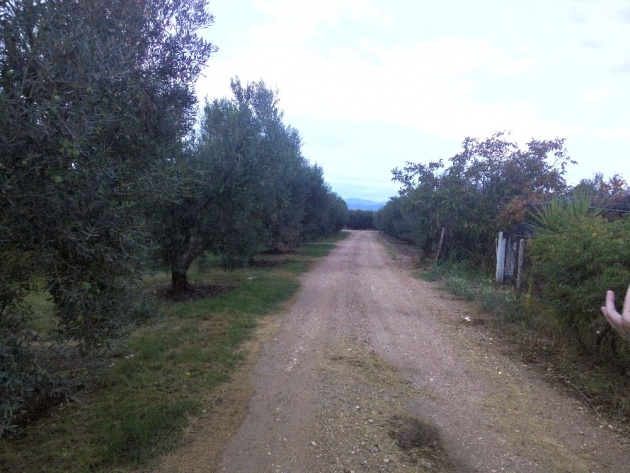 Olive grove in the countryside of Halkidiki
We were not happy with staying at one location only because this was not enough for our adventurous spirit. Every day of our 7-day stay we went either for a long walk or to a new village. I could not find enough information for Halkidiki villages on the web, I believe, because they are not very populated. I remember it was hard for us to decide which place is worth visiting and which not.

On the third day of our trip, my friend started the car, and we headed to Neos Marmaras. The road to this village is winding and placed on a higher elevation than the sea, so wonderful sights are available throughout. There were a few beaches "in the middle of nowhere", with camping sites and tents. Camping is something common on the peninsula since I found so many places on the Internet when I was searching for a good location for us.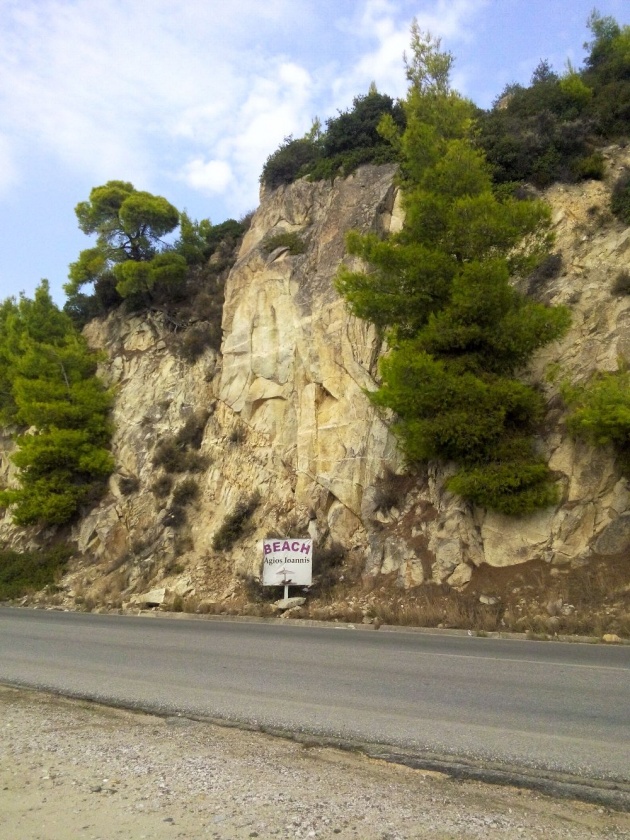 Camping point in the countryside of Sithonia

I can describe Neos Marmaras as a tourist resort with plenty of small shops to buy souvenirs from, a bay in the center and a long beach. We even saw little ducks on the beach – so unusual, I normally see them next to rivers. The village lays on hills and the streets are steep which only gives to the atmosphere. I absolutely loved it as it was new to me and we only stayed for one day. In the evening, we traveled back to Kalives.

Another place we visited was Nea Poteidaia, a tiny resort in the west "sleeve" of the peninsula. Right before you enter the village you pass through a channel with crystal water and a small island under a massive road bridge. This was an impressive view and a fantastic location.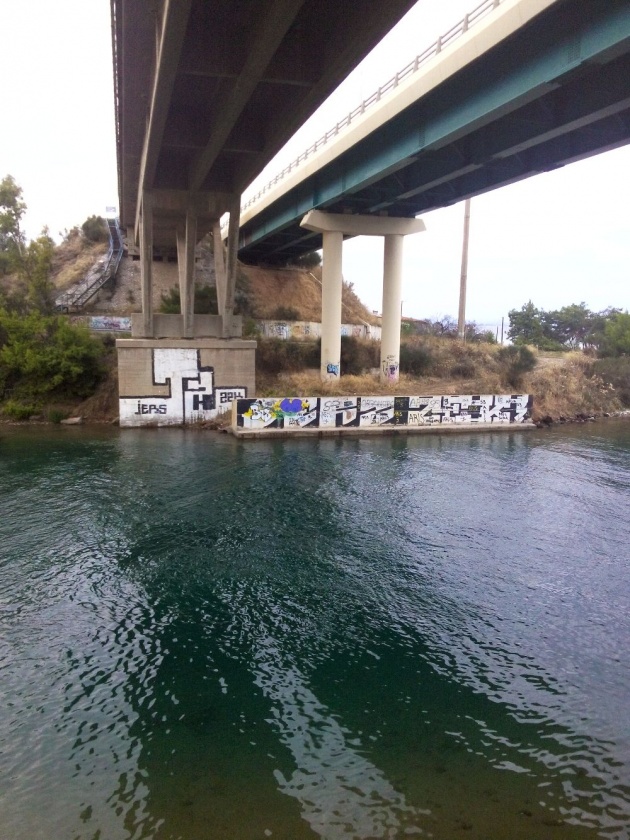 Channel and a road bridge next to Nea Poteidaia

Nea Poteidaia is a small village, as Wikipedia states, "has a population of 900"; consists of one long beach alley with many shops, restaurants, and bars. The village was very quiet during this period due to the weather - cool and rainy. Still, I could imagine the scene of this resort in the middle of the summer – crowded with tourists and screaming "Holiday!".
Nea Poteidaia village - central beach walk

Unfortunately, I did not shoot any videos while traveling, only pictures. Nevertheless, I still want to share with you the video below describing the peninsula.
Video source: go2halkidiki.net via youtube.com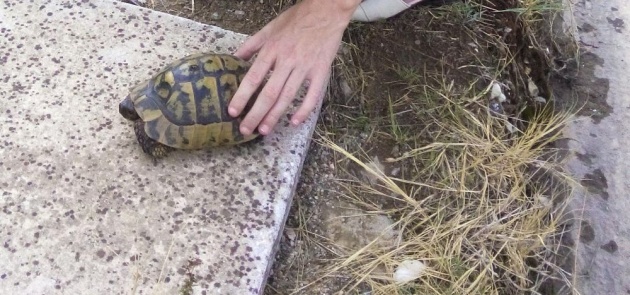 My post will not be complete if I do not mention a tortoise we have found in the middle of a busy highway. This tortoise had luck trying to cross the street at the end of the season, so no car managed to smash it. Well, we saved it – moved it to the side of the road and let her live. I always enjoy encountering different animals because they give me a sense of completion and a closer perception of the wildlife and the undiscovered.
We originally planned our stay for five days, but we liked so much to be on vacation that we prolonged our reservation for two more days. I will never forget the long walks by the beach and the pleasure of spending the ending summer in an exotic country as Greece is for me. At the end of our trip, we promised ourselves we will come back to this country again in the future. And we will for sure!