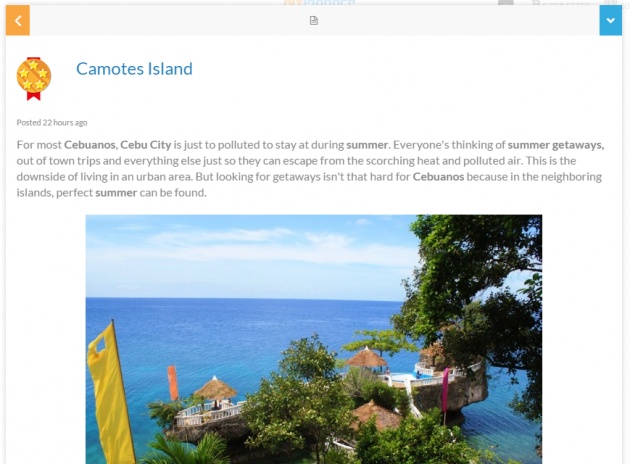 Yesterday I had posted one blog about a wonderful island in Cebu, the Visayas region in the Philippines. I then submitted it for review right after posting it as I believe it might get a good rating but was not really expecting that it will be reviewed sooner since my previously submitted blog from last weeks were not yet reviewed at this moment. On that same day, I was astonished to see Miss Hillary in my monitor screen! Well I know you know how it feels when Miss Hillary prompts up! What surprised me more was that it showed the review was about Camotes Island, the recent blog I had submitted! That was really cool.
I was excited to click on the button but then I remembered that I had promised one of my co-Bitlanders that I will be saving a video of a review so that they can see the real actual transition of the feedbacks. I then run the program to save it and here it is:
I got 5 stars out of 5 again for this blog and that is really good! I have three blogs of five stars now, one had 3/5 and two 4/5 stars. I am totally thankful to Miss Hillary and bitlanders as well for this great birthday gift! Ten buzz points added for the next five days!

Muchas gracias!
You may check some of my other blog review feedback :