Video Credits: Abundant Lightworker via YouTube
This video shows us the five important things to know before we write our first blog post. What are these crucial things which we seem to overlook or ignore? Watch and learn.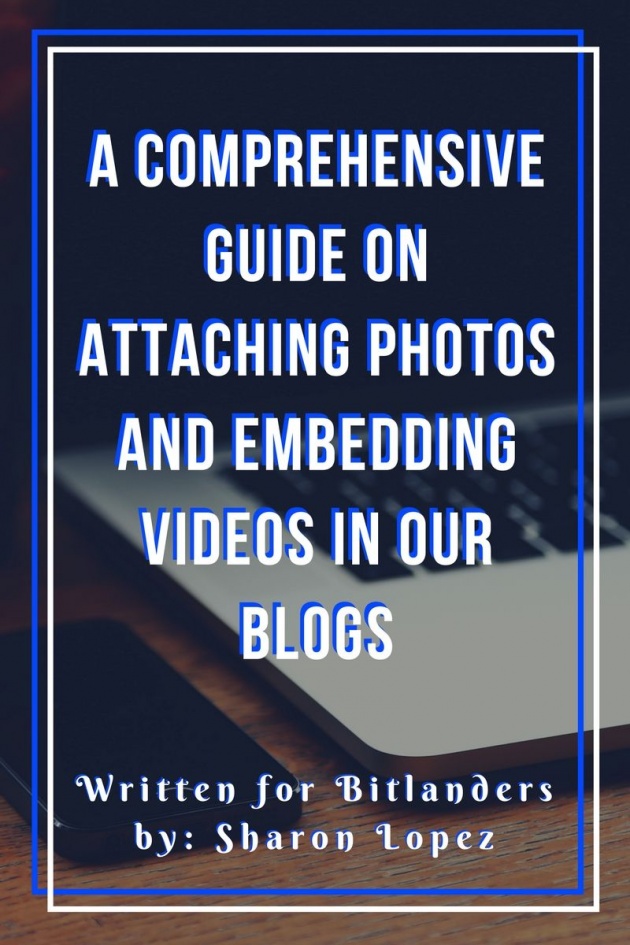 Image Credits: Sharon Lopez via Bitlanders
We should not limit ourselves to the idea that a blog post should only contain texts. An ideal blog is a combination of texts, images, videos and other relevant items which could make our content to be more visually appealing.
Adding relevant videos and images to our blogs can help enhance and make our blog more dynamic and thereby encourage reader's retention. Creating our own video can be a great idea but for some reasons that we could not create one, we could also use YouTube videos which we have to embed in our blog posts. Same way with images, using our own photos is the most ideal, however, using photos from the internet can also help if properly done.
Frequently receiving questions and requests for guidance made me come up with this blog post explaining the importance and ways of attaching images and embedding videos on our blog particularly here in Bitlanders. I want to make this guide as simple as possible in order to help those new members so that they may be able to create more engaging posts, thereby helping them to gain positive reviews for their contents. Which means getting more stars and buzz bonus, hence more earnings.
Why Add Images?
As the common phrase expresses, "a picture speaks a thousand words", which means that a picture can give a detailed idea better than thousands of texts. One picture can tell the whole story. Aside from this, the picture plays a very crucial role in our blog. To name some:
<>It helps prove what is being written, like when we say that we have been paid by a particular site. Attaching an image is the best way to prove it.
<>It serves as a guide especially if we are writing to give some direction or procedures.
<>It helps reader's retention.
<>It helps capture the interest of the reader.
Why Add Videos?
<>It gives a related or additional information to what was written.
<>It gives life to the post.
<>It helps clarify some points and helps understand further what was written in the post.
Where to Insert Images?
We can create and apply our own strategies when inserting mages to our post. As writers, we know when images are needed. Personally, I would add blog graphics at the beginning of the post after the video, if I have any. It serves as the opening message or title of a blog post. When I share the blog on social media, these graphics will usually appear as the preview image of the shared blog post. That is why we should see to it that we create a good graphics for our blog. I usually use Canva for creating graphics. Canva can be used for free or a small amount for an upgraded account which gives more advanced features.
We can add images at the beginning or end of the paragraph to serve as the main focal point. Adding more relevant images can help us reach more people.
Where to Insert Videos?
Like images, we can also apply our own style of attaching videos to our blog post. I would attach videos at the beginning of the post before the blog graphics and at the end of the post. Depending on the topic, we can add video at the middle of the post or when we presumed it is needed. with Bitlanders, we are allowed to add or embed two (2) videos to our post.
Steps in Adding Images to Your Blog post in Bitlanders
Here are the steps in order to add images to our blog post:
(1) Click the Add Image button below the Title of the blog post at the admin or editor section. You are allowed to add up to 10 related images to your post.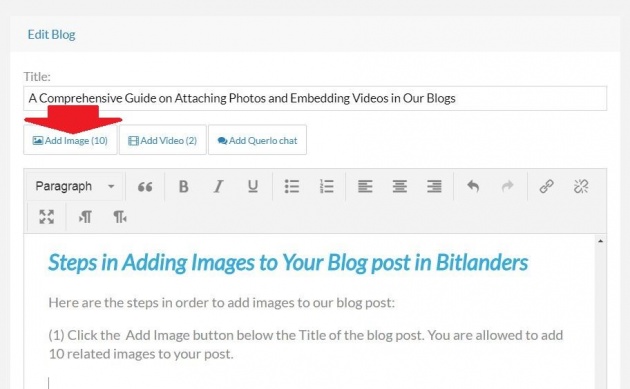 Image Credits: Sharon Lopez via Bitlanders
(2) The page shows three (3) ways to add image your post. These are; upload images, library or web.
If you want to add photos from your laptop or computer, click upload images. this will open your computer files where you can select which photo to be added to your post.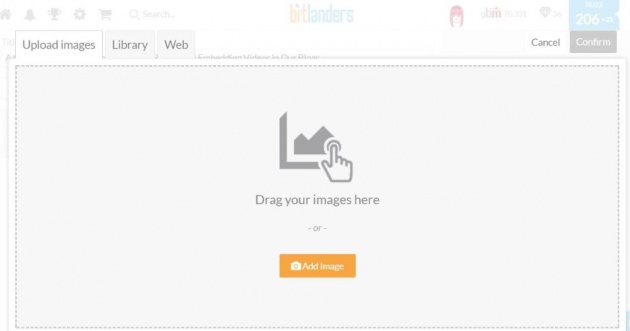 Image Credits: Sharon Lopez via Bitlanders
Click library if you want to add photos from your existing photos in the gallery.

Image Credits: Sharon Lopez via Bitlanders
Reminder: It is important to note that to be able to attach photos from library, you have to upload images to your gallery. You can upload to the gallery by clicking the PLUS (+) sign on the uppermost right side of the monitor.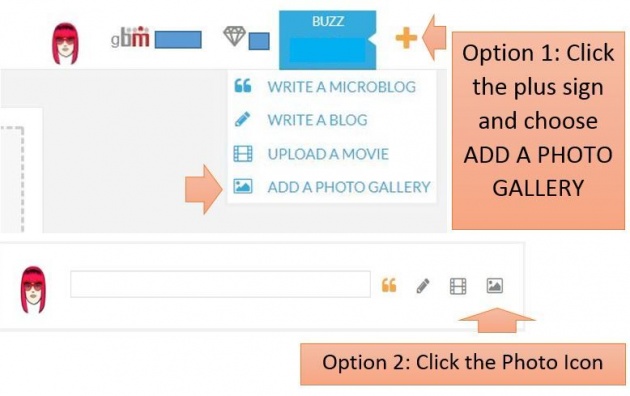 Image Credits: Sharon Lopez via Bitlanders
Click web if you want to add photos from the internet.

Image Credits: Sharon Lopez via Bitlanders
(3) Once you uploaded or added the image of your choice, don't forget to add credit to the source. Please refer to this post for a more comprehensive post on adding image credits.
Ways to Add Videos to Your Blog Post
(1) Click the Add Video option on the top of the editor or just below the blog title.
(Please refer to the photo above)
(2) From there you will be given two (2) options to attach a video to your blog post. The first option is you can add directly from your library or embed videos from YouTube.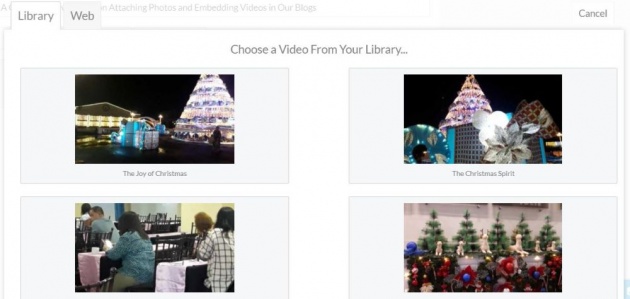 Image Credits: Sharon Lopez via Bitlanders
Note: If you want to add a personal video, you should upload a related video to your gallery prior to the creation of your blog content.
(3) When you opt to add a YouTube video to your post. Open a new tab and proceed to YouTube and look for video that is related to your post.
(4) Once you found the right video, you can click the share button and then click embed.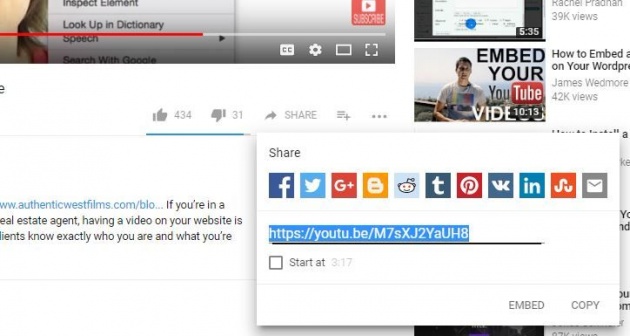 Image Credits: Sharon Lopez via Bitlanders
(5) A code will appear. Copy this code to the space provided in the Bitlanders' editor page as shown below.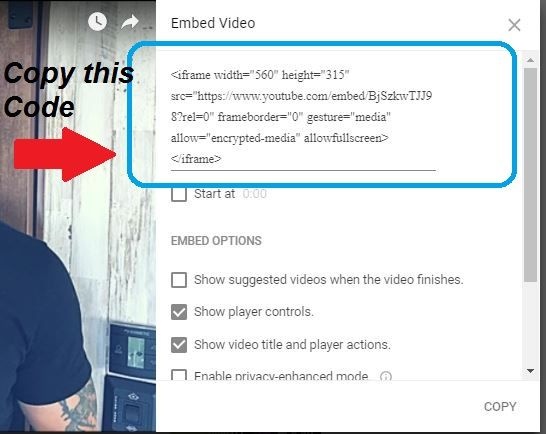 Image Credits: Sharon Lopez via Bitlanders
(6) Paste the copied code on the space provided in your Bitlanders bog editor and click confirm.

Image Credits: Sharon Lopez via Bitlanders
To view the result, save your work and exit. Open your blog on your blog page. This way you will be able to see the content from the reader's view. Remember, always save your work to prevent loss of data.
Here is a video showing the steps in embedding video to your blog. There may be a slight difference in the blog editor used so, refer to the photos above for the Bitlanders' blog editor.
Video Credits: Brighton West Video via YouTube
Things to Remember
Giving proper credits to the sources of our images and videos attached to our blog posts is a must thing to do. Ideally, having our own photos and videos is the best thing to do but if we do not have our own, we can use those that are already present on the web with proper credits.
I hope this post helped you learn how to attach an image as well as attach and embed videos to your blog post here in Bitlanders. You might also want to see the guide in writing a blog post in Bitlanders here.
Please visit my Blog Page for more posts and guides that may help you in one way or another.
Meanwhile, here is a Querlo Chat for you...
___oOo___oOo___oOo___
Written for Bitlanders:
by: Sharon Lopez

Thank you for reading.
Please visit my blogs for more articles.
Sharon Lopez is a graduate of Bachelor of Science in Commerce Major in Banking and Finance and currently working in the government handling programs on Business Friendly and Competitive LGUs.
You may visit me on Facebook.
_oOo_
Would you like to earn from sharing your ideas, videos, and photos? Join us in Bitlanders!
Disclaimer: The views and opinions expressed in this blog post are that of the author and does not in any way represent the agency or department she currently belongs.