Today's blog entry if something which I didn't expect to be writing about tonight. I have no specific points to follow except what my heart and mind tells me to.
This is a free writing article. Forgive me if I may say sway away from the topic every now and then, but definitely you'll get the meat out of it.
Let me use the following quotation:
Death never takes a wise man by surprise; he is always ready to go.

- Jean de la Fontaine
Death. Whenever I learn of someone close to me or the family, I always try to imagine what happens to them afterwards?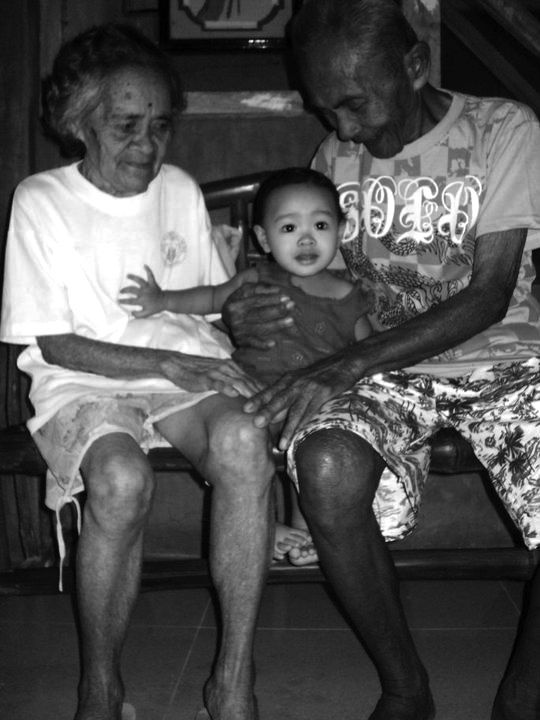 Photo is mine.
Do we really have a life after death? I sometimes ask that question specially when my good old friend, Raniel died three years ago. I regret that I wasn't able to share Jesus and His gift of eternal life. I spoke to him a few weeks before he breathe his last breaths. I know he knows Jesus and I pray that he believed in His saving mercy.
Death seems scary, it's a scary thing to learn that someone close to you is gone, I won't be able to see their faces anymore on a day to day basis. I won't be able to hear their voices calling my name or even see them update their social media accounts.
Every single day, someone out there grieves for the loss of a loved one. Every single second, someone prays that he may get to talk to their special one last time to ask for forgiveness or to tell them how much they love them.
The say the cemetery is the saddest part in Earth, you know why?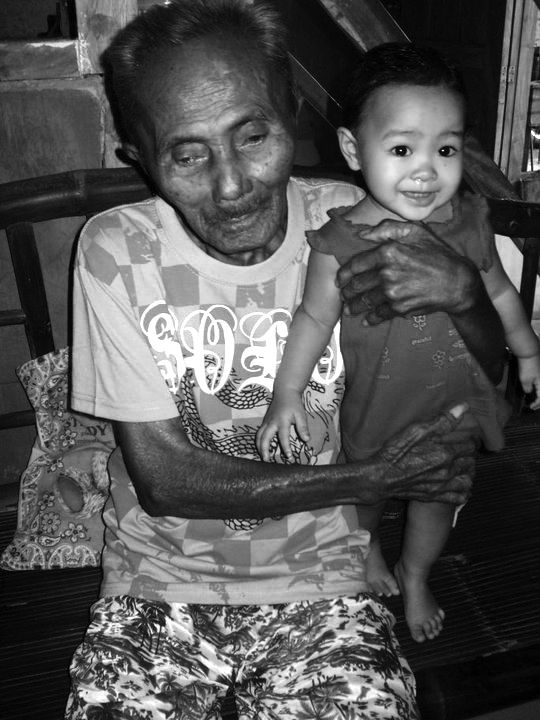 Photo is mine.
Because it contains broken dreams, it has buried the words they could have said but didn't get a chance to do so. The cemetery has the flesh of those who had left this realm and it is now just a decomposing pit, a place it no more chances, a final destination of those who went to the other world first.
I couldn't believe that today, our family is going to face this reality again. A reality of death.
Death is the enemy of this living world. Death is what all fears about. Death is a five letter word which brings chills to anyone hearing it. It sends signals activating the emotional parts of our brain.
Grandpa, "Tay Ano" left us tonight on a graceful exit out of this Earth. He now enters the after life. I can't help but be saddened with him passing away. Although he was wanting to follow his love, Grandma, he had endured 97 long years in this Earth. Our entire family was ready but I regret not being there when that happened.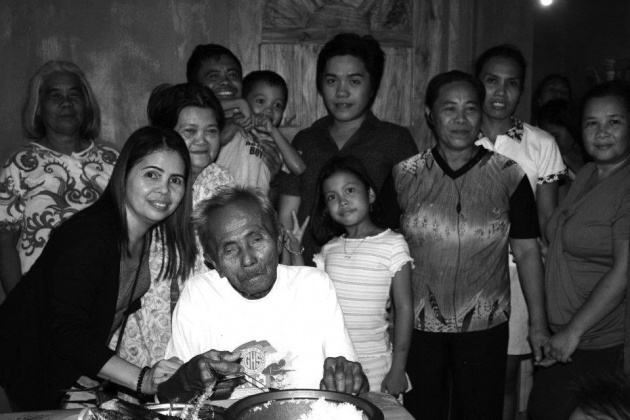 Photo is mine.
This week, my plans had been laid out. I was supposed to be on Bohol for a friend's wedding but due to some circumstances, I had to cancel it and stayed at home. Before deciding not to go home, something inside me bothered me and had me thinking again and again if I should go home or not. That bugged me until the evening but I had listened to my own want- to stay at home and rest.
It was before six when my mother sent us all a message asking all of us to call as Tatay wanted to speak to us. That was his last request.
He had grand children living outside the country, great grandchildren too. Fortunately, my older brother was in our place and he was able to stay beside tatay.

Photo is mine.
It has been five years since nanay, Grandma left us and Tatay had been asking God to call him home too since then but because of his grandchildren and great grandchildren whom he love dearest, he had been battling this life even with his old age.
Few months ago, his health was declining and he was asking for his eldest grandchild who was very close to him, he resides in the United Arab Emirates and my brother promised him that the entire family's going home by the the of this year for their annual vacation. I saw Tatay smiled upon hearing this, but that promise was not fulfilled. I believe Tatay was living with that promise, he was holding on to the promise that he'll be able to see his loved ones. He was hopeful about it but it didn't happen.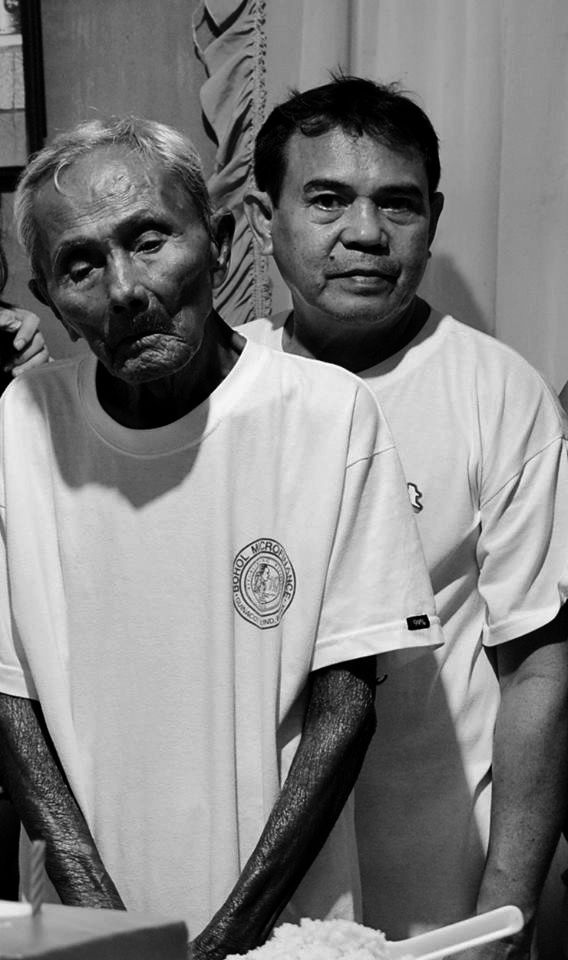 Photo is mine.
Nonetheless, Tatay was peaceful when he passed away. We were thankful he was able to ask for his final request- that he could talk to us. I called home, we talked, all he could say was "oo", yes. Me other siblings called home too. After an hour, he finally let go of his worldly body.
The elder brother held him by the hand, he was there when it happened, he heard the last beat of his pulses and even managed to massage Tatay's skin and bone hand. He finally rested!
I said a prayer to the heavens, sending it to my grandparents who ate got sure reunited at this moment. They had surely found each other again, hugged and kissed at last.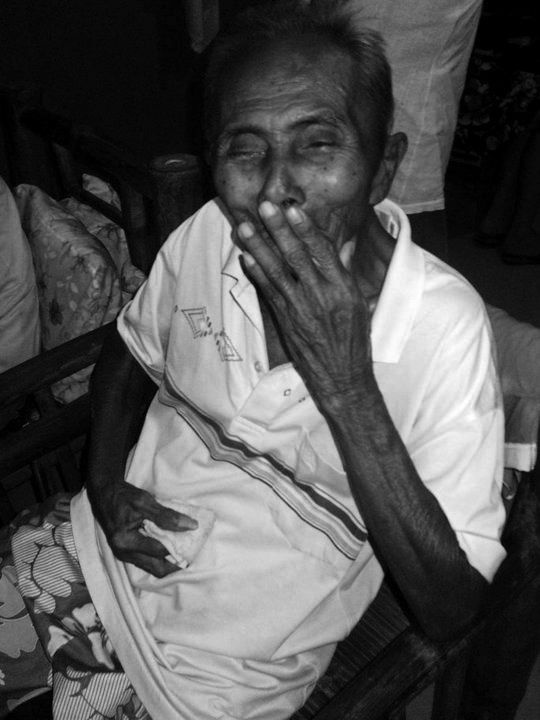 Photo is mine.
The fact of Tatay leaving is peacefully gives us comfort and joy. Aside from cough, Tatay didn't have any serious illness. He had never been hospitalized for any major health issues except when he had undergone eye operation a decade ago.
He dying due to old age was something to be thankful about. Everyone of us were ready and so was he. He made everyone of us cry tonight but there's joy in thinking he had finally rested his old body. He was 97, three years more and he could have lived a century but God didn't allow him to suffer anymore. His prayers were answered, yes he has been praying for that moment and it was finally answered by the above.
This blog is for you Tay. You were tough, you were strong, you were a hero to us and to your sons. You made us look up to you for living this long, you shared your life to us and never complained about anything.
Video credits: Anthony Lozada via YouTube.com
I will surely miss the way you talk, the harsh voice but the type which you know is concern of you.
I will miss how you rock your chair as you watch the neighborhood at the terrace.
I will miss your stories about your life when you were younger.
I will miss the facts you provide to me, the details you still remember despite your age. I was jealous of your sharp memory skills. I wish I have the same.
Thank you Tay for giving all you can.
Thank you for trying the best.
Thank you for your sacrifices so you could send your sons to school.
Thank you for loving us, your grandchildren and even to the great grandchildren.
I will cherish your memory and keep them in my heart. I will surely tell my future children of your battles, of your jokes, of your sharp memory and specially of how you wished you could have a glimpse of them.
You will be in our hearts forever. We will definitely see each other again.
Video credits: Joey Magtanggol via YouTube.com
xoxo,
Jean Beltran-Figues