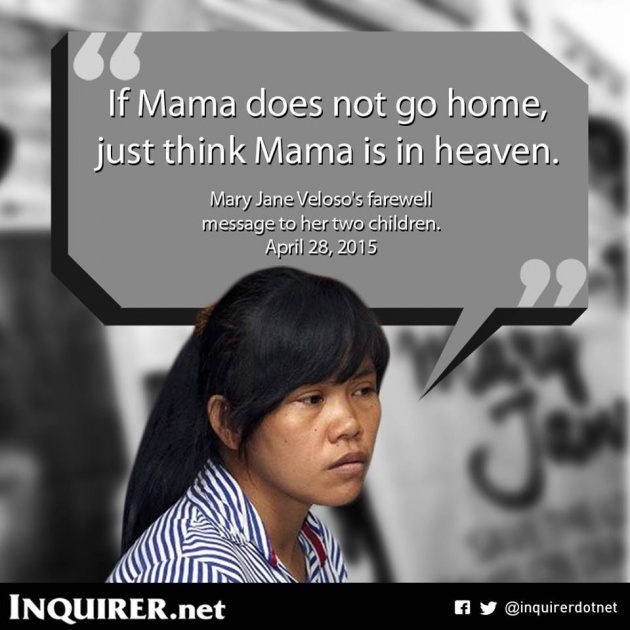 Today, A filipina will be executed in Indonesia through a firing squad. She was sentenced to death because of drug trafficking. All Filipinos and other nationalities plead to the Indonesian President to spare Mary Jane's life and save her from that fate. But it seems that The President won't change his mind. He said that they don't want to create enemies from other countries, but on the other hand, they must have to respect the supremacy of their law. A law should be implemented, that's the reason why we created the law, to implement it by all means. On my thoughts, honestly, I am losing my Hope. No one can and could save Mary Jane's life, not even the President of the Philippines. Not even the Pope or the US President. What we need now is a miracle through Prayers. I still believe that Prayers are our best weapon.
God has plans to each one of us. Everything has a reason why things need to happen. If even with prayers and still Mary Jane will be executed, maybe Mary Jane is right. God wants her to be with Him and her purpose on earth was already done. I will still pray that the President of Indonesia will spare her life but if it's not, then I will pray that somehow God will cover her and immune herself from pain. I wish she will not feel the pain from the bullets that will end her life. Together with the 8 prisoners, I wish and hope that they will be saved and if not, they will receive salvation after this.
They are still blessed having a chance to confess with their sin and ask God's forgiveness. Surely, they will be resurrected to heaven. Second life is waiting for you Mary Jane... I just wish that in your second life, you will make your life more meaningful and you will have the best life together with your kids.