A word of advice: Blog with purpose. This video will definitely help you understand more about blogging with purpose.
Video Credits: The Blog Beutician via YouTube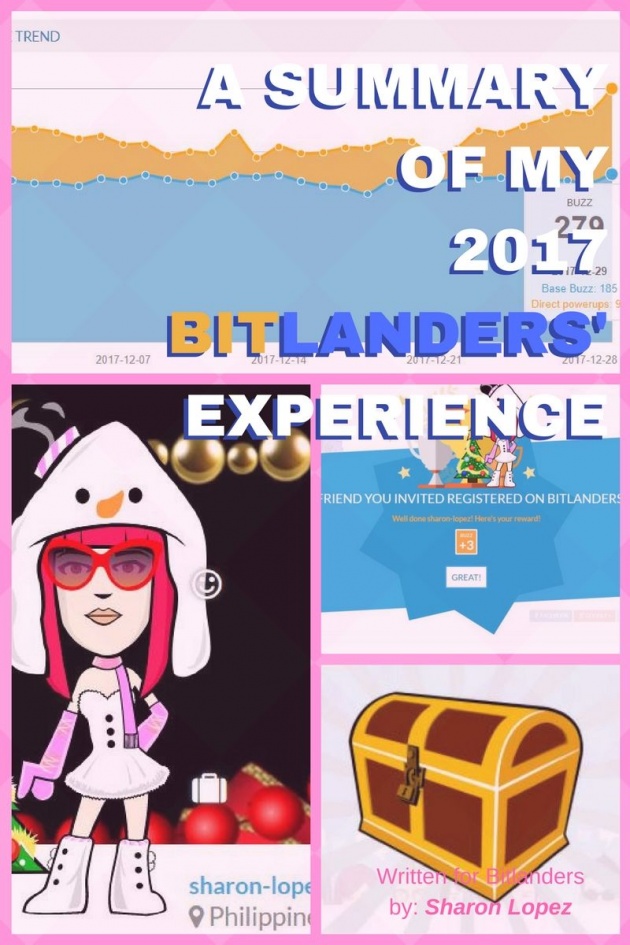 Image Credits: Sharon Lopez via Bitlanders
The year 2017 gave me a truly awesome experience!
This is how I describe the time I spent with Bitlanders this year. I only spent time with the site during the last four months of 2017 but it was the greatest part of my year. I haven't been expecting that my blogging career could still regain consciousness after hitting the worst state during the first part of the third quarter. My 2017 which came in a very unstable mode sparked up during the last months and now I can say that 2017 is still a great year and my blogging experience has given me something to look forward to in the coming year.
Related Post: The Best Gift
With these experience that I have, I realized that:
When windows were closed for you, rest assured that a new door will open to let you experience a better and a more beautiful world.
Just don't give up when things aren't going the way we expect them. I am very thankful when Bitlanders open up its door to new bloggers like me who are willing to learn and to develop their skill in the blogging field.
Bitlanders is popular to many as a social media platform which a member could interact with the community, share videos, photos, and status which is similar to Facebook and Twitter as to the functionality. But unknown to many members, especially the new ones, this is also a site where an individual can submit blog posts. So, Bitlanders is also a blogging platform.
Bitlanders is continuously growing and becoming more popular with the online community as a social network because of its unique way of providing entertainment and other functions. One of these is allowing its members to create their own avatars. This way, an individual can interact with the community without revealing their own identity. For some, this is a game site where members have the option to choose their own look, dress their avatar and find accessories that they may find interesting. In fact, a member can change their attire as often as they want. Just recently, I changed my hair color and I love it.
As a member of the site, one can make use of it depending on their interest and skills. An individual may come for different purposes.
Social Interaction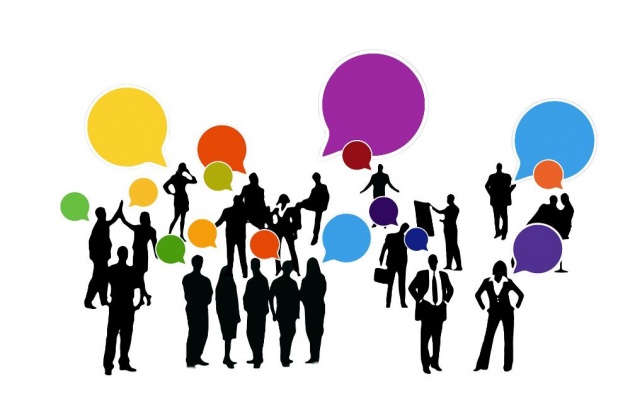 Image Credits: Geralt via Pixabay
With members all over the world, you will certainly find groups whom you could interact with. This is a place where you can find a community with similar interest, thereby allowing you to share and learn from others. Having a wide network will definitely give you a positive outcome in your future plans.
Shopping and Fashion
For those who love shopping and fashion, this place offers quality posts which we could refer to. Not only that we can have the feel of real shopping experience within the site itself. Choose items from their shop and use gems and Bitmiles for purchasing goods. Make your avatar look great with their latest fashion trends.
Film Making
Get tips and additional knowledge in filmmaking. Watch the latest celebrity and movie reviews. Learn steps in different skills by watching videos submitted by the members of the community. Create your own video and let everyone watch it.
Photography
If you have the skill in photography, you will certainly love this site. You can display photos from different places and let the whole world see it.
Blogging and Writing

Image Credits: Geralt via Pixabay
Have the passion for blogging? This is a good place to develop the skill or should I say, skills we need in order to become a better blogger. With the site's unique way of accepting contents from their members, I can say that it could help us to develop our writing and blogging skills. The site gives helpful feedback that we can use on our succeeding contents. Not only that, we are being rewarded based on the quality of our contents. We are given additional buzz scores and gems which can boost our earnings everytime we submit a content.
Plan, Strategize and Be Creative!
For me, it's a real-life game. Why? You need to work, interact and you can reward yourself with different items through shopping. But just like the real life, you have to plan, strategize, be creative and learn the value of hard work and perseverance. Those who plan in advance will get the most benefits.
Remember the first time you came to the site? You were given GEMS!
Tell me, who went directly to the shopping center and spent their gems lavishly until it was too late when they realized that they need these GEMS on more important things?
That is life! That is the reality! And we, just like anybody else commits a similar mistake.
But of course, we were given another chance. Some people learn while others quit. So the quitters will never know what they could have after the struggles.
What is the best thing about Bitlanders that other, sites don't have?
Bitlanders pays. Yes, the site pays us doing the things we love to do.
Once we learn how the site works, we will surely appreciate it. I am glad it wasn't late for me.
My 2017 Accomplishments
Going further, allow me to lay down my accomplishments for the first 4 months I spent on the site. Why is it important to summarize what we have accomplished in a certain duration, say, monthly, quarterly, or annually for that matters?
Related Post: How I Made 346.02 From Bitlanders
By doing so, we will be able to know how much we can do in terms of quantity, the quality of our work and the result we get out of those completed tasks. These data are the very same data that we need in planning for the next year. We need to analyze and strategize in order to create an effective plan.
Major Accomplishments:
Here are my major accomplishments with my four (4) months and seven (7) days of devoting time to the site:
Submitted sixty (60) blog posts
My blog posts were spread out into different categories. I have written contents related to money and finance, family, social concern, food, shopping, events, women, children, and PWD, blogging guide.
Showing below are the different categories that I wrote about in 2017.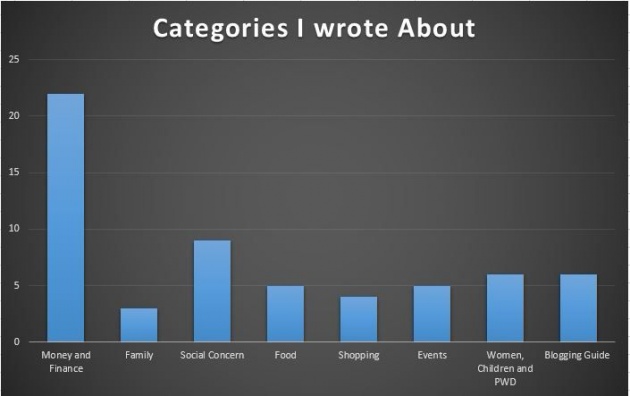 Image Credits: Sharon Lopez via Bitlanders
The graph shows that I have written mostly about money and finance and other categories. If you have read one of my latest post about having a specific niche when writing blog posts, I pointed out that it is ideal to concentrate on writing about one topic rather than writing different topics.
How Often I Write?
Although I have a busy schedule, having a day job which also requires time, I would see to it that I set aside a time every week to write. Having some holidays can also allow me to write some blog posts. It's okay if we could not write on a daily basis what is more important is the quality of our contents. According to Blog.hubspot.com, blogging frequently can help to get more visitors to the site. The more content we published, the more visitors we can get.
Image Credits: blog.hubspot.com
The Rating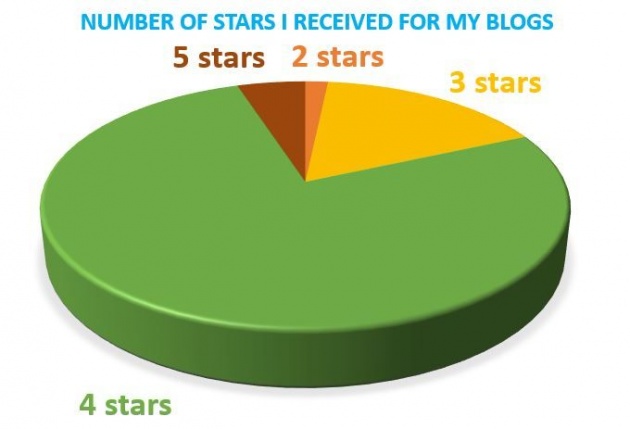 Image Credits: Sharon Lopez via Bitlanders
To make sure that they have high quality contents, the site is implementing some review before they publish a content. For the 60 blog posts that I submitted, I only get 3 blog posts with a 5-star rating. This is only five percent (5%) of the whole posts that I made. Since a perfect blog post is being given a 5-star rating, I can say that I still need to make necessary improvements in my writing to consider the overall layout and presentation.
Related Post: 4 Must-Have Skills You Need As a Blogger
Uploaded Sixteen (16) videos
I don't have much knowledge in taking videos but when we visit some places, I am trying to get some videos so I can upload it. But I am not submitting those for review because I am not confident in my work as far as taking videos is concerned. I need to learn more about this skill.
In a short span of time, I was able to get some subscribers. It is important that we have a wider reach, this is part of the networking side of blogging.
Invited 100+ friends to join the site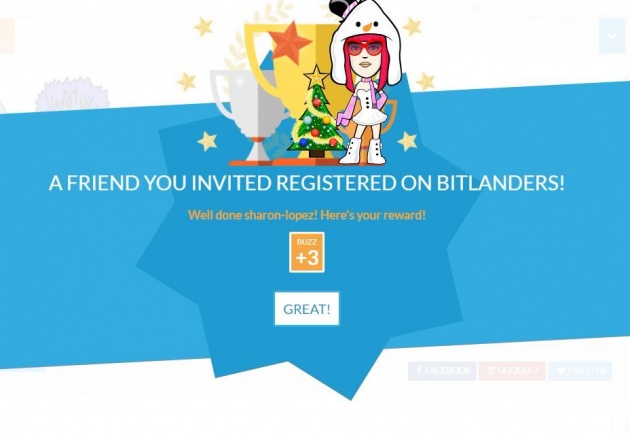 Image Credits: Sharon Lopez via Bitlanders
I was good at inviting people. Probably because I have been known in social media since I have been working online for several years. Making them work is one of the difficult parts. As of now, I only have one (1) referral who is also working hard and is on the leaderboard. He is ArtBytes who is equally competitive, hardworking and resourceful.
Achieved the highest rank on the leaderboard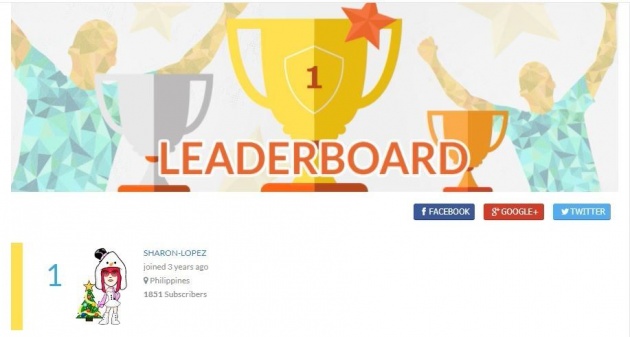 Image Credits: Sharon Lopez via Bitlanders
This is my greatest achievement so far. Though, I already said before that this is not my main goal. I don't intend to compete with anybody. My goal is to learn more skills, develop and build my personality and of course to earn more. My dream is to be able to buy my own car and earning some amount from my online work could probably shorten the time I have to wait before I could save enough amount. My offline income is also okay, though I am still supporting my family with their finances so I have to set aside my own dream.
So here is my dream car:
Image Credits: Honda Cars Philippines Official Website
I am working on achieving my dreams doing the right thing and without compromising myself as well as with that of other people. I am happy that with Bitlanders, I am on my way towards the achievement of my dreams.
I decided to put my blog posts summary in one Infographics for easy reference. I just recently learned about doing Infographics and I want to learn more about it. This particular infographic will serve as a reminder for me to do better in the coming year.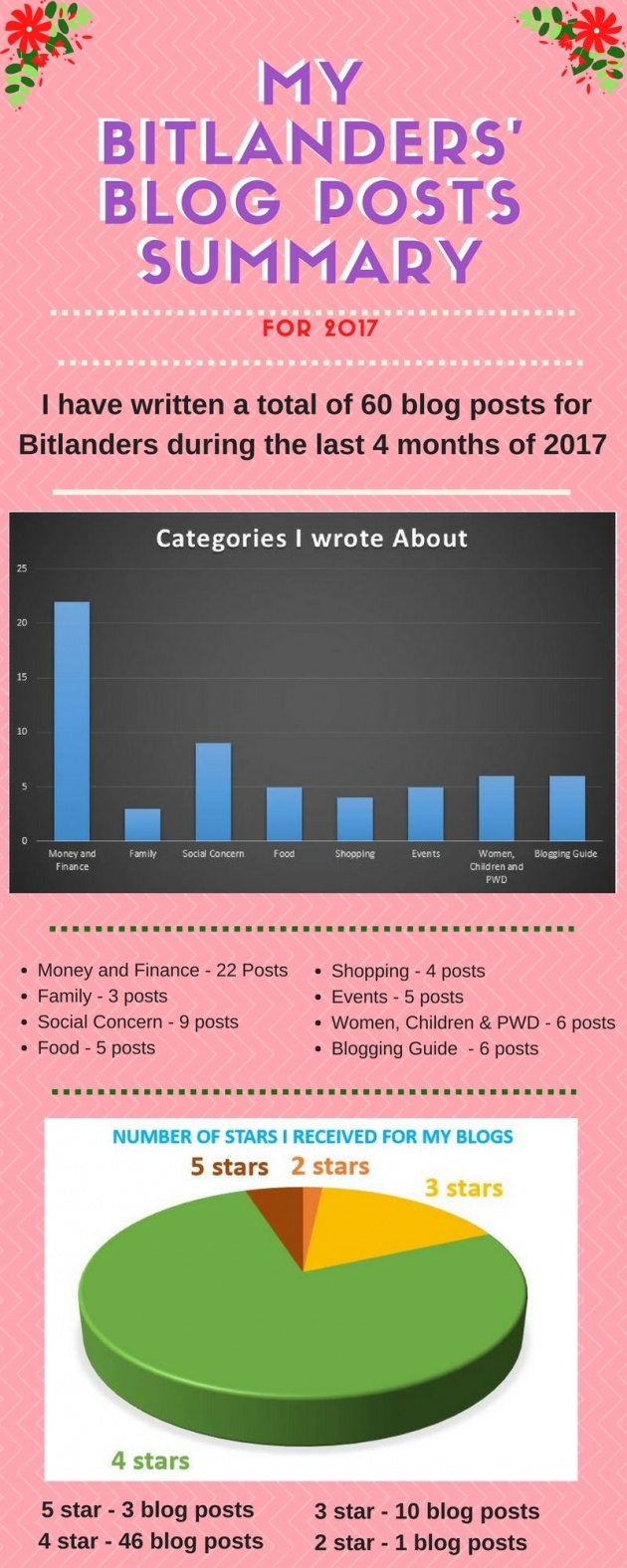 Image Credits: Sharon Lopez via Bitlanders
Here is a video tutorial on how to creat an inforgraphic using Canva. Hope it helps you just in case you decide to make one.
Video Credits: Kimberly Ann Jimenez via YouTube
The Great Lessons
I must admit that Bitlanders has helped me in so many ways. Not only that I earned an additional amount which I am very thankful for. Apart from the income, I also learned a lot of things with my short stay with the site. Some skills which I could use in other endeavors, even with my offline work. Like what I have said in my previous blog posts that I learned more from Bitlanders than with any other sites that I worked with in the past.
Most of all, I learned the value of friendship, patience, hard work, and perseverance.
Let us collaborate, interact, co-create, strategize, be creative and be resourceful
Thank you, my friends, for continuously reading my posts. I wish you all success for the coming year!
Meanwhile, here is a Querlo Chat for you...
___oOo___oOo___oOo___
Written for Bitlanders
by: Sharon Lopez
Thank you for reading.
Please visit my blogs for more articles.
Sharon Lopez is a graduate of Bachelor of Science in Commerce Major in Banking and Finance and currently working in the government handling programs on Business Friendly and Competitive LGUs.
You may visit me on Facebook.
_oOo_
Would you like to earn from sharing your ideas, videos, and photos? Join us in Bitlanders!
Disclaimer: The views and opinions expressed in this blog post are that of the author and does not in any way represent the agency or department she currently belongs.
Additional Note: The sites mentioned in this post are for information purposes only and links are provided for easy access. The author does not receive any remuneration from the said companies or sites.