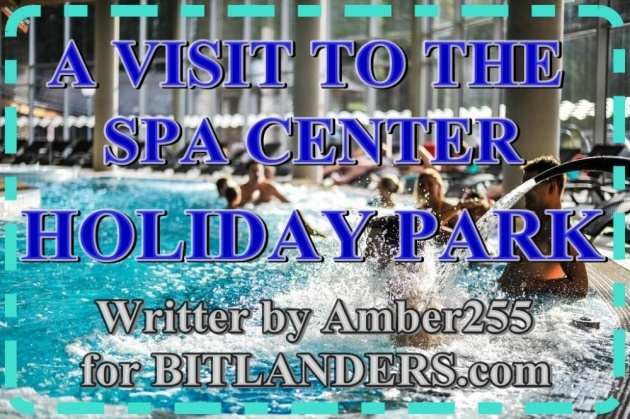 A Visit to the SPA Center - HOLIDAY PARK - Photo credit: Amber255 via Bitlanders.com
Welcome to read my new blog about our visit to the SPA Center - Holiday Park. It is located 27 km from my town. It is working already a few years, but all this time I postponed my visit there. Many of my friends already have been there, and all of them liked it. I heard a lot of praises about service of the park. So finally, last weekend, and if to be correct - on Saturday-Sunday, we drove to Holiday Park.
Whatever the occupation of a person is, his main duty is to work. Work makes us free from the poverty and from boredom. If a person was so rich that he would no longer need to work, he would still continue to work - if not for a livelihood, then for the happiness. It is right to say that work shortens days and lengthens life, but it can also be said that the laziness and boredom sometimes simply prolong the days and shortens life. So, without work, one cannot be healthy or happy. But still, everyone should remember the necessity for the rest time.
I must say, I felt tired enough after a long, cold winter and still had not any time for real rest. So, the visit to the Holiday Park worked for me as truly relaxing time. I went in a good mood expecting to spend a great time ( and it could not be a bad time as I adore water procedures a lot). My expectations were fulfilled fully. I really had a great time there. So great that I promised to come back as soon as possible.
But about everything from the beginning.
Holiday Park Introduction - Video Credit: Atostogųparkas via Youtube.com
Holiday Park for the Relax and Wellness
Holiday Park is enough new but largest complex for the recreation and wellness of Western Lithuania. It contains 15 indoor and outdoor swimming pools that are equipped with modern pressure massaging currents, with water cascades, water sports trainers for everyone's relaxation and wellness choices. Professional sauna programs in Holiday Park also are taking place in the few saunas every day in different hours. The complex welcomes everyone with its water activities, with SPA and wellness procedures, its unique sauna programs and other activities. People can stay in a hotel or in wooden cottages surrounded by forest.
The SPA Center complex is located on the outskirts of Lithuanian resort Palanga, in the village of Zibininkaie. The Holiday Park was the first in Lithuania that introduced mineral geothermal water pool for health purposes. So, people can try the MINERAL SEE procedure only in this complex - this is the only Lithuania mineral geothermal water pool. This swimming procedure for the health purposes is combined with healing properties of sludge - sapropel applications procedure.
We came with the purpose to try all water procedures in the pools, saunas, and of course to try a MINERAL SEA procedure. Usually, this procedure last 20 minutes in a warm, rich of minerals pool. We drove with our own car and could leave it in a free parking near the hotel. The girls in the reception were very friendly, and we got all the information we needed there.
While reading my blog, check Querlo chat:
Accommodation
Hotels in many parts of the world are classified according to various features or standards in order to inform the guests and make it possible to choose the desired accommodation level. This hotel is offering some choices. suitable everyone's needs: ones search for the luxury, others for the silence. Of course, we did not visit all presented rooms and cottages there, but I checked booking and explored all offered variations searching the best one for us.
For our convenience, there is a hotel in the main building of the complex, on the 3rd floor. The wood cottages are located behind the main building in the surroundings of the birch forest. So, what the accommodation offers SPA Center complex, and which was chosen by us?
The two-room cottage looks modern, spacious and cozy. It has a private entrance.
It's a two-story cottage with a spacious living room and an outdoor patio on the ground floor. There are two separate double bedrooms on the second floor of the cottage. You can stay there with a big group of people.
In such a room, there is a wide double bed with a baby crib. There are also bathrobes, and slippers for adults. Such rooms are in the hotel, not in cottage area.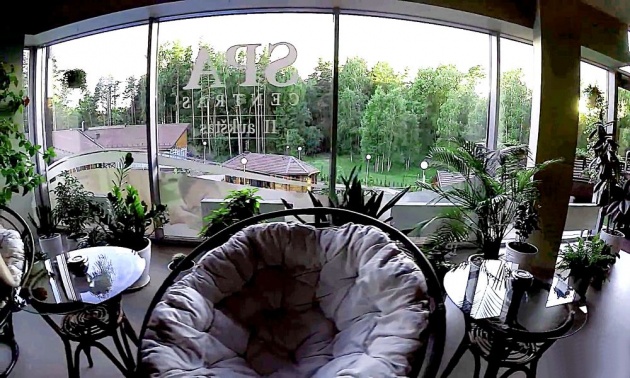 Holiday Park - Photo credit: Amber255 via Bitlanders.com
It's enough cozy room with a comfortable and wide double bed. There is also a fold-down armchair-bed and a baby crib. For your convenience, there are bathrobes and slippers for adults. The suites are located in the hotel area.
Premium deluxe room with balcony
This is the most expensive choice for those who love luxury. The bright and cozy room with a big double bed, soft corner with a sleeping area, and also a baby crib. For the convenience - bathroom with shower and toilet, hairdryer, toiletries.
Double room with private entrance
This room has a private entrance with an extra large double bed, a baby crib. It looks a good choice for a little family.
If you like ethnic motives and want to get to know Lithuanian nationality, you can choose to stay at Ethnocultural Village.
Wherever you choose to stay, everywhere is a free Wi-Fi, telephone, and a flat-screen TV with satellite channels. All accommodation choices have an adjustable heating system, as the center works round year, even in cold time of the winter.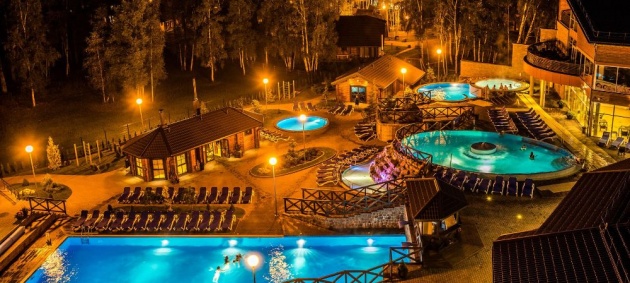 Spa Center Holiday Park for the Recreation and Wellness - Photo credit: atostoguparkas.lt
And so, what the accommodation we chose? We were only two persons, and we are not so rich to choose premium accommodation. We decided to choose a suite with balcony. We only came for one night and were not ready to spend much time inside the room, so it has fitted perfectly for us. Anyway, when the weather will get better and warmer, I promised to come back here with a group of friends and rent a wooden cottage for us. I think we will perfectly spend time there.
Wellness Procedures at Holiday Park
We should take into account every discomfort and take care of our well being because health is the greatest beauty of all us. All of us are constantly sinking into the works, we are in a hurry somewhere every day. We should not forget our well being and find at least a little time for ourselves - a minute, an hour, a day. On a regular rushing, we end up forgetting what matters most - ourselves and our close people.
The Holiday Park's wellness procedures programs are unique, as they are based on natural resources - mineral geothermal water, and sapropel containing healing properties.
Mineral Sea Procedure.
Sapropel applications procedure.
Kinetic therapy.
Wellness Baths.
Therapeutic inhalations and mineral inhalations.
The saline room, inhalations, oxygen therapy, light therapy.
Fitness and Wellness Studio.
Sports club.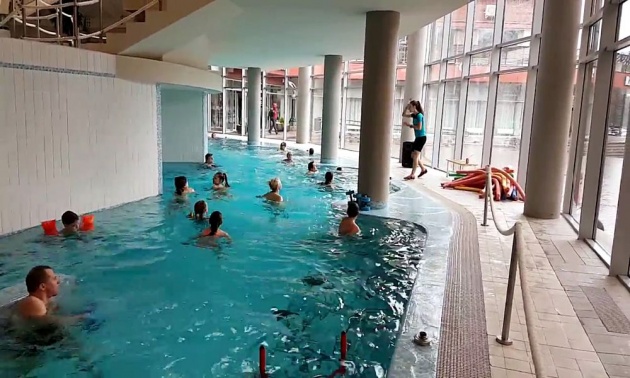 Wellness Procedures - Photo credit: Amber255 via Bitlanders.com
The time for ourselves has nowadays become a great luxury. Why we find so hard a free time for ourselves? Actually, we should enjoy recreation time more often. Let's always find time for yourself! And no matter how much it will cost, no matter how and where you will spend your time. The most important thing is to have some time for yourself, smile and say that life is power!
Spa Center
Today, the SPA is a most fashionable word in the health and cosmetics industry is consisting of only three letters, and it does not appear to have a precise definition, but it does not diminish its significance in the world of beauty and wellness. SPA is an effective helper when a person is looking for rest, relaxation, and tranquility. People come to the SPA not only to solve skin, hair, body, nail problems but just to relax and pamper themselves.
And if I try to describe this word, I would say that the SPA is a love for ourselves and a blessing to our body and soul.
SPA rituals: this center offers SPA parties, rituals for two, luxurious royal ritual, a ritual for her and him, and others. But prices are not so cheap.

Massage: you can odder massage for your face or the whole head, for the neck and shoulders, massage for the legs and foot. Also, there are massages made with amber, with hot Baltic stones or our white sand. The expectant mothers can also order the massage for themselves, massage for their children. Or maybe you want holistic massages of the face and body? How about aromatherapy?
Body treatments: all women are happy to order slimming electro stimulation procedure for their body. Also, there are made perfect body scrubs. You can choose a material with whom to make your scrub from several choices: cinnamon, mineral geothermal salt, our beautiful Baltic amber and other. The Spa Center offers various body wraps: with a chocolate, with plants and flowers, detoxifying wrap with seaweed... There are numerous of body treatments.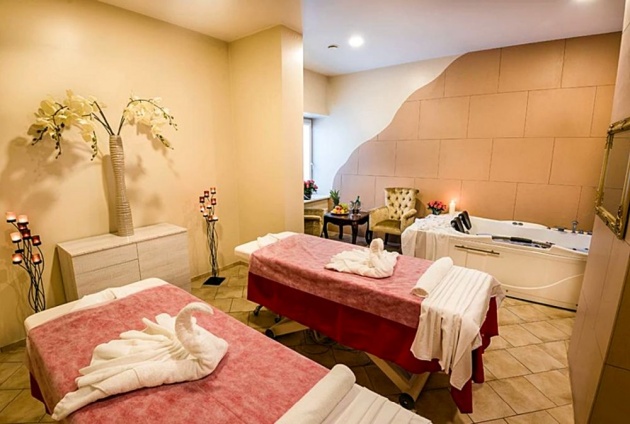 SPA and Wellness procedures in SPA Center - Photo credit: Amber255 via Bitlanders.com
I am glad that Lithuanians and the guests of our country already have the opportunity to apply the therapy of high-mineralization geothermal water sources and mud with sapropel procedure. This is a great way to make stronger our body, and it is a safe additional tool for treating skin or cardiovascular diseases, bones-muscle and nervous diseases.
At the end of our SPA Center visit, we had a MINERAL SEA procedure. It is a pool full of highly mineralized water where you spend 20 minutes. The water is warm enough, it was even hot for me. When you enter the pool, the salt water gets you up and keeps uplifted all the time. There is a special tool for keeping your head over the water. The procedure is really relaxing. You listen to calm music and float in the warm Jacuzzi-pool enlighten by the candles. After the bath, you are offered to drink a glass of hot tea sitting on the soft sofas. The girls working there said that we should avoid to take a shower for two hours, and let the mineral salts better penetrate our body.
Pools and Saunas Space
Sauna space
Once upon a time, the sauna was considered a sacred place, and getting a body heating in a sauna was an important spiritual ritual. Although the significance of the ritual bathing in the sauna today has decreased or even completely disappeared, the saunas are highly appreciated for the magical effect on our body: the heating not only helps to relax and cleanse the body but also helps in the treatment of various diseases.
The SPA Center complex has 5 baths: 3 - indoor and 2 - outdoor.
Inside the complex, you will find a traditional Lithuanian bath, a steam salt sauna, and aromatic sauna. Two outdoor saunas: "Hornets' nest" and "Gentlemen's sauna".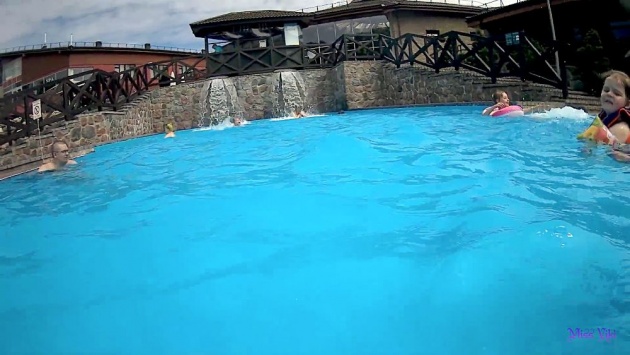 Mineral Geothermal Water Pool - Photo credit: Amber255 via Bitlanders.com
Sauna programs in Holiday Park
There are going unique sauna programs in the traditional Lithuanian sauna. Every hour there is new program inviting people to participate in. You can enjoy more than ten programs: one hour there is going the sauna program "Breakfast of sauna", in the next hour already "The green aromas", in the third hour - "Salty steam", then - "Flag", and so on.
The sauna program we participated in was a "Flag". Inside the sauna, there gathered about 15 persons who waited for the bath men. When two bath men entered the sauna, one of them carried a bucket of water, another one had a flag in his hands. They joked with us, and every few minutes one of them poured a big ladle of water on heated stones. We got a big steam flow, and another bath man with a flag scattered the steam to the people. With every stem flow, we became hotter and hotter. It was hard to breathe. I even do not imagine how much degrees of temperature there were but it was a real hell. People started leaving a sauna one after other, and all of us dived into a cold pool outside.
Baths with unique programs best reflect the Lithuanian spirit and contribute to the preservation of Lithuanian traditions. Funny, but after we felt so easy, so fresh like someone took of us a couple of kilos. I would lovely repeat this procedure.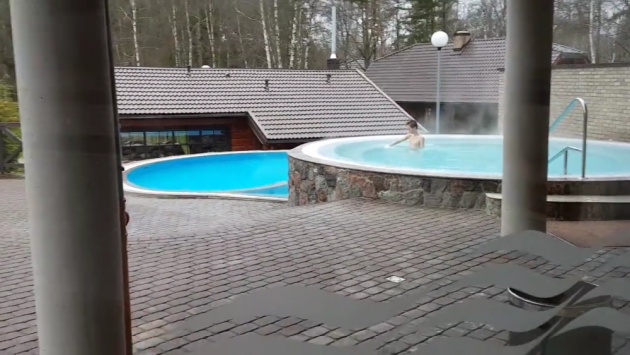 Outdoor Mineral Geothermal Water Pool - Photo credit: Amber255 via Bitlanders.com
Indoor and Outdoor Pools
There are plenty of offers to choose from a swimming pool that suits your needs. For me, the SPA pool is the perfect way to relax. Pool water helps to relax, relieve stress and gain resistance to diseases
Both indoor and outdoor pools are primarily associated with relaxation and rest. This is a great way to relax after a hard day's work, forget about any worries, and enjoy the pleasures of the water. On the other hand, pools are a great attraction that invites the whole family or friends to enjoy memorable leisure time. Myself, I can spend hours swimming in the pools.
Outdoor swimming pools
There are a few outdoor swimming pools: cool, mineral water, sports with hydromassage cascades, hydromassage outdoor pools. In a winter season, there are open only 2 hydromassage pools. One of them is with heated geothermal mineral water. It's always full of people, even in winter time.
SPA Center Holiday Park - Video credit: Atostogųparkas via Youtube.com
Indoor pools
There are plenty of indoor swimming pools: sports, massage, training, children, Kneipp trail, certified mineral geothermal water, and the pool for MINERAL SEA procedure.
There are also going such entertainments as Children's Swimming School or Workout in the water.
I really liked the mineral bath, I recommend to try it if you come to Holiday Park. Also, I really enjoyed outdoor swimming pools. Especially it's great if the weather is warm outside. There is also a sports swimming pool with bikes, trampoline.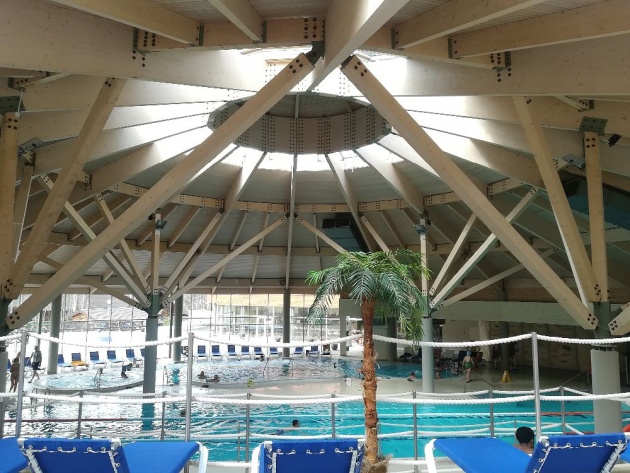 Pools and Saunas Zone: Indoor Pools - Photo credit: Amber255 via Bitlanders.com
The Food Services
Two dining options await you in the complex: the "Park Kitchen" and "Park Ranch". Also, there is a bar "At the Bath" located in the pool and sauna area where you can get some snacks, drink a coffee or cocktail if get hungry while enjoying pools. During the summer season, the "Sun Sky" cocktail bar is open near the outdoor swimming pool.
We had accommodation with breakfast included. I must say that our breakfast table was full, the choice was really big, a plentiful of dishes and products. The buffet of breakfast was continually refilled.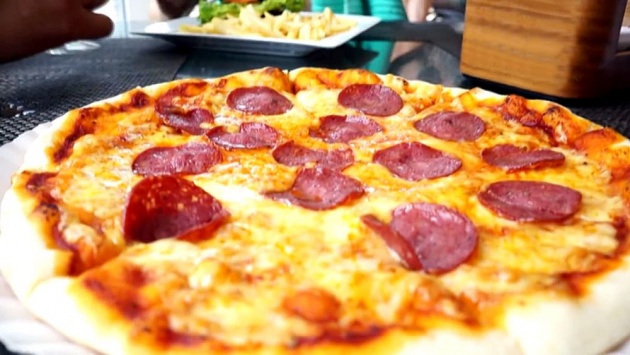 The pizza from the Holiday Park bar - Photo credit: Amber255 via Bitlanders.com
On the Final Note
The disadvantages:
There is a lack of compatibility between the hotel and the pools area. We could not add the bills of the pool bar to the bill of the room.
The teapot and cups were in our hotel room. I do not know what to produce there, because there is no coffee or tea.
A little shower gel bottles ended after the first shower and were not changed with new ones.
The strangest thing was that you have to pay for a bottle of water if you want to drink until waiting for the SPA procedures. Would be better if the price of the water was calculated into the price of the procedure. The high price of the little mineral water bottle would not fall so badly into the eyes - 1.5 euros.
The bad sound insulation, everything is heard from the adjoining room.
The advantages:
The SPA Center organization is great, without any complaints.
The surrounding of SPA Center is also great and beautifully arranged.
There the whole family can entertain, and everyone finds a suitable entertainment for himself. Both the children and adults feel very funny in the warm swimming pools.
The prices are not cheap, but they offer a lot of discounts, cards and so on.
The most impressive and best is a sauna space. I like to have fun in the sauna. There are working unbelievable bath men, who give unforgettable sensations in sauna programs.
The abundant selection of health treatments, geothermal water treatments, and therapeutic mud applications relax and soothe.
There are no alternatives to this Holiday park in the western region of Lithuania.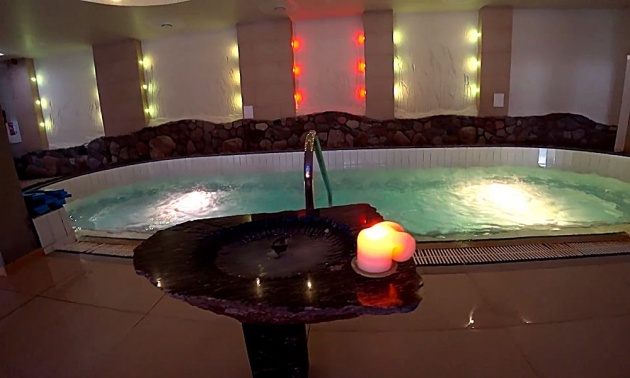 The Pool for the MINERAL SEE Procedure - Photo credit: Amber255 via Bitlanders.com
Our attitude to ourselves determines whether we have a quality time for ourselves. Sometimes we just need to give ourselves a half an hour in the morning and take a cup of coffee calmly, read a magazine, or maybe we can run away from the bustle of the city to the calm relaxing place, and the life begins to smile again with us. By the way, only a happy person can bring happiness to others.
The time we spend on ourselves pays off. By giving ourselves the opportunity and space to take our breath away from the worries, we strengthen our physical and psychological health.
Summary: Perfectly performed massages, great pools, effective body and face treatments, delicious food in restaurants and soft beds - all this and more, I found at the Holiday Park. I highly recommend it to all good holiday lovers!
When you're at work, be fully at work. And let your leisure time be what it's meant to be - restorative and fun. - Daniel Levitin Credit: brainyquote.com
***************************************************************************************************
Thank you for stopping by and reading my blog.
2018, All Rights Reserved.
You are very welcome to join Bitlanders and share your valuable knowledge and opinion.
***************************************************************************************************
You can check my other blog about Lithuania:
1. Easter Customs and Traditions in Lithuania
2. Traditional Lithuanian Cuisine in the Past and Now
Come back to find more...
**************************************************************************************************