Nursjirwan Tirtaamidjaja, also known as Iwan Tirta, is one of Indonesia's most celebrated batik artist and designer. His collections are well-known and he is often credited for introducing Indonesian batik to the world.
Iwan Tirta is a graduate of the London School of Economics and Yale Law School. But his love for batik blossomed when he won a research grant from The John D. Rockerfeller III Fund where he then embarked on a research project into the sacred dances of the Susuhunan of Surakarta Royal Court. There, surrounded by the life of Central Java Courts, he nurtured his newfound interest and passion in Javanese fabrics as his curiosity grew and stimulated by his mother's batik collections that included some of Indonesia's best.
He soon recognized the importance to document and preserve the arts and crafts of batik. He undertook the responsibility to record the evolution of the art and spent weeks in the museums, towns and small villages collecting samples and tracing the arts' origins and development.
The second stage of his "batik consciousness" culminated in 1966 when he completed a book called Batik Pattern and Motifs, detailing the historical and sociological aspects of batik. Iwan Tirta has successfully taken Batik into a new level. Elements of design were reconstructed, revived, and brought up-to-date, thus keeping batik's existence in Indonesia as well as in the world. His sumptuous and contemporary yet traditional design have appeared in the pages of international magazine such as Voque, Harper's Bazaar, Architecture's Digest, New York Times, Asia Weeks, National Geographic and others.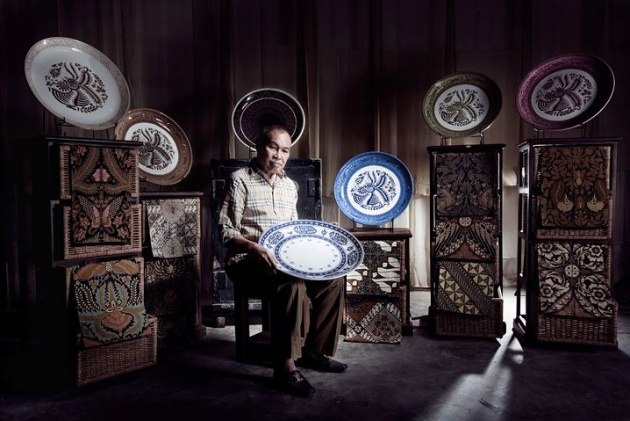 His loyal admirers are ranging from every level of the society, including the aristocracy and royalty. He has staged exhibitions and fashion shows for Indonesia's first ladies and for the Indonesian government, showcasing his collections for visiting heads of state and royal members such as Queen Elizabeth II, Queen Sophie of Spain, Queen Juliana of Netherland and Bill Clinton.
He has also presented special and custom-designed Batik for each heads of states that came for the Asia Pacific Economic Conference held in Jakarta in 1994. Both Ronald Reagan and Bill Clinton have wore Batik design from the late Iwan Tirta on formal state occasions. Recently, Iwan Tirta was asked to design batik attires for George W. Bush and his wife.
Meanwhile, Nelson Mandela was also so charmed with batik that he considered batik designs of Iwan Tirta as "de rigueur". He insisted on foregoing the traditional morning coat in favor of a batik shirt when he was called by Queen Elizabeth II at Buckingham Palace. Mandela also wore the batik when he met the elder George Bush in the Oval room in Washington, D.C.
Politicians were not the only fans but also celebrities like Roger Moore who was inspired by his masterpieces of Indonesian royal art.
In the later years there were difficult times - financial wrangles and illness, including several strokes - but he always soldiered on. He branched out to put batik motifs on ceramics and silverware, and still got around with his cane. He passed away at July 31, 2010 at the age of 75 due to complications affecting his major organs.
Once, he said the following: "I sound like a needle stuck in the groove of a record, but it's so important to do this. People won't realize until it's too late, when they ask, *Oh did we have those things?' We cannot move forward without preserving our past."
The art batik maestro bequeathed all of his batik legacy and designs to PT. Pusaka Iwan Tirta that will be kept for the heritage of the late designer and the spirit to serve the community who loves him.