Honest Affilorama Premium Review
Owner- Mark Ling
Price- Free membership / 7 day premium trial for$1 / $67 month / + UpSells
Rating- 4 out of 5 Stars
URL- www.affilorama.com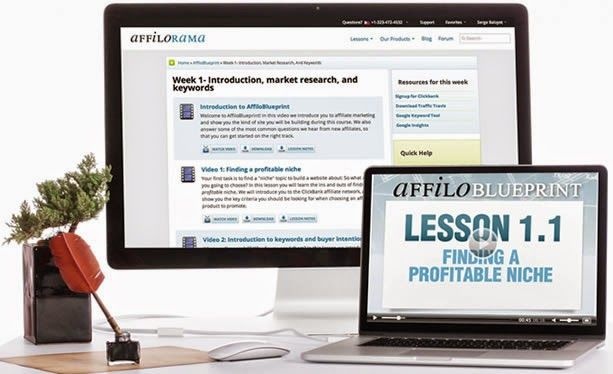 ---
Affilorama was created in 2005 by a man named Mark Ling and in this Affilorama Premium Review I will be going over all the angles of this free affiliate marketing training course to find out if it is worth it and discover if there is any truth to the Affilorama Complaints.
This program was created for the purpose of starting a community for affiliate marketers to learn how to better promote Mark Ling's products.
However as you will see with in this honest review that may not be the case as some Affilorama complaints suggest.
Then again, what is good for one person is not the same for another so I will let you draw your own conclusion if this online affiliate training program is worth it to you.
Affilorama offers additional training platforms other than what you receive from the premium membership that will help you with more advanced aspects of getting started in affiliate marketing.
These programs include Affilo Blueprint, Affilo JetPack , and Affilotheme. We will also go over pricing and training offered by these training platforms.
But…
First lets get started by outlining the good and bad of a premium membership by sorting through some of the pros and cons.
Affilorama Complaints and Advantages
---
Pros
3 year payment plan for premium membership
Free membership to get a glimpse inside Affilorama
Affilorama discount$1 trial month membership($1 for first month)
Access to support in an affiliate marketing community forum
Step by step video training tutorials that easily gets you started affiliate marketing
web hosting included for up to 15 domains
one on one interview with a currently successful affiliate and internet marketer
Complaints
expensive up sells to more advanced affiliate training
Some training does not follow best marketing practices (result in your business being penalized)
very limited training with free membership
Some of the training is outdated
no access to owner of Affilorama Mark Ling
support is not instant and may take some time to get a response
Learn How To Make Money Online As An Affiliate Marketer

Who Is Affilorama Affiliate Marketing Training For
---
If you are new to marketing or a master marketer you can take something away from one of the levels of this training.
However, if you are new to the affiliate game than you are likely to get more out of Affilorama Premium training than a seasoned veteran of affiliate marketing
would.
The reason for this is the detailed training that is offered for beginners teaches them how to set up a websiteand run it efficiently through all different aspects of basic affiliate marketing.
With that said you should also know that (if you so choose to) you can buy one of the two other training programs(Affilo BluePrint or Affilo Jet Pack) that will teach you much more advanced methods of marketing strategies.
This course is very good for keeping up with all the latest marketing strategies and methods and can be a good way for the advanced marketer to learn new tricks and strategies.
The problem here is (as I said earlier) some of these marketing tricks can lead your business to disaster and negative rankings but for the most part they are all basically legit.
So all and all, this training program is for any and everyone that wants to learn how to get started in affiliate marketing or if you are just wanting to sharpen your skills as an all ready established affiliate.
---
As I mentioned in the pros section of this review you will have access to support for any questions you might have no matter which membership
you choose. This support is offered through a forum made up of other members of the affilorama community and on the rare occasion the owner Mark Ling.
Although if its an answer from the owner you are looking for I wouldn't hold my breath because it usually takes him days to respond.
The down fall to this line of support is that the answers you will be receiving come from both paid and free members and may not be the right answer or solution.
This is not what I would consider a deal breaker nor does it lessen the value of the membership and training that it provides.
It will just take research of your own as when would be the best time to ask your questions because with all support communities like these there are times when more experienced marketers are available.
What does Affilorama Premium Cost?
---
Premium Membership
Before I get into the other three training platforms lets discuss the premium membership and the discount that comes with it. First I suggest signing up as a free member to get a feel for the affiliate training offered. Commonly known as the basic membership.
If you are still interested than you can join as a premium member for the first month for just a buck($1). This is a month trial offer that you can cancel when ever you want and no further charges would occur.
After the first month passes and you still want to continue your membership it will cost you $67 a month there after.
When you sign up to the premium part of Affilorama you will be given access to what is rightly called AffiloTools.
This is a absolutely cool little feature of this membership that gives you a way to find profitable long tail keywords and the ability to keep tabs on your sites rankings.
However, I want to warn you of some outdated training that can get you penalized in rankings and lead your business to failure.
This includes the section of training that refers to advanced link buildingand the section that offers you 30 Private Label Rights (PLR) articles for you to publish on your site.
The link building strategies are from early 2012 and no longer work in the post Panda internet world.
The PLR articles are a thing of the past as well and if you use them on your site you will be penalized for having duplicate content.
In this the first of three up sells is software that is for intermediate marketers and beginner marketers with basic affiliate knowledge.
It contains 85 videos and is
centered around 13 lessons for everything from finding a niche, to building a website, and driving free traffic through PPC and SEO.
It also includes a few WordPress themes that are focused around PPC and SEO marketing strategies.
This membership will cost you a whopping $197 and if you want access to the support of Affilo Premium than you will also be paying an additional $67 a month.
Affilo JetPack Membership
This is the most expensive of the up sells and in my opinion is definitely not worth the price because most of the teachings inside are outdated.
This niche marketing package gives you a choice of 5 out of 10 niche packages, access to affilothemes, 3 E books per niche and graphics to use for each niche package you chose.
This package was designed by Mark Ling to help you promote his items as an affiliate.
Which in turn puts more money in his wallet and will take the $497 charge for Jet Pack out of yours and again the extra $67 a month for support.
Affilotheme is the most promoted up sell in the premium membership and possibly the best of the three that will cost you a one
time payment of $97.
This is a WordPress theme that offers you hosting free for one year and the training that will show you how to use it.
With Affilotheme you will get access to a graphics creation tool to use to create outstanding graphics for your WordPress theme and access to a members only forum for support with Affilotheme.
If you add all of the up sells and membership fees together your total cost will be in the ball park of $791 plus your monthly fee of $67.
Now that's a lot of dough to pay out for training especially when there is an alternative training program that has excellent support and outstanding marketing training that would only cost you a fraction of that.
---
Overall my opinion of Affilorama is a good one and I give it a 4 out of a 5 star rating.
Even though there are a lot of up sells (none you have to buy) it is agreat place to get training that will increase your knowledge of internet marketing and as a result will make you a better affiliate marketer.
I do not believe it to be the best training program but I do think it is one of the top affiliate training programs offered online.
With a $1 a month trial offer it is definitely worth it to check out.
Just be sure that if you do decide to opt in to this online training program you do not implement the out of date practices I spoke of earlier because your business will suffer greatly for it.
So there you have it, my Affilorama Premium Review, I hope this helped show you from the Affilorama Complaints if this system is worth it. If you have any comments or questions pertaining to this free affiliate marketing training course drop me a line below.
Until Next Time……………..Thanks for reading.
(6)