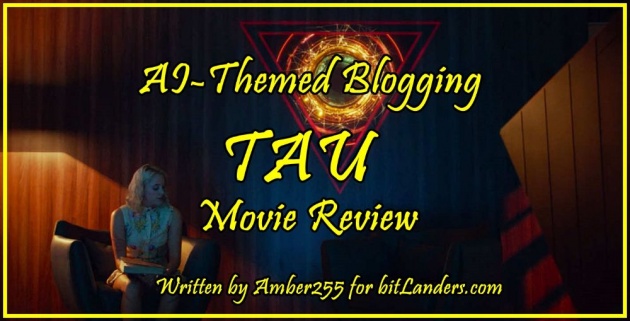 AI-Themed Blogging: TAU Movie Review - Photo credit: imagenesmi, edition byAmber255 via bitLanders.com
We have a lot of written and filmed sources about artificial intelligence, but this topic continues to excite the minds of scientists, writers, screenwriters, and at the same time, ordinary viewers. Today's review is about one more such film project - TAU.
The film TAU was clearly created without big ambitions - this is the debut film for both director Federico D'Alessandro and the writer with the stunning name Noga Landau. The tape did not even hit the wide release but went straight on the Netflix - this fact says much.



The movie isn't just a thriller about a ruthless scientist, who will stop at nothin just to achieve his goals but also about the young woman, who develops a relationship with a cold blooded A.I.




Credit: metacritic



But unlike many other projects from this platform, TAU has a whole set of pleasant qualities, and if you close your eyes to some of the shortcomings of the script, then there is a chance to get a bit of pleasure from the movie.
TAU is a story of how friendship can emerge between a machine and a man, disregarding its creator. It's the film about how a robot, computer or even artificial intelligence began to show emotions, to experience feelings and decide its own fate.
TAU, Official Trailer - Video credit: youtube
The Plot
The film tells about a simple girl, Julia. She is a chief and always went unnoticed, but not this time. After another theft, someone bursts into her house. She wakes up in an unknown place, a house completely subordinate to artificial intelligence.
She was abducted to conduct a new dangerous experiment. The heroine found herself in a big house full of new equipment and robots, and to get on the way to freedom she must fight Tau, the artificial intelligence created by her kidnapper.
Will Julia be able to put all her courage, cunning, and ingenuity into a fist to defeat her abductors and high-tech guard?
In any case, TAU is an almost classic three-character history in a science fiction film's frame. Strictly speaking, the only event in the film - attempts by Julia to escape. This echoes another theme: Tau's computer mind tries to leave the dungeon of the machine. Tau helps the captive, and Julia, in turn, teaches computer feelings.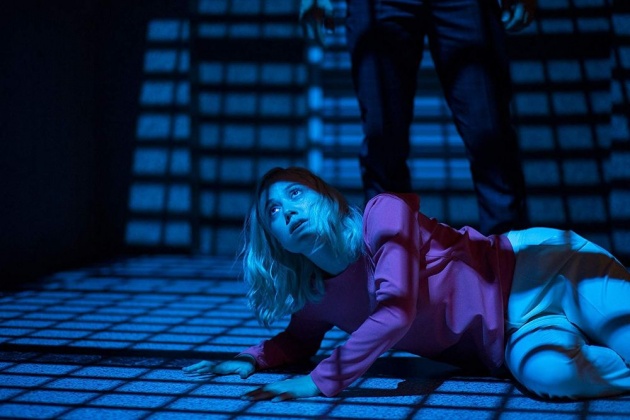 Science fiction film TAU - Photo credit: imdb
The Content
The weak point of the picture, as usual, is the plot. No, it is not so terrible and stupid, as some film critics say, simply the TAU script is too simple and unpretentious. It is even somewhat naive - as if it came from good old science fiction films.
The idea is extremely interesting, but the authors realize its potential of thirty percent, not more. The film moves to the finale in the too straight road. And the finale itself, to say the least, is not impressive. Creators really could do better. Moreover, they had a direct competitor in the face of the movie Ex Machina.
The films are similar, like twins - TAU presents the same conflict of three characters in fantastic closed decorations, and one of the heroes is not a human being. True, on the background of Alex Garland's film, the TAU looks like a younger sister - close, but very beautiful.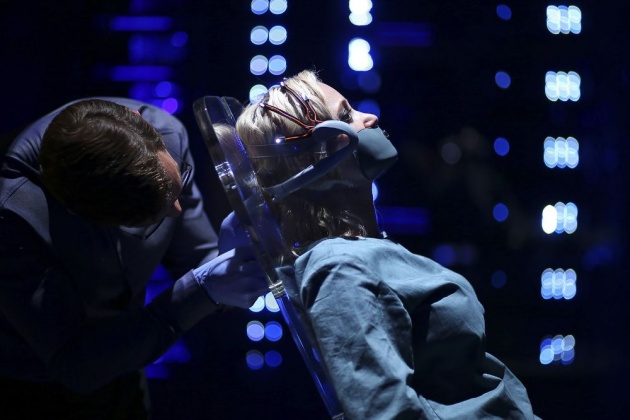 TAU film scene - Photo credit: twitter
We see advanced technologies and are trying to answer the question: what kind of sacrifices we can take for the changes in the planet's future?! Do the goals chosen to achieve it justify the means?
But at the same time, we follow the flow of other issues that appear on the agenda: if something has a name, is it a person ?! In general, what does it mean to be a human? What are trees ?! Why are they growing ?! Why we know not everything? Why do some people laugh, and others do not ?! If a person is able to read, why doesn't he often do this ?! The flow of questions is almost endless.
In addition, this is a good reason to think about some things:
- Smart home, artificial intelligence - their creation has long been on the agenda. But what level of development we can make in the end?! And is it possible to do so to get the product - fully controlled and managed?!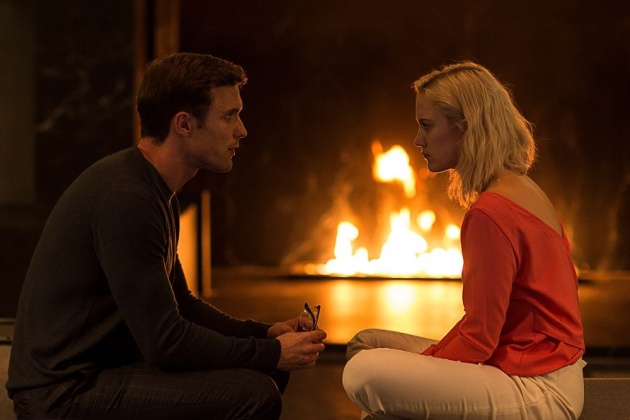 TAU film - Photo credit: topsimages
- What can be hidden behind beautiful appearance?! Exquisite manners?! Refined tastes?! Behind education?!
- The fact that not always we can correct what is already done.
There are no abandoned items: if somewhere, something has fallen into the frame here - be sure - it will definitely come in handy in the story further! So look carefully.
On the one hand, this is a tricky story about a scientist sociopath and another attempt to develop artificial intelligence. There you will see non-human experiments and much more, typical for such genre films. But this story hooked me. It turned out quite watchable, with a colorful place, amusing dialogs, and interesting characters. Therefore, I liked the film, despite all its flaws.
What the minuses?
First, the plot is hardly unique.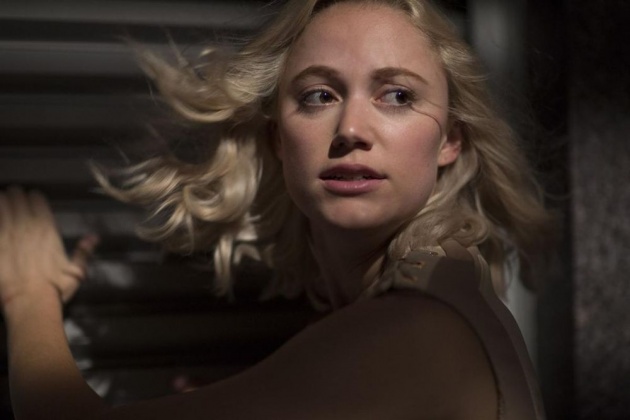 Science fiction film TAU - Photo credit: twitter
Second, although I liked the finale, from a technical point of view, it looks at least doubtful and raises a lot of questions. But in general, if you dig deeper, then there are plenty of plot's blunders of different degrees. Although the film has something holding you at the screen, and you don't really want to dig into inconsistencies. But ideally, I would like, of course, greater forethought! This is not bad for a debut, but in the future, the director could go for a more thoughtful approach when develops the script.
Third, in some places, it was a bit prolonged, and sometimes, on the contrary, I wanted more complication: more revealed the key characters, even greater tension in their relations, and intellectuality in their dialogues. Yes, and the level of ingenuity and observation of some characters from time to time causes doubts about the level of their intellectual development. Because it is strange not to notice what is literally under your nose.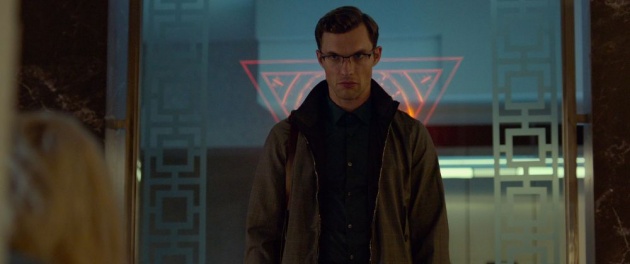 The film about artificial intelligence TAU - Photo credit: movietele
The Characters
The main characters are super!
The main character is a girl Julia. It would seem a completely unremarkable person. So, hang out somewhere on the social bottom and makes petty thefts. But one day her life got a big challenge. Yes, it flies to hell.
A psychopath-inventor kidnapped Julia, and she becomes a prisoner of his huge smart home, controlled by artificial intelligence. She is trapped in a smart home, and from that moment begins her personal struggle for survival.
Here she no longer has a name as she is an experimental subject - subject number 3. Now crucial in her life is how quickly she solves problems, how high her level of creativity and memory is. Whether her life will end soon or not depend on every word, deed, and even look!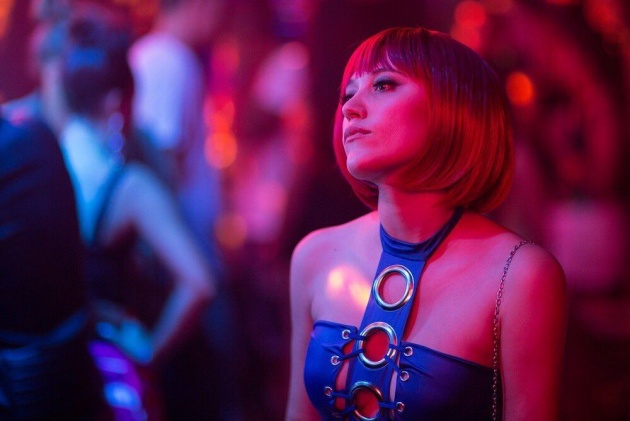 The film about artificial intelligence TAU - Photo credit: topsimages
The film is a good example that the use of the cerebral cortex, the most notorious gray cells, for its intended purpose is a very valuable tool not only for evolution and technical development but also for survival.
Of course, one can doubt where she got such unprecedented abilities, but, if you recall the film classics: if you want to live, you will find a way - there are no questions left.
It is a pity that the character Alex was not revealed enough. I wanted to know more about him. Who is he, what is his story, how did he come to life like that ?! You can't say that he is absolutely a statist here, but the image could be more multifaceted. Alex is a man for whom humans and robots are the material for creating ideas.
Tau - is the name of artificial intelligence, one of the main personages of the film. It possesses the mind of a child. He knows nothing about the world and loves classical music. The Tau begins to think, learn, and becomes more human. Its creator looks like an evil tyrant, who makes lower class' members participate in his science project. He not only terrorizes the test subject but also severely punishes the naive Tau for disobedience.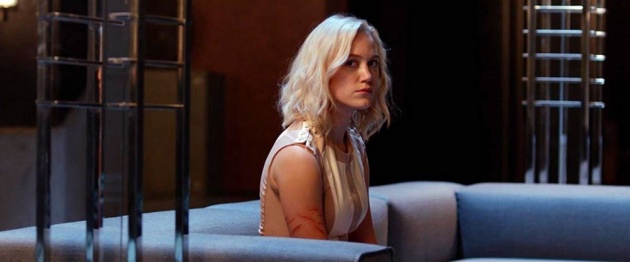 AI-Themed Blogging: TAU Movie Review - Photo credit: imdb
In contrary to artificial intelligence, the main villain behaves like a calculating, soulless machine. Calm and absolutely indifferent machine to the pain and suffering of others.
The idea of the director is visible to the naked eye. Again it is necessary to stumble a person into his selfishness and complacency to show that we need to be kinder, humanly, and more compassionate.



Julia : My creators did bad things to me, too. Things that hurt me.




Tau : But you still obey them? Because they created you?




Julia : No. They gave me life, but I did the rest. I created me. You understand? We grow up, and we become our own creators.




Tau : For what purpose do we create ourselves?




Julia : For each other.




Credit: imdb



The Technical Side
First of all, TAU attracts attention with its appearance - in terms of design and production, the picture is extremely pleasant. In recent years, in the wave of nostalgia for the eighties, a kind of neon style has become very popular - with an abundance of color lighting, screaming palette, and continuous toning. You probably already met with a similar aesthetics - if not at Nicolas Winding Refn, then at Harmony Korine.
Personally, I simply adore this style - and in a film TAU, it is really correctly and meaningfully implemented. The whole film is saturated with red-blue-yellow contrasting colors - the spectacle is very bright and juicy, pleasant to the eye. In addition, unnatural hues emphasize the overall futuristic setting.
But I liked it not for lighting only - in the TAU, the design is built very skillfully. The plot unfolds inside a single house, but its interiors are elegant - the eye does not get tired of the view. The scenery is fully assembled from synthetic materials - solid metal, plastic, and glass, around a lot of reflections and smooth, shiny surfaces. In addition, the frames are surprisingly geometric - the interior is entirely square-triangular, with even rectangles of shadows and mathematical patterns on the floor.
TAU Netflix film, Ending Explained - Video credit: youtube
Of course, the physical incarnation of a reasonable console caused some questions, but in general, it looked modern and complete. And, of course, I liked the cool nano-drones. Such pendants from the world of technology.
Sophisticated sound design adds the required volume to the narration.
The Actors
The film is of two actors, and they are the key heroes. We see some other actors but for no more than three minutes.
And in the midst of this neon hi-tech, very good actors, such as Maika Monroe, Ed Skrein, and Gary Oldman walk and talk (the latter is represented only by voice). For such a chamber and low-cost film, the casting gathered just top-rated.
And even if Maika Monroe is not a superstar, but she definitely knows how to play, and she looks lovely. I watched the actress's mimicry, her actions, ingenuity, perseverance, personal qualities, and other things. Yes, and a couple of fighting scenes in her performance looks very convincing.
Once again, Ed Skrein pleased by his performance. The actor coped with his task perfectly.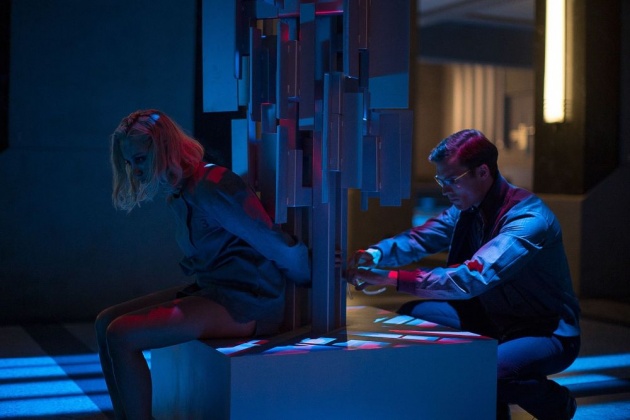 TAU review - Photo credit: twitter
ON A Final Note
However, I will not lie - even if the movie has not high ratings, I liked it. This is a neat and stylish project, from which you can get even a purely aesthetic pleasure - so in TAU everything is in harmony. And if you remember that this movie is from absolute debut creator, then any questions fade altogether.
Well, if you look at the film from the side, then this is just a standard hermetic thriller in the fantastic scenery decorations. The TAU is not equal to the masterpieces of the genre, but to look at Maika Monroe, who is constantly changing outfits, illuminated by neon and chatting with disembodied Gary Oldman, was still nice.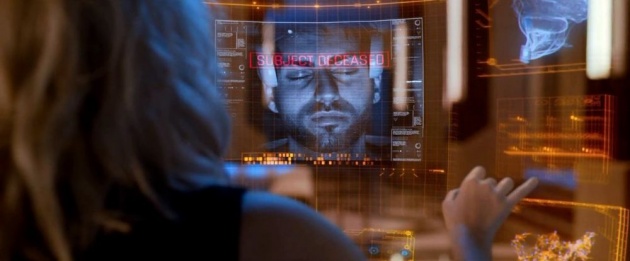 Netflix Film TAU - Photo credit: youtube
TAU film - not a new theme but modern and, at least, curious
It is not just a thriller; it is also a story of friendship - very touching and very unusual. Yes, it is not without flaws, but I watched it with pleasure. Do not forget that a lot is in our hands, and if we want, we can do a lot and become a lot.



An intriguing movie that posits a central question of what is a person? That AI can be argued with, influenced, persuaded because if it simulates human mind, then it is capable of desire, curiosity, morality. It teaches that blind obedience is not a substitute for AI. AI creates a mind capable of decision making given evidence to work with!




Credit: imdb



My rating: 6.0/10
Rotten Tomatoes: 18/100
Metacritic: 43/100
Critics average: 49/100
IMDb: 5.8/10
HAVE FUN!
**********************************************************************************************
Thank you for stopping by and reading my blog
2019, All Rights Reserved.
You are very welcome to join Bitlanders and share your valuable knowledge and opinion.
***********************************************************************************************