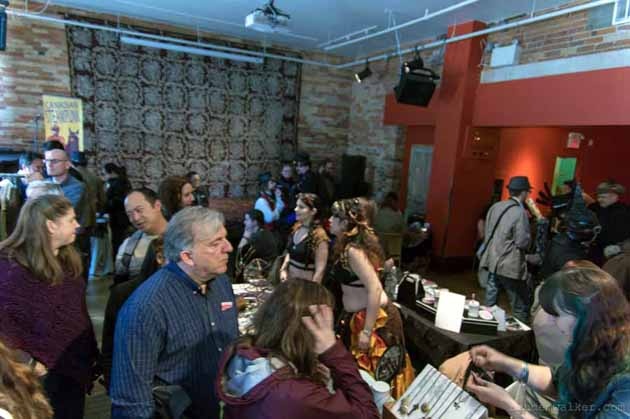 Photo by Bruce M. Walker

Steam on Queen was my second brush with the phenonomen of Steampunk. My first encounter was at an event held at Metropolis Factory, called Artisans of the Metropolis, where I met AnneMarie of Waterston's Wardrobe.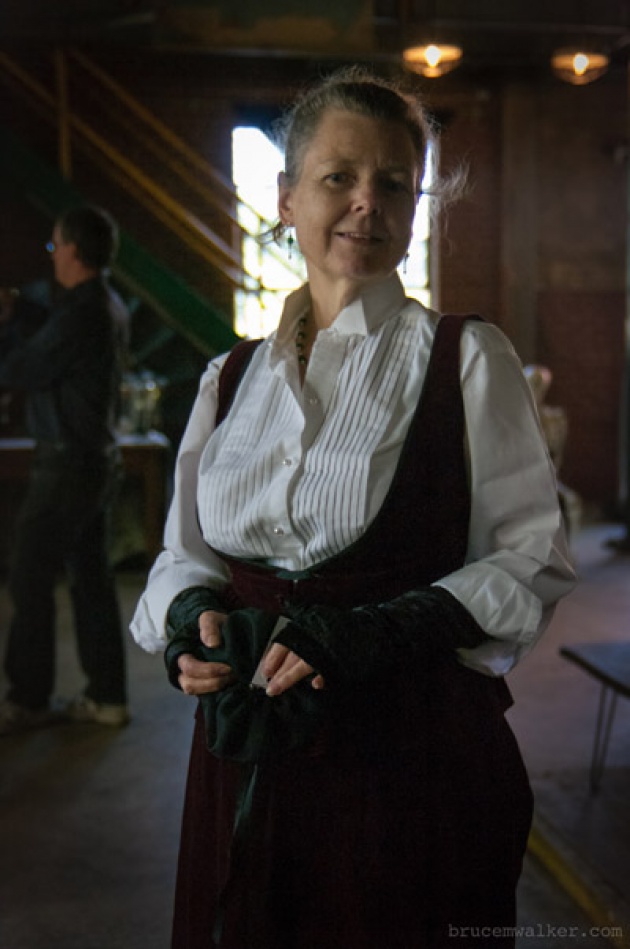 .
I was very taken with the beautifully made skirts, bodices and dresses she was displaying. The skirts and dresses had a Victorian feel to them, but there quirky jackets and bodices too.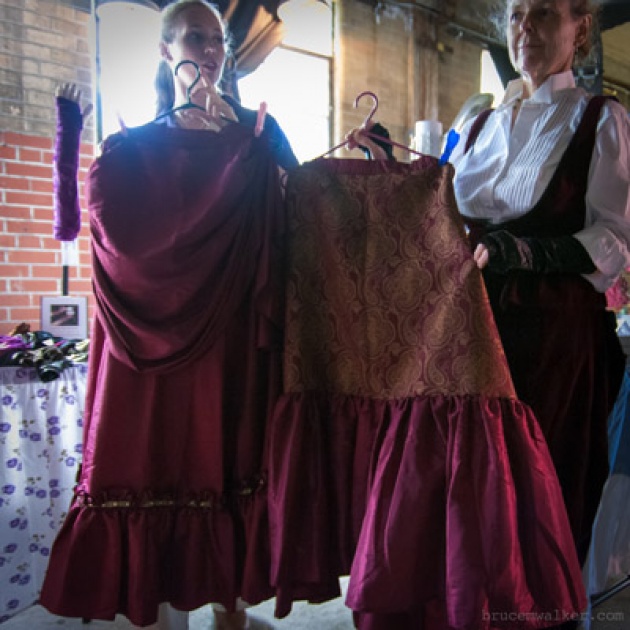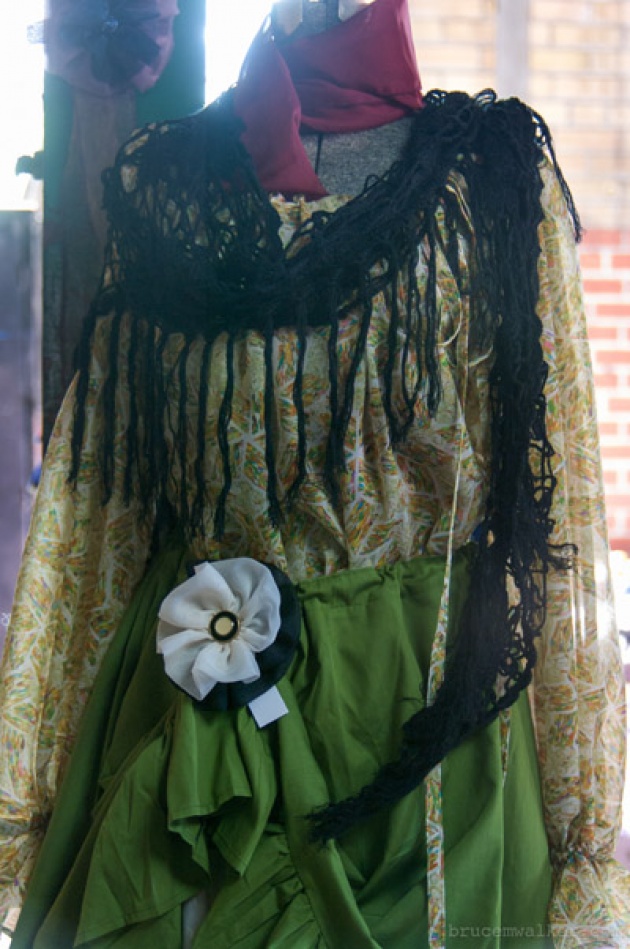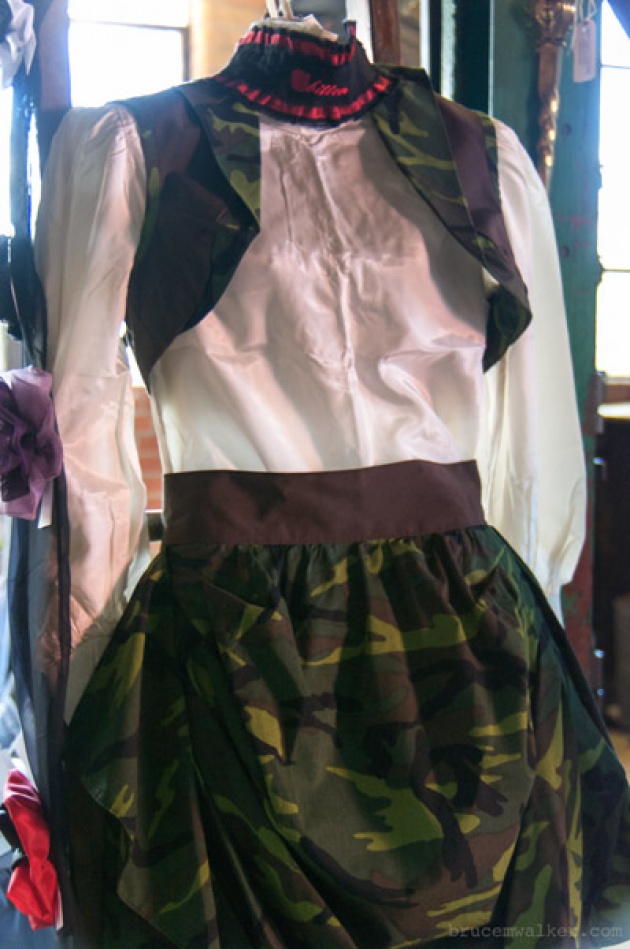 AnneMarie explained that she was strongly influenced by Steampunk. She told me that both she and her daughter, Victoria (with an adjacent vendor booth selling handmade jewellery) regularly attend Steampunk functions and dress up accordingly. I was interested when AnneMarie explained that she would soon be participating in another vendor event called Steam On Queen which totally embraces the Steampunk theme.

I followed up this lead and found out that the next Steam On Queen was being held at Toronto's historic Gladstone Hotel on Queen Street, in October. The whole thing is set up and organized by Adam Smith. It is totally appropriate for this event to be at The Gladstone, (Wiki link here) which was built back in 1889. Below is a photo of the Gladstone.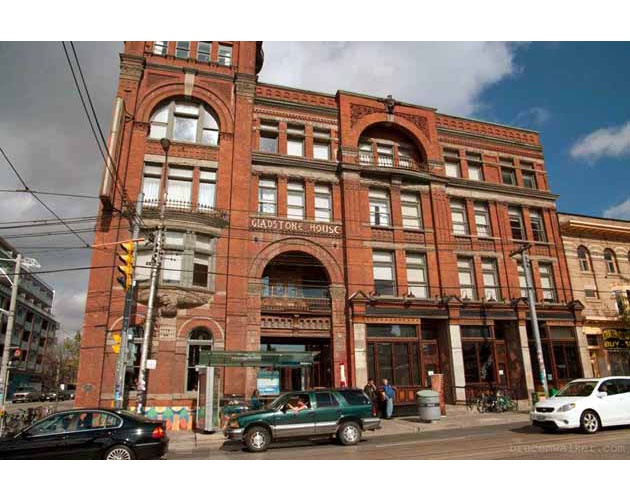 Photo by Bruce M. Walker
So, we loaded up with a camera and my recorder and, having found out that there were a number road closures that weekend, headed off on public transit. We walked into the Gladstone Hotel front entrance and through to the ballroom and found it packed with vendors and attendees, dressed in amazing Steampunk outfits.

Photo by Bruce M. Walker

We quickly located Anne Marie and her daughter Victoria at their sales tables.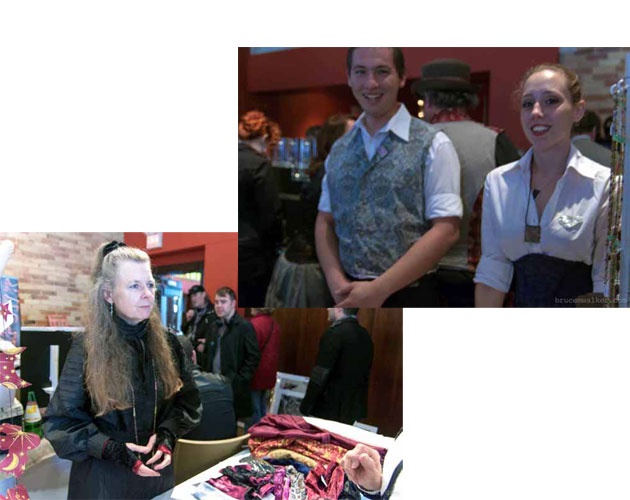 Both were dressed up appropriately for the event. AnneMarie introduced us to Adam Smith who was presiding over his own sale table, containing some incredible pieces he had made.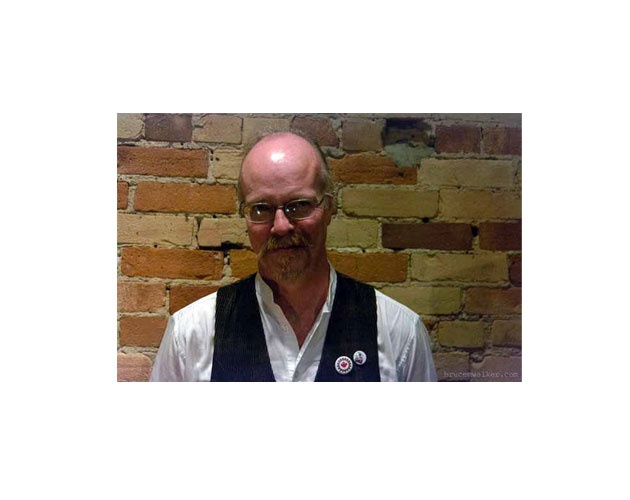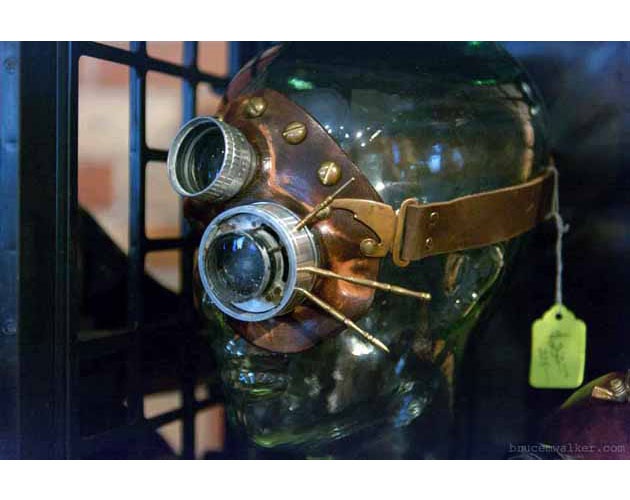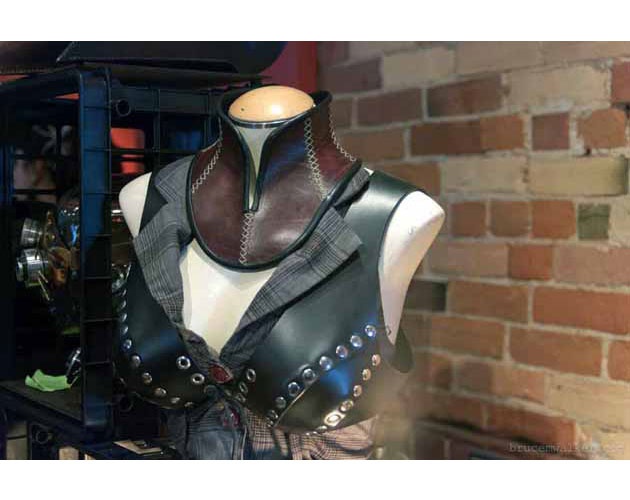 Photos by Bruce M. Walker

Adam Smith
Adam graciously agreed to spend a few minutes with us. He explained that Steam On Queen (Link www.steamonqueen.ca/) is an event that he organizes and which has been growing in popularity since he started it. He said that there are way more vendors applying to be included in the event than those that are accepted, mainly because he is picky. He also likes to change the vendors around, so that he doesn't always have the same people at every event.

He usually holds the event at Toronto's historic Campbell House (pic to come), on Queen street, with much of it held outside in the gardens. Since today's event is in October, with the weather being variable, the Campbell House location would not work. Adam is always scouting out possible locations for the event and came across the Gladstone Hotel on Queen Street. Hr looked at it and decided that it would be good to hold the event there. The historic retains much of the original architectural style, and it is ideal for a Steampunk event. The only difficulty with the location is the size. Adam says it's a bit tight, which meant limiting the number of vendors.
Adam Smith is now a full time artisan and organizer, but it was not always so. He had joined Tandy Leather right after university, and there he learned to do leatherwork. At that time it was just a hobby, he says. Next he took silver and goldsmithing at George Brown College, and got into watch repair for a while. Then he got into I.T. and he found that he could make a really good wage working in that profession, and so it began. Although the money was amazing, the stress was outrageous and after a while, he longed to get away from it.
The Milton Renaissance Festival
Adam had revisited leather work, and as a way to get some relief from his stressful job, he became a vendor at the annual Milton Renaissance Festival when it began in 1995, and continued there until its closure in 2004. He had started his own small company called Sword In the Stone Crafts (which specializes in renaissance and medieval festivals and shows, SciFi conventions, goth and fetish fashions and accessories, and the film and television industries, producing costumes, props and wardrobe accessories) and sold his hand-crafted leather work costumes and accessories. Adam's wife, Jennifer, was also involved. Her company, Tara Hill Designs , sold a wide variety of items including aromatherapy products, Runic talismans, and wooden games based on historical Viking games. When the Milton Rennaissance festival ended, Adam and Jennifer were disappointed, but decided to forge on with their own businesses.

They calculated that combined, their businesses brought in one third of their annual income, but that with careful planning, they could make do - with enough to live on, if not in luxury, at least with many of the comforts for daily living - and Adam would finally be free to get out of his stressful if lucrative job in I.T.

The Steam Punk Connection
Adam became fascinated with Steampunk roughly 6 years ago. The whole aesthetic of it really appealed to him. As a child he had read all the Jules Vern, H.G. Wells novels, and had seen movies like Mary Poppins, Chitty Chitty Bang Bang etc. - Loved the imagery and it stuck with him.
Adam began to do artwork again.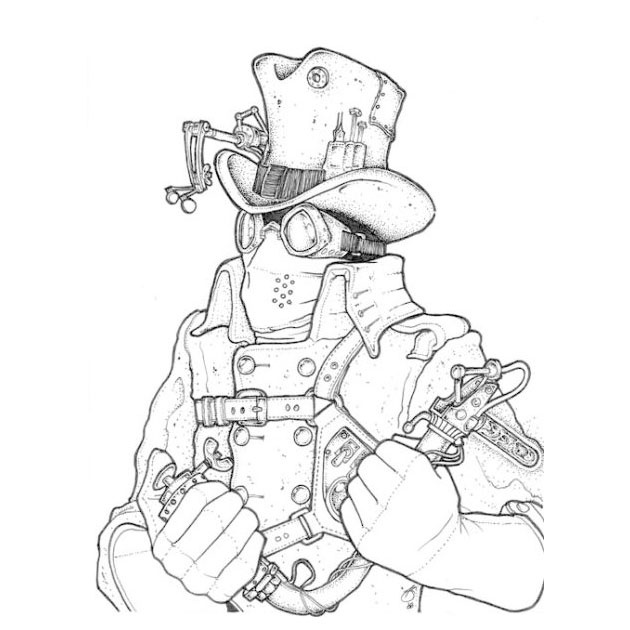 Drawing by Adam Smith
After a while he found that he was drawing things he wanted to dress up in. So, he began to make some of these things: masks, crazy goggles, gauntlets. Adam attended the Dragon Con in Atlanta. The first year it included Steampunk, it had started out modestly with a few dozen Steampunkers in attendance, the year he attended there were 400 or so folks dressed up in Steampunk, and devotees of this genre continue to increase each year …

Adam's wife is also involved in Steam On Queen. When they go on trips searching for costumes and materials, He says wryly, "She rifles through everything first, picks out all the good stuff …". Jennifer is in a singing group, Nero's Fiddle (formerly Twillingham Ladies Chorus) which performs at the Steam on Queen events at Campbell House. (pic to come) The musical style is rowdy "pub wench" songs, Adam says the emphasis is definitely on loud, rude and bawdy, which the audience loves.
Today there will be some belly dancers providing entertainment. He points out three of the girls standing near a booth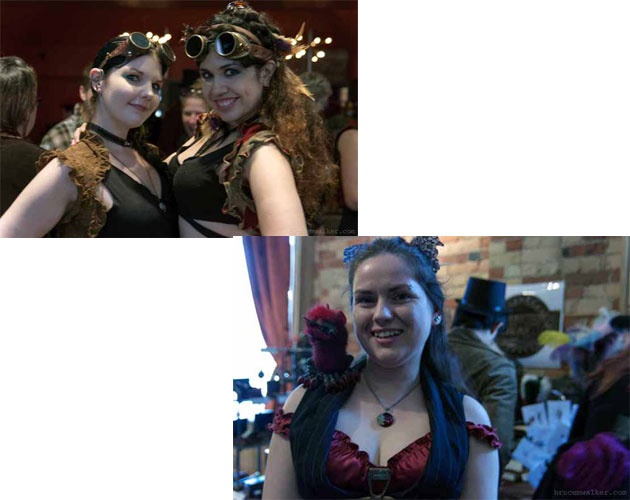 Photos by Bruce M. Walker

We look at some of Adam's pieces. The Leather corsets are magnificent, made from harness weight leather, and perfect for any number of occasions. I drool over one of them, imagining how cool it would be to wear one - which would do double duty of course - look cool and as a back support, which would help me in my work!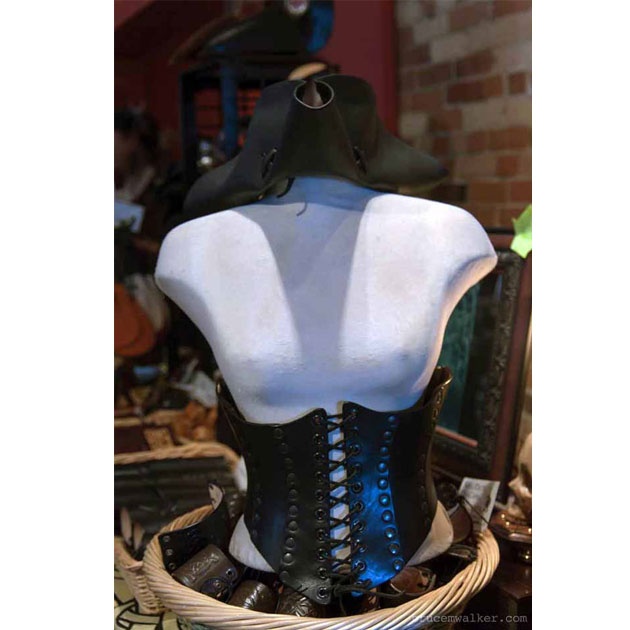 .
I also really liked the leather gauntlets! Sadly my skinny arm was not suitable for the sizes Adam had on display.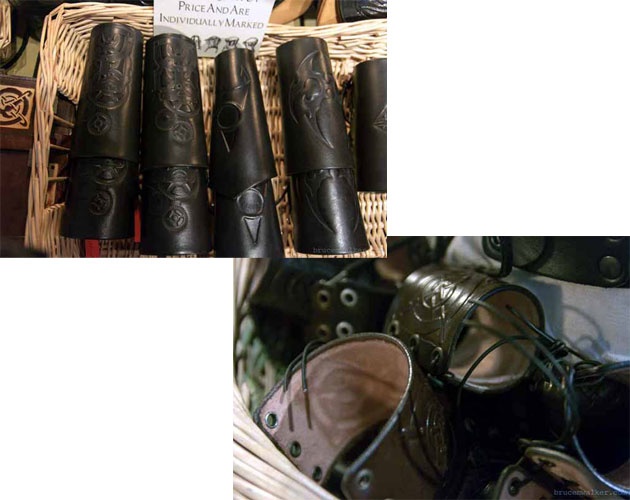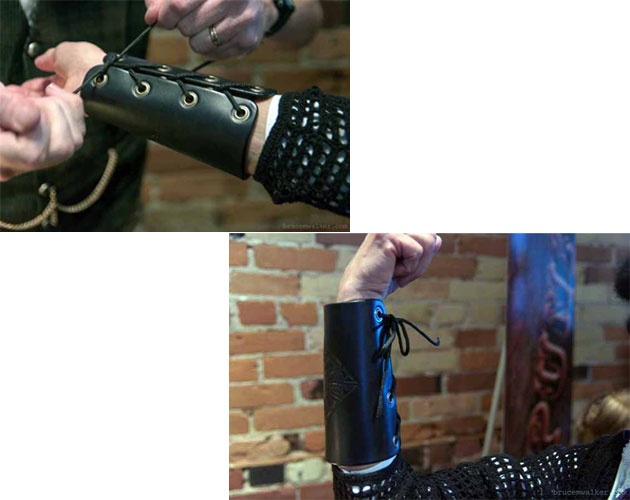 After talking to Adam we strolled around the area, checking out the vendors and the various folks attending, most of them sporting interesting outfits.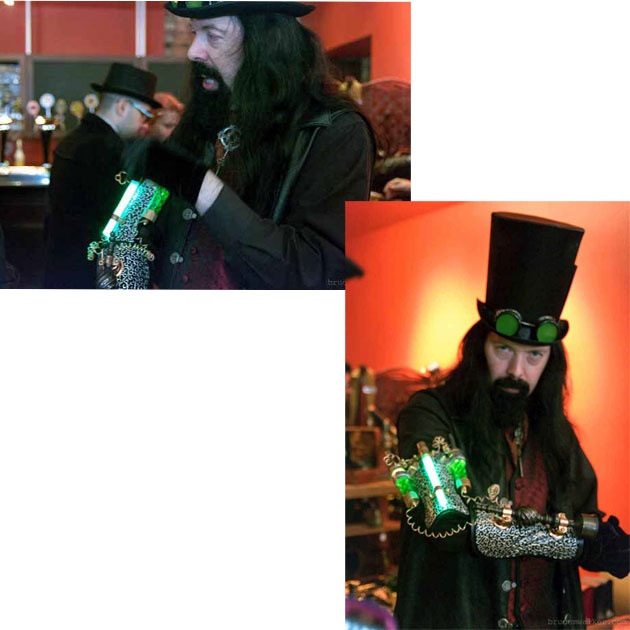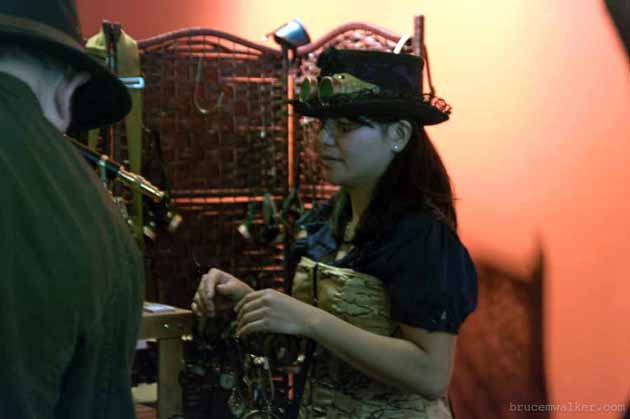 Attendees seemed quite happy to get their pictures taken! Below are a couple of vendors, totally in the spirit of the event.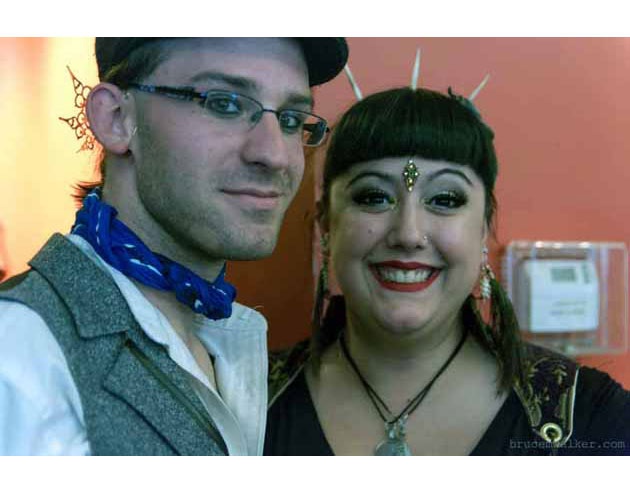 Photos by Bruce M. Walker
We stayed for the belly dancers and were impressed by their moves.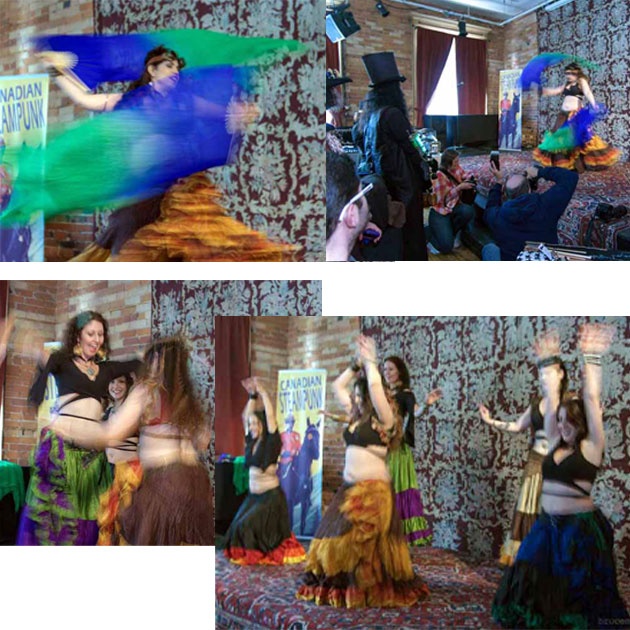 .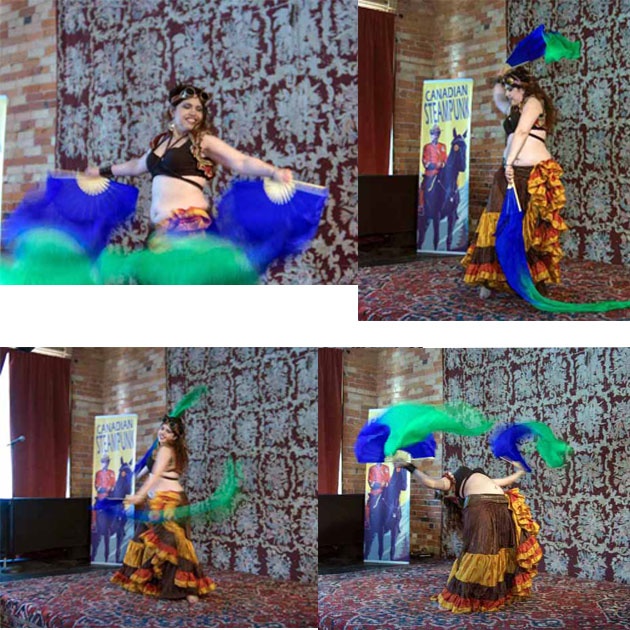 It was an interesting event, and we will definitely come to the one at the Campbell House next summer, and, hey, we may even indulge in wearing some Steampunk outfits ourselves!

Below a few more photos from the event.
The lady from Gloom Matter who makes her items in a very green way, reusing things - more on that in another article.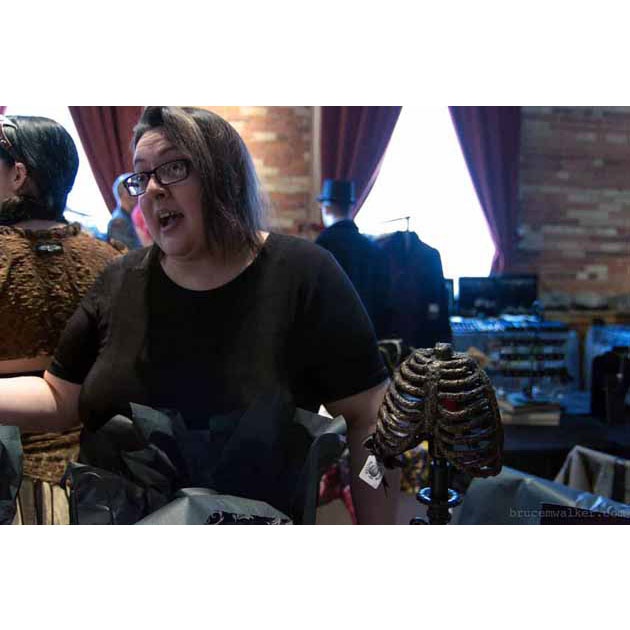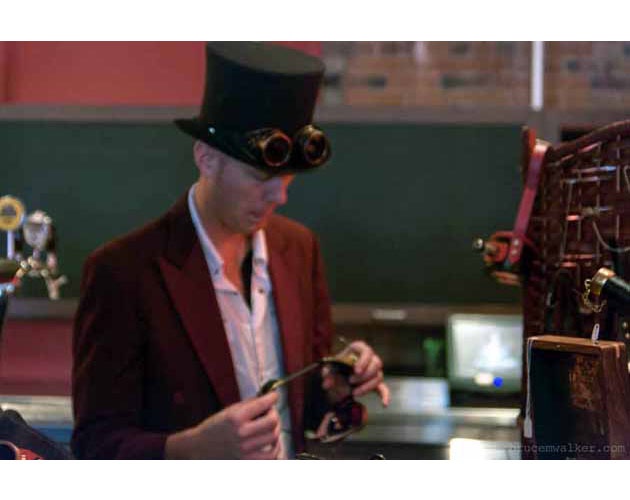 The Tarot Card reading lady, with spectacular red hair and a sparkling smile!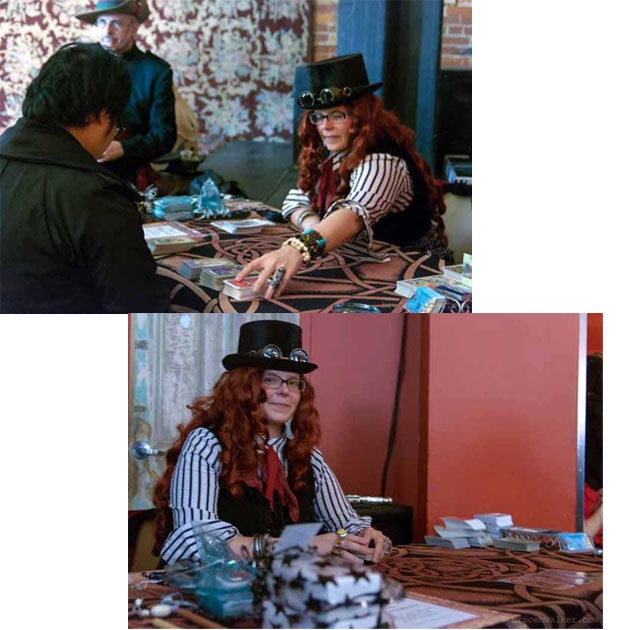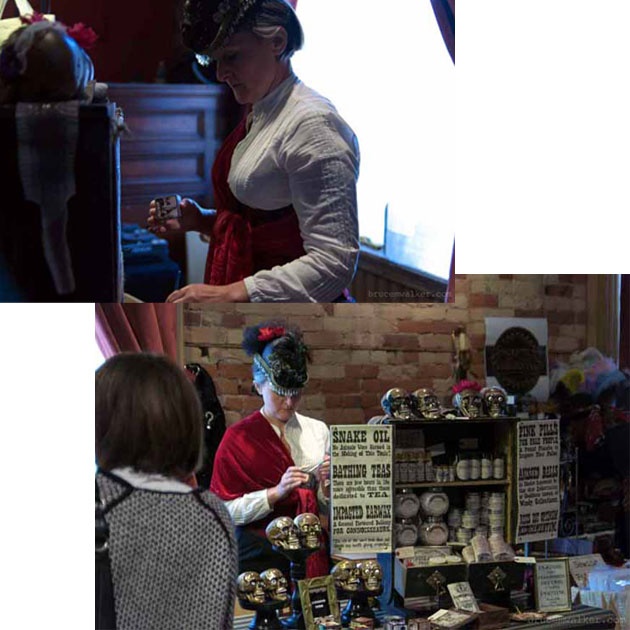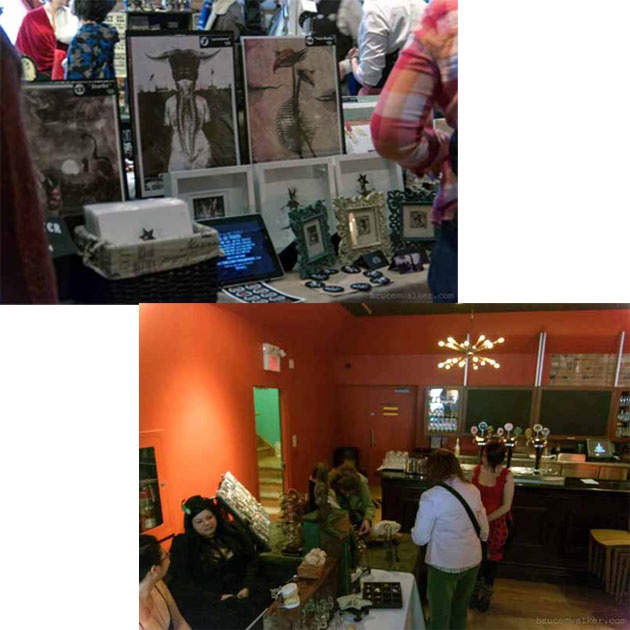 Note:
For those of you not already in the know, Steampunk involves a wack of different things (including science fiction, and certain fashions) largely based upon the 19th Century, Victorian era. UrbanDictionary.com describes it succinctly: "Steampunk is a subgenre of speculative fiction, usually set in an anachronistic Victorian or quasi-Victorian alternate history setting. It could be described by the slogan "What the past would look like if the future had happened sooner." It includes fiction with science fiction, fantasy or horror themes. "

This link at Wikipedia has an extensive explanation for those wishing more detail.