I bet that GIF up there would make you curious about this blog. Don't worry, I will be sharing it with you later in this blog entry.
Both my husband and I are not aware that there is a certain Cave Pool which is just near my home town in Guindulman. This cave pool is called Cabagnow Cave Pool but we are really out of idea that Anda is full of these surprises. My husband was just informed by one of his colleagues that there's such place and they'd like to go and visit however, they would need someone to host them and so was the reason why they opened it up with my husband but that is also something that we wanted to do so we immediately agreed to host them and that was the reason why we were able to jump into this cool and adventurous Anda.
Here's a brief information about Anda.
Rustic and mystic
- this is how the Mayor of Anda Bohol describes his town. It is a very small peninsula in the Eastern tip of
Bohol
which is also facing Mindanao. It is widely known for its pristine white sand beaches that competes with the more famous
Panglao beaches
. But aside from that, it offers more than that and I personally regret not knowing anything about these stuffs. There is
Lamanoc Island
where you can find several remains of wooden boat coffins and prehistoric graffiti on cave wall. There are also many caves for thrill seekers to try on.
Even before when I was still small, my family would go to Anda for some beaching and that should be it. Although my father is aware of these places, it isn't really that known enough that the locals and the neighboring town would visit. It was until that time that I learned Anda is more than just a beach area. It is also offering unique places.
Today, let me share our experience during our visit to the pool placed in a cave called Cabagnow.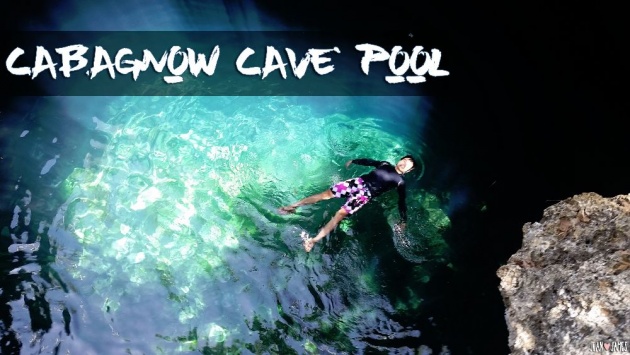 Whilst my husband has enjoyed his time floating in the waters of Cabagnow Cave Pool, let me list down the precautions when going there. These are the things which you must always be reminded of in case you would like to also pay it a visit yourself. Note that these list might change eventually specially that this is still something which is just beginning to be known of.
Disclaimer: I am writing this blog while listening to the 2000 Pop Song list from Spotify. Thanks to my husband's Premium account, no advertisements!
1. Traveling there isn't that easy.
This is for those who are coming from another island by the way. As for me, since I am a local of Guindulman which is the next town to Anda, going here is a piece of cake specially that we have a motorbike and another vehicle. However for those who are coming from Cebu and the other islands and provinces, it may take almost half a day traveling to Anda. Here's the sequence of how to get there from Cebu: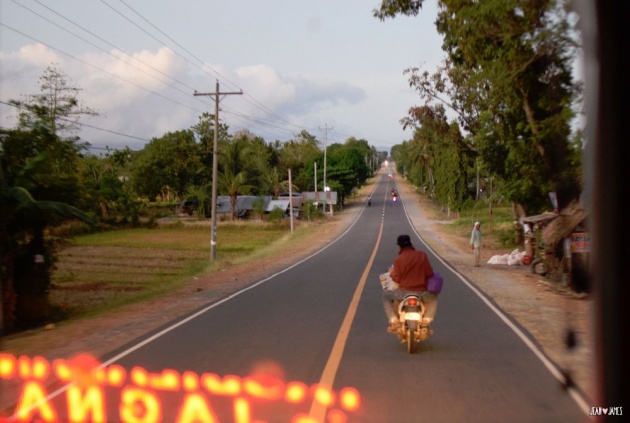 5 Hours Cebu Pier 1 Going to Ubay
My husband's colleagues were a bit lucky that they know someone from the management of the only ship which routes Cebu to Ubay so they were able to get their tickets beforehand.
Why this is critical? Because there's only one ship and it has limited number of passengers, most of the time, it gets fully booked and if that happens, the next option to either travel to Tubigon, Talibon or worst, Tagbilaran which all are too far away to Anda.
There are only two schedules per day from Sundays to Fridays and that's every nine in the evening and ten in the morning. Anyway, Cebu to Ubay is a five hour travel and would cost around 250-300 Philippine pesos.
1 Hour Ubay to Guindulman
Since the trip taken was the evening one since everyone's working, we spent the whole night from nine in the evening until around five in the morning at the ship. It arrived at around two but then since it was still dark and everyone was still asleep, we waited until the ship had turned off their lights.
At the bakery in the bus terminal, we even managed to sip some coffee and take a few bread while waiting for the 5:30 trip going to Guindulman. Fortunately, the bus was the air conditioned Ceres bus which is good since it is comfortable enough.
30 Minutes Guindulman to Anda
Coincidentally, my parents were not at home at that time, they were on a vacation to Dubai for their second grandchild's coming to the earth. So we owned the house, upon reaching our house at almost six thirty, we unpacked, ate breakfast, prepared and were off to go to Anda.
Our old vehicle became our trusty friend and so at around nine in the morning, we set to go to Cabagnow Cave Pool which we are not sure where it is located but we trust our instinct that some locals will be able to help us locate it. Plus I believed there will be signs on where to find it since it is already starting to be known to other tourists as well.
After 30 minutes, we finally found out. So to sum up, it was almost half day of traveling. It wasn't that super stressful because we still had time to chill at our house before traveling there but if you are coming from another island and you'll go straight there, I suggest you rent your own vehicle and not commute!
2. Cabagnow is a Literally Hidden Gem.
Cabagnow Cave Pool is located near the town proper, a 1km away from the main highway. There is no other sign going to the cave pool aside from the post at the highway so it is better to ask the locals for the exact location. From the main road, we have to walk through a pathway made by the step routes of the rest of the other visitors who had paid a visit here. I know there's a beach in the distant area but I am not sure where we were going. The local pointed us towards this path and assured we will see it at the end of the path but we have been walking for around five minutes and we are still surrounded by dried shrubs. It was summer at that time, we had no umbrellas though and we were only clinging to the thought that it was just nearby.
After more or less ten minutes of walking, we arrived at a rocky area. So we told ourselves, where is the cave pool?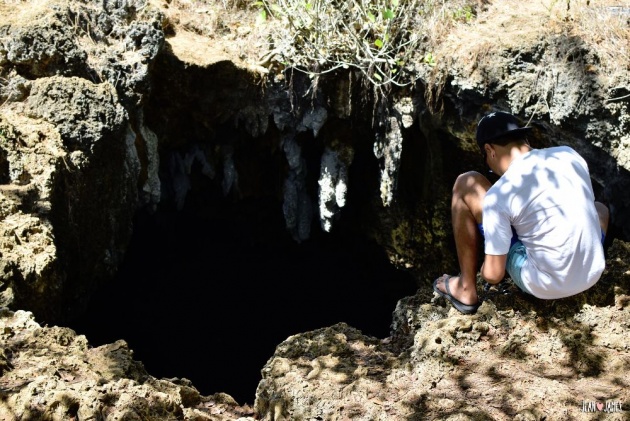 As you can see above, this is a rock hole but there's a gem in it! That's the Cabagnow Cave Pool! Oh snap! We were out of idea that this is a literally a gem! I have not seen such thing before.
Here's another shot from the top showing the size of the hole, oh by the way, there's no way of going up in case you drop yourself there at that time. It took us a few minutes to figure out how to jump and get back in this case. We had no stairs!
This scenario brings us to the next precaution.
3. No Stairs! No Happiness.
And since the cave pool is not a cave that can easily be enjoyed, we were only staring at it from the top, taking photos of how clear the waters can be seen from where we were standing.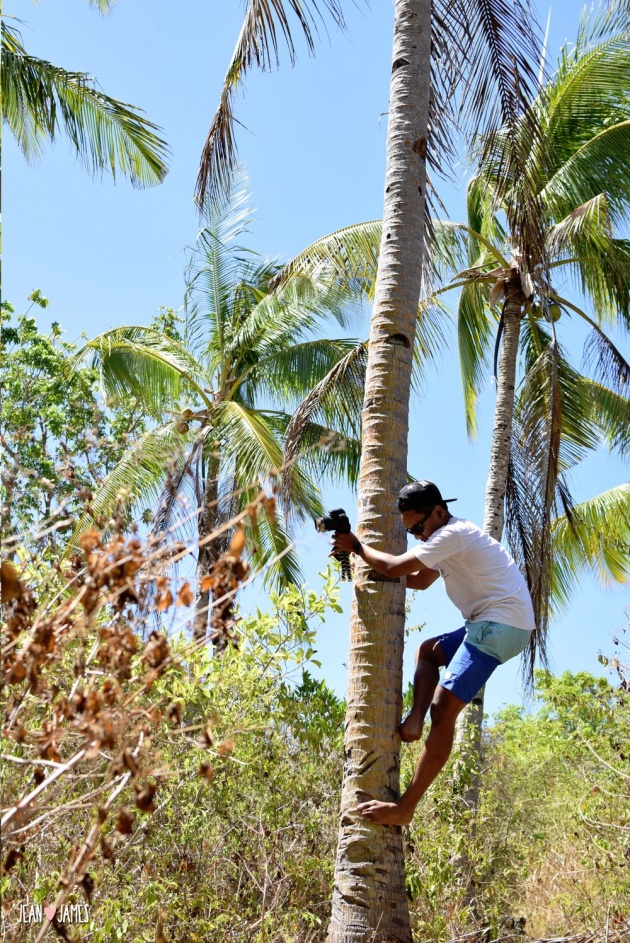 We took photos of the stone, the trees, the coconuts and everything we can see but this is not the only reason why we were there.
We basically want to get into the water and take a swim! Or perhaps a dive for the other men who were with us. But this isn't possible at this situation!
In case you are wondering, this guy on the photo is a legit travel blogger and he was looking for ways on how to take a photo of the cave and the entire area. He had his own camera with him but it requires a wide lens!
Fortunately, our other companion brought with him his own camera with a wide lens so they were able to finally capture the entire cave pool. Plus we also had some good time while waiting for a rescue so that we can possibly enjoy the cave waters.
Gladly, after a few minutes, another local came and asked if we would like to take a swim on the cave. In chorus, we all answered yes! He then contacted the owner of a ladder who is residing just nearby. We were relieved that we can finally get to touch the waters at this point.
However, it was not a quick one because the stairs was a tall steel which goes right down to the bottom of the water bed and it will have to be tied up to the stones so to ensure it would be able to support our weights when climbing it.
In the photo above, one of our companions is trying to climb the ladder but it is really difficult as the steps were far apart from each other. It would require a good stretch of the legs to get up. And an assistance is also needed from the guys above to help us pull ourselves out of the cave.
4. Plastic is a Pain. Irresponsible Visitors.
The cave is perfect for the adventure lover who loves free diving on a natural enclosed pool with a depth of about 25 ft. The water is clear enough to see the stones and fish swimming on its bed but some parts around the pool is pretty dark. This is because the sunlight can only shine at the middle part. However, once you jumped in, you can't help yourself to do it again.
But perhaps this is the worst part of the area and I wish there were some people maybe from the local government who had maintained the sanitary of the cave pool because it isn't a great view to see plastics floating around specially in the water.
Now I am quite sure that these aren't coming from the locals here because obviously the plastics were usually of snack packs and other junk food stuffs. So basically, these are coming from the ones who had visited and snacked their way but then left the packs and while they might have been left out, tendencies are they get into the cave.
That is why we were greeted by plastics floating at the corners of the cave when we reached there.
5. Cabagnow Cave Pool has Wide Dark Insides.
It was amazing that the cave's opening was not that huge, well its enough for diving or jumping but it was surprising that there's a huge area in the bottom of the cave. I can not imagine how huge it is and it looked like the entire cave is covered by the rocks we were standing by before getting into the waters. Remember those under water caves like the one in Palawan where it is very dark and flashlights are needed? It felt like that when going to the deeper area of the cave, well except for the bats, this one doesn't have that though.
So one of our companions were able to take a photo of how this looks from the inside.
If it wasn't for the ladder, we wouldn't be able to enjoy this place. I personally felt glad that there are hidden gems like this in Bohol. This makes Bohol more tourists friendly. In fact while we were preparing to go to our next destinations, some foreign tourists arrived at the spot and tried the waters too. They mentioned they came from Panglao and that they'll also be visiting Palawan, El Nido and other top tourist destinations here in the country.
That made me really happy because whenever tourists visits our country, our economy is also greatly affected and tourists like them who are having great experience in our country will be using the power of their tongue to spread the good vibes and their lovely experience while staying here.
Anyway, after drinking young coconut water straight from the tree, we went straight to Anda Long Beach. This I will tackle on another blog. Actually, I am excited to share our experience in Siquijor but then I will just be patient and finish my Anda series first before moving on wards.
For now, let me leave you with my husband who is really having a great time with the clear waters of Cabagnow Cave Pool. Until now, I am not sure how it was named Cabagnow. Cabagnow is somewhat similar to our local term of cold which is "kabognaw". Perhaps that was the intention and there were some locals who were unable to pronounce it right so thus the name. That was only my own interpretation on how it was named that way but it isn't the official.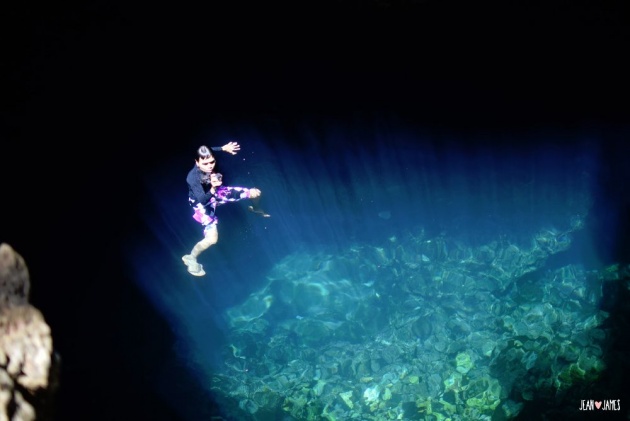 Till Next Travel Blog!
See yah later!
Copyright 2016. Jean Beltran-Figues. All rights reserved.