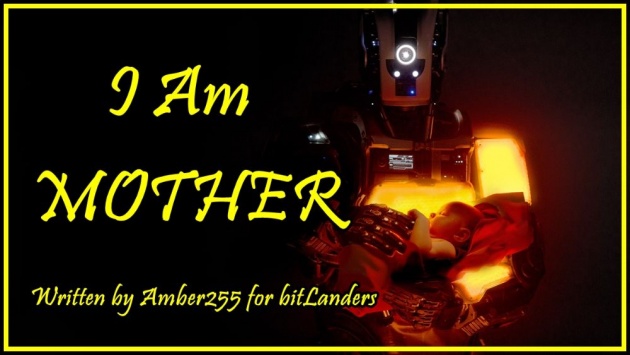 [Artificial Inteligence] I AM MOTHER Movie Review - Photo credit: 7wallpapers, edition by Amber255 via bitLanders
There is practically nothing for modern fantastic films to surprise their viewers. The fundamental basis was laid long ago by writers and filmmakers of the middle of the last century. The authors of today are left with only innumerable narrative constructions of varying degrees of variability to be planted on this genre foundation.
The debutant Grant Sputore manages to tell his own intelligible, exciting, well-designed, sometimes unexpected and even eerie story of difficult relations between AI and man.
I liked the view of the human + robot bundle from a separation angle. But I liked the view of the human + robot bundle from a separation angle. Despite the seeming simplicity of the picture, the script of which even manages to be sent to Kant's works captivates with its dualistic moods and ambiguity of choice, which will distinguish Grant Sputore's deceptively unpretentious work from the bunch of genre films.



It's an exciting film to watch, but an even better one to think about after - preferably in the company of a real, physically present person.




Credit: latimes



In the fifties of the twentieth century, psychologist Harry Harlow conducted experiments on cubs of monkeys, figuring out whether a child needs a mother at all, or whether people are just too sentimental. It turned out that even a simple piece of iron with heating, warm as a mother, is appreciated by kids more than a feeder. The experiment was called The Nature of Love.
What I AM MOTHER is all about?
Grant Sputore in his first feature film went further in fantasies about the nature of love, giving a voice to the other side. His heated piece of iron is a fully autonomous thinking robot Mother, whose goal is to grow new humanity in the bunker and populate the scorched post-apocalyptic Earth. However, while Mother is only learning her duties and is in no hurry to start a large family, living in solitude with only one Daughter.
I AM MOTHER, Trailer (2019) Netflix - Video credit: youtube
The first shock is when you realize that almost a two-hour tape, most of which takes place in the same room, is never boring to watch! It would seem that interesting can be squeezed out of a story about a robot raising a child in an underground bunker? But no, in I AM MOTHER there are dynamics in the relations of the main characters, and several quite successful attempts to sow doubt in the minds of the audience, and even a medium degree of success story twist in the finale. The film is not boring - the author constantly throws up moral dilemmas or hints that everything is not as it seems.
Unlike most colleagues in the workshop, the director and screenwriter do not hesitate to ask uncomfortable questions, for which you still need to try to find the answer yourself. For example, he is easily juggled with simple human perception - do not be surprised if, as a result, you suddenly realize that the villain is not a villain at all, but rather is the right one.
Well, gradually you conclude that you can't trust anyone at all because everyone has their motives to limit themselves to half-truths and not to reveal all the information.
Also, I AM MOTHER looks and sounds very cool - by the standards of budget Australian fiction, of course. Thanks to the emphasis on practical effects, Mother is very realistic, as if real, and computer graphics hardly catch the eye. Music and sound are generally absolutely beautiful and play great on the atmosphere.
I created Querlo chat about the film I AM MOTHER. You can check it and find info about these topics:
1. The plot; 2. The idea; 3. Artificial Intelligence,
4. The main personages;
a) Mother; b) Daughter; c) Woman.
5. Actors; 6. Overall impression.
If you got interested, chat with me on Querlo: I AM MOTHER Movie Review (the link opens chat in a full-screen mode):
The only thing I want to reproach Grant Sputore for is, perhaps, for unoriginality. Yes, he is very inspired by the classics, the film lacks interesting ideas and clever thoughts, but all this already happened. If the I AM MOTHER added a little more independence and an author's look, then it would turn out much cooler. But the film is good in its current form. Besides, adequate fiction is now desperately lacking.
The relation between Mother and Daughter
Each story about children and parents is largely a story of separation: children grow up, stand on their feet and go after their destiny. But is separation possible in a world where, in general, there is no world left?
Grant Sputore did not flirt with a popular topic about poor little human robots that are no different from us. His Mother is a 40-kilogram piece of hardware similar to Boston Dynamics products. Ironically, two full-fledged parents can be made up of her: Mother's body is played by Luke Hawker, and her gentle voice is Rose Byrne.
There is symbolism in this: Mother is not a woman or a man, but a machine that fulfills its mission. The problems of ethics and humanity lie with the Daughter (Clara Rugaard), brought up honest, responsible and ideal. This makes teenage rebellion even more difficult because ideal girls do not rebel. But thanks to the combination of her inability to lie with intelligence and ingenuity, to observe the secret schemes of the Daughter is especially interesting. She is worried and mistaken, and this creates exactly so much tension to compassion her when she finds a way out.
The third side of this archetypal triangle, Woman (Hillary Swank), unpleasant and wild, does not cause sympathy, but is it always true beautiful? Unless, of course, her words are true. Indeed, sometimes cruelty also likes to disguise itself as honesty.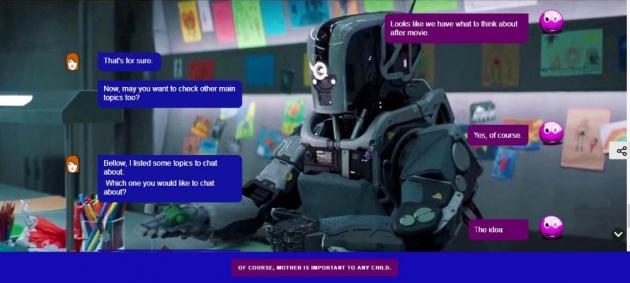 [Artificial Inteligence] I AM MOTHER Movie Review - Photo credit: querlo
This chamber ensemble of two and a half women intensifies the situation in the bunker to the limit. It is not so important how predictable the plot twist is - the process is important, how one gets to it. And this path is exciting. One feels that everything is honest here: there will be no optimistic happy end, you can't just hold everyone's hands and joyfully go towards the sun. The daughter must choose. And she will choose.
On A Final Note
At times, it seems that the action is slowing down, stretching, but not a single scene is wasted. I AM MOTHER is a strong, tickling nerves sci-fi thriller, philosophical enough not to be a genre dummy, but at the same time not burdened by sentimentality.
In the film, I AM MOTHER the question of humane responsibility for humanity with artificial intelligence is raised.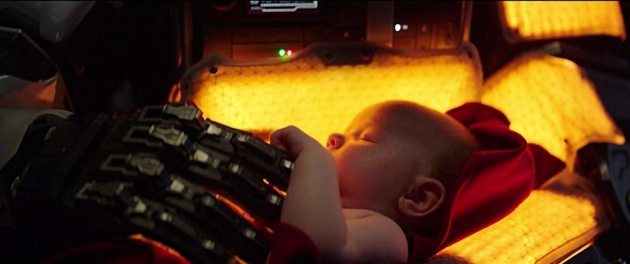 [Artificial Inteligence] I AM MOTHER Movie Review - Photo credit: imdb
The picture poses many philosophical and ethical questions: from artificial intelligence to parenting. Despite the stinginess of the situation, the film makes you think, not only about the momentary fate of the heroes but also about the fate of mankind and its right to exist in general (taking into account what individuals are capable of).
************************************************************************
****************************************************************
******************************************
I invite you to participate in Bitlanders AI-themed Blogging and create your own AI-themed blogs and C-blogs on artificial intelligence theme:



bitLanders AI-themed blogging
After the successful launch of "The bitLanders C-blogging", conversational AI blogging by Querlo powered by IBM Watson and Microsoft Azure. bitLanders continues to support its joint venture Querlo. We believe in our mission to promote our future - Artificial Intelligence (AI) - and build AI conversations via blogging, here we are to introduce "bitLanders AI-themed blogging!"




Credit: quote from bitLanders



Always welcome back to check more Querlo Chat blogs on Artificial Intelligence theme.
***************************************************************************************************
Thank you for stopping by and reading my blog.
2019, All Rights Reserved.
You are very welcome to join Bitlanders and share your valuable knowledge and opinion.
***************************************************************************************************