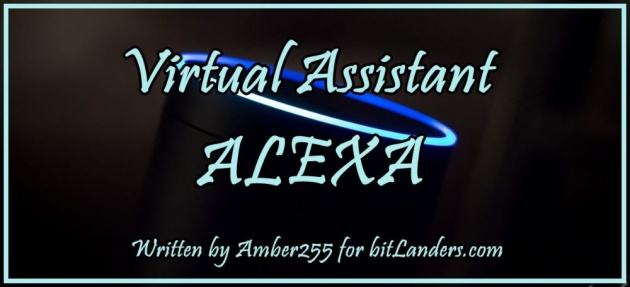 [Artificial Intelligence] Amazon Alexa Virtual Assistant For You And Your Home - Photo credit: medium, edition by Amber255 via bitlanders
Technological progress is growing every year and never ceases to amaze users with new developments. In particular, voice assistants from mobile giants Apple, Google, and Amazon are now leading in the world rankings.
If a few years ago, we had only optional searching for a request on the Internet, today the possibilities of this software have greatly expanded and acquired artificial intelligence. In particular, at the moment, it is Amazon that is gaining momentum in introducing Alexa's assistant into various devices and products.
Amazon Alexa, known simply as Alexa, is a virtual assistant developed by Amazon, first used in the Amazon Echo and the Amazon Echo Dot smart speakers developed by Amazon Lab126.

Credit: en.wikipedia
Initially, Alexa was equipped with a small speaker column Amazon Echo. The company began to develop this device back in 2010, but it was released only five years later. The release of the Amazon Alexa-equipped Echo column was not accompanied by a powerful advertising campaign since such devices were no longer a novelty for users.
However, the potential for Alexa can be seen on closer inspection. First, the device works constantly. To give it a voice command, the owner doesn't need to press any buttons. All you need to do is say Alexa and Amazon Echo will be ready to do the task. Secondly, Alexa cannot only perform the function of musical speakers but also manage the smart home, helping the user with the housework like a little butler. Having such a device as Amazon Echo in a smart home, you can turn on the lights, turn on the heating or open the garage door using only voice commands.
IoT is the Internet of Things, which Amazon is actively promoting in all of its developments. Thus, the manufactured devices Echo, Echo Dot, Tap, Fire TV, and other products of American engineers are deliberately created so that the user can do basic tasks only by uttering the proper command. In their opinion, this is how the management of all gadgets in the houses of the future should be implemented.
What Is Alexa? An Introduction to Amazon's Alexa Voice Service - Video credit: youtube
The Internet of Things is directly related to Amazon Alexa and other products of an American company. It assumes a single bundle of all smart gadgets with Alexa all over the world.
Amazon developers see their voice assistant as the main smart home control program. For example, you acquire the Echo station, tie it to Philips Hue smart bulbs, LG SmartThingQ TV, Google sensors, and other devices, and then supervise all the gadgets through the Amazon assistant.
Why you should pay attention to the control station from this company?
There are several reasons:
1. A really smart built-in assistant that continues to evolve as it is used.
2. Support for pairing many of devices that are currently available in the mobile market. Compared to Amazon, Apple and Google do not have this list of supported accessories.
3. A large assortment of stations, where you will find for yourself the best option.
Alexa virtual assistant is able not only to execute a command but also to analyze it, try to expect the desires, and moods of the owner. With an assistant from Amazon, you can just talk, learn about its favorite color, exchange jokes, and ask to be reminded of an important event.
I created Querlo Chat about Amazon ALEXA. If you chat with me, you will get info about:
1. What is Amazon Alexa?
2. How to set up Amazon Alexa:
a) How to set up Alexa on all Echo devices;
b) How to set up Alexa on Android phones;
c) How to set up Alexa on iPhone or iPad.
3. What is Amazon Alexa capable of?
4. Amazon Alexa Skills.
Chat with me: Amazon Alexa Virtual Assistant (the link will open chat in a full-screen mode):
The Alexa Project is actively developing and will continue to be implemented in other third-party devices. If today on-board computers in American cars are an example of this, then after a few years the assistant will cover a larger volume of products that could be controlled by voice.
As a brief conclusion, I want to highlight several points:

1. Opportunities. Alexa's functionality is dozens of times greater than Siri from Apple's flagship company. Amazon specifically opened the code for third-party developers, so that they could independently add the necessary scripts to the optional voice assistant.
2. The convenience of use. Having basic English, which, by the way, can be tightened up during the use of the assistant, the assistant will become your faithful friend.
3. Smart House. Apple HomePod, like Siri, are closed products for third-party developers. And this means that you will not add any more scenarios, and the existing functionality will be limited to the built-in default features. By the way, the same situation occurs with Google Home, which does not support as many devices as Amazon stations.
4. The makings for the future. Already have a car with an on-board computer and an Alexa assistant, you can easily find out the amount of fuel remaining, the technical condition of the car, and other important data only by asking the proper question from a home station or smartphone. And this is just an example of what is available today. With Amazon plans, in the future, the assistant will become much more popular, which means that the existing functionality will be more extensive.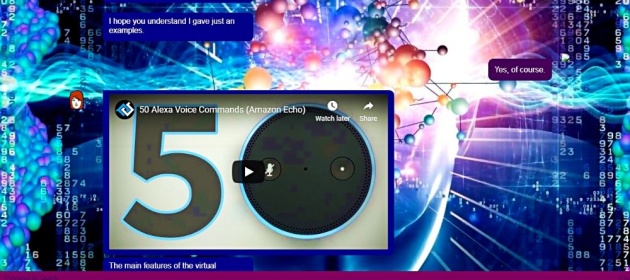 Querlo chat: Alexa Virtual assistant - Photo credit: querlo
The American company is moving in the right direction. Proof of this is its products, which are in demand not only in the US but also abroad. Also, Amazon's collaboration with other well-known developers leads to good results.
However, as stated in the office of Amazon, for them the main indicator of success is the attention of users, the high level of demand and customer comments about their products.
It is quite difficult to predict how the systems with AI similar to Alex will be developed. This is due to the endless possibilities that go beyond the current understanding of the functionality of technology. I think that Alexa Assistant and his competitors will be in demand in the future, and from the category of the fashionable gadget will turn into an urgent need. The secret of success in the incredible simplicity and naturalness of use, so the dependence arises literally from the first time.
************************************************************************
****************************************************************
******************************************
I invite you to participate in Bitlanders AI-themed Blogging and create your own AI-themed blogs and C-blogs on artificial intelligence theme:
bitLanders AI-themed blogging
After the successful launch of "The bitLanders C-blogging", conversational AI blogging by Querlo powered by IBM Watson and Microsoft Azure. bitLanders continues to support its joint venture Querlo. We believe in our mission to promote our future - Artificial Intelligence (AI) - and build AI conversations via blogging, here we are to introduce "bitLanders AI-themed blogging!"

Credit: quote from bitLanders
Always welcome back to check more Querlo Chat blogs on Artificial Intelligence theme.
***************************************************************************************************
Thank you for stopping by and reading my blog.
2019, All Rights Reserved.
You are very welcome to join Bitlanders and share your valuable knowledge and opinion.
***************************************************************************************************