Best AI Personal Virtual Assistants - Photo credit: twitter.com, edition by Amber255 via bitLanders
We live in an amazing time - everything accelerates. Moreover, this process is so fast that sometimes, without knowing it, we go to bed in one world, and wake up in another. Not a Jurassic park, of course, but you have to run all the time to keep up with the time. The tasks for the leaders of the highest levels is much more difficult to accomplish - they need to stay ahead of time! To lead people and develop business. After all, a modern leader is a leader who is distinguished by intelligence, flexible thinking, analytics, organizational skills, emotional maturity, and efficiency. And, of course, they need a conductor of his ideas, tasks - a person who will take on the solution of many problems, relieve from the burden of turnover, and most importantly, be able to provide them with the most valuable resource - free time. That's about this man I would like to talk. Or more correct - robots-assistants.
Assistant robots are on the wave of popularity and make life easier for a personal assistant or just an ordinary person. Do you use the quick search on your smartphone? And voice search? I am yes. More and more people use, for example, Apple Siri, Amazon Alexa, Google Assistant, Microsoft Cortana, and others. Among them, you can find interesting programs.
In the intellectual world of virtual assistants, some transformations are constantly taking place, and all interested users watch their development with heightened attention. Smart appliances have long made their way into our homes in the form of smart TVs and air conditioners, washing machines and creative kitchen gadgets, as well as numerous mobile programs and applications for androids. Creating multiple conversational interfaces is an impressive leap in human-computer communication. After reading my article and chatting on Querlo, you will learn about the best new virtual assistants powered by artificial intelligence on the phone, which you may find attractive.
Living with AI: 5 virtual assistants compared - Video credit: youtube.
What is a virtual assistant?
A voice assistant or a virtual assistant is software working on the basis of artificial intelligence that can be used to control a mobile gadget or any electronic device using specific voice commands. Such a modern virtual secretary will help you to facilitate the search for the necessary information on the world wide web, open various system functions and mobile applications in your device, and also become a kind of virtual interlocutor.
In addition to recognizing your voice, the voice assistant can voice certain textual information (for example, it can be data about a search result) and can talk with you or communicate with a person using text chat messages.
Imagine, there is always a devotee friend with you who is ready to talk with you at any time of the day or night, answer any of your questions and carry out assignments. At the same time, he never gets tired, he has no bad mood, and every day he becomes smarter and understands you all better.
Unfortunately, a full-fledged dialogue with any electronic assistant is not yet possible. Software developers are constantly working to improve artificial intelligence, improve the correctness of the reaction-response of their programs to numerous real-world user requests.
Today, almost every device is equipped with a smart assistant. And at the moment, there is a tendency to tie own virtual assistants to the common operating systems. For example, on iOS gadgets, Apple has a full-time voice assistant application Siri from Apple, for Android devices - the Google Assistant, on Amazon -Alexa; on Windows - Cortana intelligent assistant.
Virtual Assistants program understands your conversation, replies you and carries out many daily tasks for you like sending mail, making a search, opening apps, reporting the news and weather, and more. The best thing of all, you can activate all this using your voice.

Credit: hongkiat
What is the difference between numerous virtual assistants? The answer to this question, as well as exploring the possibilities of voice assistants you will find chatting with me on Querlo.
On Querlo chat, you will find a short review of those intelligent virtual assistants:
Google Assistant - an application based on artificial intelligence, one of the most functional voice assistants on the market. If you do not take into account regional restrictions, which, as a rule, are associated with an insufficiently deep knowledge of an assistant in local culture and linguistic features, Google Assistant has almost no equal. Nevertheless, Google understands that there are no limits to perfection and is trying to further extend the functionality of the proprietary assistant.
Apple Siri - the era of virtual voice assistants began with Apple Siri. An assistant, able to contact and learn from the user, became so popular that other well-known companies picked up the idea.
Amazon Alexa is the first modern voice assistant that gained wide popularity due to its openness.
Microsoft Cortana - it is a virtual assistant in Windows with artificial intelligence. Allows users to communicate with their device using voice commands - much faster to search for information, move between applications, check incoming emails.
Viv - it differs from Siri and other virtual assistants that it does not need a local application, as well as the support of various software platforms.
X.ai Amy - this personal assistant does not know how to talk and perceive the voice; it communicates only via email. But it will wipe the nose of other virtual assistants when it comes to setting up meetings.
Now, let's chat on Querlo about Best AI Personal Virtual Assistants (the link open chat in a full-screen mode):
Virtual assistants are built into computers, tablets, phones, smartwatches, smart speakers, and even cars. The interaction with the voice assistant is carried out exclusively by voice, without using hands, without pressing any buttons. This is a fundamentally new way of human interaction and the program, which is very similar to communication between people.
Giving voice commands is especially convenient when your hands are busy: in the process of cooking, while jogging, driving a car, or when you just don't want to turn off the light. In addition, virtual assistants significantly change for better the quality of people' with disabilities life. Such assistants help them to interact with the outside world.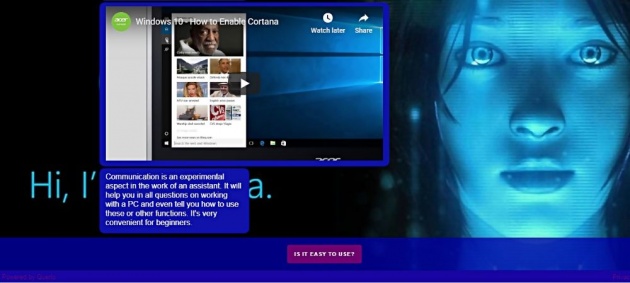 Best AI Personal Virtual Assistants - Photo credit: querlo
Artificial intelligence is not a fantastic invention and no longer a fiction. Smart appliances and virtual assistants rapidly entered the modern life of people, in order to facilitate it, and in the meantime, they were already safely located in it. nd we can only enjoy these smart innovations and have fun with the battle of brands, trying to find who the leader is and which virtual assistant is the smartest.
************************************************************************
****************************************************************
******************************************
I invite you to participate in Bitlanders AI-themed Blogging and create your own AI-themed blogs and C-blogs on artificial intelligence theme:
bitLanders AI-themed blogging
After the successful launch of "The bitLanders C-blogging", conversational AI blogging by Querlo powered by IBM Watson and Microsoft Azure. bitLanders continues to support its joint venture Querlo. We believe in our mission to promote our future - Artificial Intelligence (AI) - and build AI conversations via blogging, here we are to introduce "bitLanders AI-themed blogging!"

Credit: quote from bitLanders
Always welcome back to check more Querlo Chat blogs on Artificial Intelligence theme.
***************************************************************************************************
Thank you for stopping by and reading my blog.
2019, All Rights Reserved.
You are very welcome to join Bitlanders and share your valuable knowledge and opinion.
***************************************************************************************************