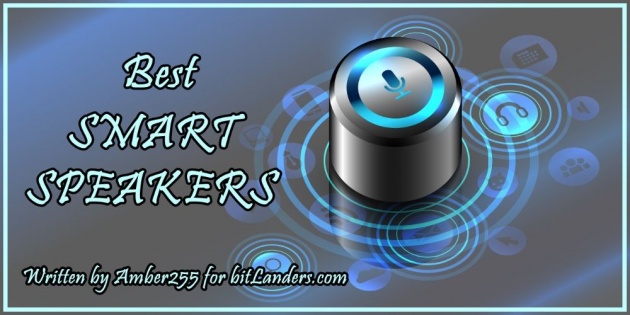 [Artificial Intelligence] Best Smart Speakers - Photo credit: adweek, edition by Amber255 via bitLanders
The days of smart speakers came when people began to actively use voice assistants in smartphones and in parallel in everyday life increasingly began to use smart home systems or individual smart devices. Wireless speakers also gained popularity because of listening to music. The smart speaker, to one degree or another, just combines three functions: a voice assistant, a smart home control panel and a speaker, although initially the device was conceived only as a station for combining all smart home devices.
Now manufacturers with varying degrees of success are introducing new functions into smart speakers, trying as much as possible to implement these devices as a way of user interaction with online services. As a rule, the speaker is equipped with microphones capable of recognizing the owner's voice even in noisy environments, with an artificial intelligence system and speakers.
A smart speaker is a type of wireless speaker and voice command device with an integrated virtual assistant that offers interactive actions and hands-free activation with the help of one "hot word".

Credit: en.wikipedia
Today, a number of gadgets from the multiroom segment are opening up to users. There are plenty to choose from Apple HomePod, Google Home, Amazon Echo, or Yandex.Station.
This assortment will only expand over time because, in the era of the Internet of things, the whole world strives to simplify the interaction of a person with household appliances and home accessories as much as possible. And the above products are just aimed at solving this problem.
How to choose a smart speaker?
A smart speaker is still an outlandish gadget that the mass buyer has just tried. Unlike the usual Bluetooth audio devices, the smart speaker can do much more than play music. However, it needs a constant Internet connection, and the presence of microphones causes some people to worry about maintaining confidentiality.
If you are not a supporter of conspiracy theories, then decide what you need to consider when choosing the best smart speaker 2019. So, in addition to playing music, the speaker can also become a voice assistant, look for information on the Internet, remind you of business, wake up, read books, manage a smart home, and much more. Let's figure out how to choose a smart speaker.
Top 6 Best Smart Speakers / Best WiFi Speakers (2019) - Video credit: youtube
When choosing, pay attention to:
Price
The market for smart speakers is not too wide. In not English speaking countries, the official range of these gadgets is very small. But taking into account the price, it is impossible to buy a device at a price below 50-70 US dollars. This will be the easiest option, as it is called - a smart speaker. Up to $150-200, you can choose a more advanced model, and from $250-300 - the flagship devices that have excellent sound, sensitive microphones, and a number of other options start.
Voice assistant
In the world now there are three main voice assistants - Siri from Apple, Alexa from Amazon, and Google Assistant from the most popular search engine in the world. Why do I need a voice assistant? If you ask such a question, then most likely you are not interested in the best smart speakers of 2019. And if you are still interested, then here are the results of a survey conducted by Adobe Analytics in the USA, where users were asked what they were asking for smart virtual assistants. 70% said they asked to turn on the music, 64% asked for a weather forecast, 53% asked a stupid question to get the device into a dead-end or get a funny answer from it. And only 31% of respondents use electronic voices to control the elements of a smart home.
Sound
Still, the main function of the speaker is its sound. But not all models worked out with this parameter. Expensive models offer sophisticated audio systems with low and high-frequency speakers and a subwoofer. Some of the best smart speakers in 2019 have a combined sound power of over 50 watts. There are gadgets that can be combined into stereo pairs - you buy two identical devices and you get stereo sound. But inexpensive devices, especially of Chinese origin, give a very dull sound in which you can hear crackling and hissing. In short, good acoustics still cost a lot of money.
Interfaces
The basis of the work of smart speakers is the Internet. Therefore, all the best smart speakers in 2019 have Wi-Fi support. It is often used to connect to other electronics. Some models support Bluetooth, which allows you to directly connect to transmit sound. And only in some gadgets does the good old audio jack provide audio output to external speakers. And in some places, there is even HDMI.
Power Supply
Most often, the buyer, thinking about how to choose a smart speaker, does not pay attention to the issue of its power supply. But in vain, because there are their own characteristics. A gadget that is powered only by a 220 V network, roughly speaking, depend on charging and a compatible charger. The option with a USB power socket is preferable because such a column can be powered from the charger of a smartphone or portable battery. Unfortunately, manufacturers almost ignore the built-in batteries in smart speakers, but if you look, you can find such models.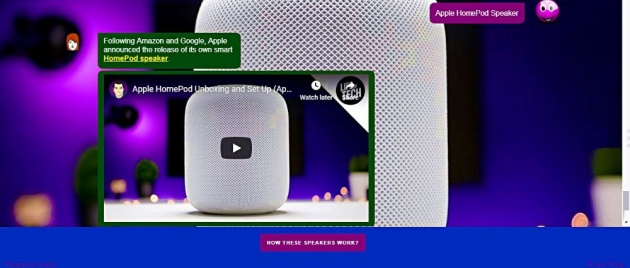 [Artificial Intelligence] Best Smart Speakers - Photo credit: querlo
No, look at what the info you will get about if check my Querlo chat:
1. Amazon Echo Speaker:
a) Amazon Echo Show;
b) Amazon Echo Dot;
c) Amazon Echo Look.
2. Google Home Speaker.
3. Microsoft Kardon Invoke Speaker.
4. Apple HomePod Speaker.
5. Sonos One Speaker.
Today these are the best smart speakers that will help make your life much easier. You can purchase any of them and expect a good result for your price. The main thing is not to deceive yourself that the cheapest device will sound no worse than the most expensive.
Chat with me on Querlo and get familiar with the Best Smart Speakers ( the link opens chat in a fullscreen mode):
I must say, despite the relatively small number of smart inventions, this market is developing at a frantic pace, as it once happened with the smartphone market.
Buying a home audio system is already boring and uninteresting. That's why smart speakers that can be controlled from a smartphone and control the smart home system have come into fashion.
Why We Need Smart Speakers?
Music streaming - any smart speaker is constantly connected to the global web, so it's easy for it to play a music track located in one or another online service.
Bluetooth music playback - many speakers can be synchronized with a smartphone, in some cases, the connection is significantly accelerated by NFC chip.
Smart home control - in the US, smart speakers are purchased precisely in order to control the thermostat, radio, TV and other electrical appliances by voice.
Domestic help - a voice assistant is able to find on the Internet any information, from a recipe for a particular dish to translate a spoken text.
Reading audiobooks is another useful feature that helps pass the time or even speed up falling asleep.
And what the flaws can a person who decides to buy a similar device find? Perhaps only to the sound quality.
Most of us are used to buying equipment not by technical specifications, but by brand name. You may have noticed that I added all the columns from well-known manufacturers. Anyway, before deciding to buy, check their technical specifications.
************************************************************************
****************************************************************
******************************************
I invite you to participate in Bitlanders AI-themed Blogging and create your own AI-themed blogs and C-blogs on artificial intelligence theme:
bitLanders AI-themed blogging
After the successful launch of "The bitLanders C-blogging", conversational AI blogging by Querlo powered by IBM Watson and Microsoft Azure. bitLanders continues to support its joint venture Querlo. We believe in our mission to promote our future - Artificial Intelligence (AI) - and build AI conversations via blogging, here we are to introduce "bitLanders AI-themed blogging!"

Credit: quote from bitLanders
Always welcome back to check more Querlo Chat blogs on Artificial Intelligence theme.
***************************************************************************************************
Thank you for stopping by and reading my blog.
2019, All Rights Reserved.
You are very welcome to join Bitlanders and share your valuable knowledge and opinion.
***************************************************************************************************