video credits:
CNET via Youtube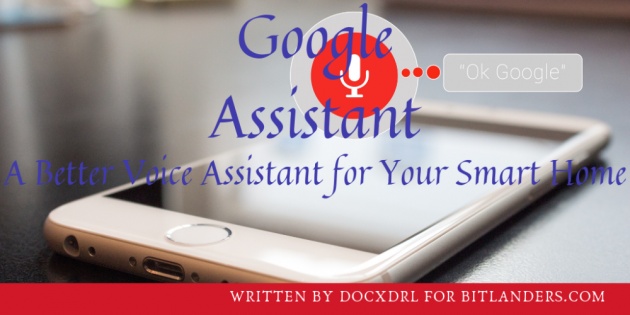 Google Assistant: A better voice assistant for your Smart Home; image edited by Docxdrl via Canva
If there's anything Google is good at, it's its ability to deliver tons of search result within seconds faster than any other search engine out there. As with every great and awesome company, there is the need to remain relevant and in-sync with the latest dynamic market capabilities that redefines business. And Google is the top-dog when it comes to search engine. It is common among students, researchers and marketers to use the phrase just Google it whenever they are working and meet with something they don't understand. That how Google has become a part of an everyday internet user.
The search engine is so popular that it's many times larger than all the world's other search engines combined. Specifically, Google currently holds a whopping 78.23 percent of the worldwide search engine market share
But in 2016, Google came up with Google Assistant, its own version of Amazon's Alexa, Apple's, Siri and Microsoft Cortana. Google Assistant is a voiced-based conversational way for us to interact with Google's products & Google artificial intelligence search engine.
In the year 2017, Google Assistant has been installed on more than 400 million devices. This is a milestone for the search engine giant. Google Assistant perhaps receives general acceptance because it comes in several languages like English (as the primary language), French, German, Italian, Japanese, Korean, Portuguese, and Spanish and it has the capacity to relieve a person from boredom, and sad mood by telling jokes or just giving good or bad advice.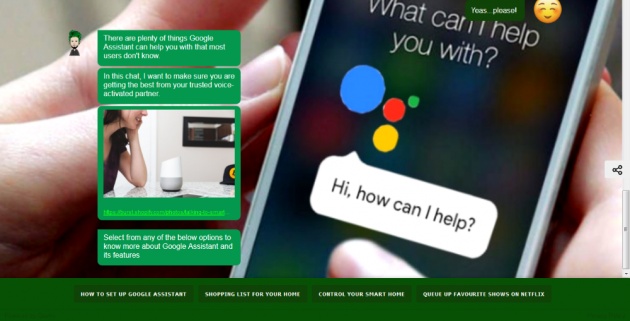 image credits: via Querlo
Google Assistant does more than just relieving boredom & interacting with other Google products, it goes without saying that it can play music for your listening pleasure, tell you about the weather in your vicinity etc. The application got so much more to offer that it made other companies partner with it.
Google Assistant receives general acceptance among other companies that see it in a huge range of devices from headphones like Bose's QueitComfot35 II, Sony WH-1000XM3, to cars . And the coolest thing about Google assistant in cars is just $49.99.
Google Assistant is an artificial intelligence-powered virtual assistant developed by Google that is primarily available on mobile and smart home devices.
It is simple to admit that as Google android software has taken over other OS in mobile phones, so is Google Assistant finding its ways into homes and many other devices
Google Assistant is already working for your Smart Home. In the dispensation of Narrow Artificial Intelligence (NAI), Google Assistant is already taking the lead on mobile devices and even on iOS. Let's consider the capabilities of Google Assistant but first;
What can Google Assistant do?
Google assistant has two ways of interaction; you can communicate with Google Assistant via natural voice command or via keyboard input. To begin communicating with Google Assistant; you can begin by using the voice-activated device control by saying "Ok Google" or "Hey Google." This wakes up the artificial program on your device, or you can use the 'long Press' on the Google Assistant Icon on the device. When the app comes on, it can perform the following listed tasks;
Control your devices and smart home.
Access information from your calendar and other personal information.
Search the internet for keywords or key phrase as commanded by the user.
Control your music and play music, etc.
The best thing about Google Assistant is its ability to make you feel like you are conversing with another human in the room. It was ingenuity for Google to add the keyboard input for conversing with Google Assistant. This takes care of noise places like on the bus or in the shopping mall.
Devices that Support Google Assistant
Pixel phone by Google was the first phone to be built with Google Assistant, but soon after that, Google opens its doors in 2017 for android Smartphones with Android Marshmallow or Nougat OS. But right now Google Assistant is available to just all modern android devices including Android Television, Nvidia Shield and in cars. Google PixelBook became the first laptop to include Google Assistant
Google Assistant is also widely available on smart speakers and third parties manufacturing industries like Sony, Sonos, LG, and Panasonic. Thus it is safe to conclude here that Google has created something similar to its search engine that almost everyone seemed to enjoy its benefits.
The saving grace of Google Assistant is as it finds its way to iOS devices. Even though Google Assistant is now available on iOS, it is yet fully operational like on android devices; Google Assistant on iPhone is now easier than ever to activate.
Please chat with me via Querlo to find more about how to use your Google Assistant that you may not know.
What does Google Assistant Connect Means?
Google is making it easier for devices manufacturers to integrate Google Assistant technology into other smart home devices through the process called Google Assistant Connect.
The tool- Google Assistant can be used to build and leverage existing connection in the home to deliver content, respond to commands by allowing other devices to connect with it even without cloud support. It supports multiple Smarthome devices and other Google products in the home.
Google Assistant enables access to smart home devices and third-party manufacturing industries, this incorporation provided by Google Assistant may lead to the next level of Internet of Things revolution that is geared by the 5G mobile communication
What this means is; with voice command through the Google Assistant Connect, you can control lighting, plugs, thermostats without even leaving your couch!
Getting the best from Google Assistant
The fact is, Google voice-activated Assistant can help you with some few things in the home, office or in your car. It is important to get the best from your trusty voice-activated 24/7 partner.
The best way to use a device is to put its features into full-capacity-use. We know that Google Assistant can engage in a two-way conversation using natural language processing algorithm to search the internet, schedule alarms and events, adjust other smart home devices. But by listing these, we are limiting the capability function of Google Assistant.
video credits: TWiT Tech Podcast Network via youtube
There's more to Google Assistant, it can be used with Google home to shop. Since it voice-activated command, it makes Google Express shopping services easier. it can also maintain a shopping list. The coming of Google Duplex, an extension of Google Assistant allows the mimicking of human voice, thus it can call you a cab driver and book a business meeting for you, book restaurant reservation for the evening for you and your spouse, call a business partner to reschedule or even verify goods and services delivered on time.
On A Final Note
Google Assistant is a smart device for your home, a leading voice assistant built on the codes of Narrow Artificial Intelligence (NAI) or Weak AI to perform some set functions in the home. With the help of the application, we can enjoy the benefits of smart home technology, set alarm, schedule reminder for meetings, order a taxi, pizza etc.
The fun fact here is, technology is evolving and getting smaller and smaller with more functionalities that make their appearance looks deceiving. It is beyond justice to say that Google assistant is the next comfortable home device that can and will help you enjoy your life to its fullest without problems. It's justice to say we are looking at the next face of Smart Home technologies that are making their marks on civilization
You are welcome to JOIN US.